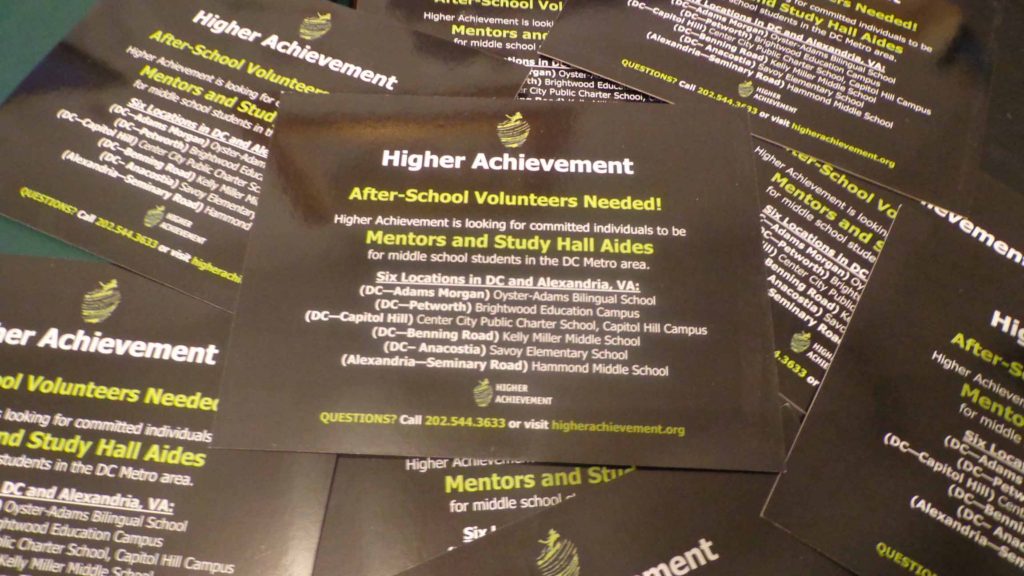 I originally published this piece on the Examiner back in August of 2015. From 2010 to 2014, I mentored in a program called Higher Achievement which was a very educational experience. I made lots of friends there. One was a fellow mentor named Troy. Our 'scholars' were encouraged to address us formally. After I finished volunteering in the program, Troy passed suddenly. To honor him, I wrote this piece about him and one of his problematic scholars who at the end of it all, appreciated Troy's efforts.
* * *
My last article outlined tips for adults looking to mentor young people. This article will reflect on a former peer and one of his mentees.
Mr. Troy was a fellow mentor in Higher Achievement, where our middle school-aged scholars (mentees) were encouraged to refer to us adult mentors formally as Mr., Mrs. or Ms. (fill in your first name). My title was Mr. Anwar. Though we had met a year or two prior, it wasn't until the end of my fourth year in the program that we became friends. Not having a car, Troy generously gave me rides to the metro after mentoring and on a couple of instances we had drinks afterwards. He was from Detroit and with me being a University of Michigan alumnus, we were both familiar with Southeastern Michigan. Our discussions covered numerous topics, but many of them involved his scholar we'll refer to as Jordan in this article.
Of Mr. Troy's scholars, Jordan kept him the busiest. Jordan was a pale complexioned kid with curly brown hair. He was very energetic and pretty much did whatever he wanted to do even when instructed otherwise, similar to his identical twin Jason who was slightly taller and older. Both brothers regularly challenged authority and deviated from the night's activity. After being told, "No," by one adult mentor, it wasn't uncommon for them to run to another one who wasn't privy to what was going on to get what they wanted. There were several nights when we'd look on as they would run around the center wreaking havoc and getting into things they shouldn't have been.
Mr. Troy, a father of two grown young adults himself, speculated that Jordan was the middle child and as such, felt the need to seek attention, sometimes in the most destructive and disruptive ways. Interestingly even though Jordan had tested his patience on numerous nights, Mr. Troy still found a space within himself to understand the kid.
Mr. Troy even decided to have some fun with the situation. One night he bet Jordan that if he could go a certain number of nights without being disruptive, he would shave his head. Mr. Troy wasn't worried though because he felt that Jordan had little chance of controlling himself enough to win the bet. He was predictable in that way and Mr. Troy was right. Then, at the night of the graduation ceremony, Jordan said something that none of us expected.
"I want to thank Mr. Troy for everything he's done for me, and for being my mentor over the last four years," Jordan said in front all of the mentors, scholars and parents. We were shocked. We looked at each other and chuckled a little bit in a restrained way. The one scholar who seemed to want to follow directions the least, ultimately appreciated all of the effort that had been put into him over the previous four years. We reflected on it over drinks again at the end of that night.
Mr. Troy's mentoring of Jordan showed that sometimes you're making a difference in a young person's life even when it doesn't feel like you are. This extends well beyond Higher Achievement's mentors and scholars. Back at Hutch-Tech High School in Buffalo, NY, a teacher once told me that several former students returned and thanked him for being hard on them because they found that the adult world could be an unforgiving and demanding place, and that all workplaces (the public and private sectors, and the military) were in need of mature and responsible individuals with internal structure and discipline.
That night of Jordan's revelation was my last time seeing and speaking with Mr. Troy. We lost him around this time last year. We were all surprised to hear of his passing, and Jordan probably was too. He was the recipient of one of Mr. Troy's last great gifts; a conscientious adult willing to mentor him, discipline him and provide structure for him.
* * *
Thank you for taking the time to read this blog post. If you enjoyed this one, you might also enjoy:
• The benefits and challenges of using articulate speech
• Challenging stereotypes and misconceptions in academic achievement
• Challenging misconceptions and stereotypes in class, household income, wealth and privilege
• Lasting lessons basketball taught me: Three years of basketball camp
• Father's Day 2018: Dad's doctor, his lawyer and a discussion on careers
If you've found value here and think it would benefit others, please share it and/or leave a comment. To receive all the most up to date content from the Big Words Blog Site, subscribe using the subscription box in the right-hand column in this post and throughout the site, or add my RSS feed to your feedreader. You can follow me on the Big Words Blog Site Facebook page, and Twitter at @BWArePowerful. Lastly, you can follow me on Instagram at @anwaryusef76. While my main areas of focus are Education, STEM and Financial Literacy, there are other blogs/sites I endorse which can be found on that particular page of my site.