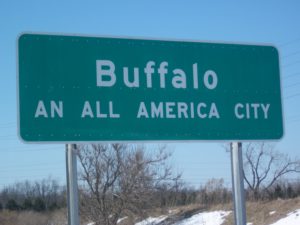 "To be a writer, you have to read a lot and you have to write a lot." – Gerald Early, Author and Professor, Washington University in St. Louis, Fall 1994, The SUNY College at Brockport
The significance of the name "Big Words" originates from my middle school years in the magical region of the country known as Western New York; the western most region of New York State, across the border from Ontario, Canada, and situated in between Lakes Erie and Ontario. It was at the Campus West/College Learning Laboratory at Buffalo State College on the city's north side where I was first confronted with the question, "Anwar, why do you use those Big Words all of the time?" It was a question I didn't quite understand and one which was asked solely by my fellow African American classmates. We were all the descendants of migrants from the South who had come to work in the steel plants of Buffalo/Lackawanna. The steel industry created an era of prosperity for the city's inhabitants which I heard about as I got older, but couldn't imagine based on what I saw in my youth. That industry had since departed from the region robbing it of any meaningful industrial and manufacturing jobs; resulting in a city of service-oriented employment and impoverished conditions for many African Americans.
"Anwar why do you use those Big Words all of the time?" The question came just as I was entering puberty and would mark the beginning of a life long struggle between the home environment I was brought up in, and my perceived blackness. As I transitioned through my teens into adulthood and my career, I started to understand the question and its many complexities. I began to see that there are many nuances and caveats to growing up African American in the United States; unique experiences you share amongst your own people, in addition to those you experience with members of other ethnic groups and communities. One of those nuances is coming from an educated home, pursuing your education and then finding your place in the world among your people and others.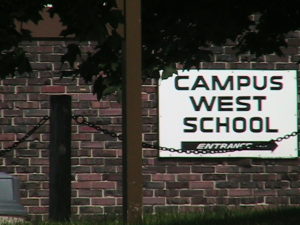 "Why do you use those Big Words all of the time?" In a simple sense that question can be interpreted as, "Why are you always using those words that none of us understand?" On a deeper level, the question spoke to my background versus those of my classmates asking the question. I admittedly didn't visit many of their homes at the time so I can only speak to mine.
Both of my parents pursued their college educations. Growing up under my mother's tutelage, there was always an abundance of books in the house including a set of encyclopedias which I remember regularly looking through to gather random information including but not restricted to: the States in the Union, the Presidents of the United States, World History, Wars, etc. The random information I discovered in those books fascinated my young mind. At an early age, my mother also thought it was important to teach both my brother and myself how to type and word process using correct typing technique and form. One of the by-products of these many ingredients was the use of Big Words and articulate speech.
What my mother (and father) didn't tell me and my brother was that speaking and articulating in a certain way would cause some of our own people to look at us funny. They didn't tell us that, in some instances, shutting off our 'King's English' would allow us to fit in a little more with certain parts of our community. Years later even one of our uncles joked that when we were younger they thought that they should've taken us and 'showed us some things.' I didn't realize it at the time, but for many kids and adults in our community, there was a struggle between being educated, and being more from the streets and showing more 'soul' or 'swag', for example. Somewhere along the line certain traits and characteristics became identified with being 'Black'.
"Why do you use those Big Words all of the time?" It wasn't until well into adulthood that I started to look back on that question from middle school and celebrate my use of 'Big Words'. I also determined that it would be important, as often as possible, be a positive example for other young impressionable kids like the one that I was; and to communicate to them that it's okay to use Big Words. It is also important to share that as long as they love and accept themselves, that's what is most important, regardless of whether or not anyone else thinks you have 'swag', or are 'down' enough.
There are so many unique challenges to being an African American and growing up in the United States. Pursuing your education is just one of them. There are so many, and they run deep in terms of complexity. They're all worth talking about and examining.
* * *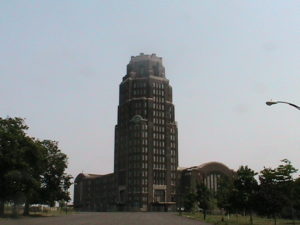 "To be a writer you have to read a lot and you have to write a lot. You could start with your school newspaper," said author Gerald Early. He was presenting his book, Daughters, at the SUNY College at Brockport in the fall of 1994. After his presentation I asked him what it took to be a writer. Biology was my favorite class since the seventh grade, but I always liked writing, hearing and telling stories.
By the way, two of my favorite story tellers are actually in my family – my Uncles Tony and Scottie, (who fondly calls himself the 'Iceman'). My mother may cringe at this, but some of my fondest memories are of my Uncle Tony, a retired firefighter, telling his blunt and comedic stories about the 'lowlifes' in Buffalo's Black Rock neighborhood where he grew up, left and still hung out regularly years afterwards. My Uncle Ice's stories, which usually never changed, involved his youth in Buffalo's Jasper Parrish Housing Projects. Their stories ventured into many other places as well, and all amused me. They were blunt, candid and for me, insightful and meaningful.
I went on to pursue a STEM career, which in itself entailed a lot of technical and esoteric writing (and speaking). I also engaged in much personal writing as well. As the world transitioned into the information age, I found myself journaling by hand in spiral notebooks on lined paper spanning from the mid-1990s to the mid-2000s. After starting my science career, I began thinking about how I could give back to my people and I began mentoring. There were important messages that I wanted to get out there so others could benefit from them. So in 2012 at a STEM event at Bowie State University, when a woman whom I'll call Kelly, encouraged me to apply to be a writer for the now defunct Examiner, I jumped at the opportunity. For the next four years the Examiner became my home and I covered any education-related story I could get my hands on. Eventually I started contributing to the Edvocate as well.
I also took some Fiction and Non-Fiction writing classes at the Writer's Center in Bethesda, MD. In the first class, an essay writing course, the instructor observed that I had a bit of what she called a 'wry' sense of humor, after writing a very moving and comedic essay about a family relative who will remain anonymous for my own personal safety. That instructor, and a second instructor of an introduction to fiction class, both agreed that I had the ability to tell good stories.
After gaining invaluable experience writing for the Examiner and the Edvocate, the season changed and life signaled that it was time for me to set out on my own and write in a freer, less encumbered and restricted way. In addition to the stories I was writing and the topics I was covering, it was time for me to venture into other areas. It is now time to gain a higher level of independence and expand my horizons.
* * *
The Big Words Blog Site will serve several purposes. First, as I did with the Examiner and the Edvocate, I will continue to cover and write about relevant education and STEM-related topics in article and interview formats. Interview topics will span numerous disciplines and subject matters. Secondly, I will tell some of my own personal stories about my educational path and try to bring to light some of the things that I wish I had gotten earlier in my journey, such as more financial education and literacy. Additionally, some of struggles of fitting in with my community and coming to grips with who I am will be discussed.
With the advent of social media and websites like YouTube, providing anyone the ability to very efficiently disseminate information, there are currently many discussions taking place about what African American youth should be taught to help them better compete in today's global economy. Up to this point there has been a huge push for STEM education, but what are the other important pieces? Individuals such as Dr. Boyce Watkins for example, are very passionate about the need to understand investing and build businesses, and not strictly the pursuit of college degrees for the purpose of working for someone else.
Speaking of college degrees, there are also discussions taking place about college not being for everyone, and the need to encourage some youngsters to pursue vocational trades; valuable and lucrative careers which can produce tremendous wealth when paired up with the right economic training. These trades, for which there will always be a need, have somehow become less popular over the passage of time.
Lastly, there are a lot of discussions taking place involving the 'one percent', those believed to be the true rulers of the global economy. There are also discussions about the need to dismantle our system of Capitalism here in the United States. A discussion that I personally find more compelling than that is how the African American community generates trillions of dollars annually, but only controls 1.4% of the wealth in the United States. How is such a thing possible? Here the question has to be asked, what does our community do with its trillions of dollars every year?
Also, what are the best empowerment messages for the younger generations? Is it to dismantle the current systems altogether? Or is it to learn to work within them, penetrate them and then change them from the inside? Finally, what is the most productive thing to do – covet and resent those who have achieved means, or to figure out how they achieved those means and then pursue a similar path?
The Big Words Blog Site will also venture into discussing some social and contemporary issues, particularly those that black men are discussing. There are unique challenges we as African Americans face in the United States, both within our race, and also when dealing with other ethnic groups. Many of these issues, especially those within our race, are worth shinning the light on and discussing openly and candidly, even though they'll make some people uncomfortable. There is a grocery list of subjects that I and some of my buddies wish our parents had told us about in the areas of dating, and the challenges we would face as educated black men, for example.
Lastly, where appropriate, the Big Words Blog Site will be used to shine the light on others around me. Musically, scientifically and in other venues there are people all around me looking to create and to be innovative, and to make a name for themselves. Some simply lack the exposure and can flourish if they get it.
* * *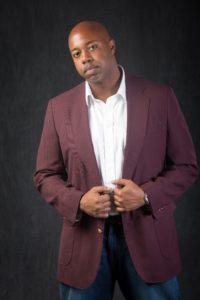 While the Big Words Blog Site will have specific focuses, my personal interests vary, and you may find a little bit of everything here, something inspired by one of my heroes; talk show host Bruce Williams. When I was in graduate school at the University of Michigan, I stumbled upon the Bruce Williams Show one night on AM radio driving to get groceries. I liked talk shows and when I got to WAAM 1600, I heard his grandfatherly voice and figured it was just another conservative talk show, but it turned out to be so much more. While at times talking about politics, Bruce, an older white male from New Jersey, talked about numerous topics ranging from current events, personal finance, estate planning, starting businesses – everything.
Numerous people would call up seeking his advice about a quagmire they were in and he would talk them through their problems. I was amazed at how he could calculate numbers, interest rates, and payments in his mind. I learned so much just listening to him. He and his callers didn't always agree, but he was always very polite with them and was happy if he had at the very minimum, "Gotten them to think." On a couple of occasions, I called the show. One of the times that we spoke, he gave me some tough love telling me that in my mid-twenties, even though I was a broke graduate student, it was no longer my father's job to carry me on his car insurance policy. It wasn't what I wanted to hear, but it's what I needed to hear, a universal theme in life is often it's the things we don't want to hear that make us grow and evolve.
It's amazing how my heroes have changed since the days of my youth and I can't end this without mentioning one other individual who I have come to admire greatly; Malcolm Gladwell. Author, Intellectual and Speaker, Malcolm Gladwell was first introduced to me by a mentor who I'll call Mark – a politically center-right black entrepreneur who took an interest in me when meeting me randomly on an airplane flight. After learning about some of my interests, Mark sent me a copy of Malcolm Gladwell's book, David and Goliath. After reading the book, I started watching Gladwell's videos on YouTube, and then read Outliers, where he discussed among other things, the "10,000 Hours" rule. He has the gift of explaining life's social, educational and economic circumstances and asking important questions about the ways in which we all see the world. He very much has a "Nerdy" image unlike the pro-athletes and hip hop musicians I idolized in my youth. He is also another symbol that it's okay to use Big Words.
So with that, welcome to the Big Words Blog Site and I hope you read or see something here that you enjoy or inspires you, or inspires you to help someone else. Coincidentally, the name Big Words also pays homage to my mother Wendy C. Anderson, a grant writer extraordinaire herself, who has patiently helped me along in my writing journey from its inception over 30 years ago when she made us learn how to type. In recent years she's helped me relearn and fine-tune various aspects of grammar. She once had her own business which itself was called 'WORDS'.
Oh, one last thing. Keeping with the title, a Big Word (or concept) will be presented and highlighted every month. The word will be anything from a Financial term to a STEM-related term, or something else. These words and their significance will be listed on the "Select Big Words" page.