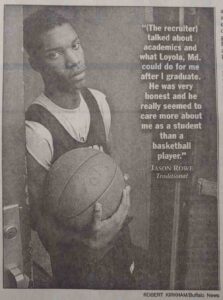 This interview is the second part of my interview with Buffalo basketball legend Jason Rowe. In the first part of our interview we discussed his background, and the run he and his teammates went on at Buffalo Traditional High School in the early- to mid-1990s in our city league, the 'Yale Cup' and postseason play. In the second part of the interview we discussed his basketball career after Buffalo Traditional – college, the professional level, and now his current experiences coaching in Western New York. The pictures in this post were shared courtesy of Jason himself. Links follow up video interviews with Jason are at the end of this interview.
Anwar Dunbar: It's been documented that academics prevented some Yale Cup players from going to big time Division 1 schools. What kind of student were you at Buffalo Traditional?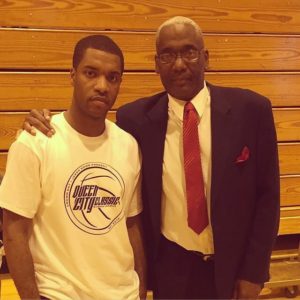 Jason Rowe: I was a 'Merit' and 'Honor Roll' student. If I wasn't, I wouldn't have been able to play. My parents instilled education in me from day one. My mother and father were constantly on me about grades. If my grades weren't above a certain GPA, then I wasn't allowed to play basketball. My father actually took me off the 'Modified' team at Traditional for half the season because my average was an 87% and not a 90% or better. So in no way shape or form would I say that Buffalo Traditional didn't prepare me. No!!! My parents prepared me and instilled how important my education was.
AD: That's actually a big deal. I saw that happen to a couple of players at Hutch-Tech. It seems that if your parents don't set that high standard, you'll do just enough to stay eligible to play and, in some instances, just walk that line of eligibility as I did in some classes.
When did the colleges start recruiting you? Were you a sophomore or a junior? Or were they looking at you as a freshman?
JR: I was a sophomore and it just blew up out of nowhere. I remember my first two letters were from Duke University and the University of Michigan. They were 'generics', but you couldn't tell me that I wasn't being recruited by Duke and Michigan.
AD: How did it feel?
JR: I thought I was the king of the world. Even though they were questionnaires, these were the guys that were on TV. These were Coach Steve Fisher's (Michigan) and Coach Mike Krzyzewski's (Duke) signatures right there so it was a big deal.
AD: Where did you end up going?
JR: Loyola of Maryland.
AD: Why did you choose that school?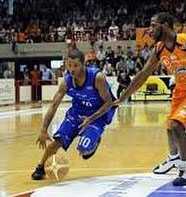 JR: It felt like home. I got injured at the 'ABCD Camp' and a lot of teams didn't know how serious it was. My back was just ruined. A lot of schools wanted me to sign 'late', but I didn't want to sign late. My mentality is if you want me, you want me now. I didn't want to wait for them to figure out if another kid was going to sign. I was second or third on a number of college's boards, but if you say you want me then I felt like, let's get this thing done. Let's figure it out. I wanted to focus on my grades and winning the state championship, so I didn't want to go the whole season with phone calls and distractions.
AD: So signing late is something colleges want you to do when they're unsure of your health?
JR: All schools have a list of about five to ten people at your position, and it's in order of how much they want them. I was two, three, or four on a couple of lists, and I wanted to be their number one. If they wanted me, I wanted to make it happen. I didn't want to wait for someone else to not sign for them to want me. In my brain, that meant they didn't want me.
AD: So it's kind of like dating (laughing).
JR: Exactly (laughing).
AD: What were the biggest adjustments you had to make from playing at Buffalo Traditional to playing on the college level and being away from home?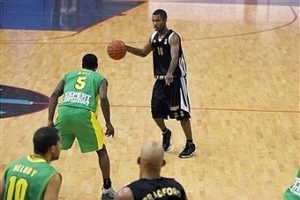 JR: I had family in Maryland so being away from home wasn't an issue for me. The biggest issue for me was learning the point guard position because in high school we didn't have any plays. In college now it was about game management – knowing what's a 'good' shot, knowing what's a 'bad' shot, and how to keep your teammates happy. There were so many things that I was lacking that I had to pick up very fast.
AD: Interesting. So when you were at Buffalo Traditional and an opponent threw up a '2-3' or a '3-2' zone defense against you, how would you all approach that if you didn't have plays?
JR: We knew what to do whether it was running a 'Motion' play or a 'Pick and Roll'. We felt like we were so talented that we could figure it out anyway. We had athletes, ball handlers, big men, and shooters. We had everything so we could chuck up a shot, and with Adrian, LaVar, and Damien – someone was going to get the rebound (see part one of this interview). We could get a three-pointer if we needed it – enough of us could shoot three-pointers. It was sort of like 'fool's gold' because you could get away with it at the high school level, but at the college level, that's not how it works.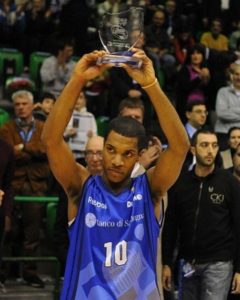 AD: So in college you had to learn how to play the point guard position from more of an Xs and Os standpoint.
JR: Yes, I had to learn how to play basketball.
AD: Did you play all four years?
JR: I played three and a half. I left halfway through my senior year due to grades.
AD: When I was an undergraduate, I do remember sitting in my dorm room one day and seeing Loyola of Maryland on ESPN, and seeing you suited up in your green and white uniform. What did you major in?
JR: Elementary Education.
AD: Did you just encounter a hard series of classes, or was it just juggling being a Division 1 student-athlete?
JR: There was a lot going on in my personal life and I didn't know how to handle things.
AD: At any point did you dream of playing in the National Basketball Association (NBA)?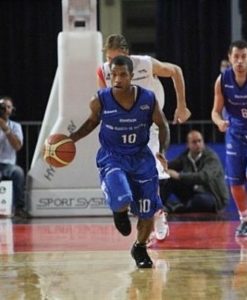 JR: Yes, for a very long time. For anyone who plays basketball long enough, that' s going to be a dream – especially someone who studied it, watched it, and idolized players in the NBA.
AD: In any of your years at Loyola, did you guys make the 'Big Dance' (the NCAA's Men's College Basketball Tournament)?
JR: The one basketball thing that drives me crazy to this day is not experiencing the Big Dance. Anything else that goes on in basketball is fine, but not playing in the Big Dance drives me insane.
AD: How did you go from playing at Loyola of Maryland to playing professional basketball overseas?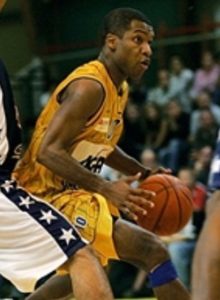 JR: It was through an agency. My college coach gave me a ton of agent letters – dozens and dozens of them and I literally went through all of them, researched them, and figured out which one worked best for me. I literally had an interview process with a couple of agencies and picked an agent that would best help me to further my career overseas and further my basketball career in general.
AD: So you must have done exceptionally well at Loyola for agents to have wanted to sign you.
JR: Prior to my leaving school, I was actually projected late first round and late second round going into my senior year in the NBA Draft. When word gets around, you'll have agencies calling.
AD: What kind of numbers were you putting up? Were you putting up 'Triple Doubles'?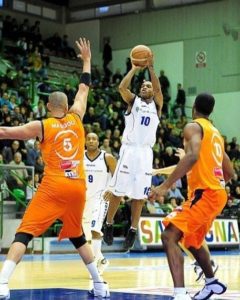 JR: I'm trying to remember – my senior year, I was around 25th in the country in scoring, 15th in assists, and 3rd in steals. In my junior year I was 2nd or 3rd in steals, and in my sophomore and senior years it was similar.
AD: What was it like playing professional basketball overseas? Which club or franchise did you play for?
JR: I played in 11 countries for 18 teams. I played 15 years and I don't regret a thing. It was beautiful.
AD: Wow. So this was all over Europe?
JR: I'm going to try to do it in order. I played in: Cyprus, Israel, Poland, Argentina, France, Italy, Turkey, Spain, Ukraine, and Morocco.
AD: So you were playing against home-grown European players, as well as players from the United States too? Which names come to mind?
JR: Yes. When I was in Turkey, I played against Allen Iverson. In Italy, I played against Danilo Gallinari and Khalid El-Amin. In France, I played against Hollis Price. C.C. Harrison had a big name. I played against Rudy Fernandez when I was in Spain. Lamar Odom signed to a team in Spain, but he didn't play that night. Manu Ginobli, Marco Bellinelli – I played against those guys. I played against Troy Bell who I'm still friends with. I played against a lot of people.
AD: I remember you posting a picture of you playing against Allen Iverson, also known as 'The Answer' on Facebook. What was it like playing against 'A.I.'?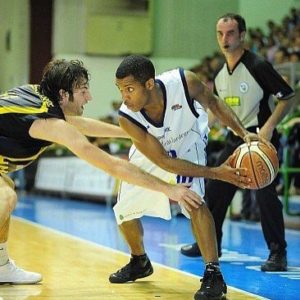 JR: There's two sides to it. There's the 'wow-factor', and there's the competitive part. The wow-factor lasts about five seconds. I walked on the court and I remember looking at him. He's not bigger than me – maybe an inch taller. His arms are super long and I remember looking at him and thinking, 'Wow, this was once the best player in the NBA.' He was for sure one of the best players in the world, and he was no bigger than me. And then it was like, 'Alright jump ball let's go.' It literally happened that fast. You're in competition mode and you don't ever want to let your opponent see a weakness. While it was a blessing to be able to share the floor with a Hall of Famer and an icon, the competitiveness kicks in and it's like, 'Okay you've got to go to work.'
AD: There was always some controversy about whether or not he was 6'.
JR: He's not 6' (laughing).
AD: Okay, we're almost done Jason. One of the common themes in my interviews with some of the former Yale Cup players is wasted and underdeveloped talent. The Buffalo News actually wrote a series of stories on this during your junior year at Buffalo Traditional. With players like you and Damien Foster taking your basketball careers beyond the Yale Cup, what are your thoughts on the challenges of our city league and that era? We didn't have a solid Junior Varsity program like the suburban and private schools, and most of our 'league' games were immediately after school. There were just so many differences between what we had versus the suburban and private schools. Talk about that.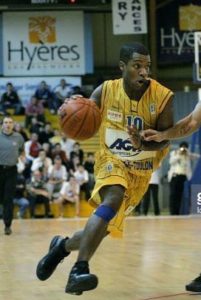 JR: I think that's a valid argument. Our games at Traditional got moved to 7:30 pm because they were so popular. Being a coach now myself, I do think the development is completely different. I'm in a private school right now – Bishop Timon. The things that I have access to, public schools don't have access to, and what you said was perfect regarding the development of a Junior Varsity team. Having access to the gym and being able to develop my kids in a particular type of way that public schools don't have access to – I think it's unfair, and because of that I think you see the difference between public schools and private schools. One is structured and one doesn't necessarily have the same structure, because they're not allowed to do certain things. Because of insurance or whatever the reason is, you see this big difference immediately, and in terms of athletics, I think something needs to be done about that.
AD: Is that something the School Board would have to address?
JR: Yes, because from my understanding, the biggest issue is insurance. That's what I was told. I've always wondered why some schools have access and other schools don't. It's unfortunate because for a lot of these kids, athletics is their way out of their toxic situations. So why not have things in place for them to look forward to? If they know that there is an adult or adults who are there in the gym to help develop their minds and bodies to give them a place of peace and tranquility, why not do that? Why not develop these everyday life skills, instead of having these kids with nowhere to go, and no access to anything, and now they're doing something they don't need to be doing? I would love to sit in on one of the meetings and get to the bottom of why these things aren't happening.
AD: I've heard you DJ at Dennis Wilson's Oak Room, but you're coaching now yourself at Bishop Timon. After your long playing career, how are you enjoying coaching?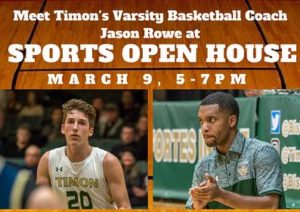 JR: I love it. To be honest, coaching wasn't something I was looking forward to – I just wasn't into it. I don't like stress – the yelling and the screaming. I'm actually a calm coach, and my kids think it's hilarious. I don't yell and I don't scream and yet I know how to get my point across without demeaning or belittling the kids. That works for me, and I relate to my kids the best way that I can and it's working for our team. We're having huge success this year. I've tried to take my experience from playing for four different coaches and meshing everything together to come up with my own coaching style.
AD: So you're not a 'yeller'?
JR: No, not at all, and I get that from my mother. I just give the kids a look and they know when I'm serious or something wasn't done right. I also demonstrate – I get in the practices and in the drills because I think it's pointless to tell the kids they did something wrong and not show them the right way. That works for me, and now the kid doesn't make the same mistake twice. I'm very, very hands on.
AD: How are the kids today different from 20 years ago?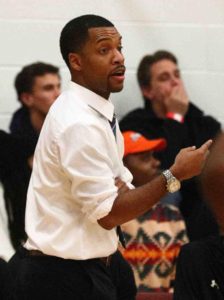 JR: I do training as well, and I've been fortunate enough to have a lot of hardworking kids. I think the era as a whole is more concerned about how people view them as opposed to actually getting into the gym and working. I think kids are worried about rankings and social media 'likes'. Granted it's a 20-year difference. We didn't have a phone to let the world know we were in the gym working out, so their mentality is different because they have access to different things. My kids know that when it's time for practice and training, they have to shut their phones off. When it's training time give me an hour, and when it's practice time, give me two hours. After that you can do you what you want to do, but lock into this and we're fine.
AD: That's true. We didn't have Facebook or YouTube twenty years ago.
JR: In the first week of practice I told the kids, 'Do not worry about polls. Do not worry about rankings. They don't mean anything. Polls are just a bunch of people's opinions of who you are. Being ranked No. 1 in November doesn't mean we're state championship material.'
AD: Does that mean when you are at Buffalo Traditional, you guys didn't look at the Buffalo News weekly 'News Cage Poll' to see if you were ranked over Cardinal O'Hara, Burgard or John F. Kennedy?
JR: Of course, but as a retired player, a coach and a trainer, I understand that those don't mean anything. You still have to go out and perform, and do what you need to do.
AD: Is there a difference between the kids you have at Timon versus what you would have if you coached in the Buffalo Public School system (BPS)?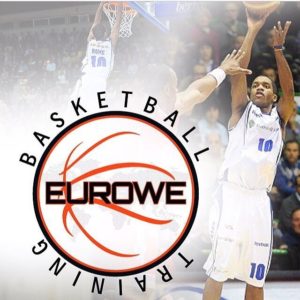 JR: No. I was doing training and I had BPS kids. What works for me is that I respect them and they respect me. Fortunately, I played basketball a long time and I can help them get to where they want to be in terms of this game. Because of that I'm able to keep their attention for an exceptional amount of time. I've gone where they want to go, so if was in the BPS I don't think it would be a big issue.
AD: Is there anything you would change about your playing days?
JR: I would say not failing out of school, finishing my degree and my senior year at Loyola of Maryland. Otherwise, I enjoyed every single time I stepped onto the basketball court – high school, college, rec-center, international – every good game and bad game – I wouldn't change a thing in terms of my basketball career.
AD: For youngsters aspiring to play basketball or to achieve any other life goal, what advice would you give them?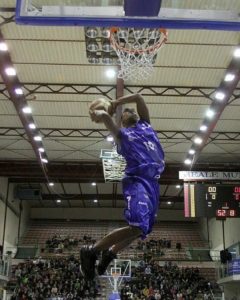 JR: Enjoy the moment. Enjoy the moment and take it seriously. Understand that every decision you make affects the next thing that you do. When I left school, it affected me possibly not being drafted which led to me going overseas. And I'm grateful to have gone overseas and to have played in fifteen countries, learned so many things, played against so many people. I was able to accomplish so many things and see the world with a basketball which is something I never thought would happen.
But I didn't understand the effects of decision making. You're a kid and you think you're invincible. You leave school, but you don't understand how much of a domino effect it is, and how one decision affects everything that you do afterwards. It can alter everything in your life, so my advice to youngsters is to really understand the decisions that you're making with everything you do in life.
AD: Yes, one injury, a violent crime – anything can change your future. I'm sure you saw ESPN's 30 for 30 about Benji Wilson's life. He was the No. 1 high school player in the United States in 1984, was on his way to being a college star and then a professional basketball player. And it was all taken away just like that over a stupid argument with two guys on the street he didn't know, and who had nothing to lose themselves.
JR: When I was in high school I didn't go out. When I was at Loyola, I didn't go out to a club until maybe my junior year. I was afraid of losing my scholarship due to being in the wrong place at the wrong time. I went to dorm parties, but I didn't want the club scene. I didn't want it.
AD: Well Jason, thank you again, and I really appreciate your willingness to talk about your life and playing days. Whether you know it or not, you are royalty, at least as far as I'm concerned. What you guys did at Buffalo Traditional was big and in your successes, you touched a lot of lives – not just at Buffalo Traditional, but also for the rest of us at the other schools – seeing that those types of things could be done and giving everyone else something to shoot for. It was something for the entire area to be proud of – to say that you were there, and that you played against Jason Rowe, Damien Foster, and the Buffalo Traditional Bulls (click on the image below to enlarge it).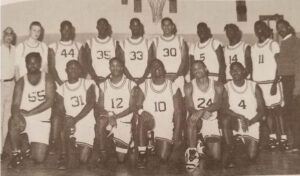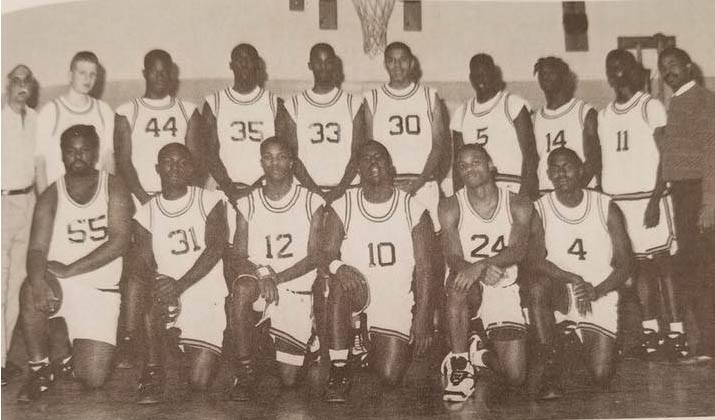 JR: You just said something very important, which was that we touched lives. At the time you don't understand that, but that's why I also said for the youngsters to be mindful of their every decision because you never know who is watching. That was something that I learned later on in my career – to be mindful, to be in the moment, and to appreciate each moment. There is nothing wrong with stepping outside, smelling the air and saying, 'Thank you.' Don't get caught up in getting flashy rings, a Range Rover and all of those things, because all of that can be taken away from you.
Thank you for taking the time to read this interview. If you enjoyed this post, you might also enjoy:
• Jason Rowe discusses Buffalo Traditional Basketball, the Yale Cup and State Tournaments
• Niagara Falls basketball legend Time Winn discusses playing in the LaSalle basketball dynasty part one
• Niagara Falls Coaching Legend Pat Monti discusses building, and leading the LaSalle basketball dynasty part one
• Lasting lessons basketball taught me: Reflections on three years of basketball camp
• Lasting Lessons basketball taught me: An introduction
Video Interviews With Jason Rowe
Buffalo Basketball Legend Jason Rowe Discusses Bishop Timon Basketball, Coaching And Training
Buffalo Basketball Legend Jason Rowe Discusses His Playing Days, ABCD Camp, AAU Hoops, And Coaching
Closing Thoughts
I intend to create more promotional/teaser pieces for The Engineers: A Western New York Basketball Story, both via print and video as I journey through the final steps of completing the book. I created a page on Big Words Authors for the purpose of giving a background of the book and grouping all the promotional pieces, such as this in one, for interested readers.
The Big Words LLC Newsletter
For the next phase of my writing journey, I'm starting a monthly newsletter for my writing and video content creation company, the Big Words LLC. In it, I plan to share inspirational words, pieces from this blog and my first blog, and select videos from my four YouTube channels. Finally, I will share updates for my book project The Engineers: A Western New York Basketball Story. Your personal information and privacy will be protected. Click this link and register using the sign-up button at the bottom of the announcement. If there is some issue signing up using the link provided, you can also email me at bwllcnl@gmail.com. Best Regards.