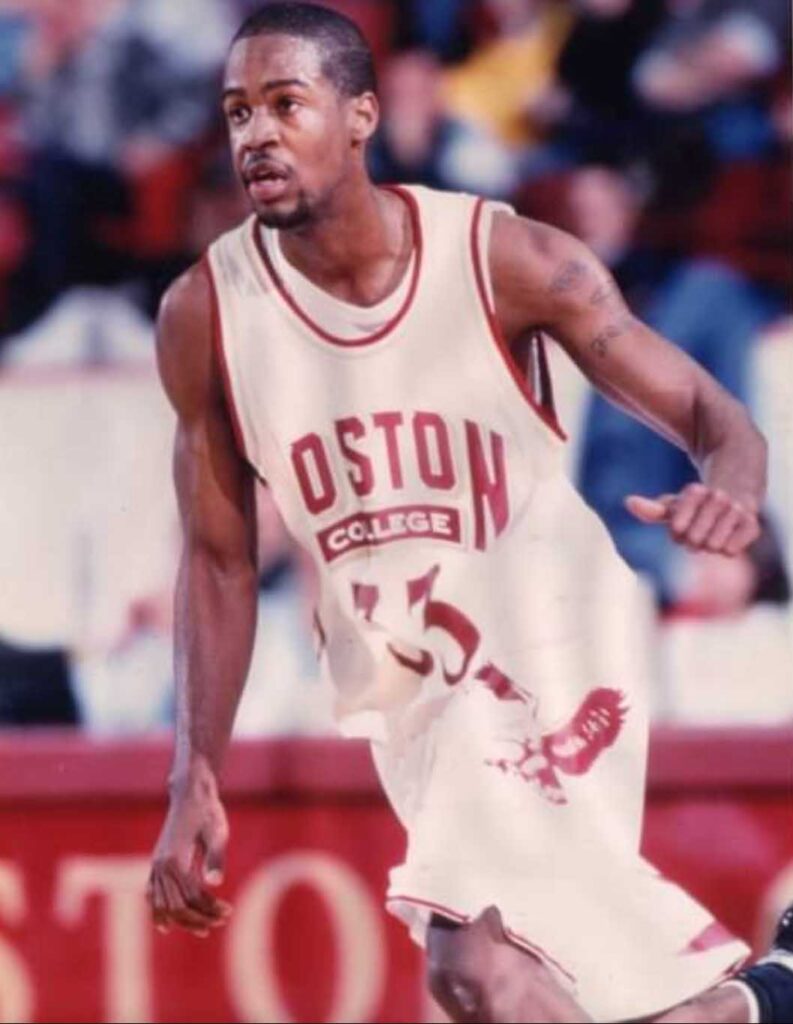 "I think playing in Buffalo alone prepares you for the world, if you're lucky enough to be able to grow up in the City of Buffalo!"
This interview is the second part of my interview with Buffalo basketball legend Damien Foster, the other half of the Buffalo Traditional dynamic duo from the 1990s. In part one we discussed his background, and the run he and his teammates went on at Buffalo Traditional High School in the early- to- mid 1990s in Western New York's city league, the 'Yale Cup' and in postseason play. In part two we discussed his basketball career after Buffalo Traditional at the college level. The pictures in this post were shared courtesy of Damien himself and from an archive of Section V and Section VI basketball assembled over the years from issues of the Buffalo News and the Rochester Democrat & Chronicle by my first Coach at Hutch-Tech High School, Dr. Ken Jones.
Anwar Dunbar: So pretty much after your freshman year, you guys had 'bullseyes' on your backs (no pun intended). Everyone was looking for Buffalo Traditional, but were there teams you guys looked forward to playing? I know there was a 'thriller' against Bennett High School in your junior year. Adrian Baugh (pictured below in blue) posts about that sometimes on Facebook. Did you have that game circled? I know Bennett was supposed to be pretty good that year with players like Mike Carter and Monty Montgomery.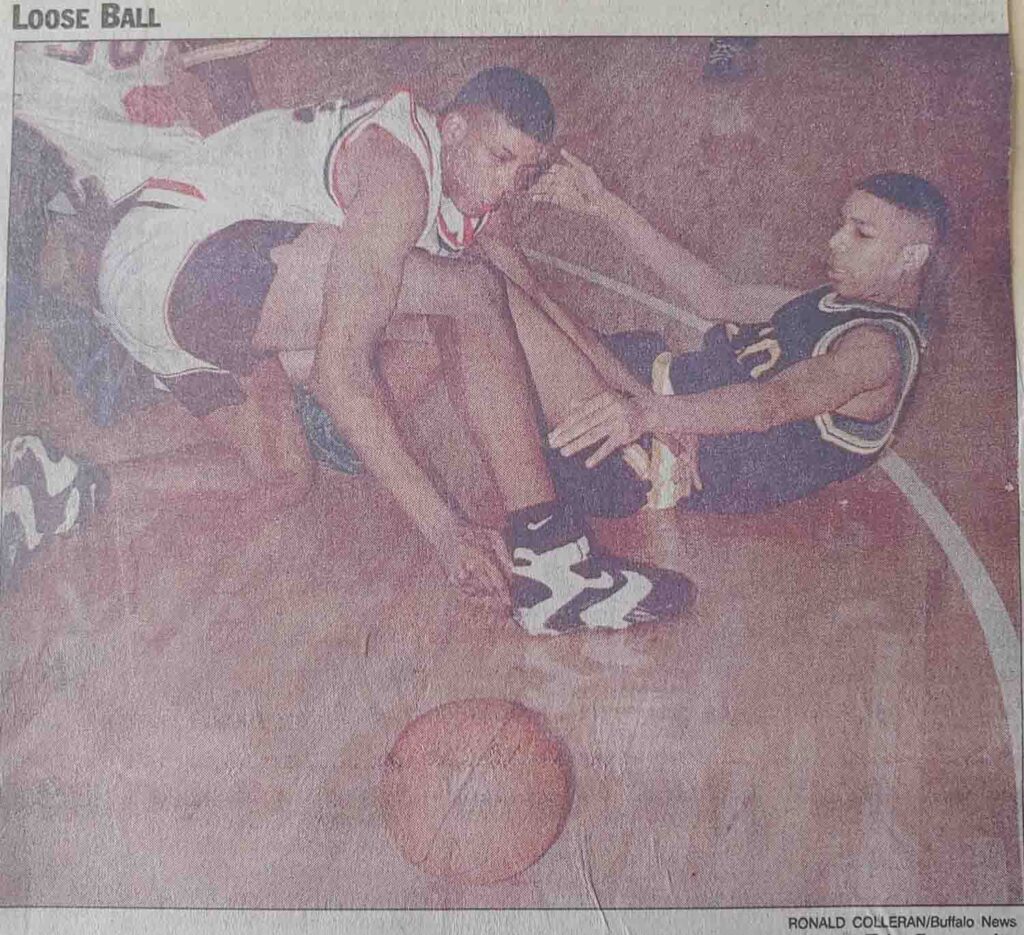 Damien Foster: Well, in our junior year we lost to those guys. I think we took them for granted. I have that tape and I watch that game. I watch a lot of the games. I've got all the games starting from my freshman year. We really weren't focused on that game and we really didn't have a game plan, so we really didn't know what to expect. We knew they were good, but we felt like we were going to go in, beat them and take care of business. When the ball went up, those guys were focused! Mike Carter was focused! The infamous 'spin move' – everyone kept saying he was spinning to the hole. Mike was a big guy! He was a football player so once he got you on his hip, it was hard to contain him. So that game caught us off guard and it really sparked the rivalry between us and Bennett.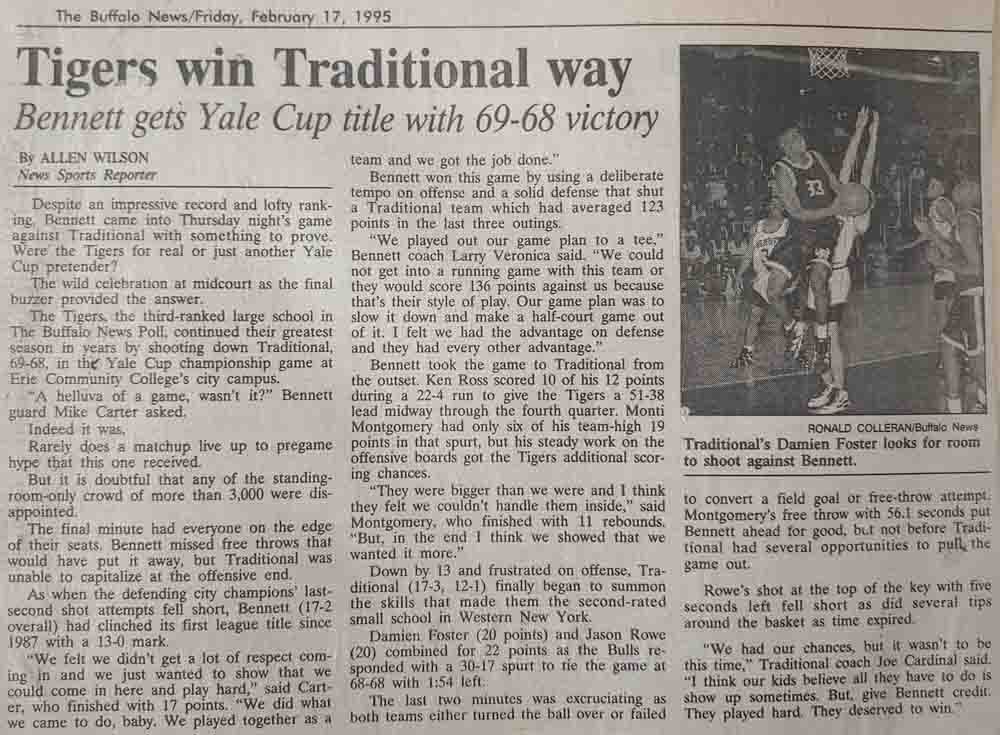 Losing that game in front of all those people – I want to say that there were 5,000 to 6,000 people at Erie Community College's (ECC) gym at the time, it was very embarrassing. Those guys rubbed it in our faces, and it was one of those things like where you say, 'Wow.' They definitely had a bullseye on our calendar for next year. I was absolutely looking forward to that game and I couldn't wait for it in my senior year. You could tell the difference between our junior and senior year – the focus was just so different. We were locked in my senior year. There was no way they were going to beat us again. Some of their players didn't care for me – Monty Montgomery didn't care for me. I didn't care for him and that was a rivalry. It was what it was, but yes, that game for sure.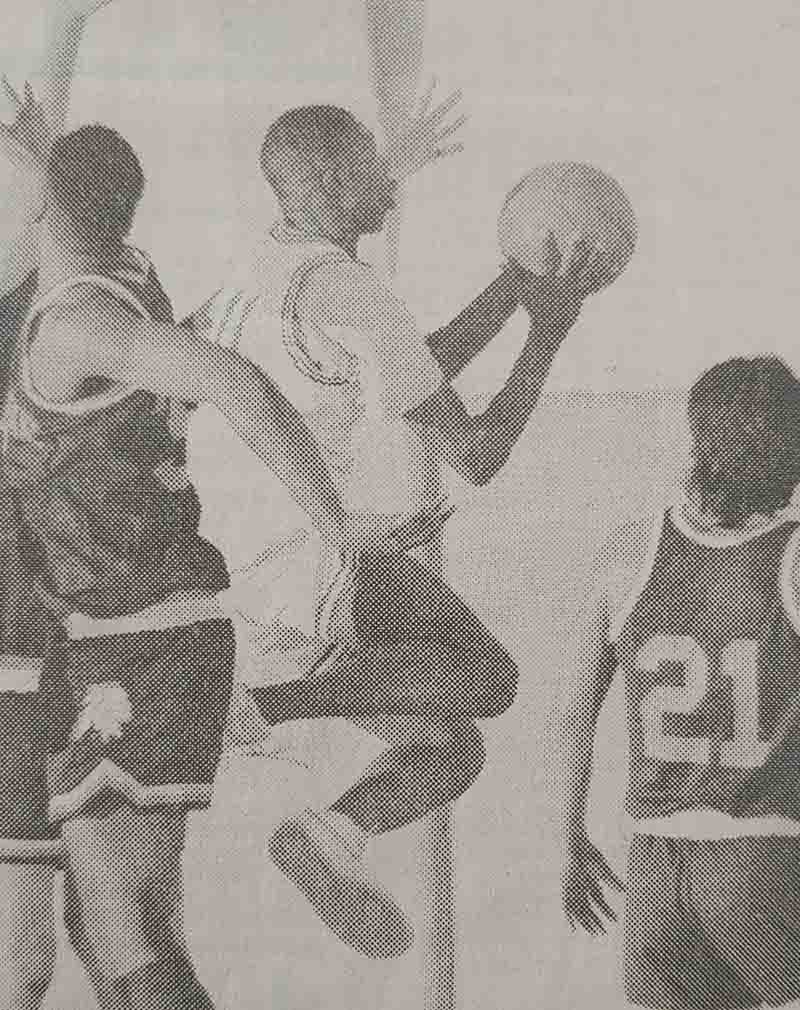 I looked forward to playing against Jeremiah Wilkes and Burgard High School (pictured). I also looked forward to playing against Kensington High School, which had Kilroy Jackson and Edmund Battle. You couldn't just go into Kensington and be soft. Edmund Battle and those guys would talk crap to you and try to intimidate you. Me? I liked it because it got me going and those were the games I looked forward to playing – the big games against guys who talked crap – guys who thought they were tough. It was definitely Kensington, Burgard and Bennett. Those were the teams.
AD: Now, I might not put this in print, but did you and Monty have some kind of run in at a summer league?
DF: No. Monty moved here from California and he was on his California 'swag'. He talked about how he was going to do this and do that. He looked at us like, 'Who are these guys?' I'm looking at him saying, 'Numbers don't lie!' And there were some words that were said over the summer when he first got here. And then when they won the game in my junior year, they really ran with it so that's kind of what got the fire underneath me for my team.
AD: Well they had a bit of a 'reckoning' when postseason play started because they got disqualified in the Class B bracket, while you guys went on to Glens Falls and then back again. Anyway, your best game, was it the final game where you got the MVP or was it something else?
DF: For me I would say it was the state championship final game in my senior year. My shooting percentage was pretty high. I scored more points in other games, but it was just more so the timing of when the points came because it was the state championship. I won the "Most Valuable Player Award" and that was huge.
AD: I also asked Jason this. I asked him about the last shot of games, and he said it was never a concern because your team were usually so far ahead of your opponents (laughing). In terms of the volume of shots, were you always able to find a balance?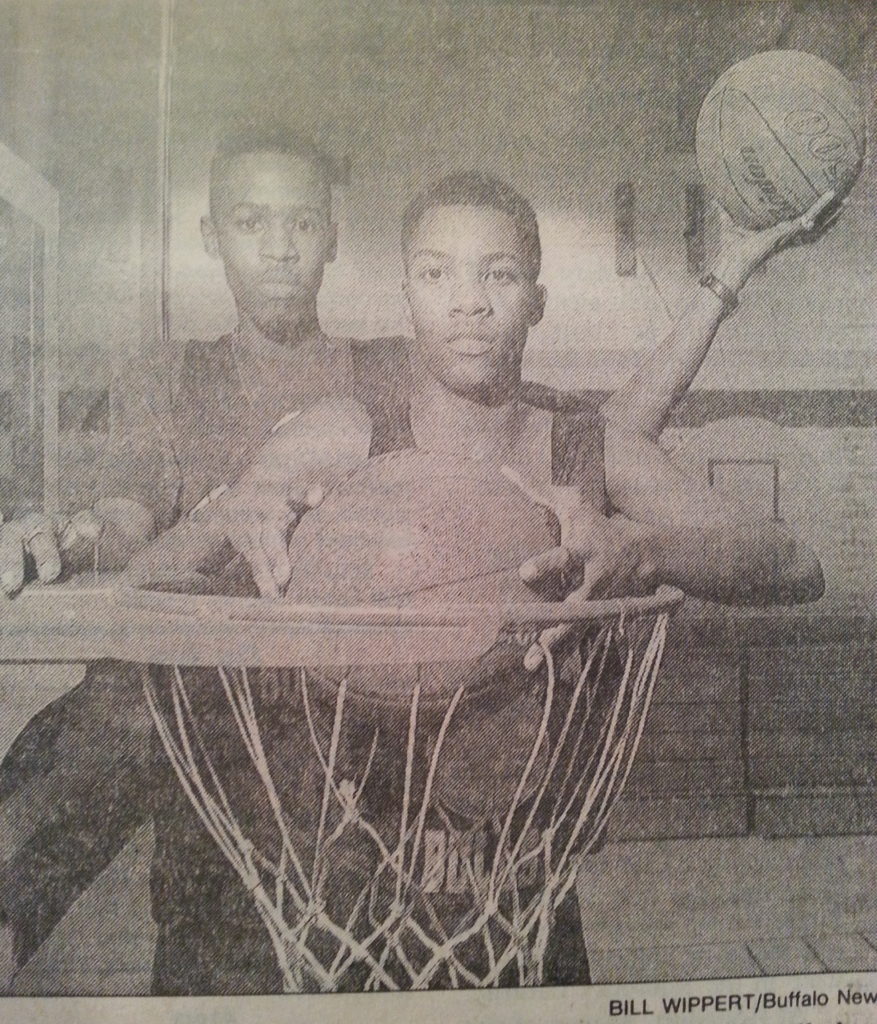 DF: You've got two 'A-type' personalities, two 'alpha-dogs' out there – of course you're going to bump heads a little bit. Me and Jay (pictured with Damien), we were close, so we knew how to work through it. It was never a concern about who would take the last shot because we were both comfortable with whoever shot the ball. If one of us 'squared up', both of us had a good chance of the shot going in. We both had great shots, so for me, I never had a problem with him taking the last shot and he never had a problem with me taking the last shot. It was more like just make it and get the win.
Our chemistry was always natural from our playing together at the Boys Club, learning the game together and coming up together. We were cut from the same cloth. Teammates are going to argue. You're brothers and you're around each other all the time – the locker room, practice, school. When we were on the court it was a family and it was all about taking care of business.
AD: Of your four years, was one your favorite or did you enjoy them all together?
DF: I enjoyed all four years, but my senior year was my favorite because we won everything. We won the Yale Cup, the states and the federation. It was just a great year. There was a lot of winning and when you're winning, everybody is happy. You're being remembered, you're writing your legacy and you're winning at the same time. It was my best year, but then you hate for it to come to an end because you know it's your last year. The years go by so fast.
AD: With your team coming in together, was Jason your closest teammate? Or were you tight with some of the other guys?
DF: LaVar Frasier and I were close, and Damaon White and I were also close. Jason and I came up in the Boys Club and didn't live too far from each other. I was probably closest with those two guys in my senior year, but again me and LaVar Frasier were close and are still close today (seated to the right below with Jimmy Birden and Adrian Baugh). We talk all the time.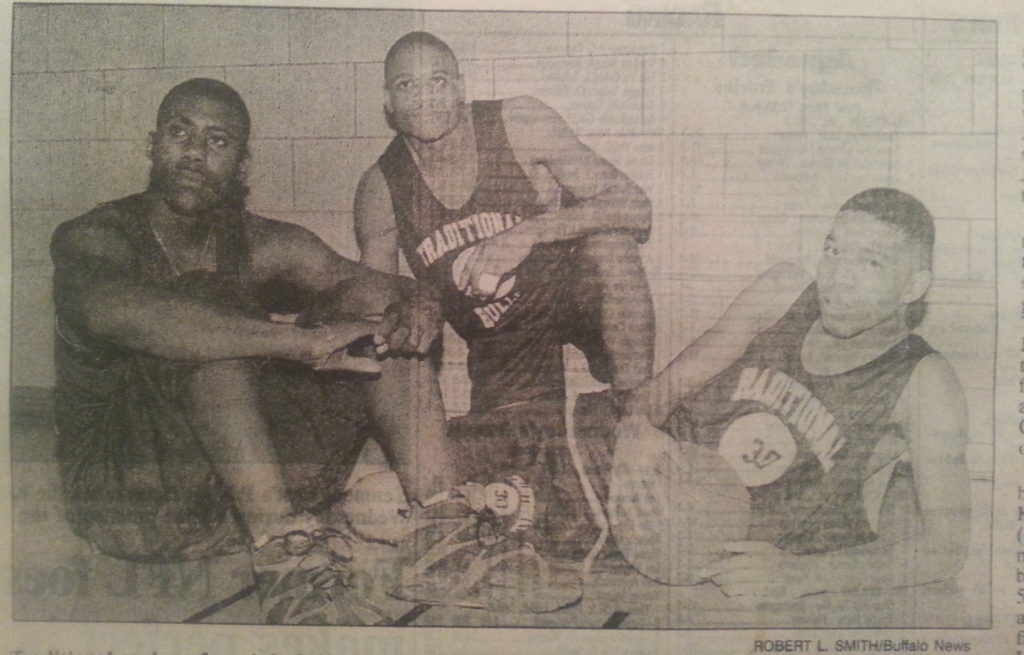 AD: Was there anything you saw during your four years that surprised you? I know one of your teammates got murdered in your freshman year, Cameron Calvin.
DF: That was huge. We'd just won the Wilson Tournament. The bus dropped us off at the school and everyone went their own way. Some parents picked up teammates, while some guys caught the bus. I just remember getting a phone call the next morning from one of my teammates saying, 'Man did you hear about what happened to Cameron?' I said, 'Cameron? Last night?' They said he got shot and murdered and I couldn't believe it. I felt like no way.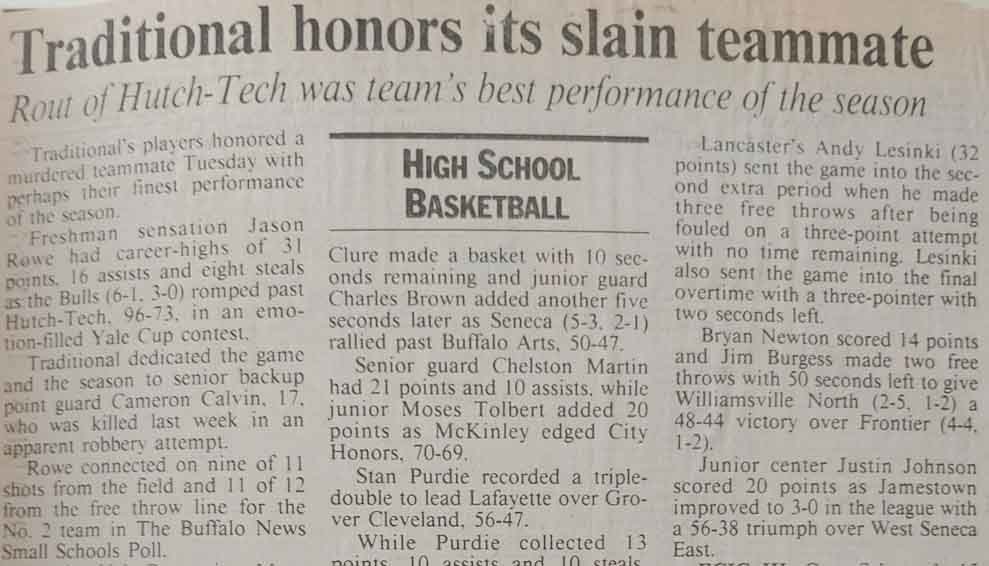 We were just playing together and it kind of haunted me. Growing up on the eastside you hear stories, but I've never experienced it with someone so close to me getting murdered like that. So that was very detrimental to the team and we rallied together and around his parents, his brother and sister. And we all wore No. 41 armbands in remembrance of him. We wore the black bands and with the black socks and we tried to mimic Michigan's "Fab Five" back in the day. Everybody was doing it. That brought us together even more and we really became family when that happened.
AD: Yes, that was right before you guys played us (laughing). Academics kept a lot of Yale Cup players from playing beyond high school. What kind of student were you when you were at Buffalo Traditional?
DF: I was a B+ student. My grades were pretty good because it was instilled in me early on what a 'student-athlete' is supposed to be. My parents didn't play with my grades. I was just inspired to play the great game of basketball. Knowing that I wouldn't be able to play if my grades slipped, just knowing that alone made me work even harder in the classroom. There was no way I wasn't going to be eligible to play the game knowing what I had to do to set records. So, I never had a problem with school. I liked going to school.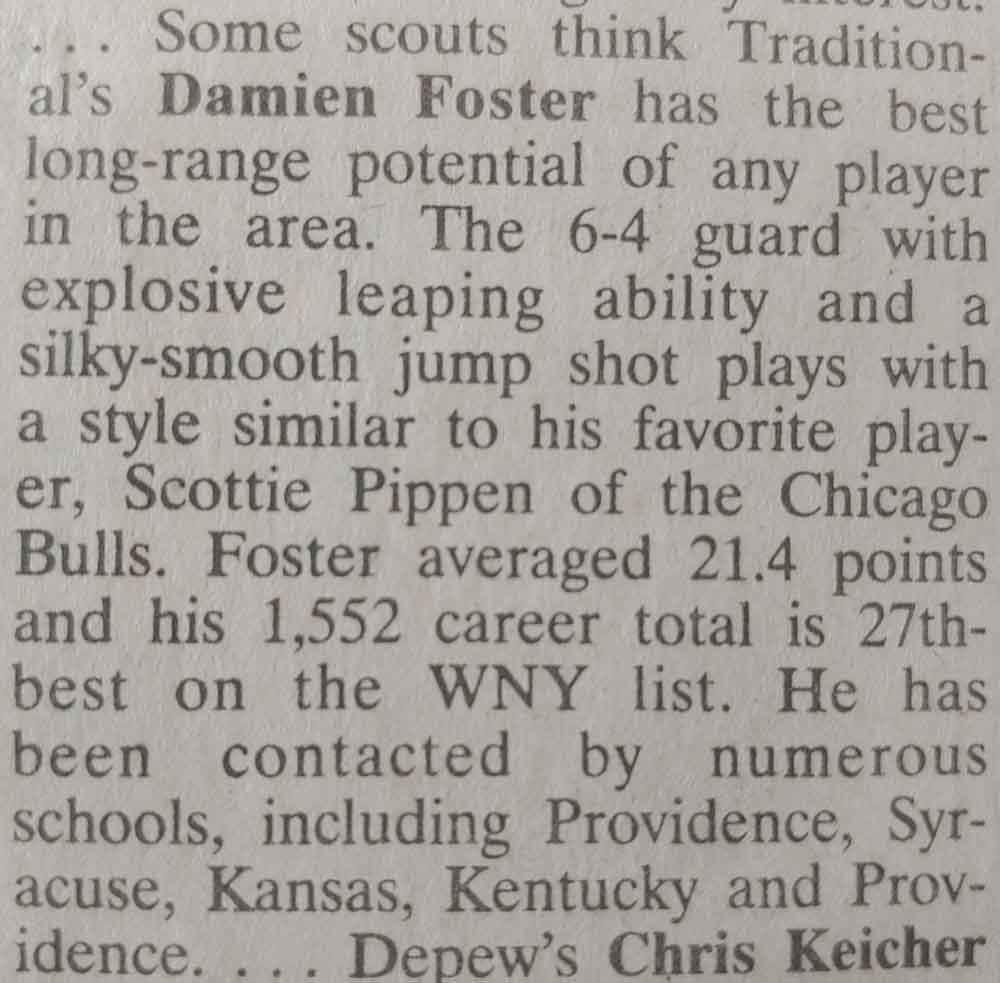 AD: When did the colleges start recruiting you?
DF: The colleges started recruiting me my sophomore year.
AD: Wow.
DF: I started getting letters every day. It was pretty much from every school and conference in the country except for Duke. Those letters started coming in like crazy. A lot of that had to do with the fact that we were so active during the summer.
AD: Well, that was also before social media. Was that before or after you guys started playing big-time AAU or was it just word of mouth?
DF: It was after the AAU (Amateur Athletic Union) stuff because you must remember that we started it after my freshman year. We were in France competing with their professional teams. We beat two of their pro teams, so every summer that was the regimen, AAU basketball and we were traveling. Mickey Walker was our Head Coach out of Syracuse, and it was called the "USDBL" which stood for the "Upstate Developmental Basketball League". That was huge. Just being at the ABCD Camp, you're playing in front of head coaches. Everybody was going to the Nike Camp, but ABCD was where it was at. You had all the head coaches in the stands and you're playing against hundreds of other kids. That clearly helped with all the college recruiting and the letters, just getting your name out there and competing.
Don't get me wrong. Here you're doing good in the city, but you've got to play AAU ball. And like you said there was no Facebook, none of that internet stuff. This was real stuff. You had to be who you said you were (laughing)! You had to go out and prove yourself, drop some numbers and beat somebody.
AD: You initially went to Boston College, right?
DF: Yes, I signed my letter of intent for Boston College in 1996. We had a great team in my freshman year, and we won the Big East Championship.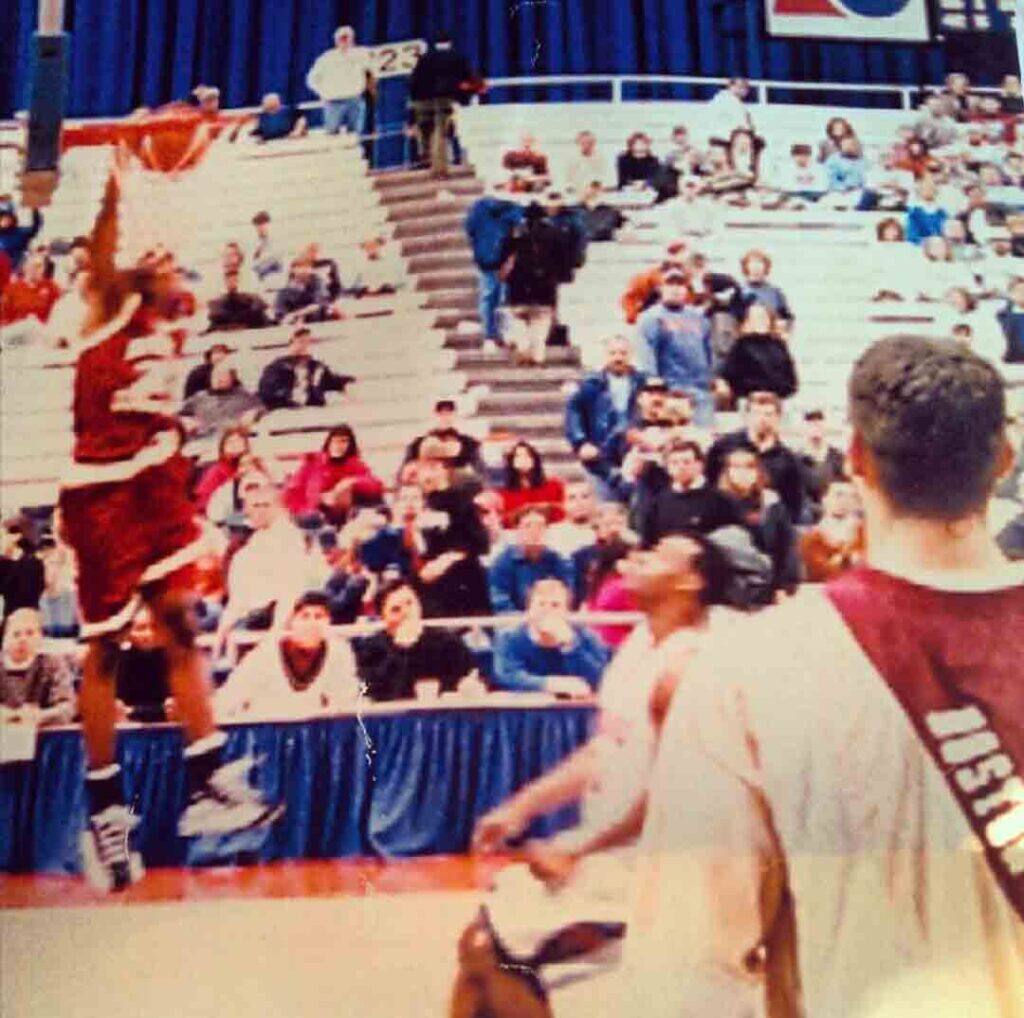 AD: So, you were playing under Head Coach, Jim O'Brien. I'd gotten one of the Athlon Big East preseason books that year and remember seeing your picture. You were on the team with Danya Abrams right? – Keenan Jordan and those guys. Was James 'Scoonie' Penn on that team too?
DF: Yes, Scoonie Penn was on that team. That was my point guard! That was my boy!
AD: What made you choose Boston College and what did you major in?
DF: I wanted to play in the Big East Conference. Dave Spiller was an assistant at the time on Coach O' Brien's staff. He was from Buffalo. I also met Danya Abrams at an AAU tournament. I majored in Communications.
AD: Did you stay at Boston College?
DF: I stayed at Boston College for two years and left after my second year. Jim O' Brien left after my freshman year and went to Ohio State – he left on bad terms with the university. Danya Abrams, Keenan Jourdan and Stephen Thomas – all those guys were seniors when I was a freshman. We had a lot of seniors on that team, and Coach O' Brien was trying to bring in some players to get it going. These guys he was trying to bring in were from Boston and were good guards and good players. They passed their SATs and everything, and the school 'shut them down'. They basically told them that their high school curricula weren't good enough. That was the second time they did that to O' Brien's recruits, so he was fed up with it. To make a long story short, he left the university and sued them. He took Scoonie Penn with him to Ohio State.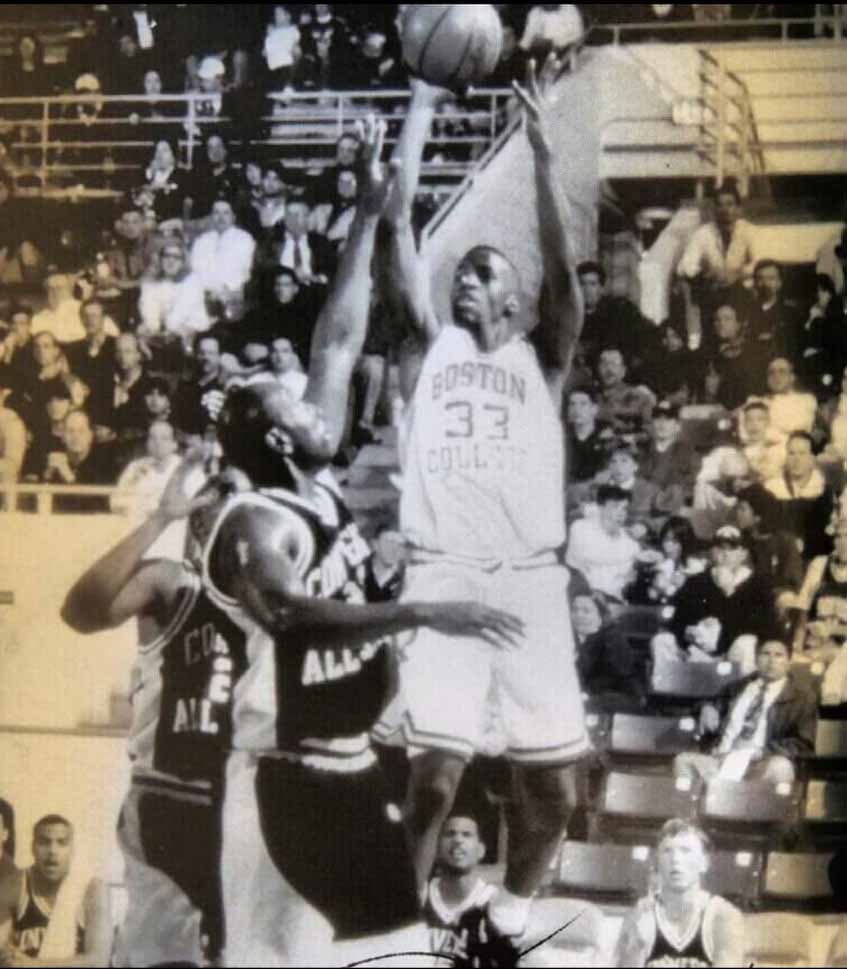 AD: Yes, I remember him leaving and Scoonie Penn transferring, but not all the legal stuff.
DF: He asked me if I wanted to go. I didn't want to go because I played very limited minutes in my freshman year because we had so many seniors. I didn't want to go and sit out a year. Everyone was leaving and I stayed.
Al Skinner came in from Rhode Island. He played in the American Basketball Association (ABA) with Dr. J and all those guys. When he came in it was so late in the recruiting period. Everyone had signed their recruiting letters. He brought in about four guys who I think were going to Division II schools. There were five of us left from the previous year's team. Antonio Granger and Dwayne Woodward were getting ready to be seniors and I was in my sophomore year. We also had Kostas Maglos who was from Greece. That five who were there was who started. It was my sophomore year and I remember we were in the Maui Invitational Tournament, because I ran into Duke's Elton Brand in Hawaii and we talked about that game from my junior year (laughing) (see part one of this interview).
We were getting ready to match up with Arizona which was No. 1 in the country with Mike Bibby at the time. They'd just won the championship. Right before the game was going to start, Al Skinner came up to me and said, 'Hey I'm going to start Kenny Harley in front of you this game. Just be ready to come off the bench and play!' It was a last-minute change, so I said, 'Wow, okay whatever.' The game came and he never put me in the game at all (laughing). So, then everyone was wondering what was going on with me. You go from starting to not playing at all. I had no explanation and had to figure out what was going on.
From that point on it seemed like this guy just didn't want to play me. I couldn't understand it and I had to figure out what was going on. I figured Jim O' Brien was suing the university and I was caught up in the mix. I was O' Brien's youngest recruit and the other guys were getting ready to graduate. I wasn't Skinner's recruit – I understand how the game goes. I realized that it was probably time for me to go. I sat down and talked to him after the season and we just weren't getting anywhere. In terms of transferring, it was between Duquesne and Marquette, the University at Buffalo (UB) and Canisius. UB had just gone into a new conference that year.
The only reason I came home and went to UB was because I needed to get somewhere where I'd play immediately because I'd lost the time. So, I get to UB, sit out my first year and the next year I'm ready to go. I shook the rust off a little bit. I think I had 38 points against Manhattan. That was the game before the big North Carolina game. We had North Carolina at home. And then the same thing happens. There was just a whole bunch of nonsense going on behind the scenes with the team and the coach at the time, Coach Cohane.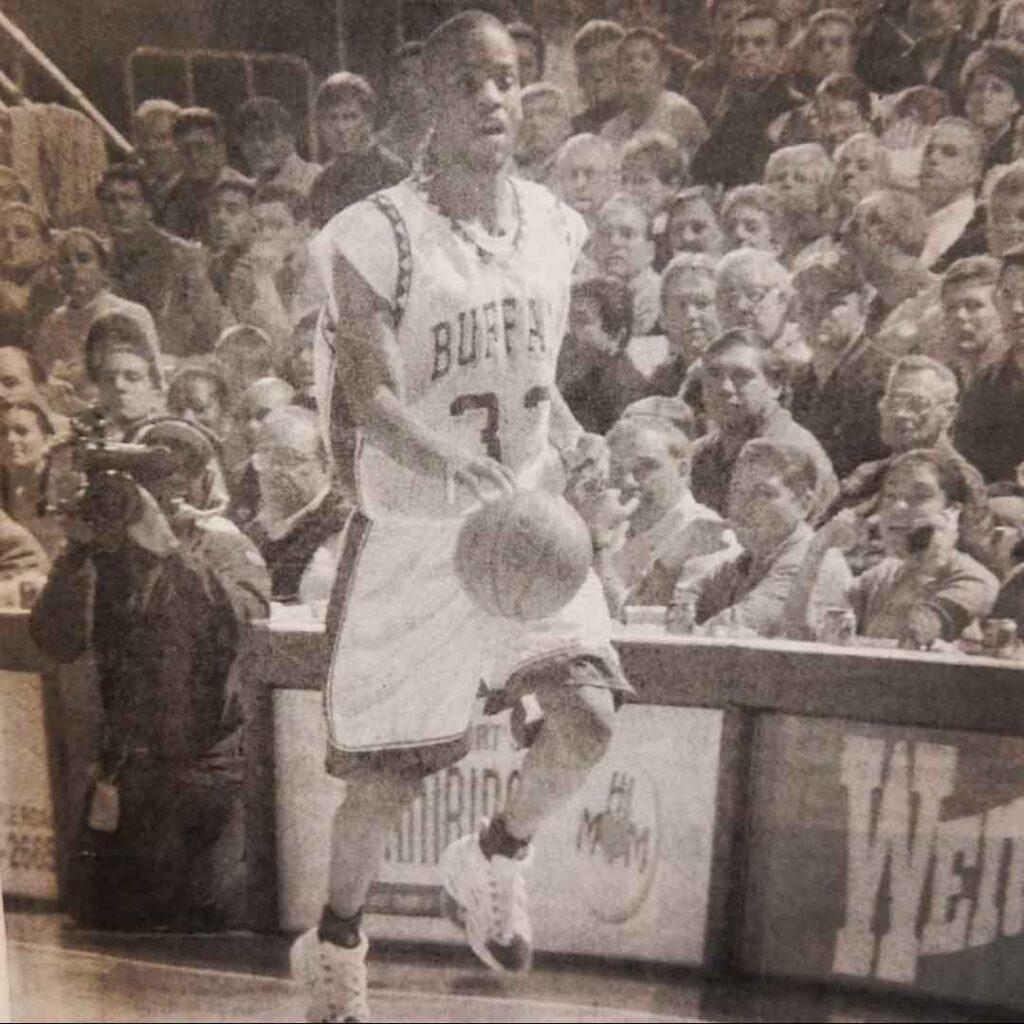 AD: Tim Cohane, yes, I remember him.
DF: Some of the guys on the team didn't like Cohane. He was a military guy and he kept it real. He'd let you know if he liked you or if he didn't. I respected that about him. If you don't want to play me, let me know so I can go someplace else. He just had that aura about him and some of the guys on the team didn't really care for that. Believe it or not we had a talented team at UB. There were a couple of guys from New York City who came down with Coach Rock Eisenberg. He was helping Coach Cohane. Things basically went 'left'. The players on the team said if Coach Cohane wasn't fired before the North Carolina game, they weren't playing. They were going to boycott that game.
AD: Wow.
DF: It was just beyond crazy to me and I didn't know what was going on. They had an NCAA investigation going on at the time and they were investigating Coach Cohane about being in the gym. In the offseason, coaches are not allowed in the gym. They were trying to get down to the bottom of it regarding players seeing him in the gym. The NCAA sent its investigators to interrogate us. They brought us into these small rooms one by one to see if our stories matched up. I'd never seen Coach Cohane in the gym because I was too busy playing basketball. The other players' stories didn't go like that. They were making up stuff saying, 'Yes, we saw him in the gym!'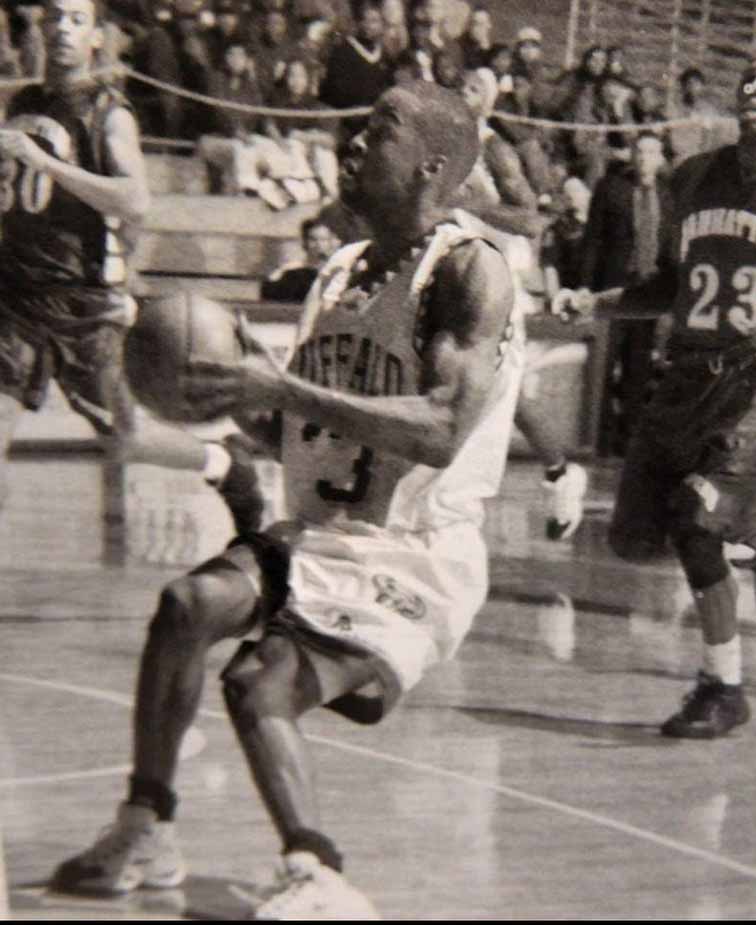 There were only three of us who said we didn't see him in the gym, and the NCAA came back and said, 'We're going to give you 24 hours to recant your story because it's not lining up with the rest of the team! Basically, if you don't change it, you could lose your scholarship!' They said we could go to jail. They were really trying to intimidate us and extort information out of us. So, they interviewed me for a second time. I never changed my story and to make a long story short, the players boycotted the game and they ended up firing Coach Cohane before the game. They brought Reggie in right before the North Carolina game. He came in and that was a whole other story. So, I basically went through four college coaches in four years.
AD: Wow.
DF: And it hurt me a little bit.
AD: Well, yes, it hurts most players because you don't have that continuity, and the new coach has a new way of doing things, and he's probably going to bring in some of his own players. So, who was the last coach?
DF: Reggie Witherspoon (pictured).
AD: I have one last question about Al Skinner. Was he basically trying to 'clean house' and wipe the slate clean?
DF: Basically. He brought in his own players and they were nowhere near my level skill-wise. You have a certain time period where you sign with Division I schools and then you have a time period where you can sign with Division II schools. These guys signed with Division II schools and at the last minute, he brought them with him to Boston College. It was one of those things where some of the players were asking me, 'Yo. Why are you sitting down? Why are you not playing?' When you've got your teammates asking those questions, something isn't right. So, I guess it was just a political thing.
He just didn't want to play me. I just wasn't his recruit. I didn't understand it, but I had to understand how that political game was being played. Again, O' Brien was suing the university and I was his recruit. He was at war with Boston College and I was still there. It was the same thing at UB. Cohane sued UB and the NCAA. We recently lost the lawsuit against the NCAA a few years back. My name is on affidavits and all kinds of crap. What they did to him wasn't right. It was crazy. I've never seen anything like that. The NCAA is an institution and you're not going to win against them (laughing). I think Jerry Tarkanian, "Tark the Shark" from UNLV, he had a lawsuit against them too. No one wins against them (laughing).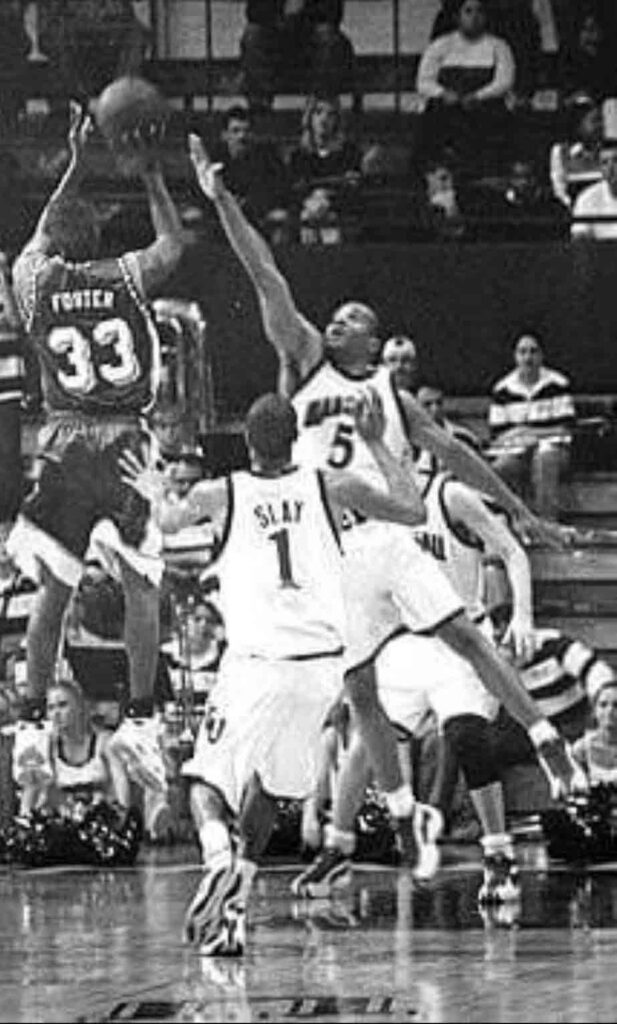 AD: Well, that's interesting. I never knew all of that happened. I remember Jim O' Brien going to Ohio State and Scoonie Penn following him to Columbus. And then they had Scoonie Penn and Michael Redd in the backcourt, but I never knew all of that happened and –.
DF: In hindsight, looking back maybe I should've left because it would've been me, Scoonie Penn and Michael Redd. I thought I was making the right decision by staying and –.
AD: Well, you also think that when you're going to a school, you're going to be there for the next four years playing for that particular coach for the entire time and –.
DF: Oh yeah, absolutely. That's the reason you sign up and that's why you're there – because of that coaching staff. You say, 'I'm here for four years with you guys!'. That's not always the case. I had four different coaches in four years (laughing). That was crazy.
AD: Did you finish at UB?
DF: Yes, I finished at UB.
AD: Did your team ever come close to winning the conference tournament and making the NCAA Tournament?
DF: Not at UB. Like I said, we had a very talented team, and when that coaching change happened that was Reggie's first run with a Division I school, so he was learning. He was learning how to maneuver and practice, and it just wasn't there for him at that time. He couldn't relate to players and players didn't like him. I'd known Reggie since I was in the seventh grade.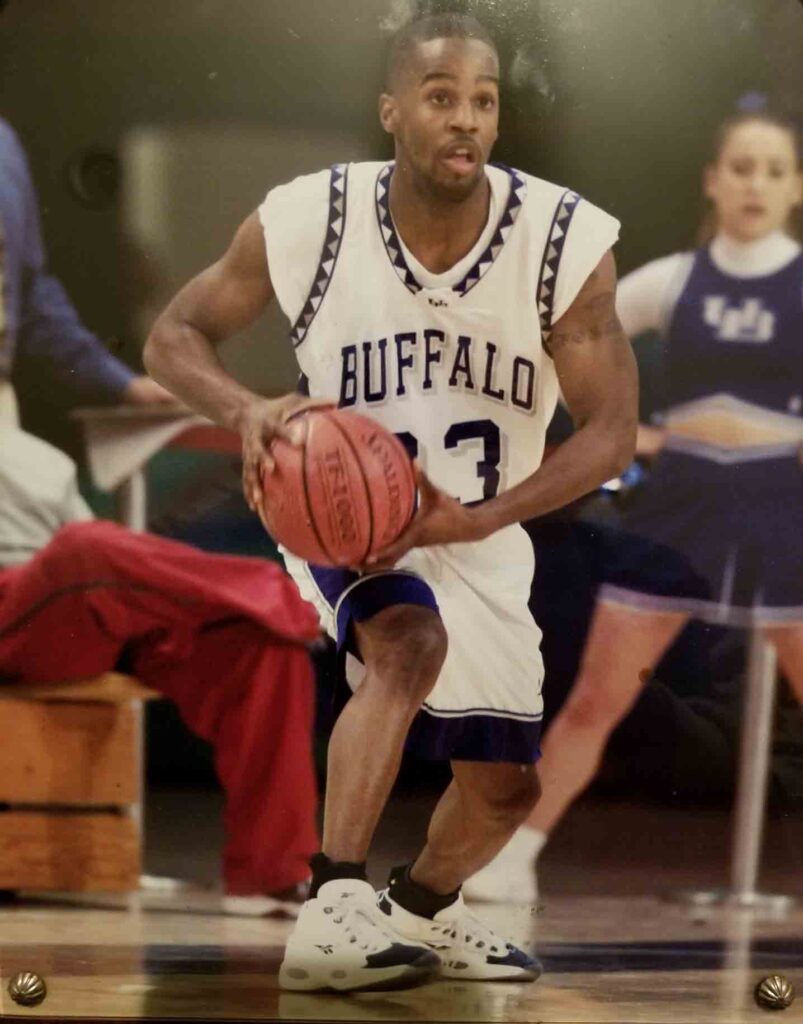 He had an AAU team called 'Ace'. Ryan Cochrane played on his team and I think Jason played a couple of times with his team. Reggie was a workaholic. He was going to work you, and if you didn't have that mindset to come to work and be ready to run, you might get a little frustrated. A lot of the players didn't know that about him, so they didn't know what they were in for.
They got Cohane out and now they've got Reggie, and he's running them like dogs – even before he introduced himself to them. They didn't take that too well. It definitely rubbed off on the court in terms of winning. We weren't on the same page, so we won some games, but no tournaments. When I was at Boston College in the NCAA Tournament, we went out to Utah and lost in the second round. We also went to the Big East Championship in my freshman year – I've got a championship ring from that. But Reggie literally went from coaching at ECC to coaching us at UB in the North Carolina game.
AD: Wow.
DF: And we were beating North Carolina. We were winning in the first half.
AD: Who was on that team?
DF: In addition to me, we had Lou Campbell, Theory Harris, Davis Lawrence, Maliso Libomi, who was from France and we had Nikolai Alexeev and Alexei Vasiliev (our point guard) who were from Russia. We had a talented team. We could've beaten North Carolina. Reggie decided to play everybody on the bench down to the last man. The rotation just wasn't there. Again, you're not coaching at ECC anymore, you're coaching at a Division I school. I was blown away by some of the stuff that I saw, but it was a learning experience. If you let it some of it would deter you.
AD: Was that one of Antawn Jamison's North Carolina teams? Or was that one of Joseph Forte and Brendan Haywood's team?
DF: We played against Joseph Forte in my senior year. We played them twice.
AD: Was it Ed Cota's senior season?
DF: Yes, it was Ed Cota's North Carolina team.
AD: What did you do after college? Did you play any professional basketball like Jason or Tim Winn?
DF: I had a tryout with Cleveland. They told me to come up for free agency camp. I came up. They took too many players in the draft, so they cancelled the camp (laughing). I also got an offer from Israel. I want to say that Trevor Ruffin was over there playing at the time. I got with an agent and signed, and it was just bad over there at the time with the wars and the fighting over the land. I want to say that Trevor was on his way back – I think he was literally at the embassy. I just didn't feel like the money was worth it – what I was signing for at the time, so I didn't go over to Israel and I started doing real estate from there.
AD: Damien, it sounds like you guys were relentless with your development. For any youngster who wants to play basketball, what would you tell them?
DF: The game has evolved so much since I played. These guys have got all the tools available to them – a lot of stuff. They have online tutorials, videos – when I was –.
AD: They have trainers like Jason (Rowe).
DF: Yes, they've got personal trainers and they've got a lot of stuff that's available to them. My advice to the youth is to just develop a good work habit. Develop great work habits all season and away from the court. Work on your game every day and you've just got to push yourself. You've got to practice and play when nobody else is. That's just how it goes. I believe in the old-fashioned road work, so you get up in the morning at 5 am. At 6 am you're running while the air is thin – you get your laps in. You're putting up 500 shots a day. At the Boys Club, we would shoot at least 500 a day. You just have to work and build your confidence. Confidence is the key! Basketball is about confidence! Just be relentless and make up your mind about your goals. Set goals and if you work to achieve your goals daily, you'll be fine. You'll be good!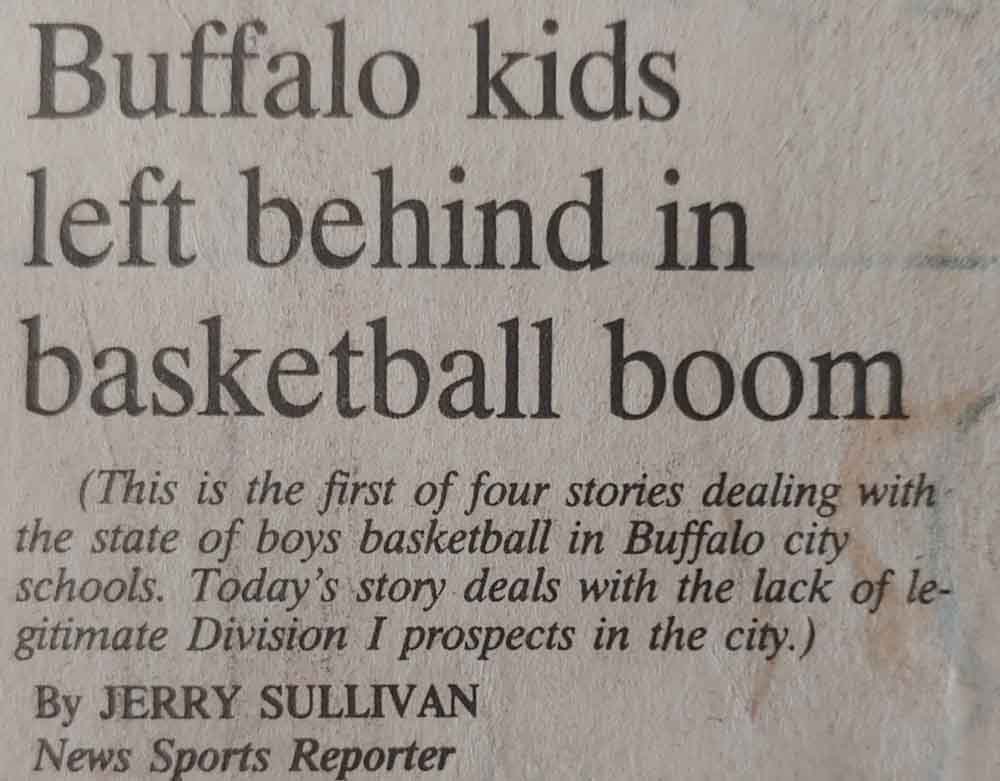 AD: You and Jason made it beyond Buffalo Traditional and the Yale Cup. There were a lot of players who didn't make it though. In terms of facilities and budget, the Yale Cup underfunded and a lot of players didn't make it to the next level. Do you have any thoughts on the old Yale Cup? You guys won most of the time (laughing), but do you have any thoughts looking back on how the league could've been better?
DF: Well, my understanding back in the day is that the Yale Cup didn't even have the three-point line (laughing). Curtis Aiken (of Bennett) and those guys played when there was no three-point line. You play in some of the gyms in some of these schools and it was like you were playing in a bowling alley –.
AD: Like South Park or Performing Arts (laughing).
DF: With a track above it – yes, South Park. Today it has changed a little bit from that, but the city schools could always use a boost. I hate the fact that they shut Buffalo Traditional down – that's a whole other thing.
AD: Yes, it's now Performing Arts.
DF: They're redoing the gyms in some of the schools. It's good because our kids need that. They need to have the best stuff. You walk into the suburban schools and they had the best of the best.
AD: Yes, those schools had three large gyms. They had 'Modified' teams and Junior Varsity teams at every school, state of the art weight rooms, a track out back. And that's a testament to how good you guys were to have accomplished what you accomplished without all those things.
DF: Yes, I think it was just coming from where we came from, our backgrounds and just wanting it. We wanted it! I know I did, and I wanted it bad. Just growing up in a single parent home, you want so much for your Mom. It was one of those things where I felt like I was going to do everything. I was going to be the man of the house. I'm going to do everything for my Mom! You deal with what you deal with. You try to make the best out of it, and you try to make it work for you. A lot of our games were played at ECC because of the schools we were going into. Our gym at Buffalo Traditional didn't have the corner line, and everybody was coming to our games, so they had to be at ECC. You just must push through.
AD: And when those game were at ECC, did they push them to the nighttime?
DF: Yes, they were night games.
AD: That makes a big difference, because most of our games in the Yale Cup were right after school. So, you didn't have a lot of time to get your head right. In the private and suburban schools, their games were at nighttime. Okay, last question. What did playing at Traditional and in college teach you about life and success?
DF: Ah, man, it's the perfect parody to life. It teaches you discipline. For me, it taught me that in all your endeavors in life, you must know how to deal with them. You're going to have to deal with problems in life and just being an athlete, it makes you see things differently. I'll put it that way. You know how to deal with certain things when life gets hard. Life starts being overbearing or overplaying you, so you sort of have to go 'back door'. It's the same thing on the court. Especially playing in Buffalo. I think playing in Buffalo alone prepares you for the world. If you're lucky enough to be able to grow up in the city of Buffalo –.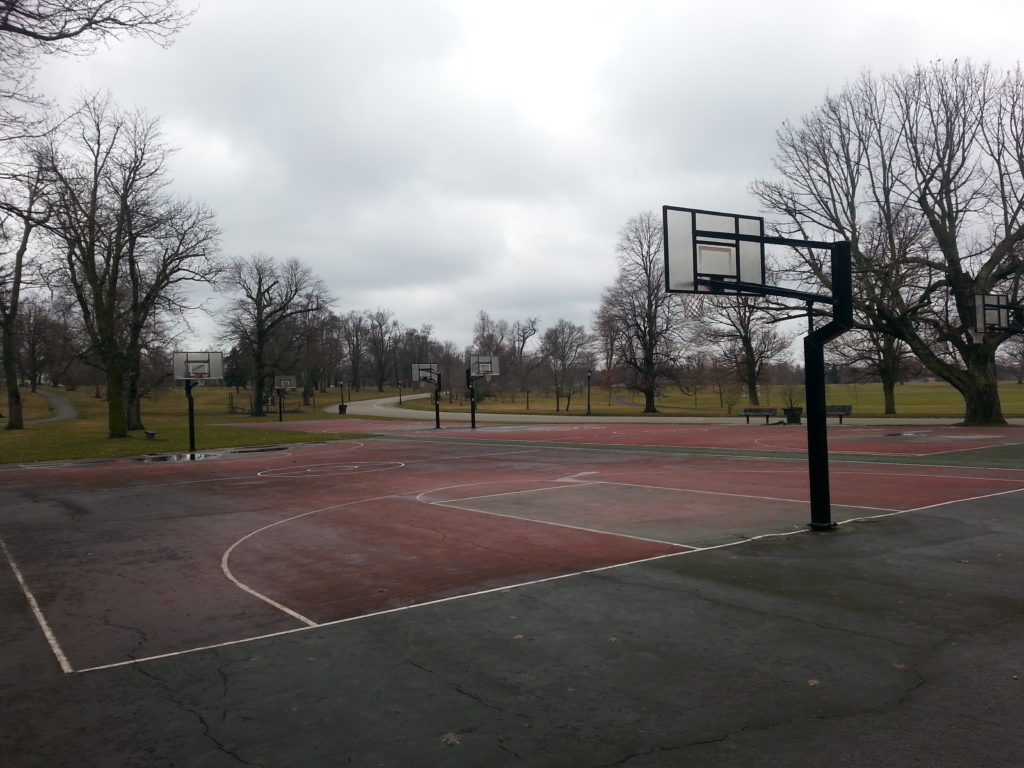 AD: Really? I've never heard that before (laughing). What do you mean by that?
DF: I think Buffalo gives you the tools to go out into the real world and compete.
AD: Interesting!
DF: You know, it's just the grime and grit here. Whether it's the snow, it's Buffalo. If you can make it here and make a name for yourself, I think you'll go out in the world and you're ready! I truly honestly believe that. Buffalo prepares you for everything in the world and you'll definitely know how to go out and handle yourself. You have no choice. You almost have no choice growing up here. I'm speaking about growing up in the city.
AD: Well, Damien. That's pretty much all I've got. I think I asked Jason this as well, but once you guys got to a certain point, did you focus solely on basketball? No football or other sports?
DF: I was never a two-sport athlete. We talked about football because we played pole to pole. But we talked about it and we didn't want to get hurt. The basketball season was after football season and we didn't want to mess that up trying to play football, so that was never my thing. I got asked to play football when I was at Boston College. Matt Hasselback was the quarterback at Boston College at the time and –.
AD: Oh really?
DF: He needed some wide receivers, so he said, 'Just come out for the team! I need a receiver! You're tall! You're fast!' I'm looking at him and saying, 'Are you crazy? You want me to play Division I Football?' If you're going to do that, you're going to have to do it from little league (laughing).
AD: That's right.
DF: That never was my thing. I told Matt that they would tear my little skinny butt up (laughing)! That was interesting. He asked me, but nah, I couldn't do that.
AD: You said something about being one of the top 50 players in the country, but not 'All-Western New York' your junior year. Is that true?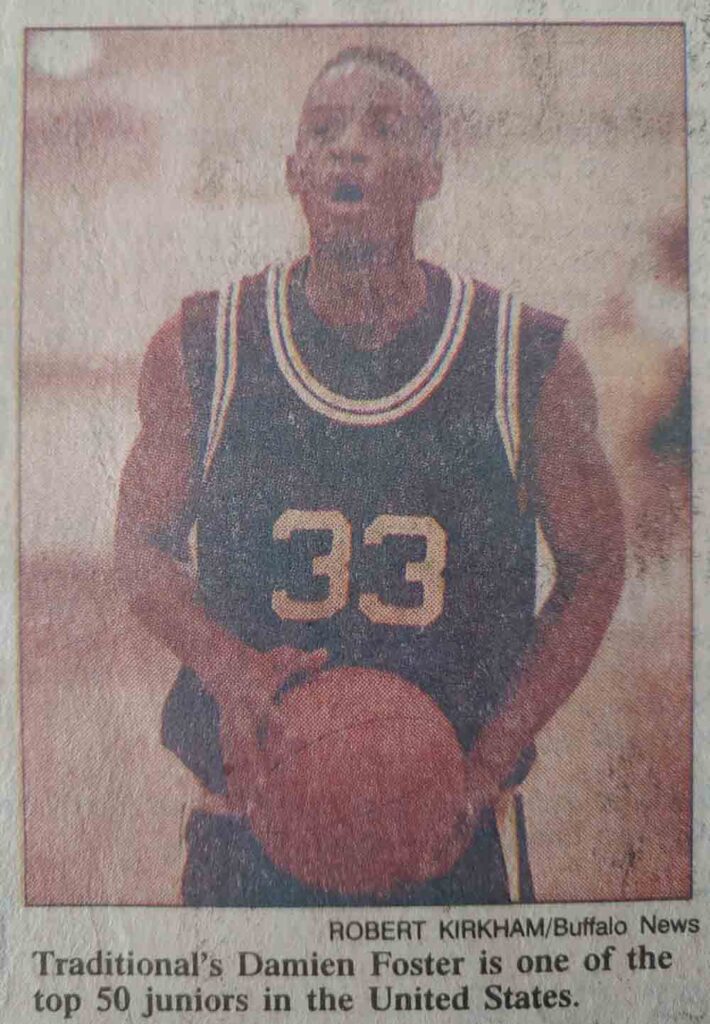 DF: I got an invitation to the ABCD Camp in my junior year. They wrote up an article in the paper saying that I was one of the top 50 juniors in the country (see the caption above). The ABCD Camp was for the top 100 players in the country! I've got the letter which Coach Cardinal signed. I've still got it in my scrapbook. So, it's like my junior year I went to ABCD Camp, I was killing the Yale Cup and the numbers were there. I didn't make the All-Western New York First Team (see picture below). I couldn't believe it and I said, 'Wait a minute!'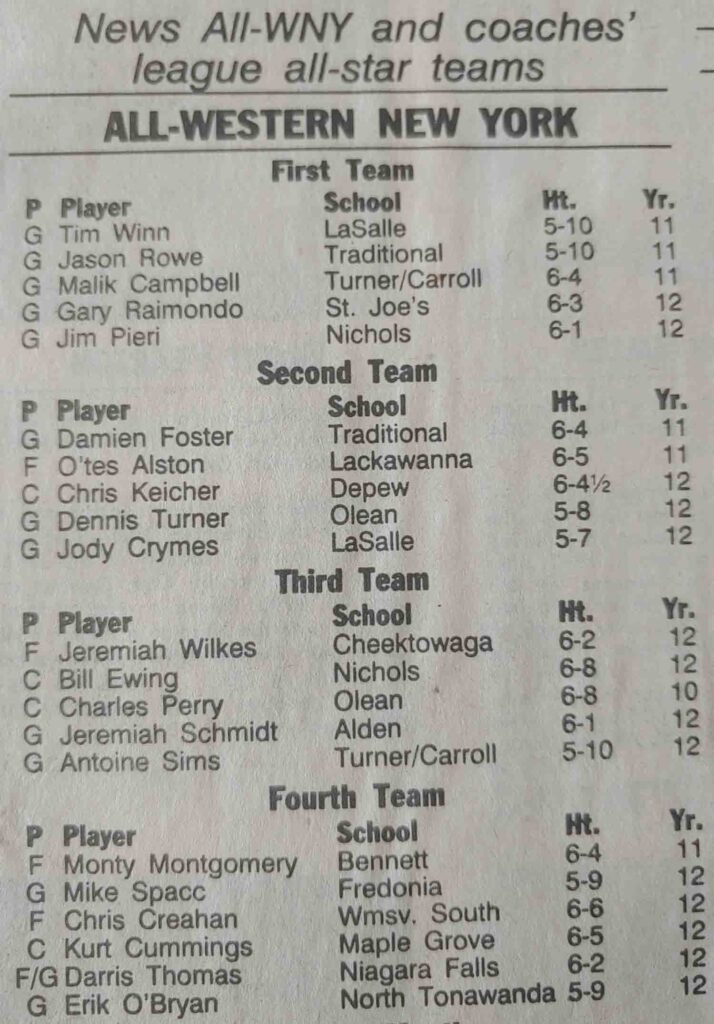 The rumor was that they couldn't have an all-black All-Western New York First Team. They weren't ready for that, so they had to have some white faces on the team. I just didn't see myself not making the All-Western New York First Team my junior year. I made it in my senior season. But how are you top 50 in the country where you get invited to play with Kobe Bryant and all these guys and you don't even make the All-Western New York First Team?
AD: Yes, that doesn't make any sense.
DF: Because if you look at the team my senior year, it's all-black (laughing). I get it. I totally get though. It's Buffalo!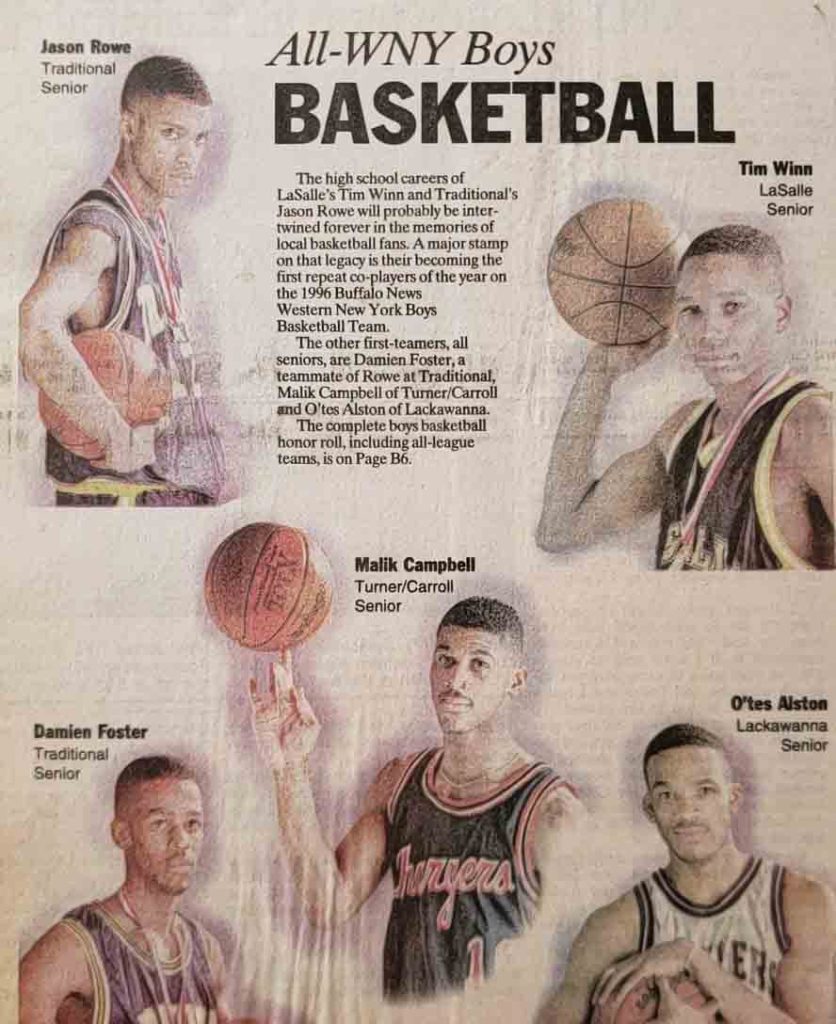 AD: What are you doing now?
DF: I'm in real estate on the investment side and I've been doing it for the last 12-13 years.
AD: Are you 'holding' them or are you flipping them?
DF: I pretty much buy and rent them. I'll sell if needed, but I'll buy and rent for the long-term. I sold one last year. I got lucky. I bought when the recession hit so I was able to stack them then. I'm glad that I did because now the Buffalo market is through the roof. My older brother was doing it when I was in high school, so I learned from him and from my other brother in Detroit. That was one of the other reasons I didn't pursue playing basketball overseas as much. My goal was to get to the NBA. You can make a living playing overseas, but the first house I got paid off for me, so I did that.
To me there's a fine line in any sport in terms how long you play, and a lot of athletes get caught up chasing it for the rest of their lives. And each athlete is different. It works for some and doesn't work for others. I didn't want to be that guy who was chasing it, chasing it, and chasing it and then would have to look around and try to be a regular civilian (laughing). Who is going to hire you at 30 or 40 you know? I saw lots of athletes get caught up that way, and I just never wanted to be that guy. The decision was easy for me, so I just did real estate.
AD: Well, I'll you what Damien. I'm going to transcribe this, but money is something I'm also passionate about. I write about it and I record videos about in on my YouTube channel, Big Discussions76, so if you would like to come on at some point, I'm sure that a lot of the Buffalo folks around the country would be interested in it. And I think it's something that our people need to get more involved in, the investing side.
DF: Yes, we need more black ownership. Especially in Buffalo.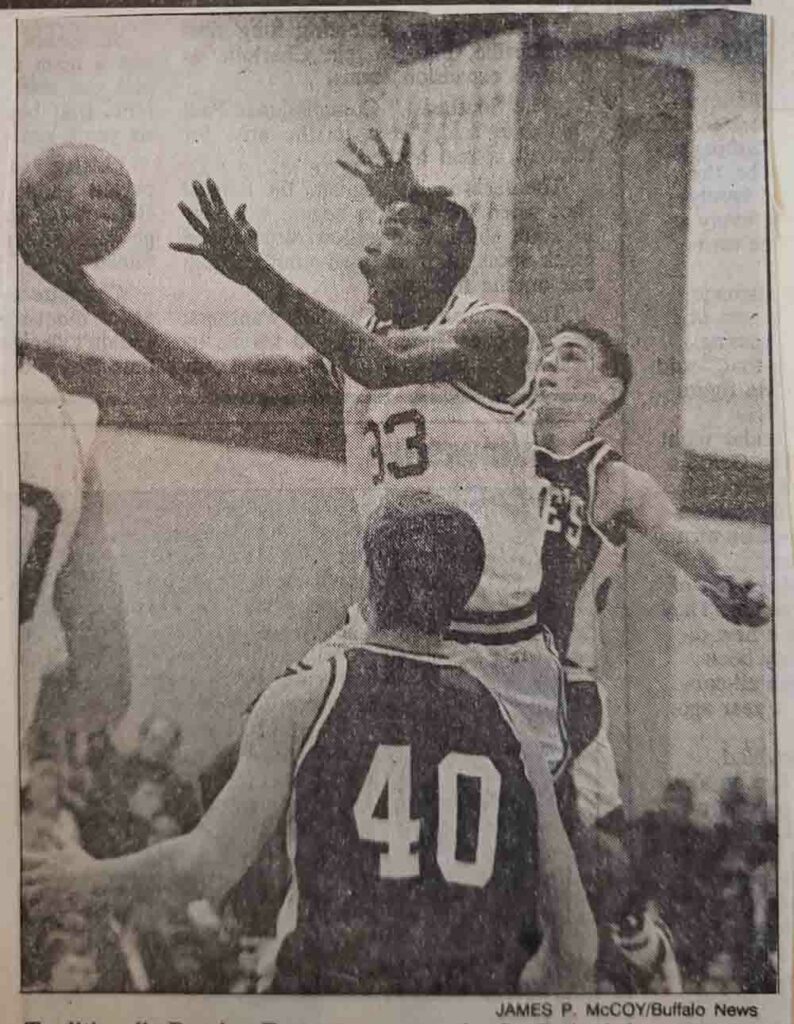 AD: Well, Damien, thank you again, and I really appreciate your willingness to talk about your life and playing days. Whether you know it or not, you are royalty, at least as far as I'm concerned. What you guys did at Buffalo Traditional was big and in your successes you touched a lot of lives – not just at Buffalo Traditional, but also for the rest of us at the other schools – seeing that those types of things could be done and giving everyone else something to shoot for. It was something for the entire area to be proud of – to say that you were there, and that you played against Damien Foster and Jason Rowe, and the Buffalo Traditional Bulls.
DF: No problem.
Thank you for taking the time to read this interview. If you enjoyed this post, you might also enjoy:
• Jason Rowe discusses Buffalo Traditional Basketball, the Yale Cup and State Tournaments
• Niagara Falls basketball legend Time Winn discusses playing in the LaSalle basketball dynasty part one
• Niagara Falls basketball legend Carlos Bradberry discusses playing in the LaSalle basketball dynasty part one
• Niagara Falls Coaching Legend Pat Monti discusses building, and leading the LaSalle basketball dynasty part one
• Lasting lessons basketball taught me: Reflections on three years of basketball camp
If you've found value here and think it will benefit others, please share it and/or leave a comment. To receive all of the most up to date content from the Big Words Blog Site, subscribe using the subscription box in the right-hand column in this post and throughout the site. Lastly, follow me on the Big Words Blog Site Facebook page, on Twitter at @BWArePowerful, and on Instagram at @anwaryusef76. Finally, please check out my YouTube channel entitled, Big Discussions76. While my main areas of focus are Education, STEM and Financial Literacy, there are other blogs/sites I endorse which can be found on that particular page of my site.