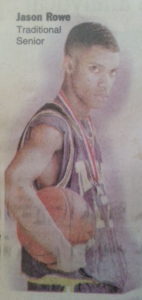 One of the key principles of my blog is Creating Ecosystems of Success. A key pillar of creating them is hearing the stories and experiences of those who have made it to where we want to be. Like many kids, an early dream of mine was to play basketball. That dream didn't reach fruition, but the lessons I learned playing in the Buffalo Public Schools' Yale Cup high school city basketball league laid the groundwork for me to go on to further my education and start my science career.
I'm actually working on a project chronicling my early journey, and as a part of the research for that project, I've interviewed numerous Western New York players and coaches from my era. It's entitled, The Engineers: A Western New York Basketball Story. On February 2, 2018, I had the honor of interviewing Jason Rowe – a Buffalo basketball legend who sits on the 'Mount Rushmore' of Yale Cup players with the likes of: Trevor Ruffin, Ritchie Campbell, Marcus Whitfield, Curtis Aiken, Ray Hall and Cliff Robinson. Jason spearheaded Buffalo Traditional High School's ascension to the top of Section VI basketball, leading his Bulls to the Far West Regional each of his four years, and then to State Tournament in Glens Falls, his final two before winning it in his senior season.
In part, one of this two-part interview, we discuss his background, and his storied playing days at the Buffalo Traditional High School.  The pictures in this interview come from an archive of Section VI basketball assembled over the years from issues of the Buffalo News by my first Coach at Hutch-Tech High School, Dr. Ken Jones. Links follow up video interviews with Jason are at the end of this interview.
Anwar Dunbar: Thank you for this opportunity to interview you, Jason. I'm working an ambitious writing project about my high school basketball experience. It was my first major success and failure life lesson. While I didn't play organized basketball beyond the 1993-94 school year, my high school experience on our team at Hutch-Tech gave me the tools I needed to earn my Ph.D. in a STEM-field – not quitting during the hard times, dealing with adversity, finishing what I started, and so on.
In my project I also tell the story of the Yale Cup in that era, and you can't properly tell it without discussing the Buffalo Traditional Bulls as you guys were the premiere program/team. As a part of my research, I've reached out to some of the other Yale Cup players to gain insight to what it was like playing at Bennett, City Honors, Kensington, Riverside, and others. But to talk to you is like talking to Jordan (laughing).
Jason Rowe: That's a lot of pressure (laughing), but I'm happy to help out.
AD: Okay, so let's start. As you know, the Buffalo News wrote extensively about you in the early to mid 1990s. They particularly talked about your father, Jerry, and your Uncle Lester being very influential in your development as a basketball player. At what age did you start playing basketball? Did they put a basketball in your crib as a baby?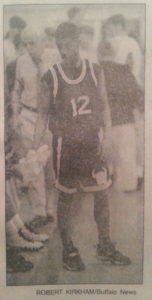 JR: It's funny you should say that because that's literally the story I was told. When I came home as a baby, there was a basketball hoop on the wall in my crib and my father used to pick me up and have me dunk the basketball as a kid.
AD: Was your father a basketball player?
JR: Yes. He played locally, but he didn't pursue it at a higher level. My uncle and I were the ones who were fortunate to go on to play in college, and to make some money from it.
AD: So you would describe your upbringing as being similar to that of a Stephon Marbury where basketball was literally in your family?
JR: Yes. All of the males in my family – myself, my uncle, my father, and James Rowe my cousin, who was an athlete at Lafayette High School. He played football, basketball, and I believe he ran track too. My brother, Jeremy, played football, basketball, and he ran cross country at Buffalo Traditional. My whole family was athletic.
AD: When you were playing middle school basketball, were you already in camps and clinics?
JR: I went to the University of West Virginia's basketball camp as a kid. I went to the local camps at Canisius and the University at Buffalo. I was actually at Georgia Tech's camp the moment Kenny Anderson got drafted into the National Basketball Association (NBA). As a kid I was a huge Kenny Anderson fan, and that's why I wore number 12 in high school.
AD: Were there any other college and professional players that you looked up to?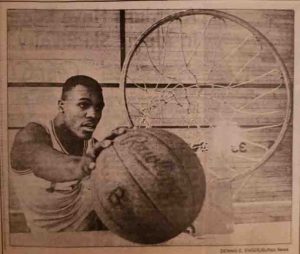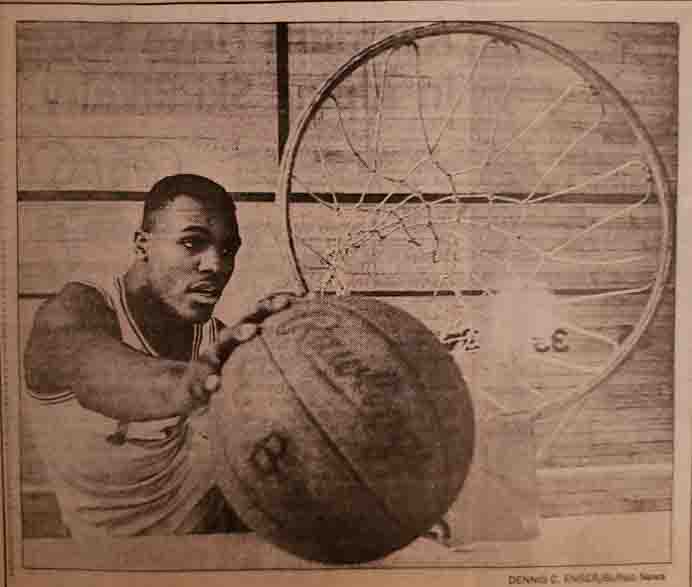 JR: Jordan, Isaiah and Magic were the guys that I idolized in the NBA. In college I looked up to Kenny Anderson, Jason Kidd and Chris Jackson. Locally, I looked up to my uncle, Trevor Ruffin  (pictured to the left), and Ritchie Campbell. I looked at them and felt like I could do something. They were guys I could watch every day in a 'hands on' type of way. Trevor grew up across the street from me and he was like a 'big brother'. He played at the University of Hawaii and he went on to the NBA, but I didn't look at him that way. This was the guy who, when he was in the NBA, would pick me up to go work out with him. We had that type of relationship where he was my big brother, and I was going in the house and watching TV with him.
AD: Were you familiar with some of the other Yale Cup and Section VI stars who came before you like Ritchie Campbell and Marcus Whitfield?
JR: I grew up watching those guys so I idolized Ritchie, Nigel Bostic, and Marcus Whitfield. I vaguely remember Ray Hall. My experience with him was in the summer leagues. But as far as the big name guys who were in the Yale Cup, I knew them because my cousin, James, was eight years older than me. So he grew up in that era and took me to those games because he played at Lafayette. I was able to get my experience watching those games as well.
AD: Did anyone in your circle talk about Christian Laettner?
JR: I heard stories about Laettner, but I wasn't around him that much. I was at that infamous game between Nichols and South Park where the fight broke out, but I was too young to remember it.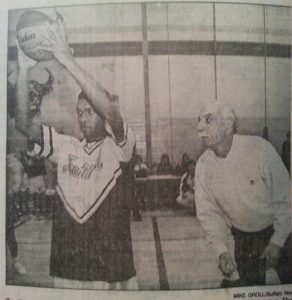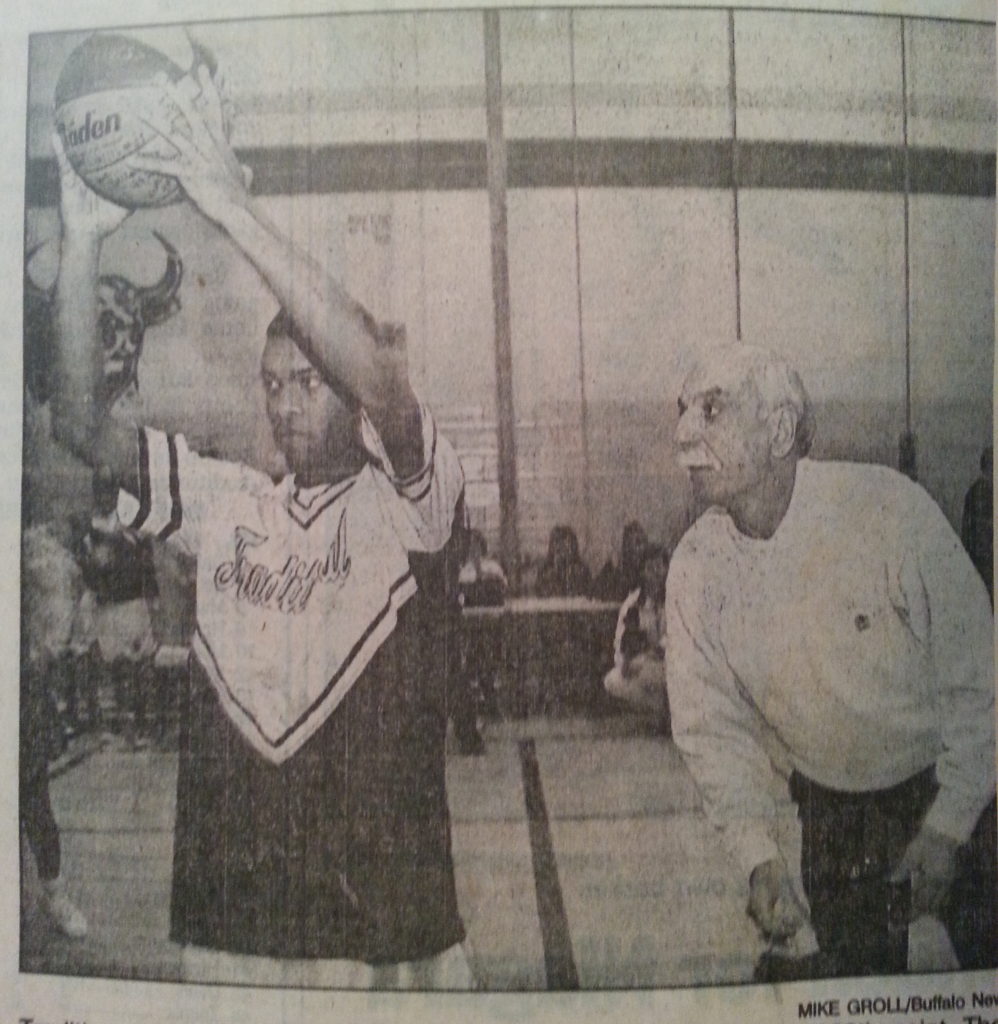 AD: Being at Traditional for middle school, what made you decide to stay for high school? Is that just what the students did there?
JR: I wanted to have my own name. Traditional was home for me. They had some success leading up to that time and I knew everyone on their team. I wanted to be a part of that, so for me it didn't make sense to go anywhere else.
AD: Yes, every year Coach Joe Cardinal's teams were making deep runs in postseason play – a couple of times to the State Tournament. Did you and Damien Foster plan to attend Buffalo Traditional together, or was it a random decision?
JR: We grew up in the Masten 'Boys Club'. The basketball circle is very small. We became friends and started playing there together. I want to say that he was going to go to McKinley first, but he decided to come to Traditional and it definitely worked out for everyone involved.
AD: For me, you guys came out of nowhere. I wasn't in the 'basketball circle' you described, and I didn't know who you guys were. Thus, the first time I saw you play was when you guys came to play us at Hutch-Tech in January 1993 and smacked us 96-73. It was right after Cameron Calvin died, and it coincided with the University of Michigan's storied 'Fab Five'. We had an all upperclassmen starting lineup and getting routed by you guys like that was a backbreaking loss for the players and our coach. I watched it all unfold on the bench due to an injury, and I even looked at the tape numerous times afterwards in awe. Play after play, you guys just made it look easy. Many freshmen are scared in Varsity competition, but you guys looked so fearless. What was your mentality as a freshman?
JR: It's funny that you mentioned Michigan's 'Fab Five'. If you pull up the videos and pictures of us at Buffalo Traditional, we mimicked the Fab Five – the big shorts and the black socks. My mentality personally was to be the best ballplayer I could be. I grew up around Trevor Ruffin and my uncle so inside the home, the pressure to succeed was one of the things that drove me personally. I was fortunate enough to have that basketball success around me – my big brother was an NBA player, and my uncle was a legend who played Division 1 basketball and then overseas. So when you walked into that house you had to bring something to the table. You can't just sit there and say, 'I had 10 points today.' You had to win convincingly and put up some numbers. As a team and as freshmen we were happy to compete and do well, but I don't think we knew how good we would become and the success we would have. You're 14 years old and you want to win, but you don't really understand how far it can take you.
AD: I imagine you guys caught a lot of teams like that. Riverside won the Yale Cup the year before, and if I recall you all beat them. You had two seniors on that team, Andre Montgomery and Jeff Novarra, along with you younger guys. How did you guys blend it all together?
JR: I was in the school so I was familiar with Andre and Jeff already. They were instrumental in our success my freshman year. Jeff was our shooter, and Andre was like our 'Draymond Green' – he was undersized, but he could do a little bit of everything. They were very good leaders.
What also helped us was that a lot of us played together outside of Buffalo Traditional. We were always at the Boys Club – myself, Damien, Damone White, who unfortunately has passed away – we were always together playing. It's kind of like we weren't surprised because we knew how each other played and our mentality. No one else really knew. We knew how to compete, we just didn't know we were going to knock off so many teams and make a name for ourselves. We just wanted to win.
AD: As you know, whenever you experience a high level of success, you're going to have critics as well. I'm sure you guys heard similar chatter, but one of my teammates at Hutch-Tech once told me about how your Coach, Joe Cardinal, would just go into his office and read the newspaper while you guys played 'pickup' basketball during practice every day (laughing). What was the Traditional team like? Was it a thing where Coach Cardinal just put the ball in your hands and let you go or was there more to it?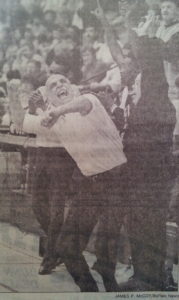 JR: Coach Cardinal was very honest when he would say, 'I'm a gym teacher, and I don't know much about basketball in terms of coaching.' Because he was so open and honest, and didn't try to hide that, it actually made us closer. He wasn't lying and trying to be something he wasn't. He was the most personable coach I ever played for because he had our backs and we knew that. In terms of Xs and Os, no he wasn't that knowledgeable so it's no surprise that we didn't learn certain things.
In tight situations, he would tell us to, 'run a pick and roll,' or something very basic – nothing complex. Fortunately for us, we were able to beat a lot of teams by a lot of points, so there weren't a lot of tight games. When the games were tight I was able to use some of the things my father and uncle taught me.
AD: Were there any other coaches on that staff that made a difference?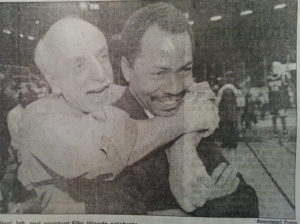 JR: Ellis Woods, who was the coach's best friend. They were cut from the same cloth, and were very open and honest with us about what they did and didn't know. We would run through a brick wall for both Coach Cardinal and Coach Woods. They could relate to us.
AD: My junior season was cut short due to grades, an injury and not knowing how to deal with adversity, but I kept my eyes on what was happening in postseason play. I remember watching the news at night and seeing your team march all of the way to the Class C "Far West Regional". You guys beat Starpoint, Newfane, Portville and then top-seeded John F. Kennedy 71-67 to win the Section VI Class C Championship as mostly freshman and sophomores. Some kids never made the sectionals at all, and the core of your team won yours as freshmen and sophomores. What was that ride like?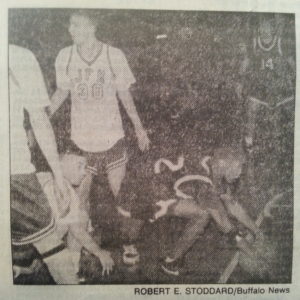 JR: Our goal was to win the State Championship. It was my personal goal and the team's goal as well. When you have that goal, you get that 'tunnel vision'. We used to say, 'Get to Glen. Get to Glen. You've got to get to Glens Falls.' That's where the State Championship was held. For some time the Buffalo teams were having a hard time getting past the Rochester teams in the Far West Regional. We wanted to get past Rochester. For us, we had a lot of confidence because we played against the top notch competition in Buffalo. We were confident enough to get past Buffalo's competition and we just had to beat the Rochester teams. It was step by step.
AD: It was the Marion team in your freshman year and the Mynderse team in your sophomore year you faced in the Far West Regional – were they bigger? Were they better?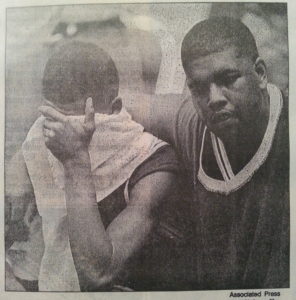 JR: Everything. I think what we lacked is what they exploited. They had the structure we didn't have. They were big and physical, and they just outworked us. I cried a lot after those two games. I shed a lot of tears. They were well deserved victories for them.
AD: Unfortunately, I didn't go to that Mynderse game which was at UB's Alumni Arena, but I did see the highlights and recognized one of the guys Damien Foster was jawing at after hitting a three-pointer. I played with some of those guys at the 'Ken Jones Basketball Camp' – my coach's camp which a lot of Rochester area players attended. I imagine just seeing the clash of styles must have been amazing.
JR: You had this fast paced team versus this half court, slow it down type of team – two completely different styles of basketball.
AD: Yes, you guys were clearly more athletic and more talented. I imagine they were patiently working the ball on offense, and slowing the game down.
JR: They were physical. I remember them being very physical.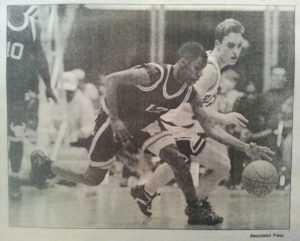 AD: So you guys beat Lyons in your junior year in the Far West Regional 74-71, you willed the Bulls to victory against Mechanicville in the state semifinals 81-72, before matching up against Elton Brand and Peekskill in final game. What was the key to beating Lyons? Had you guys just been there two years and you were ready?
JR: I would say that it was the pain of losing in the Far West Regional those first two years and not being able to get over the hump. We felt like it was our time and we wanted that victory more than anything else in the world. Lyons might have been No. 1 in the state that year too, and for a team that was easily motivated like us, we'd had enough.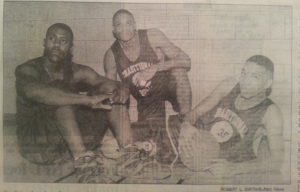 AD: Your team went on to suffer a heartbreaking 94-85 loss to Peekskill in a public state final game, and then you graduated veterans Adrian Baugh, LaVar Frasier and Jimmy Birden who were featured in the Buffalo News during the playoffs that season. Was it hard to get back to the State Tournament the next year? Or did you and Damien just not miss a beat?
JR: It was hard in the sense that it's just not easy getting there period. But in terms of remaining focused and knowing that the State Championship is what we wanted, the mental part wasn't hard, but the physical part was hard. You have to play 20 games just to get to Glens Falls – that's just getting there. The game by game process was hard, but the mental aspect wasn't difficult. When we lost to Peekskill, I remember telling the Buffalo News before I walked off the court, 'We'll be back,' and I meant that.
AD: I imagine all four years were fun, but was there one that stood out above the rest? Was it in your senior year when the team won the Class C State crown 62-48 over Mechanicville, and then the Class C Federation crown 92-71 over Collegiate of New York City?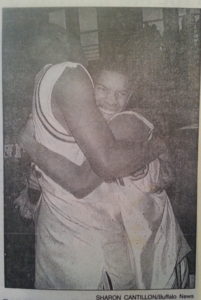 JR: Yes, that was the year that we won. It was fun, but it was also bitter sweet, because I remember when we won a lot of us were crying tears of joy, but we also understood that it was over – our run was over and that it was our last game together. Our team was very, very close.
AD: As I mentioned earlier, you guys lost the three seniors from your junior year, but you still had a strong supporting cast which included guys like: Damone White, Darcel Williams, Jamar Corbett, and Darnell Beckham.
JR: To me Darcel was our 'X-factor'. We had a good team. We had guys graduate in different years, but everyone stuck together during that time so we already had that bond and that chemistry. So by the time Adrian, LaVar and Jimmy graduated, the other guys were ready because they already had experienced playing in big games. That's why, in my senior year, we were just running through teams. It was insane.
AD: You and Damien were talked about synonymously – Damien Foster and Jason Rowe, Jason Rowe and Damien Foster. What was Damien like? Did you guys have to talk about who was going to get the last shot? Who was going to get the majority of the shots? Was your chemistry just natural?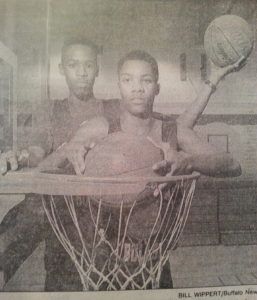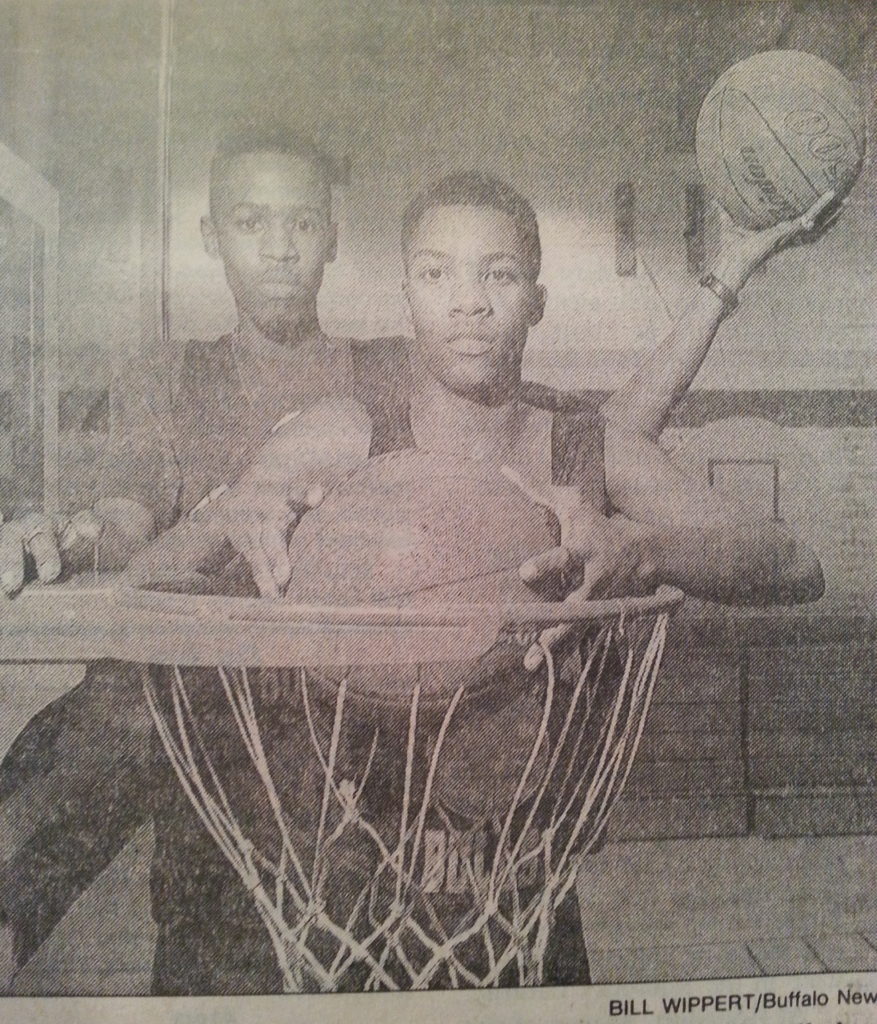 JR: I had two personal goals going into high school; I wanted to get 1,000 assists and I wanted to win the State Championship. So passing the ball – I didn't have an issue with that, and fortunately for us, we blew so many teams out that it was never an issue regarding who got the last shot. There is no issue when you're up 10, 20, or 30 points – we won so many games convincingly that we never argued about who was going to get the last shot. Again, I wanted the assist, so on fast breaks I'd throw the ball backwards to set up someone else.
AD: Talk a little bit about the Bennett game in your junior year – the 69-68 thriller where you guys lost to the Tigers. Periodically, I still see guys talking about it on Facebook. Did you overlook them?
JR: We didn't overlook anyone. It's hard to overlook teams when you go into their gyms and their teams have pep rallies. We knew every team was gunning for us. We knew that we were going to get everyone's best shot so we came ready to play every single game. That night Bennett played well. It's a great game and I actually watch it from time to time. It was a great game.
AD: Were there any other players that you especially look forward to playing?
JR: I liked playing against LaSalle's Tim Winn, Burgard's Jeremiah Wilkes, Cardinal O'Hara's Ryan Cochran, and Turner/Carroll's Malik Campbell. We were all friends. We would play against each other one day and be friends, and then completely hate each other on the court the next time. We were all very, very, very competitive. When you have competitors competing at that high level, it just makes for some great basketball.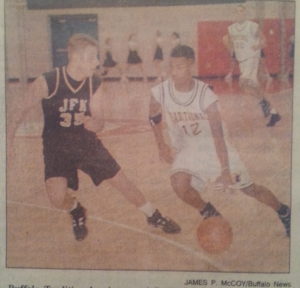 AD: In your junior season, the Buffalo News also wrote a piece actually comparing you and Tim Winn as you two were the top two point guards in Western New York. If I recall, he actually hoped to team up with you in Empire State Games at one point. Did your two teams ever match up allowing you to go head to head – Buffalo Traditional vs. LaSalle?
JR: Tim was hurt when we were supposed to play. That was a game everyone was looking forward to, and he had sprained his ankle the week of the game in practice.
In the second part of our interview, Jason and I discuss his basketball career after being a Buffalo Traditional Bull. I want to thank Jason for taking the time out of his busy schedule to participate. After completing this interview, I realized that there are other historical significances to what we discussed here, beyond the basketball court. Just as the city of Buffalo has changed since the early 1990s, so has its school system. Two schools that were a part of our Yale Cup of the early 1990s no longer exist. One is Kensington High School. The second is Buffalo Traditional High School where Jason played. While the building still sits there on East Ferry Street, it is now the home for the Buffalo Academy for the Visual and Performing Arts.
Thank you for taking the time to read this interview. If you enjoyed this, you might also enjoy:
• Buffalo Traditional's Jason Rowe discusses his college and professional basketball careers and coaching
• Niagara Falls basketball legend Time Winn discusses playing in the LaSalle basketball dynasty part one
• Niagara Falls Coaching Legend Pat Monti discusses building, and leading the LaSalle basketball dynasty part one
• Lasting lessons basketball taught me: Reflections on three years of basketball camp
• Lasting Lessons basketball taught me: An introduction
Video Interviews With Jason Rowe
Buffalo Basketball Legend Jason Rowe Discusses Bishop Timon Basketball, Coaching And Training
Buffalo Basketball Legend Jason Rowe Discusses His Playing Days, ABCD Camp, AAU Hoops, And Coaching
Closing Thoughts
I intend to create more promotional/teaser pieces for The Engineers: A Western New York Basketball Story, both via print and video as I journey through the final steps of completing the book. I created a page on Big Words Authors for the purpose of giving a background of the book and grouping all the promotional pieces, such as this in one, for interested readers.
The Big Words LLC Newsletter
For the next phase of my writing journey, I'm starting a monthly newsletter for my writing and video content creation company, the Big Words LLC. In it, I plan to share inspirational words, pieces from this blog and my first blog, and select videos from my four YouTube channels. Finally, I will share updates for my book project The Engineers: A Western New York Basketball Story. Your personal information and privacy will be protected. Click this link and register using the sign-up button at the bottom of the announcement. If there is some issue signing up using the link provided, you can also email me at bwllcnl@gmail.com. Best Regards.