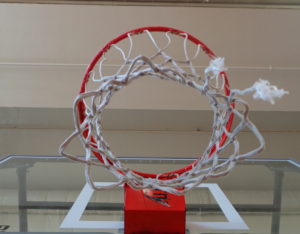 This post is the continuation of the series titled the Lasting lessons basketball taught me. In part two, some of the important life lessons basketball taught me will be discussed. Some of these lessons will come from or be related back to author Charles J. Sykes's book, 50 Rules Kids Won't Learn in School.
The biggest lesson basketball taught me is rule number one from Mr. Sykes's book, "Life is not always fair. Get used to it." The game taught me that even though you can spend hours upon hours dreaming and preparing for a goal of some sort, an unforeseen calamity can come along and snatch away that goal. For me that calamity was an injury, but in the real world it can be anything, and often times it isn't fair.
Basketball taught me rule number four from Mr. Sykes's book, "You are not entitled." Putting in your time at a job or even your degree level does not guarantee you advancement in your career in every case. Coaches and supervisors are usually looking for the most talented person (s) and will usually show favor to that person at the expense of others, regardless of seniority. So it's always important to put out your best and not expect things because you've been there for a while.
Basketball taught me that sometimes other people's decisions can affect your life for better or for worse. Sometimes people don't consider the consequences for everyone else when they make decisions and do certain things. Whether it's a teammate, a relative, a coworker or even a significant other, sometimes decisions are made that adversely affect the team, and its times like that that you realize another difficult life lesson; there are some things in life that you have no control over, but you have to deal with the consequences somehow. This relates right back to the first life lesson.
Rule number ten from Mr. Sykes's book states that, "Life is actually more like Dodgeball than your gym teacher thinks." He goes on to state that, "It comes at you quickly; it requires alertness and skill; the outcome is unpredictable; the weak can sometimes overcome the strong; it involves elimination and has both winners and losers."
Likewise and easily relatable to rule number 10, basketball taught me that not everyone plays fair and many people seek to gain any advantage they can whenever they can, especially when the referee is not looking. The same is true in the adult world. People have different concepts of what is fair and ethical and can surprise you when they do things to you that you wouldn't do to them on the job and in relationships.
Lastly, basketball taught that hindsight is 20/20. Often when you are in the actual game or life situation, you make decisions and react based upon what you're seeing and experiencing in that particular moment. However when the game is over, and you have a chance to look back at the film and what you might have done differently, everything looks so much more clear. It's the exact same way in the game of life.
This article will be continued in part three of the Lasting lessons basketball taught me. If you enjoyed this post, you might also enjoy:
• Lasting lessons basketball taught me part one: An introduction
• Jason Rowe discusses Buffalo Traditional Basketball, the Yale Cup and State Tournaments
• Chris Herren discusses his journey, drug addiction, substance abuse and wellness
Thank you for taking the time to read this blog post. If you've found value here and think it will benefit others, please share it and or leave a comment. To receive all of the most up to date content from the Big Words Blog Site, subscribe using the subscription box in the right hand column in this post and throughout the site. Lastly follow me on the Big Words Blog Site Facebook page, on Twitter at @BWArePowerful, and on Instagram at @anwaryusef76. While my main areas of focus are Education, STEM and Financial Literacy, there are other blogs/sites I endorse which can be found on that particular page of my site.