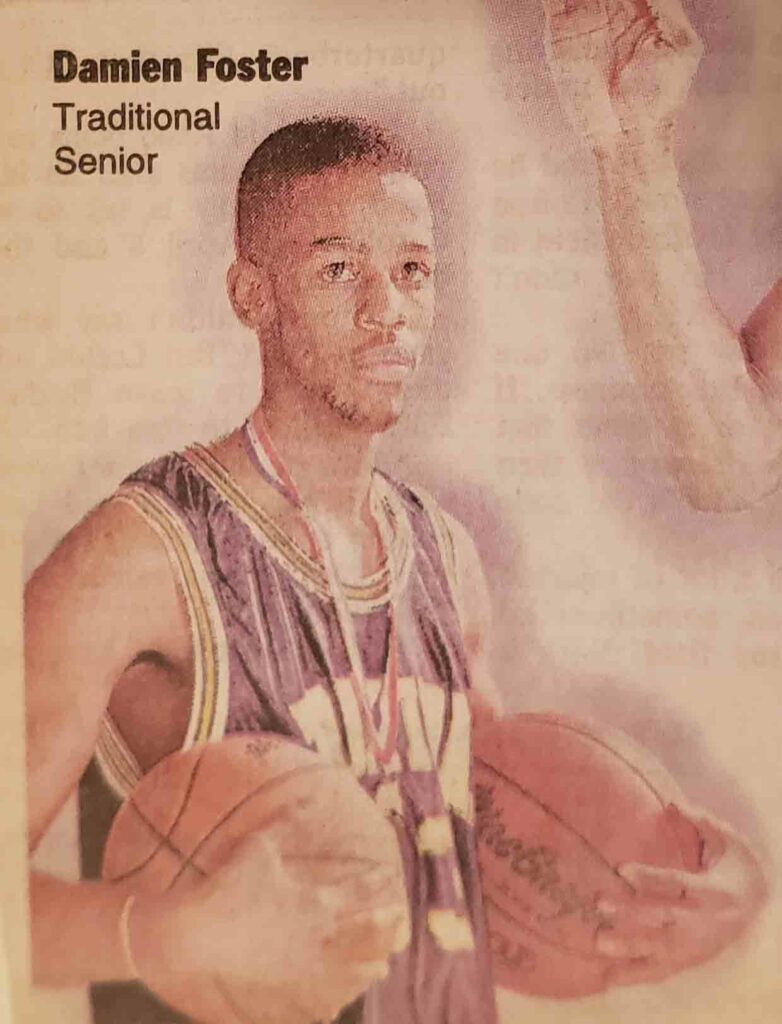 One of the key principles of my blog is 'Creating Ecosystems of Success'. A key pillar of creating them is hearing the stories and experiences of those who have made it to where we want to be. Like many kids, an early dream of mine was to play basketball. That dream didn't reach fruition, but the lessons I learned playing in the Buffalo Public Schools' 'Yale Cup' high school city basketball league laid the groundwork for me to go on to further my education and start my science career.
I'm working on a project chronicling my early journey, and as a part of the research for that project, I've interviewed numerous Western New York players and coaches from my era. On October 19, 2019, I had the honor of interviewing Damien Foster. Damien, alongside Jason Rowe, spearheaded Buffalo Traditional High School's ascension to the top of 'Section VI' basketball, leading his Bulls to the 'Far West Regional' each of their four years, and then to State Tournament in Glens Falls in their final two years, before winning it in their senior season. In part one of this two-part interview, we discuss his background, and his storied playing days at the Buffalo Traditional High School. The pictures in this interview come from an archive of Section VI basketball assembled over the years from issues of the Buffalo News, the Rochester Democrat & Chronicle, and Section V and VI playoff programs by my first Coach at Hutch-Tech High School, Dr. Ken Jones. Other pictures were generously shared by Damien himself and Jason Rowe.
Anwar Dunbar: Thank you for this opportunity to interview you, Damien. I'm working on an ambitious writing project about my high school basketball experience. It was my first major success and failure life lesson. While I didn't play organized basketball beyond the 1993-94 school year, my high school experience on our team at Hutch-Tech gave me the tools I needed to earn my Ph.D. in a STEM-field – not quitting during the hard times, dealing with adversity, finishing what I started, and so on.
In my project I also tell the story of the Yale Cup in that era, and you can't properly tell it without discussing the Buffalo Traditional Bulls, as you were the premiere program/team. As a part of my research, I've reached out to some of the other Yale Cup players to gain insight into what it was like to play at Bennett High School, City Honors, Kensington High School, Riverside High School, and others. I've also spoken with players from Hamburg, LaSalle and Niagara Falls Senior High School. As you know I spoke with Jason Rowe, so I know some things about the Buffalo Traditional Bulls, but I thought it would be great to talk to you as well.
Damien Foster: No problem. Thank you for allowing me to speak.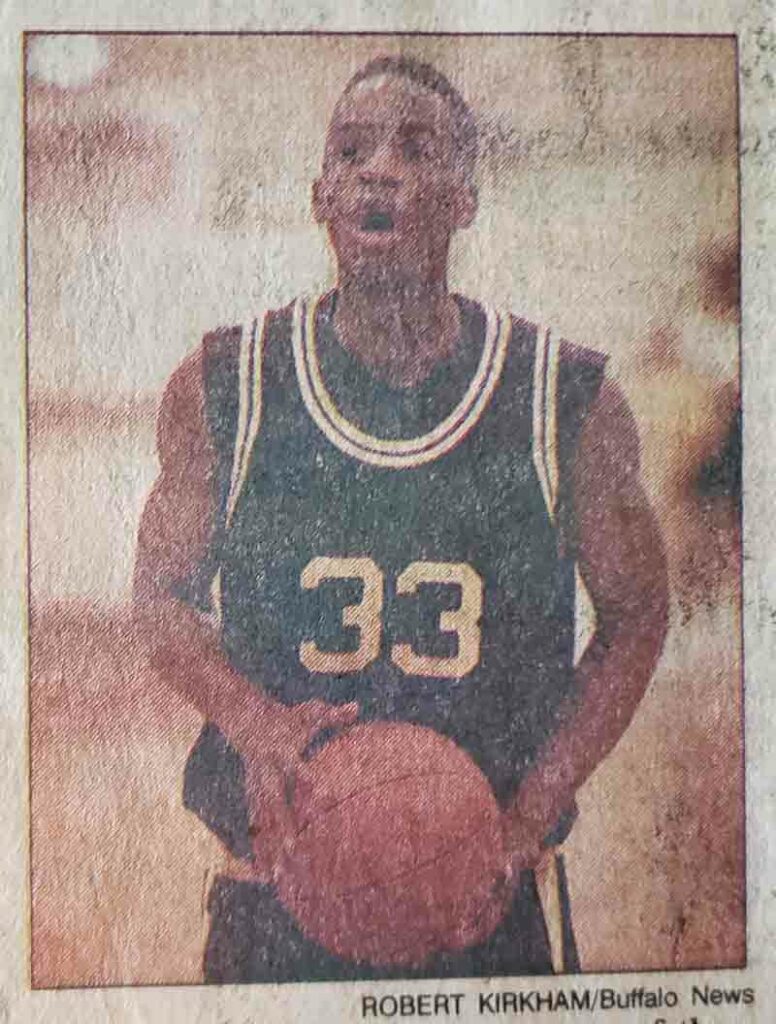 AD: The Buffalo Traditional Bulls were a big deal. I know you went on to play in college after graduating from high school, but when you came into the Yale Cup and Section VI, Buffalo Traditional became the game that everyone circled on their calendars (laughing). Let's go back to the beginning. Where are the Fosters from? Are you all originally from Western New York or somewhere else?
DF: My Dad's side of the family is from Saginaw, MI. I have lots of family in Saginaw. My Dad's family is bigger. My Mom's side of the family is from Greenville, SC.
AD: I attended the University of Michigan for graduate school, so I'm a little familiar with that state. Did they come to Buffalo for the steel jobs?
DF: Yes, my Dad's oldest brother left Saginaw back in the 1950s or 60s. He came to Buffalo and left his younger brothers behind. He and his wife moved to Buffalo where he opened a bar and got into real estate – he owned property in Buffalo. Sure enough as the saying goes, when one brother leaves, the younger brothers follow. My Dad and my uncles who followed him, is what landed them in Buffalo. They visited and stayed. As far as my Mom's side, my Grandfather married my Grandmother when they were in Greenville, SC. They were trying to get away from all the racial stuff down south and it was common for folks to go north. My Grandfather didn't want my Grandmother around that type of stuff, so that's what landed him in Buffalo.
AD: In the mid-1990s when you and Jason (Rowe) were juniors, they wrote a feature in the Buffalo News capturing his history. They pointed out that he basically came from a 'basketball family', but I don't recall seeing anything about your start. Do you come from a basketball family as well? How did you start playing the game?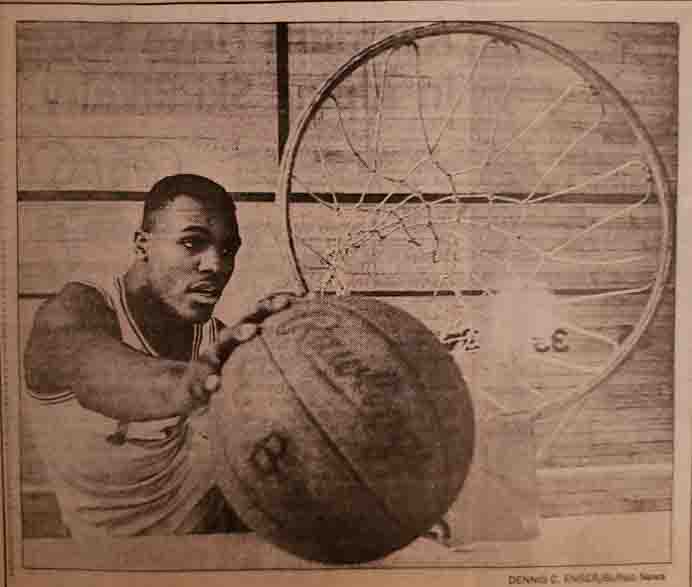 DF: I have a brother who is nine years older than me. He's one of the reasons I started playing basketball. He played for Bennett High School and was on their 1987 team that made that run with Trevor Ruffin (pictured), 'Boo' Alexander, 'Crow' and all those guys. They were undefeated around Buffalo and in the Yale Cup; and they lost the state championship. I was around 10 years old when they played the Yale Cup championship game. It was Bennett vs. South Park and it was held at the Canisius College Koessler Center.
My Dad took me to that game, and it was the first game I ever went to. I remember my brother needing these 'Air Jordans' so bad for this big game – the Jordans were 'popping' back then. I went to the game and saw how many people were there and it was crazy. I saw him play and ever since that day, I was inspired to play basketball. They say that if you get inspired as a kid, that's huge. I was inspired, and it took off from there for me. I was just 'jonesing' to play and learn the game – to just be around the game. My Dad also played a little bit in the military. So, it wasn't a huge basketball family, but my brother and my Dad played.
AD: You eventually grew to 6'4" or 6'5" right?
DF: I grew to 6'4.5".
AD: Was your father tall?
DF: My Dad was 6'1" and my brother ended up being 6'2.5".
AD: I remember you becoming an 'all-around player'. You developed your 'guard-skills'. You could shoot it from long-range, you could handle the ball – everything. Did you start on your elementary school team? Did you start going to camps?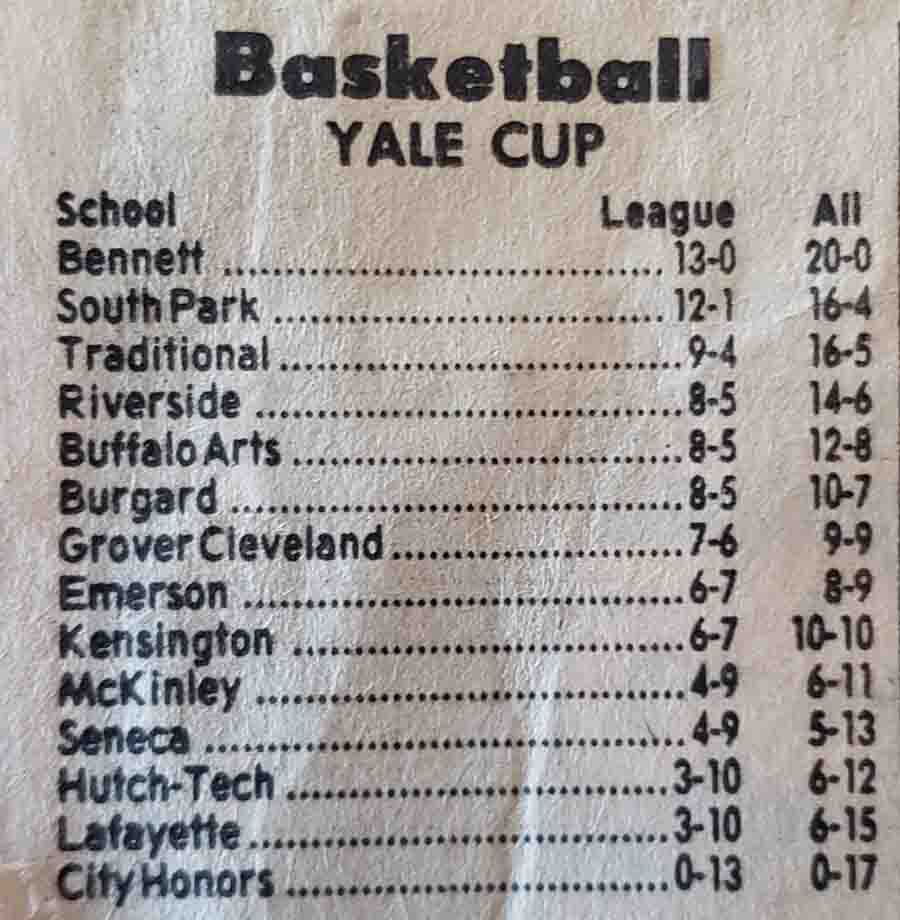 DF: So, taking it from 1987, I was 10 years old and I watched my brother play in that game. From that day on I wondered how I could get a basketball hoop. How could I practice? I'm 'jonesing', I'm a kid. Back then I was in a single-parent home. Mom didn't have money to buy a basketball hoop at that time, so I got creative. In the winter I'd hustle by shoveling snow to make money.
I ended up buying a rim – just a rim alone. I figured out a way to start making my own basketball hoop. I'd get two by fours and plywood. I'd nail the rim to the backboard, tie it to a fence and there was my basketball hoop. I'd also tie it to a pole and then I eventually ended up putting it in my back yard. I'd play every day in my backyard for hours and hours – just being curious. I started inviting my friends over to play – you need somebody to practice on. We'd play for hours every day. It got to the point where it would rain, and it would snow, but I'd still have that jones to play and I'd go in the snow to play.
So, it started there and then my Mom was able to eventually buy me a real basketball hoop. When we put it in the ground in the backyard, my backyard became considered 'the spot'. I was 11 or 12 years old and we were in the back yard all day. We're talking seven days a week playing basketball all day.
Eventually it went from the back yard to running into one of my now mentors, Garcia Leonard. I met him at 12 years old at the Masten Boys & Girls Club. At the Boys Club, I learned the culture. The Boys Club back then was considered 'the Mecca' of basketball for all the people who came out of Buffalo. The type of people that were coming through the Boys Club at that time were some big names including: Glen Taplin, Ray Hall, Trevor Ruffin – you name it and those guys were coming through there and that was just the pick-up games. At that age I was playing with them and catching on. I was also tall for my age back then.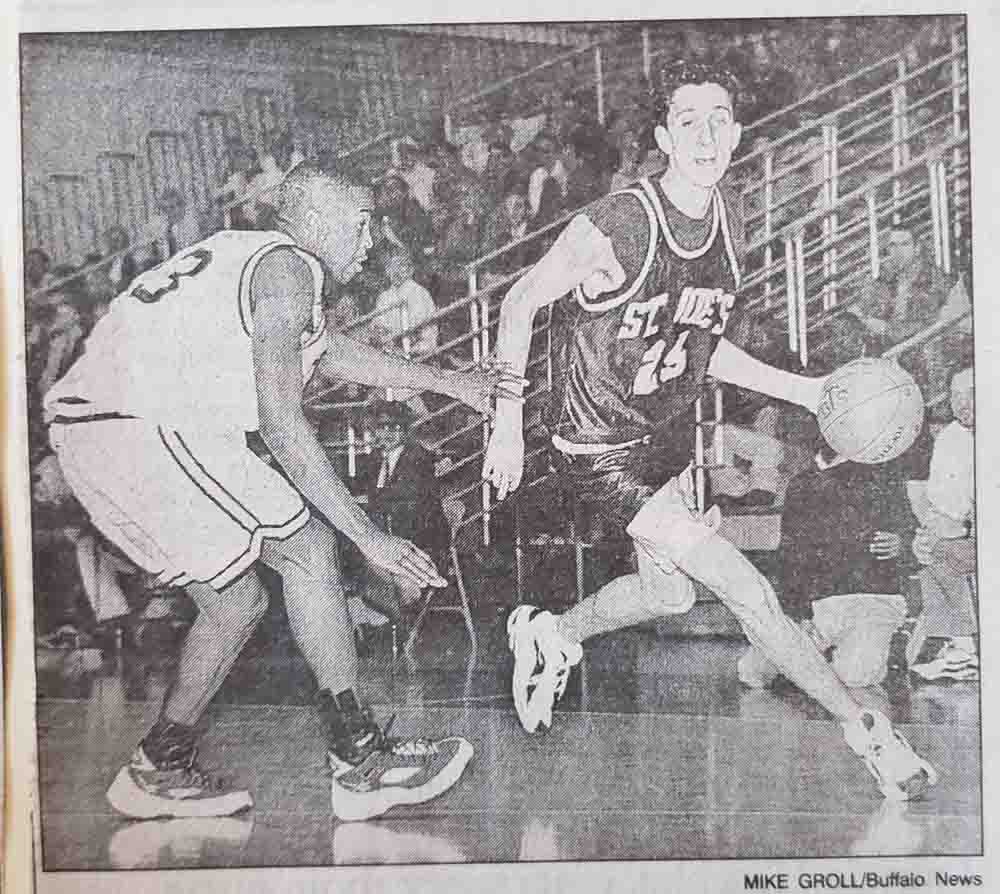 I wasn't quite 6'4" then, but I was at least 6'. They worked with me. I was fortunate and very lucky for them to be able to come back and recognize the talent that I had and to just give it to me raw. They treated me like I was a grown man at 12 years old. At 13 years old if you step out there on the basketball court, you've got to be treated equally like everyone else and these were grown men! I learned so much from them and they took the time out just to break the game down and instill certain skills in me.
It went from playing in my backyard to playing at the Boys Club every night. Now I'm going to the Boys Club five days a week and we're running every night. Ozzie Lumpkin was the director at the time. He played ball as well and he'd literally open the gym at 11 pm or 12 midnight.
AD: Wow.
DF: He would call it 'runs', so now we've got 15 guys down there like Ray Hall and others. We're literally running in the middle of the night and learning the game of basketball. I'm 12-13 years old and I'm thinking to myself, this is great stuff in terms of learning to compete. I was able to pattern myself after grown men. Jason would come around as well. He got the same treatment. We were very lucky, and timing was everything at that point. It was beyond crazy because they were playing professional at the time – Trevor, Ray Hall and those guys. So, to get that one-on-one teaching and competition from them was just huge.
The next thing you know, my skill set started to develop. You're playing with grown men so eventually your skills are going to go beyond the kids your own age. When the kids your own age can't keep up with you they start scratching their heads wondering where you're getting it from and how you're doing it.
By the time I got to the sixth grade, I was at Campus East. I tried out and made the basketball team. The coach at the time was Mr. Spindler. He put me on the team, and they had seventh and eighth graders. It's funny, one player on that team was Ben Franklin. Wait, was it Ben Franklin? Yes, Benjamin. Was Franklin his last name? He went to Riverside High School.
AD: Was it Ben Rice?
DF: Yes! It was Ben Rice. Ben Rice was at Campus East with me. He was in eighth grade. Who else was on that team? Was it Chuck or Henry? Anyway, I was the youngest player on that team, and I didn't get any time. The two games that I did get in, my Mom is sitting in the stands and I'm nervous as heck. In the sixth grade you don't know what to expect. I got in the game and held my own a little bit. I scored my first two points and they were pretty cool, Ben Rice and my other teammates in terms of showing me little things. They weren't big headed.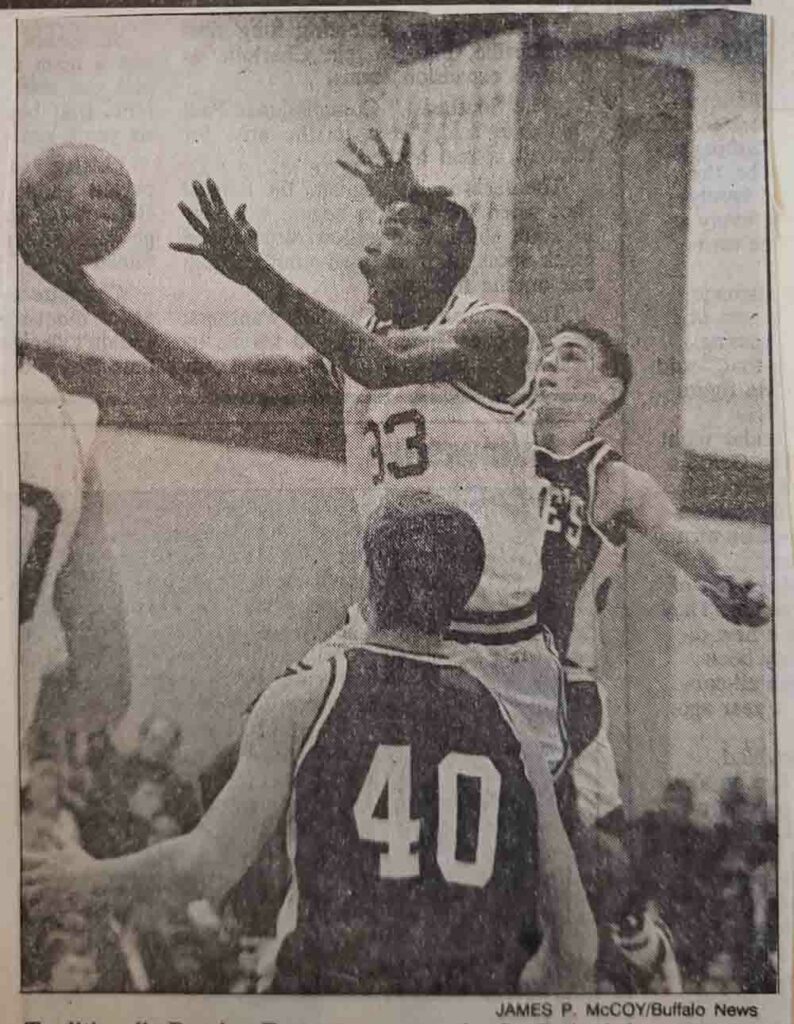 After Campus East, I went to Build Academy for the seventh and eighth grades. There I hooked up with my boy, Roosevelt Wilson, and we started in the seventh grade. That's where it really, really took off because you must remember that I was still playing at the Boys Club. I could see myself advancing a little bit further than the average player in the seventh grade and by the time the eighth grade came around, I was dunking the ball. I could dunk in the eighth grade!
AD: Wow.
DF: Yes, I was dunking in the eighth grade! That summer going into the eighth grade we'd play street football, pole to pole. Jason lived a few streets over from me. He lived on Ada Street. We'd play street to street to street and we ended up playing his street. He'd quarterback and I'd quarterback. We played against each other, and then in eighth grade in basketball, we played against each other for the championship – he was at Traditional and I was at Build Academy. They won, but it was a good game. That's when Jason and me kind of meshed in terms of asking each other, "What are you doing? Which high school are you going to?"
After eighth grade, I took a few tests. I think the schools were St. Joe's and Canisius. I just said forget it and decided that I'd go to McKinley High School. I couldn't really make up my mind and my Mom was really on me about it. She said, "You need to make up your mind! The school year is about to start –." So, I was decided, alright McKinley it is.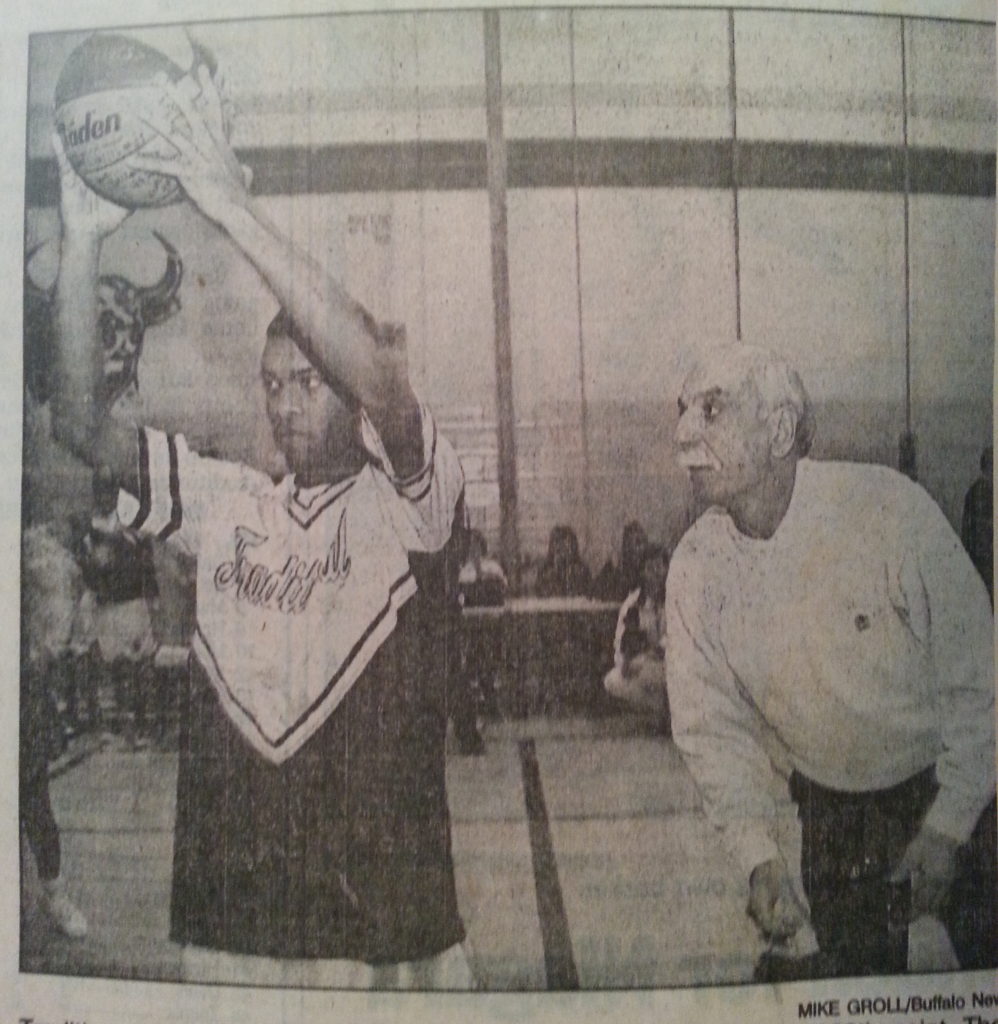 The day before school starts, I get a call from Jason and he says, "Man, we really need you over here –." I said, "I'll come, but my Mom is really on me!" I was so indecisive, and my paperwork was already at McKinley. Jason said, "You know what, I'm going to have Card (Coach Joe Cardinal) call you." He had Cardinal call me and he said, "Look. Don't show up at McKinley, show up at Traditional!" So, I'm leaving out the door (laughing), and my Mom thinks I'm going to McKinley, and she didn't know that I was going right down the street to Buffalo Traditional.
AD: Wow. Really?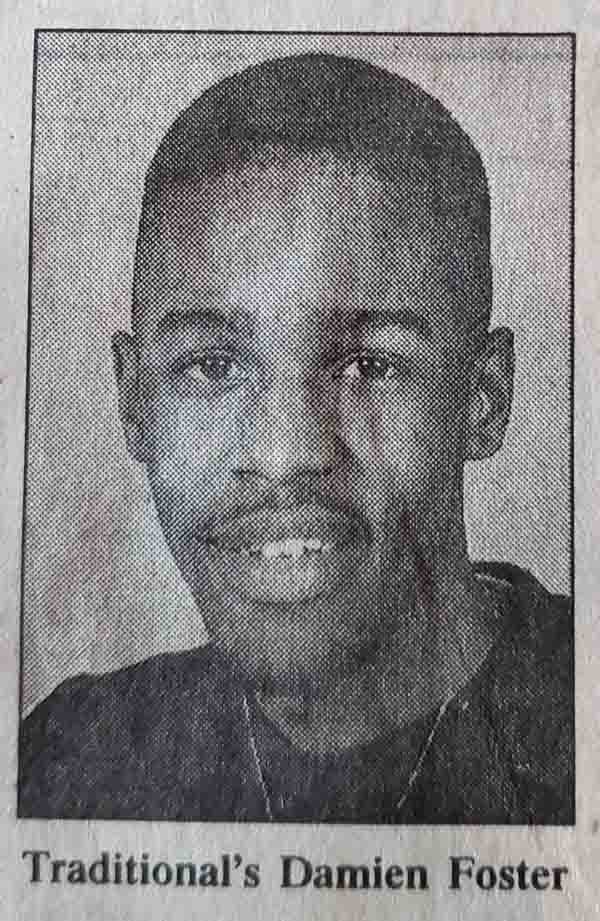 DF: And that's how that happened. That's how me and Jason ended up at Buffalo Traditional. It was a last-minute decision for me. The next day I showed up and just walked into Traditional.
AD: And they just enrolled you?
DF: Yes, it was one of those things where they enrolled me and got all the paperwork straightened out. Everything was taken care of and I was like, "Okay, let's go!"
AD: Okay, before we start talking about the Buffalo Traditional Dynasty, which neighborhood did you and Jason grow up in?
DF: We grew up in Cold Springs. We were cut from the same cloth, same environment, everything.
AD: You told me about Trevor Ruffin, were there any other college or professional players that you looked up to? Did you look up to Michael Jordan? Were you into any of the UNLV teams?
DF: My favorite professional player was Scottie Pippen. I liked Scottie Pippen and that's why I wore No. 33. It was Michael Jordan and Scottie Pippen. That was pretty much it back then. I was a Bulls fan.
AD: Yes, me too. So, you talked about Trevor Ruffin. Were you also familiar with Ritchie Campbell and Marcus Whitfield?
DF: I was familiar with them because again I studied the game as a player coming through the ranks and coming through the Boys Club. You had no choice but to study the players before you. I heard about Ritchie Campbell. I saw him play one time, and that's when him and Trevor Ruffin went head to head in "The Randy", the Randy Smith League. I was young. I want to say 13 years old maybe. But I remember that game. I just remember seeing Ritchie come down and just 'letting it fly' – two steps across half court and just letting it fly. I was like, 'Wow, who is this guy?' Ritchie Campbell never really came through the Boys Club. Neither did 'Ice Cream' (Marcus Whitfield). They played more so downtown. They were down at 'Live at Five'.
AD: Did you say Live at Five?
DF: Yes, it was called Live at Five and I think it was at the Pratt Willert Center. That was something for the downtown guys.
AD: Okay, one more question before we get back to Buffalo Traditional. Did you ever go down to Delaware Park?
DF: Oh yeah. We went down to Delaware Park. I was 13 when my brother first brought me down to Delaware Park, getting that experience playing, seeing Cliff Robinson pull up, all the old school legends. And I was able to hold my own with them at a young age. I had my fair share of Delaware Park, but not so much as we did at the Boys Club.
AD: When I was at Hutch-Tech I heard stories about your nickname being 'Mush'. Was that your nickname?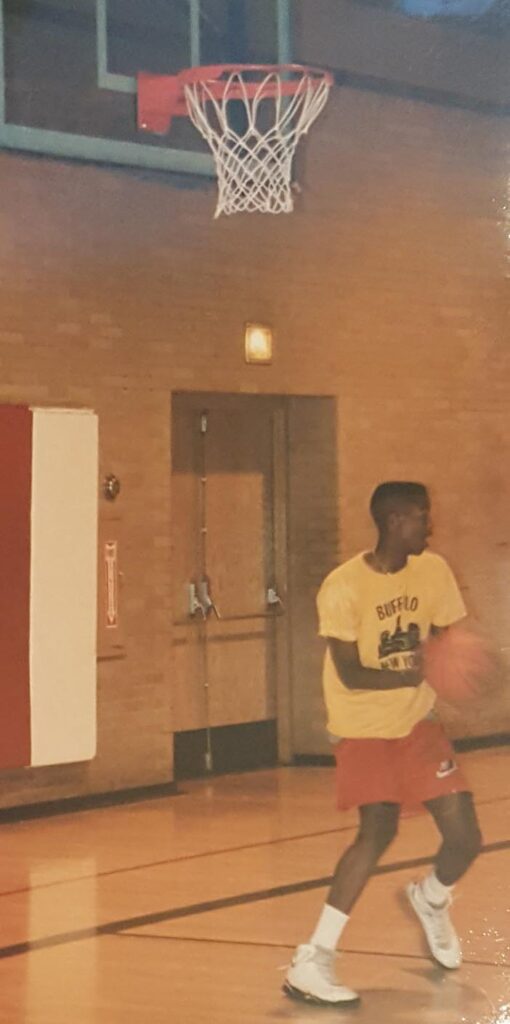 DF: Yes, my nickname was 'Mush'. Back at the Boys Club, we all used to rib and play 'the dozens'. The names just stuck with me and everyone has known me as 'Mush Damien Foster'. At first, I didn't care for it, but it stuck, and I got used to it.
AD: When you and Jason got to Buffalo Traditional, you two coincided with what I call the 'Fab Five Era'. What was your mentality? Where you going in thinking that you were taking over the team? Or were you thinking that you'd get together with the players that were there and make the best of things?
DF: To be honest, Jason and me were cut from the same cloth, so going in we knew what we were capable of doing because we'd been doing it for so long at the Boys Club. We knew that skill-wise, we were advanced. It was just a matter of going on the court, showing and proving it because when we got there, there were seniors on the team – Andre Montgomery and Jeff Novarra. We didn't really know what to expect, and I remember having a conversation with LaVar Frasier. At the time he was a sophomore. I called him the day before practices started. We had a conversation on the phone, just trying to get a feel for some of the players.
That first day of practice, we were going at it and there was some serious business going on. In terms of my mentality I felt like I had to go out and prove myself and that I belonged on the team. Making the Varsity as a freshman is very rare. Usually you go to the Junior Varsity (JV) and you do that for about a year, and you move up to the Varsity. My mentality was straight "Mamba" (Kobe Bryant) – to just 'kill' everything and that's what we did!
We went in and showed off all our skills sets. We competed and the returning players on the team – I could read their body language and facial expressions. They were blown away with what they were seeing from us as freshman. From that point it just got better and better. Your confidence starts to build, and half of basketball is confidence! Once you get your confidence, you can go anywhere. It was just very competitive that first year walking in there. From day one they respected us – Coach Cardinal and the players. They started us as freshman – "Young Guns" (laughing).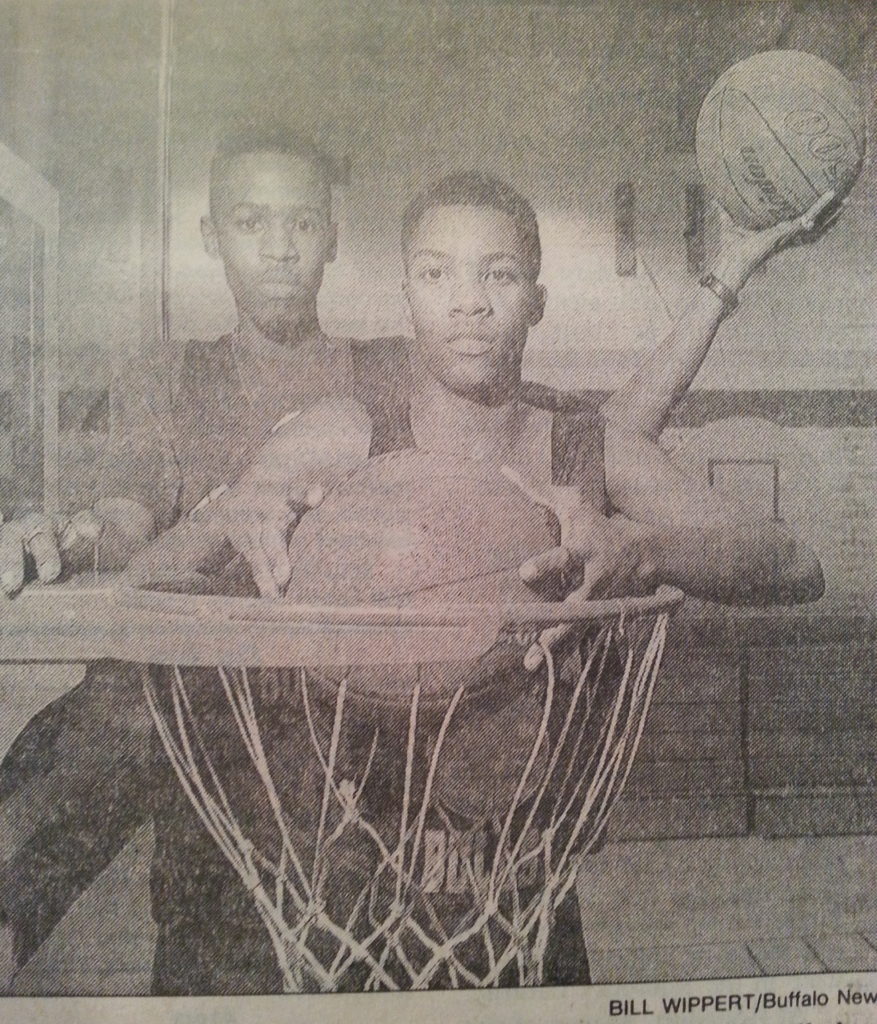 AD: So, Jason basically said the same thing in that there was a 'basketball circle', and you got that extensive hands- on training before you went to Buffalo Traditional. I wasn't in that circle, so the first time I saw you play was in my junior season. I was injured and wasn't playing much. I do vividly remember hearing some buzz about some new younger kids at Buffalo Traditional before that game, and I didn't know who or what people were talking about.
My former teammates might not like this, but you all came out and laid the beatdown on us, literally. You beat us 96-73. You made the game look so easy. Your teammates were feeding off what you and Jason were doing, and I'd never seen anything like that before (laughing). I was amazed at what I was seeing – your ability to shoot it, your ability to gracefully handle the ball in the open floor, and so on. But you caught a lot of teams off guard that season right?
DF: Oh yeah! It was one of those things whereas a freshman you start off with three or four 'non-league' games. You start off against teams that are not in the Yale Cup – St. Joe's and the other private schools and the suburban schools. And to me those were hard games. We had St. Joe's my freshman year and they had Jeff Muszynski who was a senior. Jeff Muszynski was a star. We played St. Joe's on their home court and when he got the ball in the layup line, all you saw were the cameras going off. You saw cameras pop and this guy is just laying the ball up. I'd never seen anything like it.
And then at the jump ball, we held our own, but we lost the game. I want to say that I had 12-13 points that game and after that we just kept getting better. I still remember our first Yale Cup game and it was against McKinley High School. I'm saying to myself, 'Okay, these guys have a lot of seniors!' I want to say at the time that they had 'Fats'. Do you remember Fats?
AD: Yes. Chelston Martin.
DF: Moses Tolbert and those guys – they were nice! In my freshman year, McKinley was in our building and we 'lit' them up. I couldn't believe it. I had 37 points that game and I was like, 'Wow, I gave Fats and Moses 37!' I'm a freshman and it just starts to go from there. You start building confidence and you start to build a swagger. I don't want to say its arrogance. It's kind of arrogance, but it's confidence as well and you start to build that thing up. And with each game, you're running into players who are seniors. Do you know what I mean? You're making a name for yourself because they're hearing about you!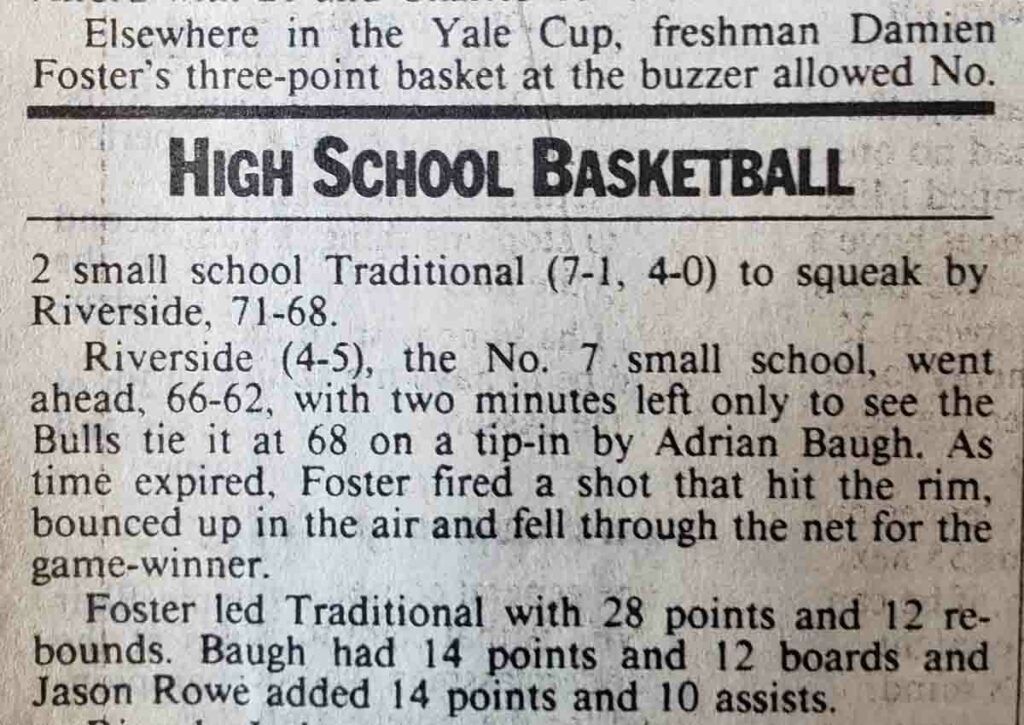 I remember the Riverside game. This is when they had Ben Rice, so I'm able to see Ben Rice in high school now – I'm catching him in his senior year. When I was in the sixth grade, they were ahead of me, so now I'm a freshman and they're on their way out and I'm catching Ben Rice and Ed Harris. Riverside had a nice team with 'Russ' (Coach Bill Russell). I remember that game because I think they were No. 1 at the time in the Yale Cup.
We ended up beating them at the buzzer. We were down by two and eventually it was tied, and they were on the free throw line. I ended up getting the rebound off the missed free throw with six to seven seconds left. I dribbled to half court and hit a 'runner' off one leg. I let it fly and it went in. That's what put us at No. 1 in the polls and in the Yale Cup and we beat them. Our team was just jumping all over me and hugging me. I remember looking at the expressions on Riverside's faces and they were so mad because they were getting beaten by freshmen. It was unheard of for freshman to start on the Varsity level and then to get beaten by freshman – it was a surreal thing back then.
AD: Well, if you figure that they were the Yale Cup Champions the previous year in addition to the Section VI Class C Champions, they probably expected to repeat. I think I saw the same thing happen to our team when you came in and beat us. There was a bit of disbelief as that game unfolded. It's like the Mike Tyson-Trevor Berbick championship fight. This young guy is coming in and he's whipping the older guy, and the older guy can't believe it's happening.
AD: I asked Jason this, and I'm sure you heard this too. One of the knocks on Coach Cardinal was that they say he wasn't teaching you any basketball and that you were just playing 'pickup' basketball in practices and in games. Is that true and what do you think when you hear that?
DF: I've heard it 1,000 times! Coach Cardinal heard it 1,000 times and we all heard it. Most of the time you'd hear it from the suburban coaches and schools. My opinion on that is that Cardinal wasn't trying to be something he wasn't. Cardinal was more so a father figure to us. He was there for us. We could come to him for anything and he'd give us advice whatever the case may be. You're dealing with city kids – kids that come from single parent homes. You're dealing with a lot of things and lots of these kids don't have structure in terms of playing organized basketball, so they come to the city schools and play on these teams. With their attention span, you draw up a play and they get in the game and they might forget the play. Or they might not have that discipline to run a play.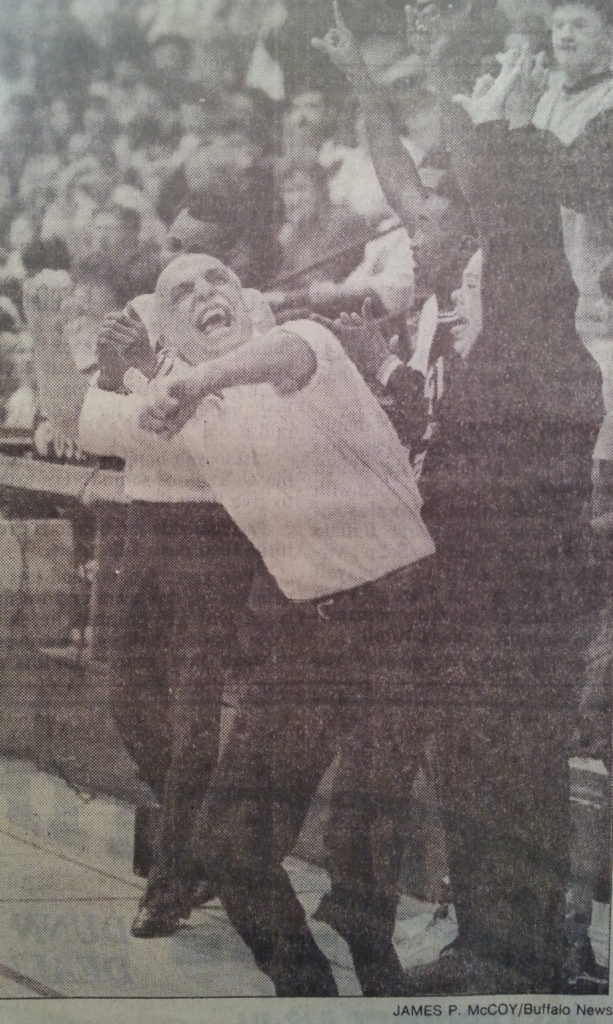 I'm just saying that was the majority of what they were dealing with in the past before we even got there. They were inner city kids and a lot of the coaches were gym teachers, so it was a lot about how you related to the kids. The kids in the suburban areas, they were coming from 'organized' basketball, their parents were putting them in camps, and they're going to the best schools like Timon and St. Joe's. They get in there and they learn the 'Xs and Os' with no problem. It's just a different animal when you're dealing with city kids.
I always thought he got a bad rap for that. Don't get me wrong, there was a lot of room for us to learn things coming out of Traditional. As far as the practices go, we had practice. We practiced and competed. Were there times when we went light in practice? Absolutely. Xs and Os, that wasn't our thing. Our thing was we're the fastest team in the Yale Cup and we're the most skilled and talented team. We're going to run this motion thing. We've got inbound plays. More so me and Jason, we were able to apply a lot of the stuff that we had learned and bring it to Traditional and bring it on the court in situations when we needed it. I either had the ball in my hands or he had the ball in his hands. When the games were winding down, Jason and me could overcompensate for a lot of the lack of coaching because we were the leaders on the court and they followed us. The chemistry was just natural. It was there and it was from us playing together all along.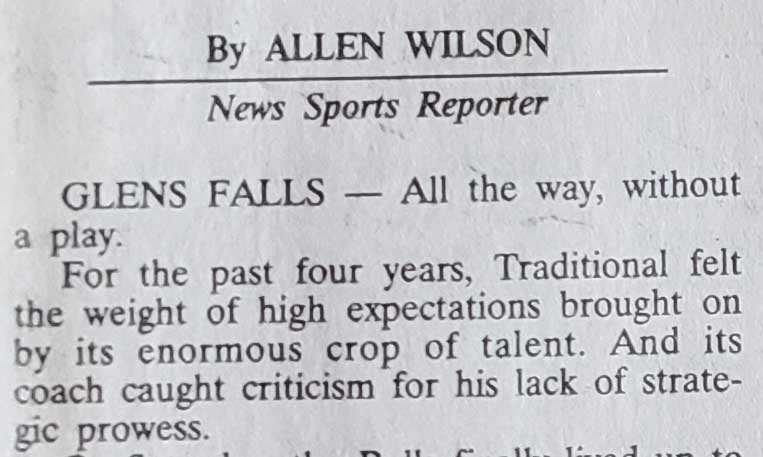 Card said he was going to retire and write a book and name it, "All The Way Without A Play". And when we won the state championship and went all the way, the media didn't like that. He got criticized for saying that. Who in the hell thinks like that? And other coaches in the area and in the suburban schools looked at our teams and said, 'You have got all this talent on this team. You should be winning the state championship every year – all four years!' And I can say honestly, yes, that was the goal. It didn't work out that way, but there was still a lot of success. But they looked at our team and said, "If you had a different coach, you would've won every year!" He got criticized for that, but Cardinal was a good person. He had a good heart and I respected him because he had his own unique way of relating to us and getting us motivated. It wasn't like he didn't motivate us. He motivated us, and he kept the team together as a family – we were a really tight family.
AD: Well, that family piece was important. Not every team had that. In terms of motivation, would he say stuff like, 'They're saying we can't beat them because you all aren't good enough?' Would he use reverse psychology on you guys?
DF: Well, not so much that because most of the teams were gunning for us nightly, trying to get a name off us. He more so kept it to where he made sure we went out and competed every night. He made sure we left it all on the court. He made sure we focused throughout the day during school – all the little things that go on behind the scenes that go into the game. He was just that guy and I want to say that his swagger, just Card being himself – his personality, he gave off an aura where you wanted to play well for him. You wanted to do good for Card. It's Joe Cardinal. You know he was one of those types of coaches where you want to give him your all. Not a lot of players will do that for certain coaches. So, he had his own unique way of motivating us and talking to us and keeping it real – not sugar coating anything.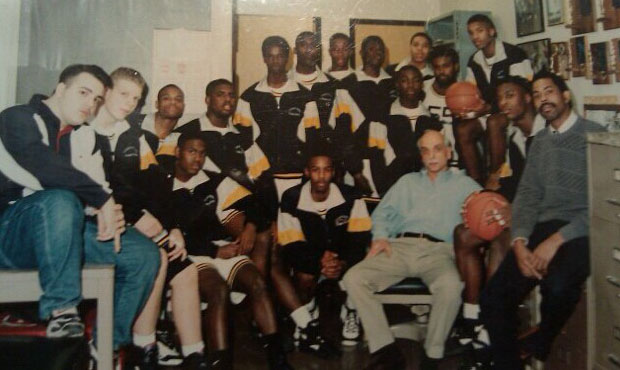 AD: And his Assistant Coach was Ellis Woods?
DF: Yes. Ellis Woods was his Assistant Coach.
AD: Okay, well going back to your freshman year. I got cut from my team for grades and other struggles. I was home every night of the 1993 boys' basketball playoffs and I remember watching the nightly news and seeing you go on your first sectional run. I remember one night seeing you do a 'finger roll' layup against Roy-Hart or Newfane, again with ease. Another night I saw a clip of Jason stealing the ball from one of Newfane's guards and laying it up with ease. When the playoffs started, did you look at the bracket and think you could win the whole thing? What was your mentality going in?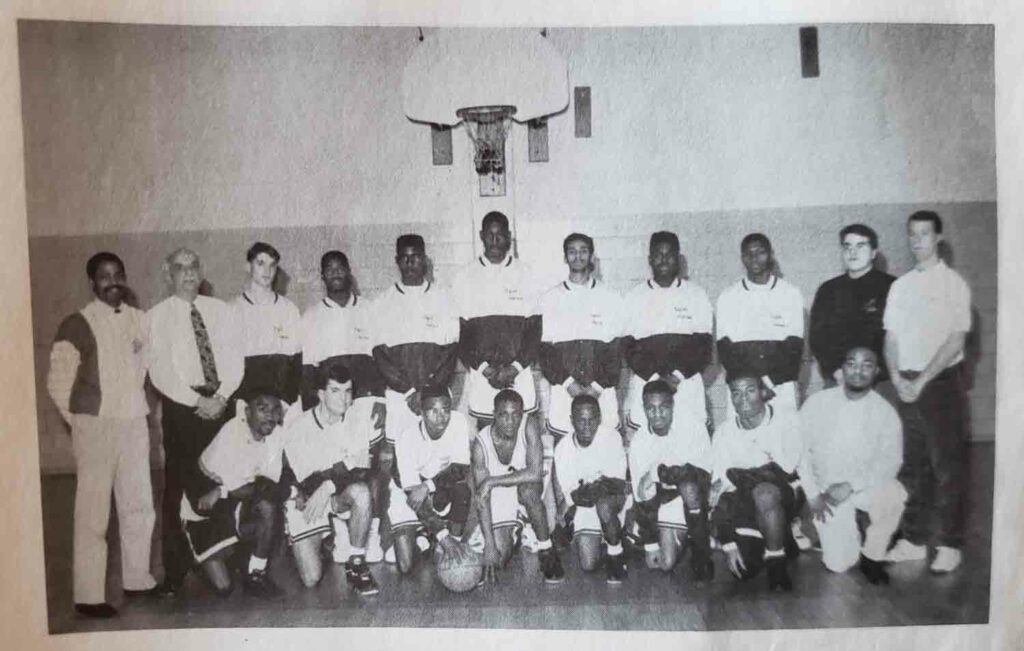 DF: My freshman year we started learning about postseason play and going to Glens Falls and we said, 'We've got to get to Glens Falls! That's the goal at this point!' You look at your team and you see what you've got and how you'll measure up in the sectionals. We had some great leaders on our team in Andre Montgomery and Jeff Novarra (pictured above with the 1991-92 Bulls). Those were tough players and we went out there and competed. We were trying to get to Glens Falls my freshman year. We fell short, but it was a learning experience. We got a lot better from it and we worked on our games.
AD: You beat all suburban teams. Did those teams try and fail at slowing you down? Were you just athletically better?
DF: Teams always tried slowing us down. They'd run lots of half court sets. They'd try to 'screen' us. They didn't want to run with us, because they knew they'd get run out of the gym! That was a lot of teams' strategy, not just the suburban schools. You've got to remember that we were solid in terms of the fundamentals of basketball. We knew how to get through picks for example. We were able to rub all that energy off onto the other players of our team as well.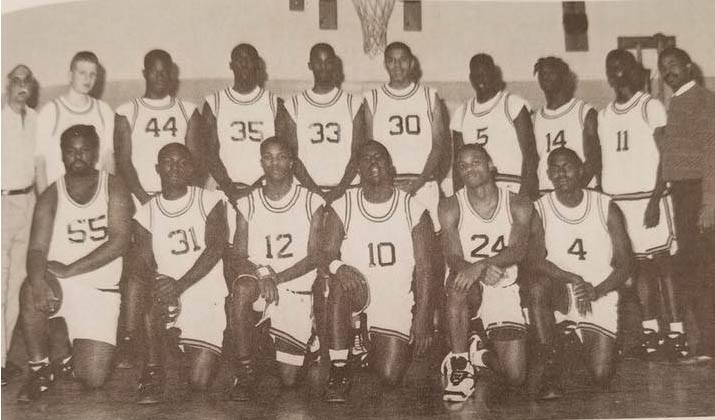 AD: You made it to the "Far West Regionals" as freshman where you lost to Marion. Coming back as sophomores, I like to say that you were the new 'Kings' of the Yale Cup. It was your second year, and a lot of teams graduated their seniors and were young. You graduated two seniors and reloaded with more talent (the 1993-94 Buffalo Traditional Bulls pictured above). Did you look at it that way going in? How did you go into that second year?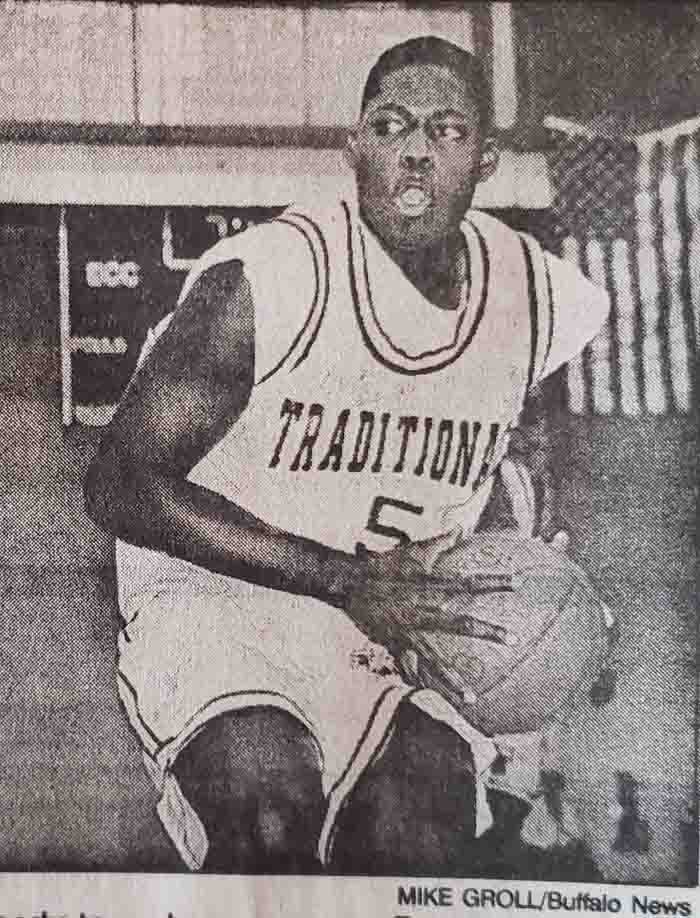 DF: Yes, because we acquired Darcel Williams (pictured). That was huge for us, but now we had a big guy inside. He was grabbing all the boards and could score and –.
AD: Yes, to go along with Adrian Baugh and Lavar Frasier.
DF: Right. Absolutely. We looked around and said, 'This is it! There's no reason why we shouldn't go all the way! This has got to be the year!' It didn't happen. We fell short.
AD: You ran into Mynderse Academy. Unfortunately, I didn't go to that game, but I remember seeing some of the highlights on TV. I remember you 'jawing' at one of their players after hitting three-point (laughing). I went to basketball camp with some of those kids. They weren't tall and athletic kids, so did they just 'X and O' you and slow the game down? Did they out rebound you?
DF: They broke the game down, slowed it down and did the Xs and Os. They were gunning for us. It wasn't like they were better than us talent-wise, they just wanted it more. At the end of the day, their strategy worked. That was another year that was just lost. I felt that we were better than them.
AD: So, the next year I came home from college and saw you play my Hutch-Tech team at our gym and you beat them handily 111-88. It was very impressive as there were lots of dunks and three-pointers from you all. I remember Jimmy Birden having a good game, as well as he was hitting from long-distance. You guys looked like a 'well-oiled machine'. What was the key to beating Lyons in the Far West Regional your junior year? Were you just more experienced? Were you bigger and stronger?
DF: Well, that was my junior year, so the summer after my sophomore year. After losing to Mynderse, that's when things really started taking off outside of Buffalo Traditional. We started playing Amateur Athletic Union (AAU) basketball and our team was strong that summer. Our AAU team was made up of players from Buffalo, Syracuse, Albany and Schenectady. From this area it was usually Jason (Rowe), Malik Campbell, Tim Winn, Antoine Sims and me. We'd drive up the I-90 to Syracuse to pick up two players, and we'd stop in Schenectady to pick up four players. I stayed away from Buffalo that whole summer.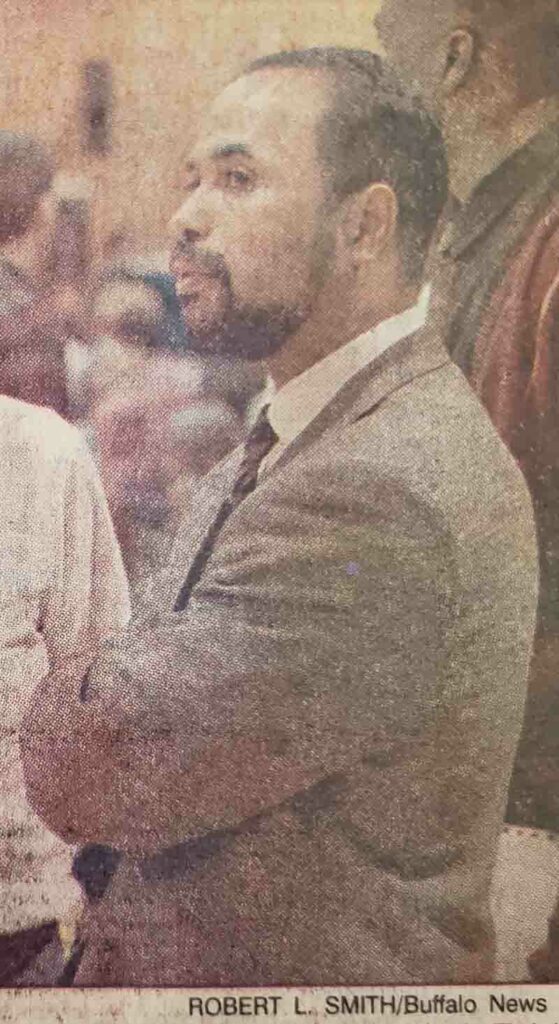 My junior year, I was the only one from our area who got invited the 'ABCD Basketball Camp'. I was in the top 50 in the country in my junior year. I'm at camp that summer with Kobe Bryant, Chauncey Billups, Felipe Lopez – all these guys and then at the Eastern Invitational Camp, and then throughout the tournaments we were playing in that summer. We played in lots of tournaments – thank God for Fajri Ansari for driving us up and down to these tournaments all summer.
We got a lot better and I took my game to the next level just from that summer alone and the experience I had going to camps. So, I think that helped me my junior year as far as beating Lyons and getting to Glens Falls. I felt like this is it. There's no more losing and you feel like you're the best. I was playing against the best up and down the east coast at that point. I could measure myself against other players and I said to myself, 'When I get home, I'm going in!' So that's what it was for me. That summer was pivotal going into my junior year.
AD: Coach Fajri Ansari from Turner/Carroll took you to tournaments and camps?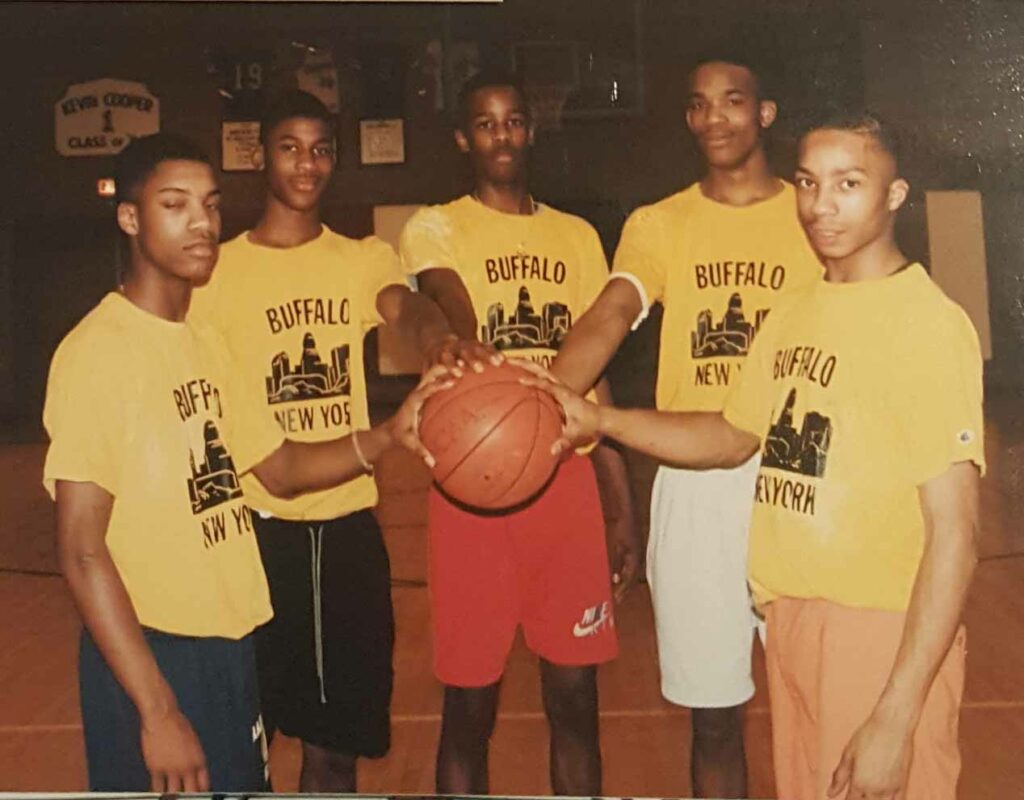 DF: Fajri and Mickey Walker took us up and down the east coast all summer. We joined the AAU team in my freshman year (pictured above with Jason Rowe, Lackawanna's O' Tes Alston, and Turner/Carroll's Malik Campbell and Antoine Sims). They took us to France, and we beat two of their professional teams that summer after my freshman year. We got lots of exposure away from the inner-city basketball. They were dedicated and drove us to Rhode Island, Boston, New York City – playing against the "Gauchos", Stephon Marbury, Felipe (Lopez) and those guys. We played against them in AAU, and that was the exposure we needed to elevate our games to the next level, so that was huge.
AD: The two kids from Schenectady, was one of them Willie Deane, who went to Purdue?
DF: I know Willie Dean, but he didn't play with me. It was Devonaire Deas who went to Florida State and then Antone Welsh who went to Notre Dame. Those were the two players from the "Schenectady Crew".
AD: My Dad lives in Schenectady, so I went out there every summer, and that's how I knew of Willie Dean. You beat Lyons and then Mechanicville in the state semifinal, and then you ran up against Peekskill in the state final. That game was within your reach, right?
DF: Yes, that game. Oh man, that game. That game was close. I could've put it away at the free throw line. I put a lot of blame on myself. I had two free throws to seal the deal. I missed the first free throw. I made the second free throw and I put the game into overtime. We couldn't contain Elton Brand in overtime.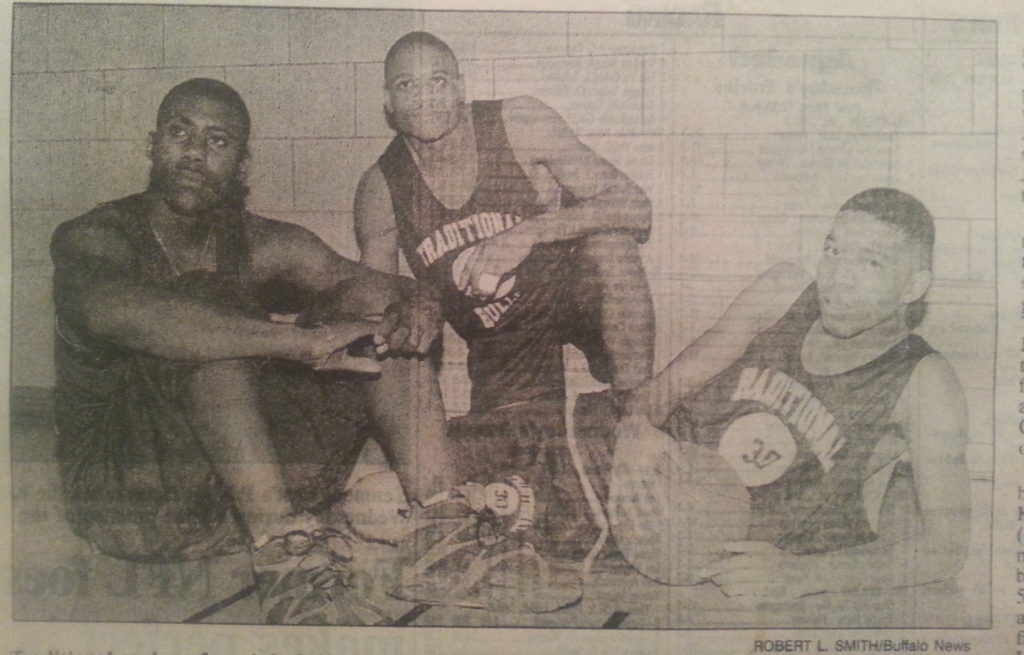 That game was so crucial for me because I really wanted to win the championship for LaVar Frasier, Adrian Baugh and our other seniors. I really wanted to see them go out with a ring and to win a state championship. Knowing that I had a chance to win the game, missing the first free throw, it just didn't sit well with me. I just wish it could've been different. I know that I gave us a second chance in overtime, but I just wish the outcome could've been different. They worked hard.
AD: Well, hey man, that's athletics, but Jason predicted that you would go back, and you did go back after reloading with some younger players. Losing players like, Adrian, LaVar and Jimmy, did you expect that you'd be able to reload? Or did you and Jason just do more the next year?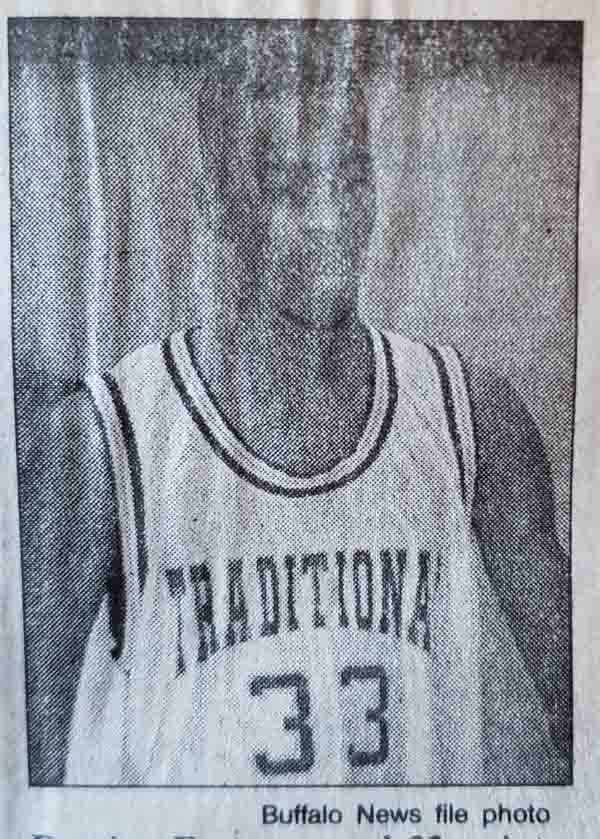 DF: That summer came, and we all got invited to the ABCD Camp at that point. We really worked on our games that summer. There was a lot of pressure building up. It was our last run, and we hadn't won the states yet. You're looking around and starting to question yourself. I just put it in my mind and determined that I was going to work my ass off. I'm going to do any and everything I must do to raise my game to that next level again. You're just trying to get better. You're trying to get better and you're playing against the best competition in the off season.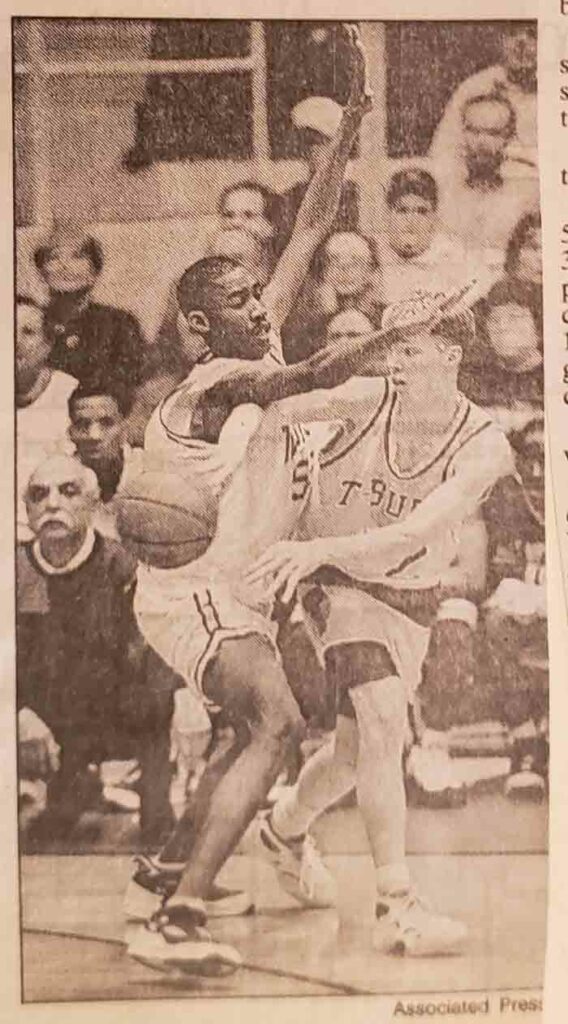 So, the season came around and I had a conversation with Jason. I said, "You know this is it. This is legacy time in terms of what we're going to leave on the table." It was a focus like no other. We looked at the players on the team. We knew we had Darcel Williams. We had Darnell Beckham. We had the firepower to get there so it was just a matter of how we were going to do it, and that year for me, I remember telling myself that I was going to lead by example. That was the only way I could try to get everyone to be on the same page and that was to lead by example.
That year I said, "Jay, we've got to win everything! We've got to win the Yale Cup! We've got to win the states! We've got to win the federation! We've got to win everything!" And that was the mindset going into my senior year. That was the mindset the whole time and we went in and put in work, from day one. As soon as the season started, we gelled together as a team. We were in shape and we made sure guys were doing what they were supposed to be doing. We went in there and handled business. We won the Yale Cup. We won the states and I remember the pressure. You don't want to let the school down – your peers, the teachers, faculty, staff – everybody that's rooting for you. And you just don't want to let them down.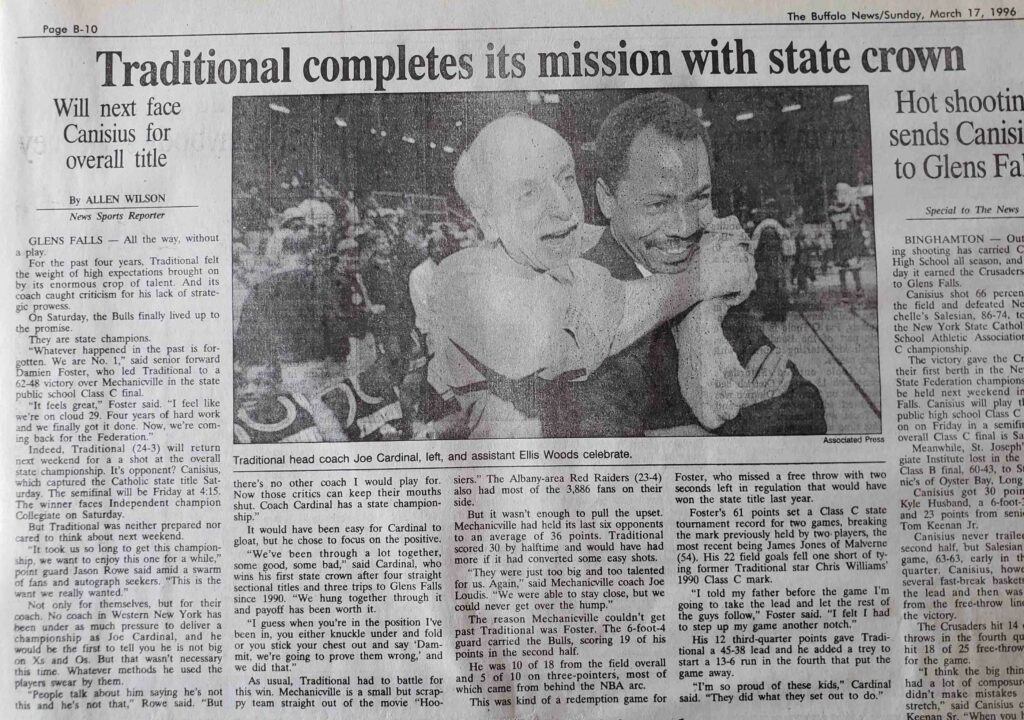 At the state championship game against Mechanicville, I think I scored a record. I think it was 61 points over two games – something crazy. I think I broke a record. I was just trying to make sure we didn't lose. I was just trying to leave it all out there. I said, "There is no way we're losing this championship!" I won MVP for the state tournament. There's something that just comes over you and you get that will power. You look deep into yourself and you try to wield that power. That's what we did.
This discussion will continue in part two of the interview with Damien Foster. In the second part of our interview, Damien and I discuss his basketball career after being a Buffalo Traditional Bull. I want to thank Damien for taking the time out of his busy schedule to participate.
Thank you for taking the time to read this interview. If you enjoyed this, you might also enjoy:
• Jason Rowe discusses Buffalo Traditional Basketball, the Yale Cup, and State Tournaments
• Niagara Falls basketball legend Tim Winn discusses playing in the LaSalle basketball dynasty part one
• Niagara Falls basketball legend Carlos Bradberry discusses playing in the LaSalle basketball dynasty part one
• Niagara Falls Coaching Legend Pat Monti discusses building, and leading the LaSalle basketball dynasty part one
• Lasting lessons basketball taught me: Reflections on three years of basketball camp
If you've found value here and think it will benefit others, please share it and/or leave a comment. To receive all the most up to date content from the Big Words Blog Site, subscribe using the subscription box in the right-hand column in this post and throughout the site or add the link to RSS feed to your feedreader. Lastly, follow me on the Big Words Blog Site Facebook page, on Twitter at @BWArePowerful, and on Instagram at @anwaryusef76. Finally, please check out my YouTube channel entitled, Big Discussions76. While my main areas of focus are Education, STEM and Financial Literacy, there are other blogs/sites I endorse which can be found on that particular page of my site.