This is the conclusion of my two-part interview with Niagara Falls LaSalle High School basketball legend, Carlos Bradberry. In part one, Carlos discussed his background, how he started playing basketball, and how he became one of the legendary point guards in the LaSalle basketball dynasty. In part two we talk about his senior year at LaSalle where he led the Explorers to Glens Falls, his college career, and then life after basketball.
The pictures in this interview come from an archive of Section VI basketball, carefully assembled over the years from issues of the Buffalo News, the Rochester Democrat & Chronicle, and Section V and VI playoff programs by my first Coach at Hutch-Tech High School, Dr. Ken Jones. Other pictures were generously shared by Carlos himself, and his Head Coach at LaSalle Senior High School, Pat Monti. Click on any of the images to enlarge them. This interview and others were created for the love the game but also to promote my book project entitled, The Engineers: A Western New York Basketball Story.
Anwar Dunbar: After the season-ending loss to Greece-Athena your junior season, what was your mentality going into your senior year? Was it, 'Glens Falls or bust?'
Carlos Bradberry: Yes, it was Glens Falls or bust. There was no other thought in our minds besides getting to Glens Falls. We weren't thinking about local teams. Our biggest rival was Niagara Falls Senior High School, and everybody thought it was a huge game. It wasn't for us at that time. Our whole goal was Glens Falls from day one.
AD: Well, I recall you guys having one shocker against Kenmore West in league play.
CB: It was almost two. They played us really close in the sectionals too. They were a good team. They had Rob Fitchlee, Shawn Bryan and Joe Thomas – they were stacked. I think we played them three times that year, and I'd say that all three games were close and none of them were blow outs. They were really good!
AD: Well you know that was the big story and it was like, 'LaSalle lost!' So, it sounds like they were legitimately talented, and you guys didn't just overlook them.
CB: No. They were loaded. They would've gone to Glens Falls almost any other year. They ended our win streak. St. Joe's had a 'monster' win streak of their own with Eric Eberz and Jeff Muszynski. Kenmore West ended theirs as well – both in the same year. That was Dick Harvey's team.
AD: I was watching the 1993 Class B-1 sectional final between Amherst and Kenmore East once again at Alumni Arena. Towards the end of that game, you guys walked in as a group and sat right in front of me. I was thinking to myself, 'Oh boy. LaSalle is here!' Just as that game was ending, you got up in a business-like fashion and went on to defeat Hamburg and the rest is history.
So, your team beat Kenmore West in the Class A semifinal 61-51 and beat Hamburg 61-42 in the Class A final to win Section VI yet again. Did you feel confident matching up with Section V's McQuaid? That game was at Rochester War Memorial Arena. Aside from losing Shino Ellis and Willie Cole, you basically returned with the same core group with the addition of Tim Winn.
CB: I'd say confident, but for me leery. My last memory of McQuaid was going out there and getting 'stomped' a few years earlier. I wondered how good these guys were and I knew that they had a big guy. I think his name was Jay Wandtke or something like that and he was 6'6" or 6'7". Obviously, he wasn't on John Wallace's level, but I was thinking they had a big guy and I wondered how we were going to match up.
AD: So, it did end up being a close game. The Buffalo News reported that Todd hit a last second late shot and –.
CB: Yes. Todd hit a huge shot from the elbow to give us the 46-45 win.
AD: And you guys advanced to the Final Four in Glens Falls where you matched up with Hempstead from Long Island. You lost a close game to them, 70-67. What was it like getting there? Was it, 'We're here,' and you were happy to just do that or –.
CB: No, we wanted to win. It was huge for us to get there, but as soon as we won that McQuaid game, our focus was, 'Man you know what, let's go down there and win this thing!' I'd never heard of Hempstead before, but I'd always heard about how good Mount Vernon was. Our mentality was to go down there and beat Mount Vernon or whomever we were going to play. All of us were beyond happy to get to Glens Falls, but we weren't settling for that.
AD: Obviously you want to win the whole thing, but the way it ended, were you satisfied with your senior season?
CB: I was satisfied, but I hate to lose so that last game wore on me for a long time. I probably sat there for a week or two and thought of every play I could've done differently. I still remember it to this day. We lost by three points and I missed five or six free throws. I said to myself, 'If I'd made those six free throws, we would have won the game!'
For me it was bitter-sweet because we got there and showed well, but I thought we could have gone one step further. What made it worse was, I think Hempstead either won or had a very close game with Mount Vernon. I thought we could've been the state champs if I'd played a little bit better.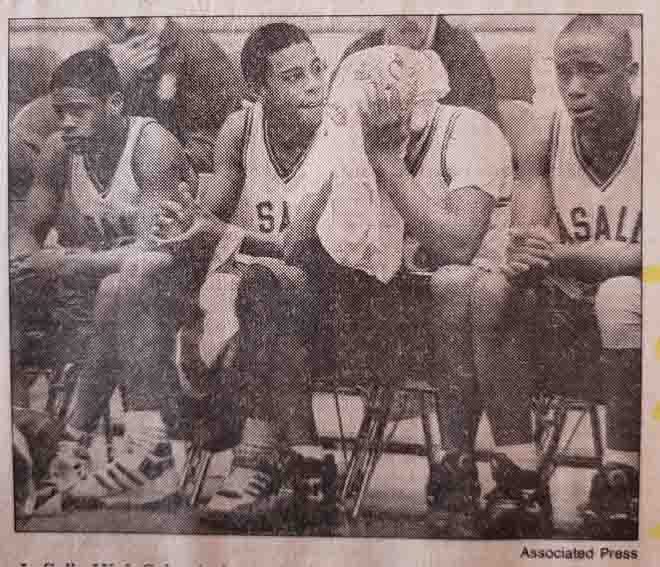 AD: Did Hempstead play you a particular way?
CB: I think we just came out and got into a hole. I think we feared their size and played zone against them. We didn't really think they could shoot it, but they came out and shot it in the first half. We eventually went to our 'pressure' defense and they started turning the ball over left and right. Looking at them warmup, how athletic they were, and how quick they looked, that was one team I can say that I was intimidated by. But man, once we started playing and we got through that lull where they jumped on us, I thought from that point we could win. I thought they had some Division I players and some good guards, but I thought as a team we were better.
AD: Before we move on, how did Coach Monti pick his captains? Was it his best two players? Was it his most senior players?
CB: I'm pretty sure it was always upperclassmen. It wasn't a team vote or anything. In my freshman year I want to say that it was Milo Small and Duke Davis, who were seniors. Sophomore year it probably fell to Modie, Scotty Rose and my brother. It was always your junior and senior guys who'd been through it. In my junior year I was a Co-Captain with Shino.
AD: Who was Co-Captain with you in your senior year?
CB: I believe it was myself, Chris Frank and maybe Curtis Ralands.
AD: When we played you guys in the 1991 Festival of Lights Tournament, I remember you consistently 'slashing' to the basket. What was your game like by the time you graduated from LaSalle?
CB: I spent a lot of time over the summer shooting and I came back as a 'respectable' three-point shooter. I was hitting a couple of threes every game, so I was mixing it in more than my junior year when I was just getting to the basket. I knew for me I wanted to play at the college level. It was funny because we would go down to the YMCA and we used to have these unbelievable runs on Saturdays with guys who were in their 30s and 40s. I'd go to the basket every play and they would just 'hammer' me. They'd say, 'Listen, you're not going to be able to get to the basket on everybody! You're going to have to learn how to shoot!' Those guys had a point and it made you get in the gym and work on your jump shot.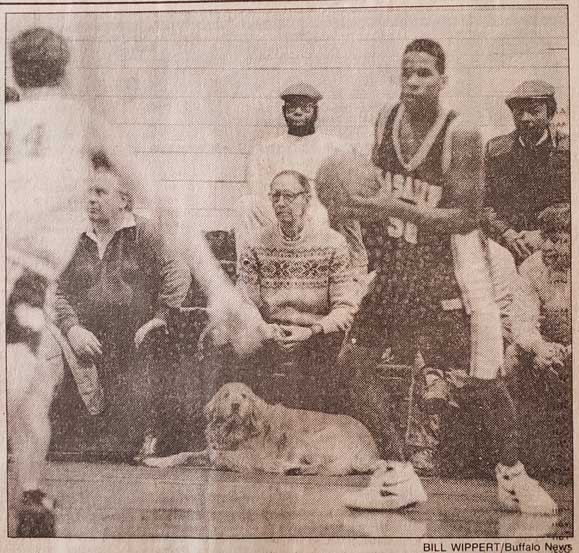 AD: Do you remember what your best game was?
CB: One of the games that sticks out was against Lockport. It was probably my junior year. We were down 10-12 points in the third or fourth quarter of a sectional game. We were going to lose and that was huge because we hadn't lost a game up to that point. They had a guy on their team named Calvin Shellman who was really good. I scored 17 of out of 30 points in the fourth quarter to help us come back and beat them. That's probably the game that sticks out to me in high school, just off the top of my head.
Also, a game against Niagara Falls in my sophomore year sticks out. Modie had an ankle injury and no one thought we could win without him. I was scared out of my mind because Modie was our guy. I played shooting guard that season, but I had to play point guard in that game. It was a low scoring, tight game. I went to the free throw line with zero seconds on the clock and hit two free throws with all the Niagara Falls High School fans lined up under the basket to win the game. It was crazy because they stormed the court and thought they won the game. Then the court had to be cleared and I had to shoot two free throws with no one else on the court.
AD: Based upon the way that the players were brought up and the way Coach Monti ran the team, it sounds like your teams had good 'chemistry' together, and that you guys were a pretty tight group.
CB: The majority of us were always together doing something. It's funny now because you see some kids and teams that are really disconnected. We were sort of like a family. There were always four guys over my house, or I was always over someone else's house – nine out of your 11 guys were doing something together.
AD: Tim said that he was over at your place playing video games regularly. It's strange. I don't know if it's organic, but on some teams if no one explains it to you, you don't realize that chemistry off the court is important as well.
CB: It's huge! It makes you trust people. It makes you like people more. It makes you want to make something happen for that next guy and they become more than just some guy you're playing basketball with for two hours a day. They're almost like you brother or your cousin. Me, Jody, Shino and Fat Jack were all inseparable – we were always together. I wanted to see them do as well as, or better, than me or anybody else.
AD: You said it was yourself, Jody, Shino and who else?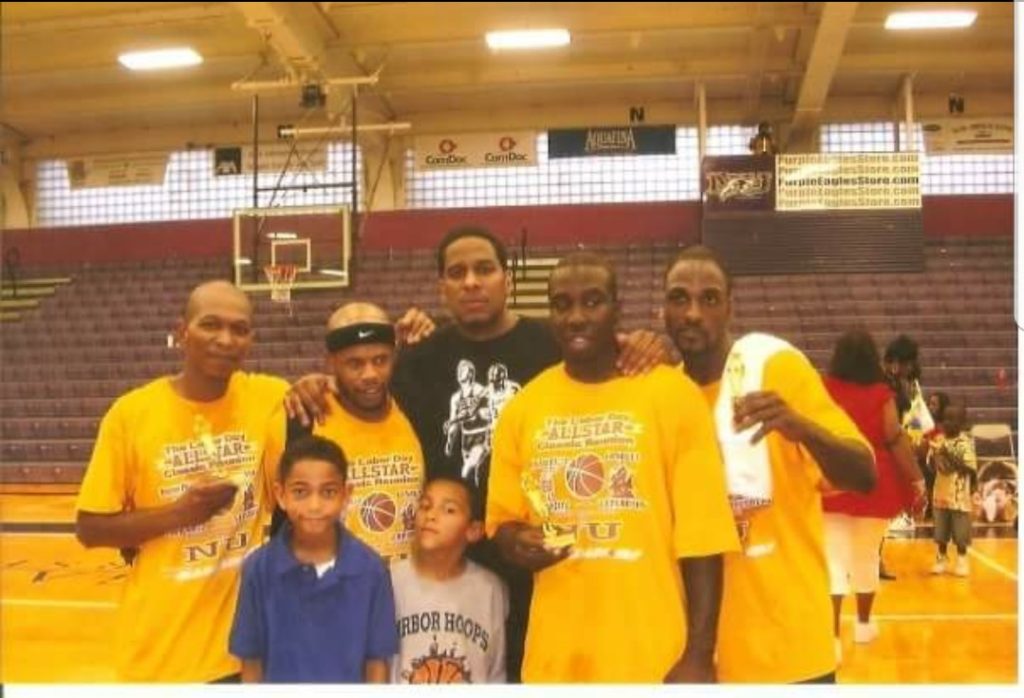 CB: It was me, Jody, and Fat Jack – Tim. ("Fat Jack" as we called him).
AD: Why did you guys call him Fat Jack?
CB: Oh, that's his name. Everybody knows him as Fat Jack. If somebody calls him Tim, it's rare. If you're around Niagara Falls or Buffalo, he's Fat Jack. That's been his name since he was younger which was funny because he was the skinniest kid growing up. But those were the guys. Obviously, Shino is a year older than me, so he graduated a year earlier; and Curtis, obviously. That was our other guy. It was crazy how we were all close.
AD: Was there anyone you looked particularly forward to playing against?
CB: Definitely, Calvin Shellman. He was younger than me by a year and played at Lockport, but he was amazing. I don't know if you remember Anthony Scott from Grand Island. He went on to play football at the University at Buffalo (UB). He was the biggest trash talker in Western New York, so I looked forward to playing against him. We were friends, but those were two of the guys who I looked forward to playing against.
Eric Eberz, from St. Joe's, was a guy I looked forward to playing against, but never got to play against him in high school. We used to play on some 'travel' teams together, and we always used to talk about who was better between St. Joe's and LaSalle. However, we never got a chance to play each other. So probably, it was those three guys.
AD: Now the Buffalo News captured how fierce the Niagara Falls High School-LaSalle rivalry was and your team owned it for the most part. I read in one of the clippings that at one point a fight broke out. What was the most surprising thing you saw when you played at LaSalle? Was it the fight? Was is someone getting cut? Was it playing against John Wallace? Was it something else?
CB: The rivalry with Niagara Falls was different than anything. A lot of things stuck out. You had hundreds of people outside the gym who couldn't get in. You had guys looking through windows to try to watch games. That's something you didn't see every day around Western New York. Even though we had good crowds, that game was just different. To us it was crazy because we felt like we were never going to lose to Niagara Falls High School.
We had the confidence. We knew the guys and we played against them every day, so we knew we were the better team; but when you got into that environment it was just nuts. It was people on top of people. People stand on the baseline, and it sort of made a lot of the games ugly. We probably didn't play some our best 'LaSalle' games, because at that point you hear everybody in the town screaming and yelling your name. and everyone was trying to make a name for themselves. That's what sticks out – those Niagara Falls High School games for sure.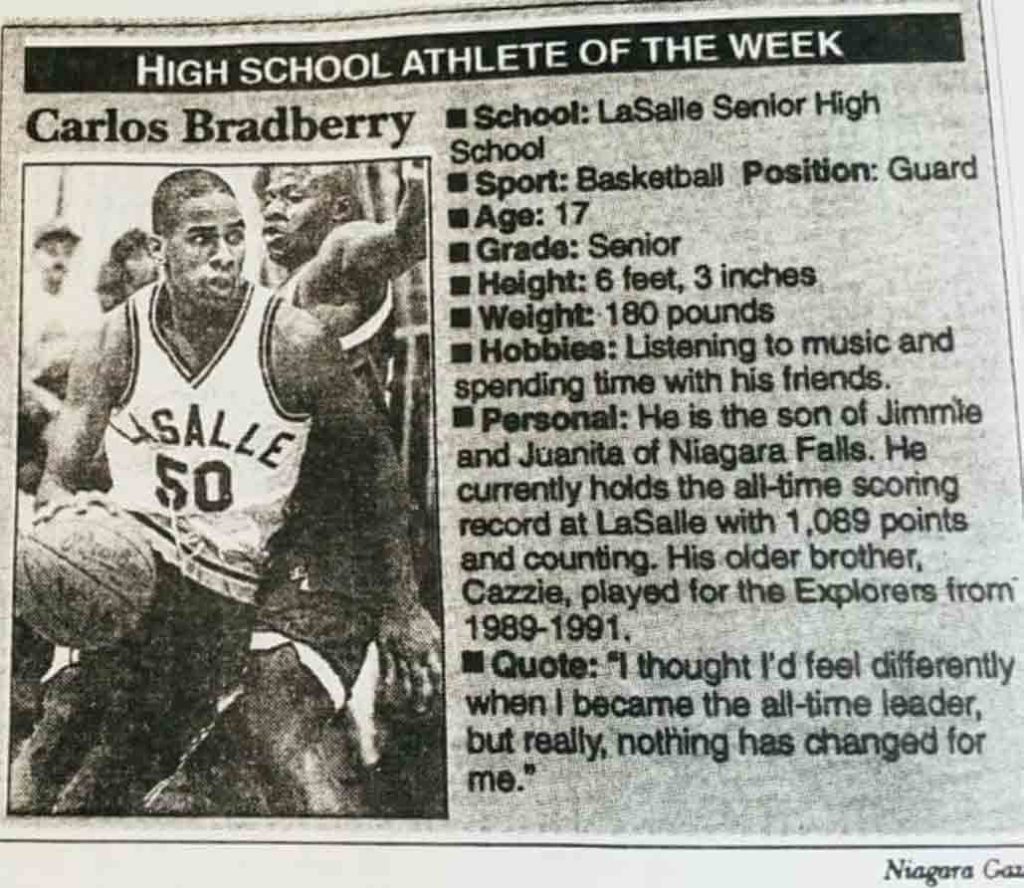 AD: Does that mean that during those games, you guys 'freelanced' a little bit more and broke from the structure?
CB: Yeah, and I'm sure that Coach Monti would agree. I don't think he was happy with some of those games. Some of them were ugly and they were the one game out of the year where we didn't follow the game plan to a 'T'. The one we played during my sophomore year – that's when we had Duke and Milo. Niagara Falls High School complained that we always played in our home gym just because it was so much bigger and could accommodate more fans. And they had a right to complain. Their coach at the time kept complaining and we finally played at Niagara Falls High School which is another one of the more meaningful games that sticks out.
We went there, and this was a team with Willie Cauley, who was unbelievably talented. We walked into their gym – the little 'box' that they had, and it was supposed to be a close game. We ended up beating them by 40 points. We just ran our offense to the T – everything we did was perfect and after that, they never asked to play there again. It was crazy.
AD: Coach Monti did say that their teams were bigger and more talented, but you guys still owned the rivalry/series.
CB: They were always bigger and had a few better athletes. Willie Cauley was on their team all our years and he was the best player on the court talent-wise every year. It was amazing.
AD: What kind of student were you when you were at LaSalle? It sounds like Coach Monti kept a tight rein on how his players performed in the classroom.
CB: There were progress reports every week that you had to turn in – even when it wasn't basketball season.
AD: Really? Wow.
CB: You had to be on top of your grades and it wasn't just your 65s, getting by and passing classes – it was basically to your ability. If you were a 70s kid, Coach Monti expected you to get 70s. If you were an 80s kid, he expected you to get 80s. I was an '80s kid' in high school. I know Jody was a 90s kid and if he had brought in 80s, Coach Monti probably wouldn't have been happy – do you know what I mean? There wasn't one grade that everyone had to get. He knew what kids were capable of and that's what he expected you to get.
AD: When did the colleges start recruiting you?
CB: I was a 'late bloomer' – it was the end of my junior year and really it coincided with the start of AAU (Amateur Athletic Union) basketball. Mickey Walker used to run "Upstate Basketball" which was basically an AAU team. He took me on my first few tournaments going from my junior to my senior year. That's when I really started to get interest from some schools.
I wasn't heavily recruited. I had around seven interested schools. Most of them were from going out just that little time in the summer with Mickey. I know Fat Jack (Tim Winn) ended up playing later for him as AAU kept getting bigger and bigger. So basically, it was more the middle of eleventh grade.
AD: Obviously, one of them was Niagara University. I remember going to Buffalo's Memorial Auditorium your freshman year and seeing you play against the University at Buffalo. Were there other Metro Atlantic Athletic Conference (MAAC) schools interested in you?
CB: Locally it was Canisius College, where John Beilein coached, that showed me the most interest from day one. St. Bonaventure recruited me, but they didn't make me an offer, and that's where I wanted to go locally. I probably wasn't an Atlantic 10 Conference-level kid, though I didn't know it at the time.
I was more of a MAAC- level kid, which included both Niagara University and Canisius College. There were some teams from outside the MAAC like Marist and Maryland-Eastern Shore. Canisius and Marist were probably the earliest in terms of recruiting me.
AD: How did you end up deciding on Niagara University?
CB: This is a great story as well. I loved Canisius, Coach Beilein and Coach McDonald who is now a local Head Coach at Daemen College, but I was young, and I was waiting for that big school to come, which was never coming. It was getting late, and Canisius had been recruiting me for my whole eleventh and twelfth grade years and I think it was around the time of the Final Four.
I talked to another one of the coaches and he said, 'Hey, we've got another guy on hold for the whole year. You're our No. 1 guy,' but they wanted me to give them a commitment and it was halftime of that Final Four game and I kept going back and forth on them. I called Coach McDonald after the Final Four game the next day because I was going to go to Canisius. I told them, 'Hey, how is everything going?' He said, 'We really didn't think we were going to hear from you, so we signed another point guard.' At that point they said, 'Your offer is still here. We want you here,' but then I called Niagara a minute later and just told them I was coming there.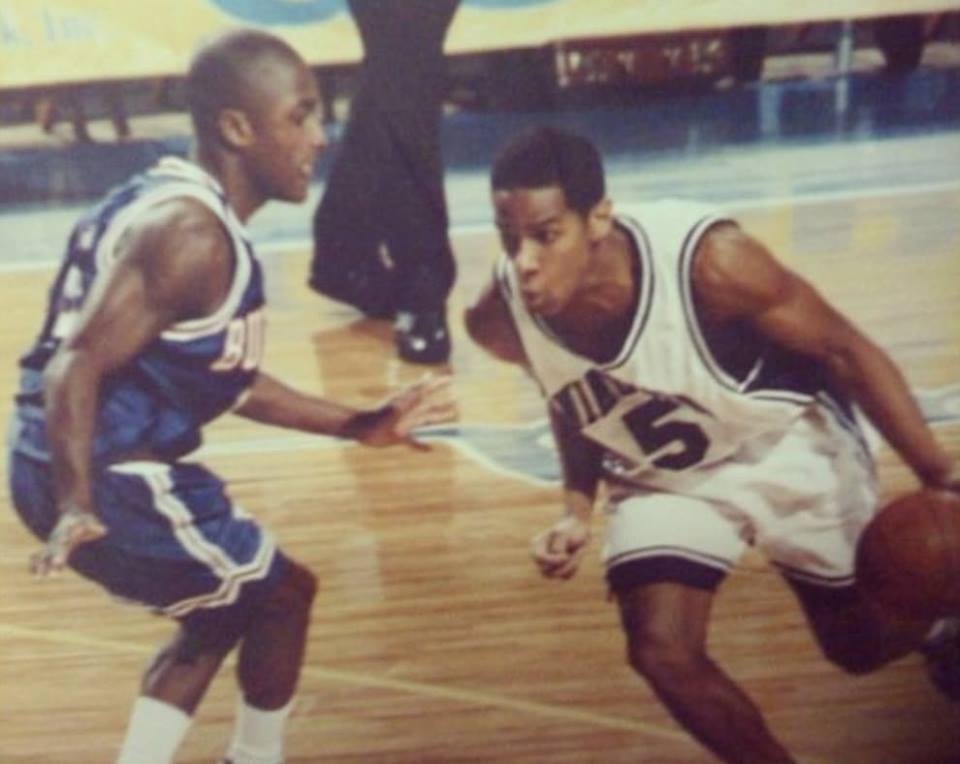 And the other thing – the sticking point for me, which was just being young and dumb, was that Canisius had a good senior point guard that I knew I was going to have to play behind named Dana "Binky" Johnson. Coach Beilein let you know, 'You're going to come in and you're going to learn as a freshman. You're going to play under him, but we're going to groom you to be our next point guard!' Niagara University had just lost their point guard – a kid named Lloyd Walker and they told me, 'Hey, you can come here and start right away!'
So that's where I was torn. As a young kid all you want to hear is that you're going to go to a college and start right away. So, while my heart sort of knew that Canisius was the right place and I loved Canisius, Niagara came into the picture later. With a coach coming and telling me that I would start my freshman year – I just went with it.
It was funny because guys like Coach Monti – he wouldn't tell me what to do, but he told me, 'Hey I think Canisius is a good fit for you.' My Dad also said Canisius was a great fit and I thought it was a great fit too. It's just that when you're a kid turning 18 years old, you just want to play, and you don't think about all the other stuff involved. I ended up leaving Niagara, but I loved the time that I was there and the guys I played with were great. I don't regret anything about the way that it worked.
AD: Where did you go after you left Niagara?
CB: I went to the University of New Hampshire which was in the "American East Conference" back then. I transferred there halfway through my sophomore season.
AD: Well, hey man, after talking to Jason Rowe and Tim Winn, it sounds like there are a lot of moving parts and a lot of things to consider when kids are getting recruited. Playing time was one thing you described as important, in addition to how much the schools seem to want you, while also recruiting other players at your position.
CB: Yes, it's confusing especially for a kid – you sort of want someone to make that decision for you. My Dad told me what he wanted, but he said, 'Listen, you've got to make this decision on your own! I'll tell you what I think, but you've got to make your own decision!' Sometimes when you're 17 and 18, you're not going to make the right decision.
AD: When you went to New Hampshire, you were obviously with another coaching staff. Were there major differences in playing at New Hampshire versus playing at Niagara?
CB: Oh yeah! It was just a whole different approach. I'm not saying one was better than the other, but it was two different systems. One was 'night' and one was 'day'. It's tough because I had a to sit out a year and when you sit out, you get 'rusty' because you don't really play. You practice, but you don't play in games for a whole year, and then you come in and you're in a whole different system. It was a different role than I ever had to play before when I ended up at New Hampshire.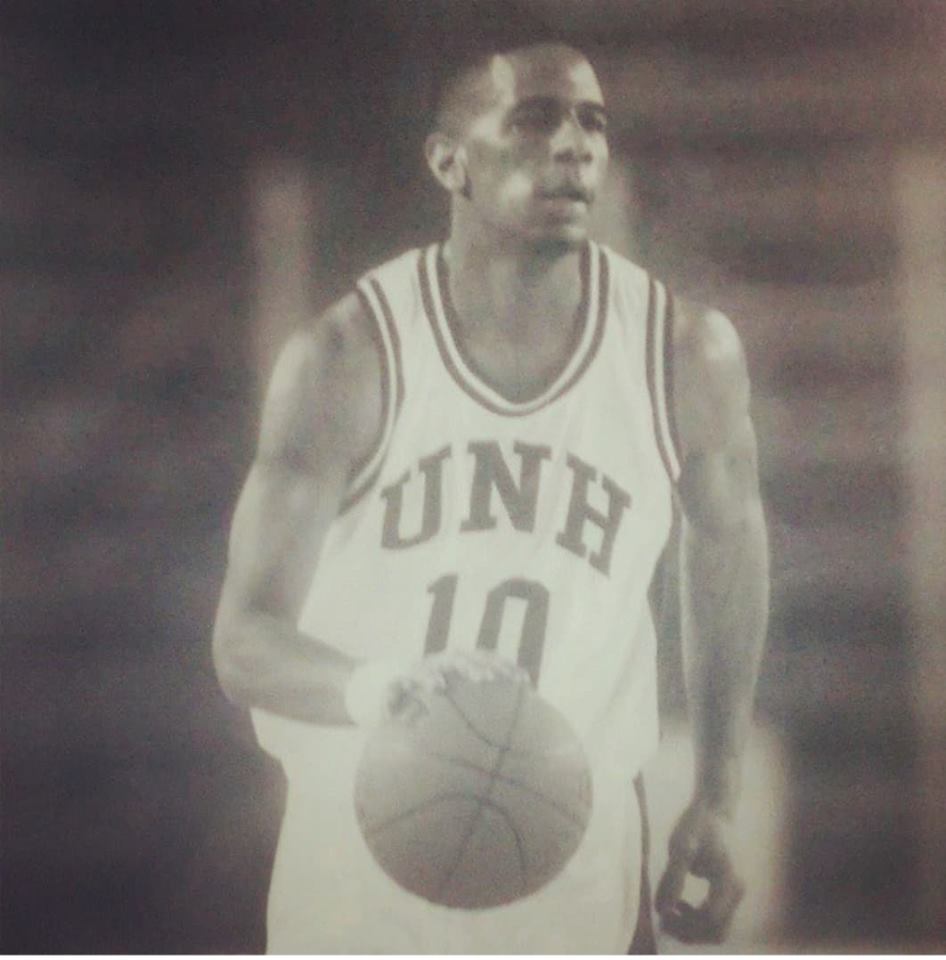 AD: Were you playing the 'point guard' position, or did you slide over to 'shooting guard'?
CB: I played the point guard position at both Niagara and New Hampshire. At Niagara you're young and dumb. You're playing in front of your hometown and friends are telling you stuff. At Niagara I had a 'long leash' as a freshman and as a sophomore, but maybe I wasn't doing as well as people thought I was as I wasn't putting the numbers up. I thought I could and should be doing more so I wound up leaving and going to New Hampshire where the coach was more of a 'You're going to be more of a guy to set up our offense and get us into this spot,'' -type of guy. I learned how to play it in two years and I don't regret going there either.
AD: Did you guy's make the Men's NCAA Tournament any of those years?
CB: No. At Niagara University we were young. We would have been good if everyone had stayed. In my freshman year, we brought in seven freshman which was nuts. Three or four them ended up starting. I think if we could have stayed together until our junior year, we would've had a special group at Niagara, but four of the seven ended up leaving. At New Hampshire we just weren't a very good team. The America East was just a really tough conference and we were a few games under 0.500, so we never got the chance to go to the NCAA Tournament.
AD: Who was in that conference?
CB: Vermont, Boston University, Delaware, Drexel – all those guys. Hofstra had the "Speedy" Claxton kid who went to the NBA. The conference was just tough. Boston University had the Joey Beard kid who had just transferred from Duke and –.
AD: Didn't Drexel have Malik Rose at that time?
CB: Yep. Malik Rose was Drexel's big man and he was a 'monster', but yes, it was tough conference.
AD: Well, you know coincidentally, the first time I ever saw Malik Rose play was the opening round of the 1996 NCAA Tournament when Drexel matched up against John Wallace's Syracuse team. What did you major in?
CB: Social Work.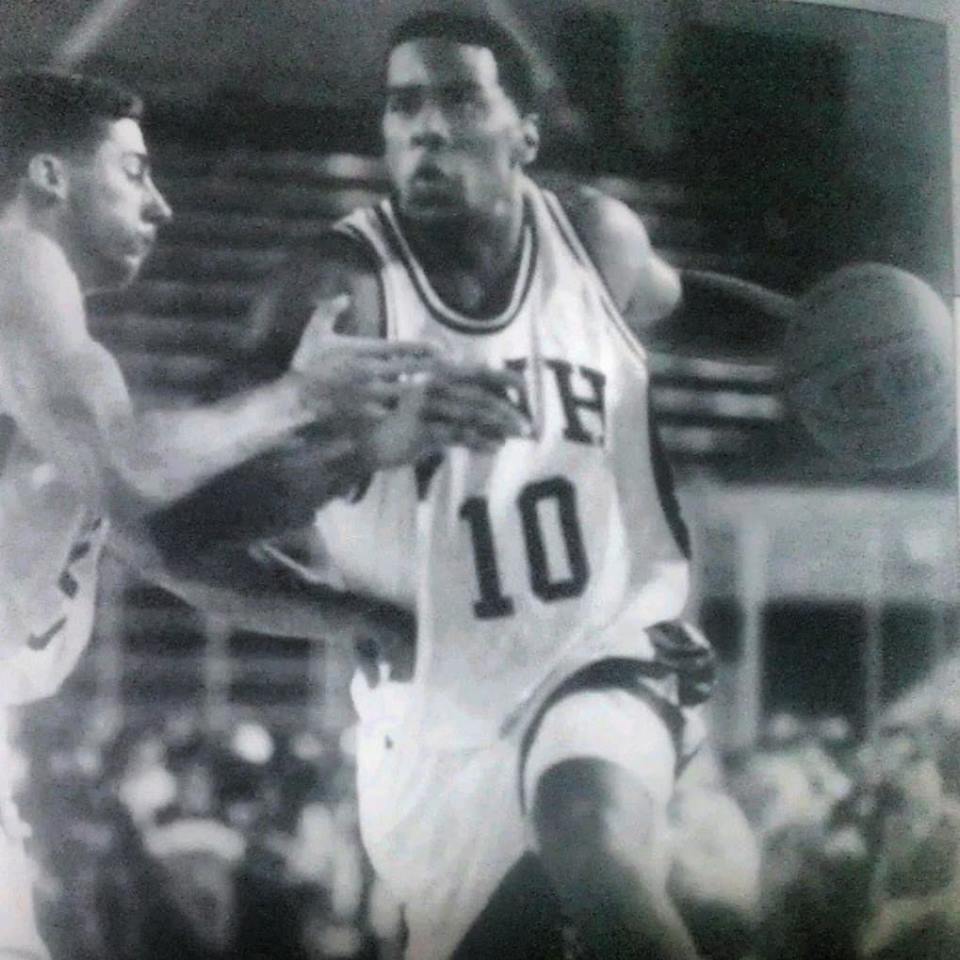 AD: Did you have any aspirations of playing professional basketball the way Tim Winn and Jason Rowe did?
CB: No, I had no aspirations to play overseas at all. Nothing interested me about going to another country to play ball.
AD: Is Social Work what you got into once you graduated?
CB: No, I came back and started working in the school system in the Department of Special Education. Unless you get a Master's Degree, you're not making too much money in Social Work. My wife is also in the school system and it's good for our family – to work for the school district and to have our kids come through it. We always have an eye on them and it's been great.
AD: Okay, well I guess this is a good transition into your kids. We're Facebook friends now and it looks like your son is following in your footsteps. Did you have expectations for him and put the ball in his hands as a baby? How did he start playing?
CB: So, Jalen is my middle child and he's a 'basketball nut'. He played in his first tournament at six years old, and he's been playing ever since. I've got a daughter who is older. She was never really into sports. My younger son never really got into it. My things is that you can't make kids do something or put them in something they don't really want to do. My middle one just picked up on it early and loved it.
AD: I saw the video footage of you working him out, and I saw that you took him out to Syracuse for a camp I believe. Are you 'hands off' father, or are you 'hands on' and coaching him all the time?
CB: Well (laughing), I had an AAU team for years and I had the chance to coach a lot of really good kids who are mostly now juniors and sophomores in high school. I started the team probably when our kids were around fifth grade and I coached a group of really good kids from Niagara Falls and Buffalo. You know what, when you get to a certain point, you've got to let go of coaching your own kid, being the Head Coach and doing the whole thing.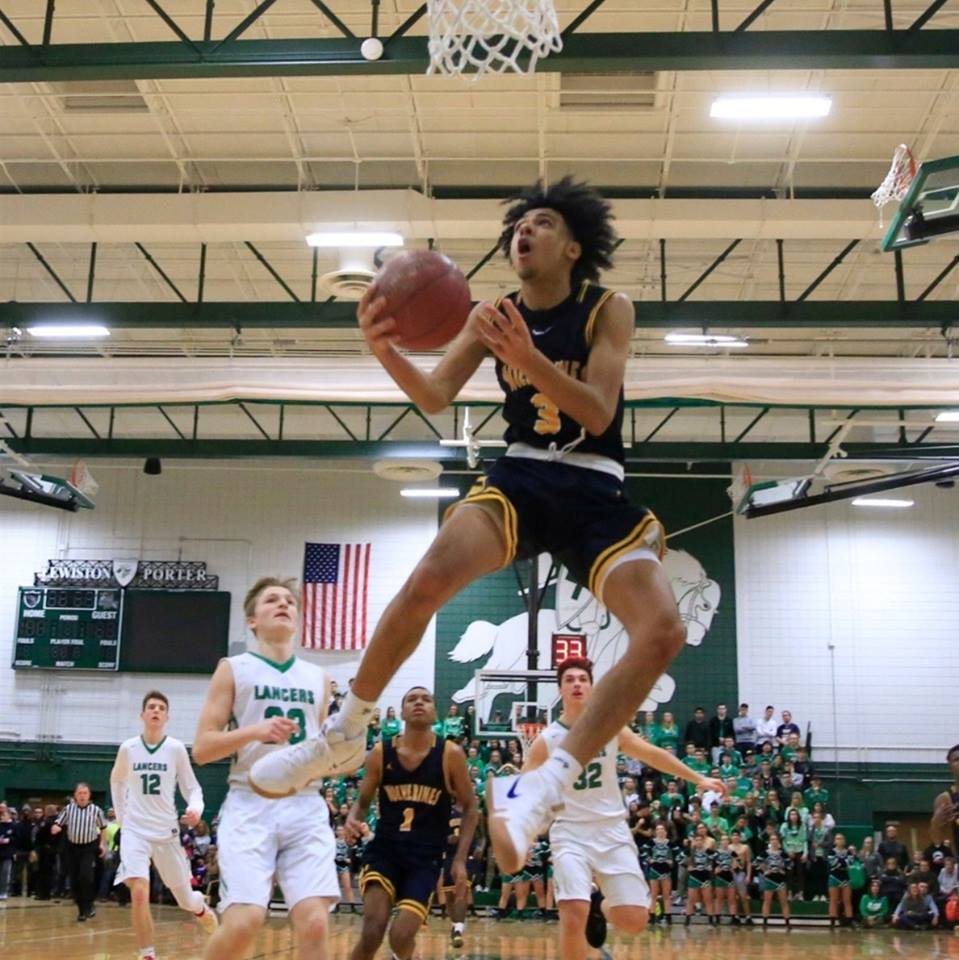 My goal was to let that go once he became a freshman which was last year and have him go play for a bigger program that's not a local program and not me coaching him. So, this last year he started playing with the "Albany City Rocks" which is our only Nike-sponsored team in the state other than teams in New York City. So, he started playing with those guys.
AD: And it looks like Jalen is playing for Niagara Falls High School?
CB: Yes. Niagara-Catholic closed, so now he's playing at Niagara Falls High School.
AD: Does he know how good you were? Has he heard the legends of Coach Pat Monti, the LaSalle Explorers, Eric Gore, Michael Starks and the ten-year dynasty?
CB: He hears about it and I wouldn't say that I'm hands off. We were in the gym just before you called. I'll get him in and do his workouts. I'm basically his 'rebounding machine' – I'll run around and chase his balls for him. I'll do that, but other than that, at this point you want to get him around other people. He's older and it's time for me to turn it over to somebody else.
AD: On Monday, I saw you say that you had a game. Was that him playing or do you still play?
CB: For Niagara Falls High School, I'm going to be an assistant coach. A couple of kids are coming from Jalen's old school and it's good that we got them in a league so that they can start to mix in with the other players and get a feel for each other. Hopefully when November comes, everybody will know each other a little bit better. I was previously an Assistant Coach at Niagara Falls High School and I took a couple of years off when Jalen started middle school.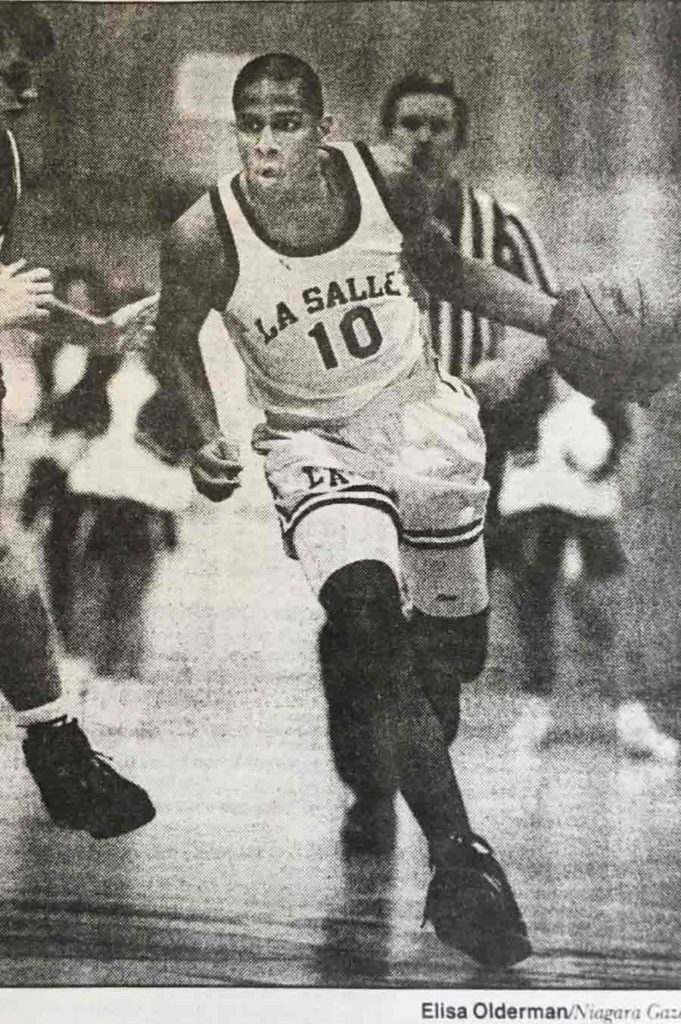 AD: Okay, Carlos, we're almost done. I can see from Facebook that you still literally eat, sleep and breathe the game, and I see you frequently posting about today's players, their skill level, and what kids don't know how to do. How has the game changed since the early 1990s when we were out there playing? Is the game more about shooting like Steph Curry and the Warriors? What are you seeing? Are the kids less tough?
CB: It's funny, because I get into arguments with guys about this because I say that I know that if I was in high school right now, with the same skill level I had in high school, I would've never been a Division I player today. These kids are so skilled at a young age now that it's unbelievable. So, when I say that to the older guys and they start talking about Jordan and Bird – yeah, pros are pros – pros are going to be unbelievable – they're all skilled and they're all great.
I tell guys that, to me, this generation is so much more skilled than ours. Now the flipside, and I'll probably get a knock for this, I think our generation was intellectually more ahead of these guys. I think so much time gets spent today on skill work and one-on-one training that it doesn't translate into 'team' basketball. You're individually always working with a trainer, working on your handle, and working on your shot. You're working on all of these individual skills, whereas back in the day we were just playing, so we just learned how to play the game a little bit better.
So, I think they're more skilled. They're way stronger than we were – the athleticism is just ridiculous across the board and that' my take on it. The younger kids' skill level is just ridiculous compared to what we were back in the day.
AD: Interesting.
CB: And just watching my son and other kids – we have a lot of other kids who are amazing. You go to some of these events and you have younger and older kids. I can tell you right now that we weren't playing against kids that were doing some of the stuff these kids are doing now.
AD: In terms of athleticism and dunking?
CB: I'm talking about skill set. You've got 6'9" guys who can handle the ball like point guards. The post-game isn't seen anymore, which I think is a bad sign, but I just think individual skills are way higher than they were back when we played in high school. I look at the teams we played on, the guys I played with, myself included – I couldn't do half the stuff I see ninth and tenth graders doing now.
AD: Where were you when you heard LaSalle was going to be demolished and how did you feel about it?
CB: Ah man. When was that, 2000? I was back here from New Hampshire and I was devastated just because LaSalle was so much more than a basketball team. It was like a family and I don't mean just your basketball guys. It was a family in terms of your friends and the people you grew up with. LaSalle was a tight knit school. There wasn't much violence or fights or all that crazy stuff going on. When you heard that it was breaking up, you felt like things were going to change. I'm not just talking about basketball, but in general; it was just something that I felt was bad for our city.
AD: So, aside from the LaSalle basketball dynasty going away, has there been an effect on the city?
CB: When you're relating it to sports, I look at it as having a negative effect. It's funny, because every year you hear parents, friends and people who have issues and say, 'Hey there's a lot of favoritism going on at this high school because our kid didn't make the team, or this kid didn't make that team!' They don't realize that you combined these two schools (LaSalle and Niagara Falls Senior High Schools) so you used to have 24-26 spots, and now you can only grab 12 kids.
I think it has taken away from our kids from an athletic standpoint where you have a lot of kids walking around that high school now that are really good at some sports, but unfortunately, there are 12 guys better than them. Do you know what I mean? I think it's just negatively impacted it in that way and I thought just having the option of two different schools was something that gave a lot of kids more options and a better chance than they have now.
AD: Okay. For any youngster aspiring to play basketball or to achieve any other life goal, what advice would you give them?
CB: The first one is that you must have the books over everything. Being from Buffalo and up in the Falls, you see so much talent wasted because kids aren't there academically. There are a million stories of guys who didn't get out (of the neighborhood) and were amazing in any sport, and my thing is that education must be first. You've got to get that education and you've got to work hard in the classroom.
Then obviously, with the sports part, you can't cheat it. There are those rare guys who are born good at something, but you can't cheat the process. You've got to get into the gym, and you've got to work at it. It's a grind and you've got to be in there really working at whatever your goal is almost daily now. And really those are it. I think we've had a lot of guys from around here go off to college and play and it shows that if you really put your time in and you do your work in the classroom, you can get out of here.
AD: Is there anything you would change about your playing days?
CB: My playing days? No, nothing at all.
AD: Well, Carlos, unless you have any other comments or stories, we are at the end. I really appreciate this. One thing that will be evident from my interviews with you, Tim and Coach Monti, is that while you guys were the team that everyone was trying to beat, I developed a lot of respect for LaSalle basketball and what you all accomplished. I'll also try to catch a Niagara Falls High School game when I'm back there over the Holidays.
CB: Okay, great, thanks.
Thank you for taking the time to read this interview. If you enjoyed this post, you might also enjoy:
• Niagara Falls basketball legend Carlos Bradberry discusses playing in the LaSalle basketball dynasty part one
• Niagara Falls basketball legend Time Winn discusses playing in the LaSalle basketball dynasty part one
• Niagara Falls coaching legend Pat Monti discusses building, and leading the LaSalle basketball dynasty part one
• Jason Rowe discusses Buffalo Traditional Basketball, the Yale Cup and State Tournaments
• Lasting lessons basketball taught me: Reflections on three years of basketball camp

The Big Words LLC Newsletter
For the next phase of my writing journey, I'm starting a monthly newsletter for my writing and video content creation company, the Big Words LLC. In it, I plan to share inspirational words, pieces from this blog and my first blog, and select videos from my four YouTube channels. Finally, I will share updates for my book project The Engineers: A Western New York Basketball Story. Your personal information and privacy will be protected. Click this link and register using the sign-up button at the bottom of the announcement. If there is some issue signing up using the link provided, you can also email me at bwllcnl@gmail.com . Best Regards.