Two focuses of my blog are Creating Ecosystems of Success and Health/Wellness. Some much of your personal life depends on the wellness of the community around you. To create a healthy community can take a lot of planning and coordination. The following contributed post is entitled, 14 Projects That Can Improve The Livability Of Your Town And Community.
* * *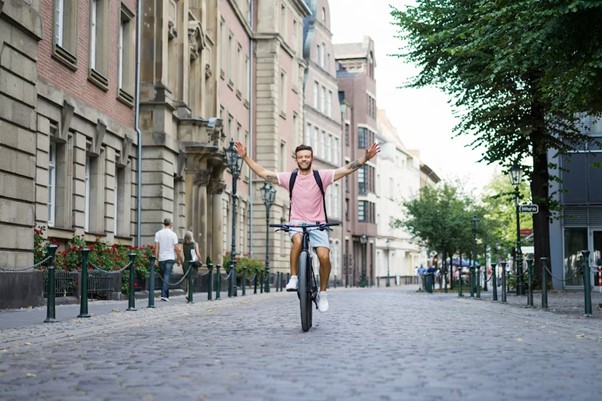 Image Source: Freepik
Are you looking for simple yet effective ways to make your town – and the lives of its residents – better? The good news is that there are many affordable projects and strategies that you and your community can implement to make your town more livable, safe, accessible, and enjoyable for all.
In this blog post, we'll explore 14 projects that can be used to improve livability in your local community. Whether it's community parks, playgrounds, and bike lanes, connecting green spaces, or improving streetscapes, these projects are proven solutions that can help enrich the lives of each resident. So, let's dive in and explore how each project makes an impact!
Playgrounds and Recreational Areas for Kids
Creating playgrounds and recreational areas in your town can be a great way to encourage healthy activities that children and families can enjoy. Not only do these activities provide physical benefits, but they also offer unmissable opportunities for social interaction, which is also important as kids learn how to engage with others in positive ways.
One of the greatest advantages of these kinds of projects is that the cost of poured-in-place rubber and building playgrounds is low enough for all towns and communities to be able to afford it!
Parks and Green Spaces
Making sure that your town or community has adequate parks, green spaces, and gardens is an essential step in improving livability. By having places of leisure and recreation that allows people to reconnect with nature, residents can relax and take part in outdoor activities such as running and biking.
Clean Streets and Neighborhoods
If you are striving to make your town, neighborhood, or community more livable, it is important to start by establishing a reliable cleaning program. Thanks to regular street cleaning residents can enjoy sidewalks, parks, roads, and alleyways free of dirt and debris. Additionally, individual actions such as picking up trash on a regular basis can promote hygiene and keep the environment more pleasant.
Adequate Street Lighting
Ensuring safe nighttime travel around our towns starts with adequate street lighting. Street lamps, neons, and other lights can improve visibility on roads and in public spaces, making pedestrians feel secure, creating a sense of community, and reducing the likelihood of criminal behavior. Adequate lighting also helps drivers to drive safely at night, which can decrease the risk of accidents and fatalities.
Convenient Parking Lots
Parking lots don't benefit the cityscape of a community – but neither do thousands of cars parked along the street! If you are looking to improve the viability of your town, consider working towards installing an adequate parking lot that is both out-of-sight and easily accessible.
These parking lots should be large enough to accommodate as many vehicles as needed and located near important destinations. The surface condition should also be well maintained, with painting and signage that are up-to-date and easy to understand.
Accessible Information About Community Services
Making accessible, easy-to-find information about the local community services available is essential for increasing the livability of the town as a whole. This can include connecting people with free food drives and health care programs or finding a reliable daycare center. A great way to improve communication and the sharing of information among all residents is to encourage your local town or neighborhood to establish and maintain an up-to-date website or forum.
Projects To Manage Food Waste
Reducing food waste can be achieved through composting, compost pick-up services, or distributing unavoidable waste to soup kitchens and food charities. There are also opportunities to create marketplaces where people can donate edible surplus produce while providing access to fresh food for those in need. This will not only help reduce your town's environmental footprint but also protect vulnerable residents from food insecurity.
Gathering Spaces for Families and Older Adults
Creating spaces where families and older adults can come together is an important part of improving a town or community's livability. This includes parks, playgrounds, retail areas, and other spaces that are open to the public and provide accessibility for members of our towns' diverse communities. These gathering places could include venues for social events like BBQ areas, market days, fairs, and multi-purpose community rooms.
Improved Mobility, Accessibility, and Public Transportation
Projects focused on eliminating physical barriers in public spaces and providing transportation infrastructure to all members of a community can greatly improve the town's livability. Examples include installing curb cuts along roadways, increasing access points to sidewalks and pedestrian paths, ensuring public buses are wheelchair accessible or setting up bike lanes connecting key locations within the town or city.
Making a Free Library Available to All
Having access to books and information should be made easier for everyone. Consider installing book collections at public locations so people can return and donate materials from their own homes.
Make sure the selection of available resources is convenient enough for everybody, including young kids and older adults. Offering online catalogs, digital archives, e-books, and movie rentals can make information and entertainment accessible to all regardless of a family's financial resources.
Establishing Free Art Studios and Exhibitions
Creating publicly available art studios and hosting exhibitions can be a great way to add vibrancy and culture to any town or community. They provide public spaces for artists, offer free events for locals, and create opportunities for creative exchanges between people of all backgrounds.
Organizing Community Activities, Such As Crafts and Dance Classes
Free social activities, such as crafts and dance classes for the youth or elderly can create cohesion among the town's residents and promote social gatherings. These are a great way for all residents to express creativity and help people become more united through fun, low-cost events.
Planting Trees and Supporting Urban Gardening
Planting trees across your neighborhood or town can improve the levels of livability for residents and visitors. More trees in the area mean fresh air, shade, reduced water runoff, and improved aesthetics. Additionally, you might consider supporting urban gardening to produce organic fruit and vegetables as well as help connect people within the community.
Ultimately, any project that aims to bring more green to your town should be welcomed with open arms: these strategies are inexpensive and immensely effective in boosting the livability of your town.
Improving Street Safety With Smart Regulations
To increase safety in cities and towns, it is essential to create smart regulations that directly address specific street risks. One of these is to adopt the Vision Zero approach, which focuses on implementing measures such as installing more street signs and creating better-lit intersections to make the town's streets safer and more livable.
If you are not sure what project your town needs, start by taking a hard look at your community, consult your neighbors, and take inspiration from other towns!