Some of the key focuses of my blog are: Careers, Financial Literacy and Money, and Health and Wellness. In addition to the valuable experience gained from competitive athletics in a particular sport, sports in general can teach participants several other valuable skills which transfer to the business and work arenas. The following contributed post discusses this, and is entitled; Are You Fit For Business?
* * *
When you work in a hectic workplace, there is nothing more important than finding a hobby where you can de-stress at the end of the day. It's no wonder that sports classes, gyms and team games are becoming more and more popular with adults. However, while sports tend to be perceived as a relaxing tool that keeps you healthy, many forget the numerous advantages of a sporty activity in the workplace. Indeed, too many professionals consider sports as an essential factor of mental and physical health, which enables them to be in the best possible conditions to be performant in the office. But what if, doing sports, could be a factor of success in itself for your professional career? After all, when professional skills are transferable from a career to another, why couldn't sport skills improve your day-to-day work too? Forget your gym membership: It's time to explore the full potential of new activities.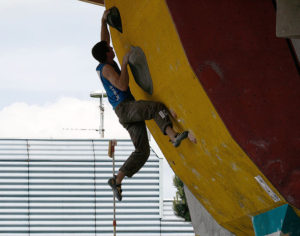 Climbing improves strategic thinking
Learning to plan your next move
Climbing is an activity that engages both the muscles and the mind. Indeed, most climbers talk of approaching the wall or the rock – depending on where you choose to climb – as a problem. Their goal is to climb the problem is the best and most-suited way for their physical abilities. Consequently, the mind needs to plan ahead. You can take adult climbing lessons in most indoors and outdoors centers, starting by learning how to choose the equipment – from the best climbing harness for beginners to professional shoes for experienced climbers – to developing the right mindset for each surface. Your instructor can teach you the techniques through alpine climbing and lets you build your strategy with boulder activities – bouldering is harness-free, meaning that you need to stay focused just like with business management.
Learning to work as a team
Working as a team requires a mixture of effective leadership, mental toughness and collaborative approach. It is the sort of skills you develop in team sports, such as basketball. Contrary to what common sense dictates, a successful team doesn't have to be the most talented team. The secret to unlocking high performance is to leave your ego aside and combine efforts unselfishly. On the field or in the office, being willing to share the effort and keep your team's interests at heart can make a great deal of difference. There is, after all, no I in team.
Learning to be disciplined and focused
How long can you stay focused on the same task? Most people drop their concentration within 15 to 20 minutes, which can lead to interruption and a loss of productivity for the team. Unlocking self-control and self-discipline can help you to complete complex projects in a timely and error-free manner. Indeed, you can waste a lot of time when you lose focus and let errors go unnoticed. Sports that develop self-control, such as martial arts and dance, can train your mind to stay alert for a longer period of time. Additionally, discipline also provides you with a cool head when things get hectic!
Sports activities are essential health factors to help the body and the mind to relax. But the activities you choose can also make you better at what you do in the workplace. From better team collaboration to developing a strategic approach, sports can boost your professional career with transferable soft skills.