Three key focuses of my blog are Career Discussions, Business/Entrepreneurship and Technology. With today's technology, working and generating and income doesn't always have to happen in the traditional office setting. In many instances it can be done independently and remotely. The following contributed post is thus entitled; Out Of The Office And Onto The Farm: A New Take On The Tech-Takeover.
* * *
In case you hadn't realized, business has gone to the tech dogs. Nowadays, more of us than ever are working on the cloud and staring at computer screens. But, this isn't a lifestyle we're all happy with. For some, this ever-encroaching tech takeover is encouragement to take a step towards careers out of doors.
Let's say you're at the stage where the mere thought of another day in the office drives you wild. It's past time to quit your job because you need a total change of scenery. The trouble is, you can't think of a single outdoor-based career you'd be suited to. Everything you've ever done has been office based. Could someone like you ever make a go of things out and about?
Of course! You don't need to entirely retrain to do so, either. In reality, you may be more qualified for outdoors jobs than you think. Keep reading to find out which positions would give you the best of both worlds.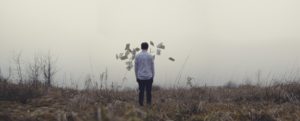 Remote work
Okay, you got us; remote work may well mean doing the same job. But, the benefit with this is that you can choose where you complete those tasks. Forget sitting and staring at office walls; you could work in the garden as often as you fancy. Even better, you may find your current position allows for this. If you've already taken the plunge and quit, don't panic. There are plenty of remote opportunities out there. All you need to do is search for them. The chances are that the ideal role is ready and waiting for an applicant just like you. All without a jot of retraining!
Sales
Sales are also a fantastic option here. While large portions of this work would be computer-based, most sales people have to travel to clients. As such, you're sure to spend vast amounts of time out of the office. By embarking on a sales job in something like agriculture, you would even get to spend time outside on various country farms. Companies like Hansen Agri-placement advertise all manner of jobs like these, as you'll see if you visit their website. Even if you fancy staying on a more familiar footing, you can bet there are plenty of sales positions going. Hey; you could even walk between clients to make the most of your floating post.
Real estate
Real estate is not what most people think when they consider outdoorsy jobs. Still, the possibilities here might surprise you. Think about it; rural real estate is a prime market. And, a realtor's day mainly consists of hosting property viewings. Put the two together, and you've got at least some time outside. Plus, your experience with computer programs means you're well qualified for the office side of things. You would need to consider where you applied of course. A city-based company would be as useless for fresh air as your office life. But, applying in the right area is sure to bring just the breath of fresh air you're after.