The first principle of my blog is Creating Ecosystems of Success and two key focuses are Business/Entrepreneurship and Career Discussions. When one transitions over employer/manager/supervisor, they now become responsible for managing the work of others. This is a skill and a task all. The following contributed post is thus entitled; Managing Your Employees' Workflow.
* * *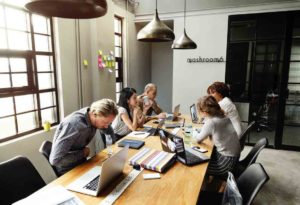 When you become an employer, you take on a whole host of responsibility over your employers. At the end of the day, you are making money from their efforts and they are helping to build your dreams. So, the least that you can do is manage them effectively so that their working days are as comfortable and positive as possible! One area that tends to go relatively neglected when it comes to managing employees is monitoring and adjusting their work schedule. Here's a little information on the subject!
The Importance of Workflow Management
Workflow management is extremely important for your business' progression as well as your employees. It is essentially a means of ensuring that employees know what they need to do in order to keep your business moving forward and a means of ensuring that this happens. You should provide your employees with set projects so that they know what tasks they need to undertake and how long they have to do this. Most of us will do this anyway. However, you also need to remember to let employees know why they are working towards this objective and what they are likely to do once the project is completed. This gives them more of a sense of purpose. They will see where their work is heading and they will feel that they are working towards something rather than simply completing tasks and checking boxes. If you'd like to learn more about this, you can find out more on the subject through Umlaut.
Conducting Regular Check Ups
It is important to maintain regular contact with your staff. Try to arrange meetings part way through projects to ensure that everyone knows what they are supposed to be doing and to see how they are progressing. This will provide you with the opportunity to ensure all work is being carried out as you hoped and also gives employees the opportunity to raise any queries or concerns. If you fail to do this, problems will generally be kept quiet and you may come to the deadline of a project only to find that it needs to be extended or altered due to problems that could have been confronted and cleared up earlier.
Meeting Employees' Personal Needs
It is also a good idea to have one to one meeting with employees to check whether their personal circumstances have changed. Health complaints or personal problems could mean that you may need to reduce particular employees' workflow for their wellbeing. Improvements in personal conditions could mean you can increase their responsibilities.
These are just a few of the basics when it comes to managing your employees' workflow. Make sure to look further into the subject to ensure that everyone is working effectively and comfortably!