Three focuses of my blog are Financial Literacy/Money, Business/Entrepreneurship and Technology. Today technology is a part of all our lives in varying capacities. It is especially critical in the business world and if you're not maximizing your usage of it, you're likely falling behind. The following guest post is entitled, Business Technology Tools: Secrets to Success.
* * *
With continuous technological advancements, businesses are under constant pressure to adopt the latest tools and platforms to stay ahead of the competition. However, with a plethora of options available in the market, it can be challenging to identify which technologies will be most beneficial for your business.
Below are some must-have technologies that can help take your business to the next level.
Recruitment Software
Of course, every business needs employees to function. However, the process of recruiting can be time-consuming and expensive. Luckily, many recruitment software simplifies the process by automating repetitive tasks such as posting job ads and sorting through resumes. It allows you to spend more time interviewing candidates and making the best hiring decisions for your business.
So if you don't have one yet, it's time to get a hold of this technology tool. Many providers offer this tool at an affordable price, usually around $45 to $950 a month, depending on your needed features.
But if you're on the tighter end of the budget, don't fret. You can find many recruitment management software for free. So, there's no excuse not to use this tool.
Customer Relationship Management (CRM) Software
CRM software helps businesses manage their customer relationships effectively. It provides a 360-degree view of customers, captures customer interactions, and stores essential customer information such as contact details and purchase history. This valuable data can help identify trends, improve marketing strategies, and boost sales.
Suppose you're not using a CRM system yet. In that case, you're missing out on many opportunities to understand better and serve your customers. Like most applications, CRM software is available in both free and paid versions. However, suppose you want more features and customization options. In that case, you'll need to opt for the paid versions, which can cost anywhere from $12 to $300 per month.
Whichever CRM system you choose, ensure it integrates smoothly with your business's existing systems and processes. You can avoid disruptions and get the most out of this tool.
Social Media Marketing
With over 4 billion active social media users worldwide, businesses can no longer afford to ignore the power of social media marketing. Platforms like Facebook, Twitter, and Instagram provide firms with an incredibly effective way to reach out to their target audience.
Businesses can build a solid social media presence by creating engaging and relevant content. It will help them boost brand awareness, drive traffic to their website, and generate leads. That's why it's essential to have a social media marketing strategy in place.
Many companies now offer services to help businesses with their social media marketing efforts. So, if you don't have the time or resources to do it yourself, consider outsourcing this critical task to a reliable agency. This way, you can focus on running your business while leaving the social media marketing to the experts.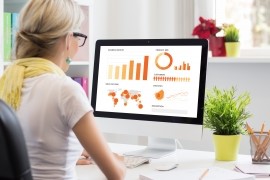 Data Analytics
Data is one of the most critical assets for any business. With the help of data analytics tools, companies can make sense of large data sets and glean valuable insights. It can help improve their decision-making process.
Data analytics tools help businesses track and analyze customer behavior, understand market trends, and optimize their marketing and sales strategies. This way, they can make more informed decisions to help grow their business.
And since a computer predicts the future better than any human, businesses that use data analytics will have a significant competitive advantage over those that don't.
Many data analytics tools are available on the market, so, regardless of your budget and needs, you should be able to find one that fits your needs.
Task Tracking Software
Before the internet, it was nearly impossible for businesses to track the progress of their employees' tasks. But now, with task tracking software, companies can easily monitor employee performance and productivity.
This type of software allows managers to assign tasks to employees, set deadlines, and track the progress of each job. This way, they can ensure that tasks get completed on time and that employees are working efficiently.
Many task-tracking software applications are available, so it's essential to find one that fits your business's needs. Some of the most popular options include Asana, Trello, and Basecamp. Whichever one you choose, make sure it's easy to use and that it integrates seamlessly with your business's existing systems.
The above are just a few essential technologies that can help businesses grow. By investing in these tools, you'll be able to understand your customers better, track employee performance, and make more informed decisions. So, don't wait any longer; get started today and see the difference for yourself.