The first principal of my blog is Creating Ecosystems of Success, and a key focus is Business and Entrepreneurship. A key to success in any business or organization is providing your staff with the proper tools. The following contributed post is thus entitled; The Importance Of Providing Your Staff With The Right Tools.
* * *
You may have heard the phrase, 'you are only as good as the tools you use'. It's been around for some time and doesn't just refer to the tools that YOU would use for a job, but also the tools that you provide your staff with. When you're running a business, you need to be able to offer the right tools to your staff to enable them to perform to the best of their abilities. When it comes to staff motivation, you need to do what you can to help your people to feel equipped for the work. It doesn't just help them to understand how to do their job efficiently, it allows your business to be as productive as possible.
Tools mean different things to different businesses. Sometimes, the word 'tools' refers to the physical tools that are required to complete a job, such as power drills and hammers. They can also mean the cranes and large vehicular tools such as the ones that you can find at www.servicetrucks.com as used by the construction industry. The tools to do the job right in an office would be the technology that is used to complete tasks on time – even the computers that are used every day. There are thousands of examples of tools out there and if you are running a successful business, then it's up to you to ensure that you are providing the right ones so that your staff can work as effectively as possible.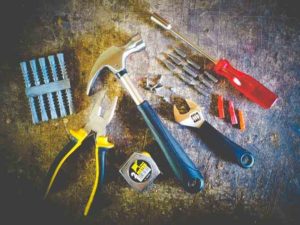 Image Source
There are two kinds of tools: the physical ones that complete a project and then there are the tools that help your business to run its processes effectively. Having the tools for the job can enable your staff to work efficiently, giving them the chance to grab more opportunities at work. Tools that you provide your employees can make or break your business. Without the right ones, your people can't get their job done, slowing down your business and minimising your level of profit that year. You can also inadvertently lower the morale of your employees when you don't offer them that support and equipment that they need.
When you miss out on supplying the right equipment for your employees, you are shooting your business in the foot. There are many applications and services that you can implement into your workplace to keep tasks organised, make employees feel as if you are listening to them and help you to keep your internal business processes running smoothly. Without the right tools, inefficiency creeps into your business. A slowed workforce isn't one that can make the right waves and can keep up with the changing times. Providing your employees with the right tools for the job is the only way to keep up with those changes. You should never allow the lack of correct tools to put your business behind; communicate effectively with your staff and you can work out what you need to provide.