Two focuses of my blog are Financial Literacy/Money and Business/Entrepreneurship. There are many aspects to properties. Some of them are outdoor while others are indoor. It turns out that there are numerous things you can do to the outside of your property to raise its total value. The following contributed post is entitled, 5 Unique Outdoor Ideas That Improve Your Property's Value.
* * *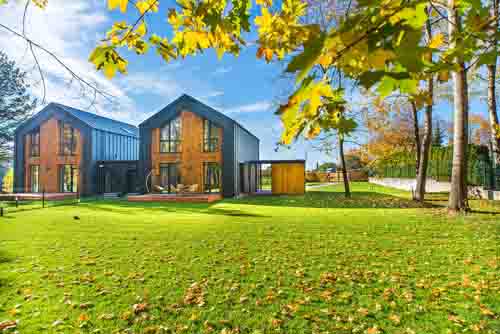 Image Credit: Pexels
Even the best-looking homes have room for improvement. With the real estate market on a forward gear, the value of a property can change in the blink of an eye. Your home price one year ago can be significantly higher or lower, depending on the steps you take to improve different quarters within the household.
If you want your property's value to rank among the best in the market year after year, these four outdoor improvements should be a necessary investment.
Make Your Outdoor Fun and Functioning
Your outdoors should be enticing enough to capture people's interest but functional such that external processes run smoothly.
To improve your home appeal and value takes more than planting flowers by the gate or nurturing a garden. Instead, consider making these minor adjustments to get the most of your land.
Erect a Storage Room
An outdoor storage space saves you from keeping outdoor equipment inside the house. It also improves your outdoor functions as you can easily trace back items to the room.
A storage facility such as a barn where you can keep your equipment is a worthy investment if you farm. You'll, of course, have to get a pole barn contractor to do a survey and determine where the structure can fit.
Outdoor storage can also efficiently serve as an extra room when you have many guests in the home.
Invest in Quality Furniture
If you have a small outdoor space, you may not be able to do significant construction. However, you can make simple renovations like adding quality outdoor furniture to illuminate the area.
Outdoor furnishing goes beyond having a built-in bench in your backyard, as it also includes having multifunctional pieces that serve multiple roles for space management.
Maintain the Landscape
Whether you have a large, average, or small outdoor area, landscaping techniques can help improve its image and value.
By doing simple tasks such as mowing the lawn, pruning the overgrown plants, and planting different trees, you drastically improve your property's value as many homeowners ignore this part of the house.
If you have a garden, look for species that can survive within the existing environmental conditions to avoid having dead plants all over.
Ensure there's sufficient lighting, especially at night, as a well-lit landscape looks more beautiful, and it also reinforces the home's security.
Take Good Care of the Driveway
Regardless of how small the traffic your driveway gets, it may develop dirt from falling leaves or tire marks left over time. This is why it is essential to clean your driveway at least once every week and do a routine check for potholes that may develop on the surface.
Fix the Broken Pieces
Exposure to the environment can cause wear and tear to some of your outdoor features. You can have broken windows, a hole on the fence, or dull paint.
You must identify such weaknesses on your terrain and know whether you can fix the problem yourself or ask for professional help.
Conclusion
The fate of your property's value rests as much on the exterior as it does on the interior. It would be best to focus on improving the outdoor space for your home to have the right appeal and command the highest value before moving to the interior spaces.