Two focuses of my blog are Financial Literacy/Money and Business/Entrepreneurship. A start-up is a unique early phase of business. A key to successfully launching it is making your presence known online. The following contributed post is entitled, Making A Splash Online: Tips For Start-Ups.
* * *
Online sales have skyrocketed, and screen time is increasing. For start-ups, there are incredible opportunities to raise brand awareness and create leads online. If you're launching a new venture, or you're looking to grow a fledgling business, here are some tips to help your start-up make a splash online.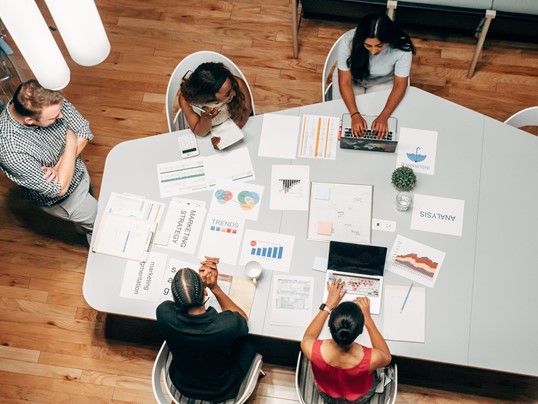 Image credit: https://www.pexels.com/photo/people-in-the-office-discussing-a-project-7688336/
Take advantage of search engine popularity
Google alone now processes more than 60,000 searches per second. More and more of us are using search engines to find businesses and source products. SEO (search engine optimization) and paid ads can help you to capitalize on the reach and popularity of search engines. If you don't have in-house marketing experts, it's a great idea to consider outsourcing digital marketing to reap the rewards of targeted marketing campaigns. Spend time researching companies and look for businesses that specialize in the methods or channels that interest you. If you're looking to drive product sales through searches, for example, it's wise to work with a Google Ads agency that has an exceptional track record. It is important to note that SEO can be incredibly beneficial even if you don't sell products or services online. Statistics show that over 80% of consumers who conduct a local search on their smartphones will either visit or contact a store within 24 hours.
Get social
Social media is a brilliant platform for start-ups. Social media apps can be great for selling products and promoting brands, but crucially, they also provide amazing opportunities for new businesses to engage and connect with customers. Use social media to communicate with followers and tell them about your brand. Studies show that over 70% of consumers want to buy from brands that align with their values. Showing the human side of the business is beneficial for building strong relationships, encouraging loyalty and showcasing your brand values and identity. Choose social media apps and platforms that are popular among your target audience and tailor content and advertising to ensure that they will resonate with your ideal customer.
Create a fantastic website
Many consumers now shop online or use the Internet to find out more about companies and the services or products they offer. Your website can make or break you in terms of converting leads. Think of your homepage as a store window and make sure that your website sells your business in the best possible way. Choose themes, fonts and layouts that will appeal to the target market, make sure the site is easy to use and create mobile-friendly pages. Provide useful information, use images and video clips to make pages more accessible and interesting and try to preempt and answer questions. It's advantageous to add an FAQ section and to offer responsive customer support options, such as live chat. Test individual pages, include a clear call to action on every page and use high-quality images.
The Internet provides incredible opportunities for start-ups to connect with customers, market and promote products and drive sales. If you are starting out, or you have ambitions to grow a new venture, take these tips on board to make a splash online.