Two focuses of my blog are Financial Literacy/Money and Business/Entrepreneurship. You office space is critical not just for functionality, but also for making an impression on your clients. The following contributed post is entitled, 4 Ways To Give Your Office A Makeover And Impress Clients.
* * *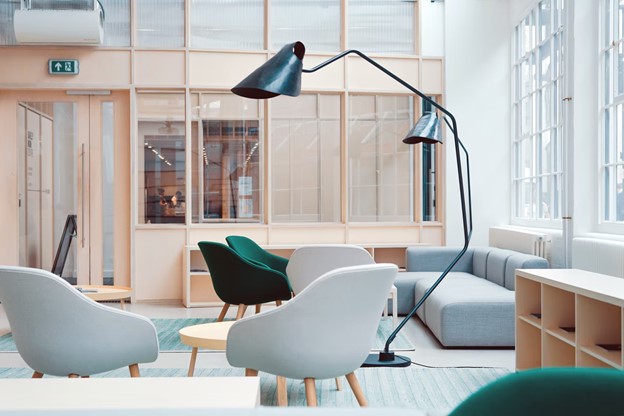 https://unsplash.com/photos/FV3GConVSss
An impressive office design is one of the most important and effective ways for impressing clients. However, too many businesses will ignore factors such as this and welcome clients into an office that is cluttered and chaotic. While you may not think it has an impact, it will not impress your clients. Whether you are welcoming new clients or inviting loyal customers back to your office for the first time, an office makeover is something you must consider.
Upgrade Devices and Appliances
Upgrading your devices and appliances is an excellent way to make your office look modern and is also an excellent way to reduce office energy costs so you can remain within your budget.
Many offices across the country have embraced low-consumption appliances, while replacing outdated devices, such as laptops, computers, or tablets, makes projects and tasks more efficient, as there is no risk of crashes or lagging. These devices also possess the latest software, which enhances cybersecurity to protect data and information.
Update the Floors
If you have used the same office for a long time, there is a chance that your carpet or flooring is covered in stains or even looked ragged, especially if chairs have pulled up fibers when wheeling in and out of desks.
Upgrading the floors by replacing the surfaces with FKR Concrete Flooring will improve your office. This solution creates a contemporary office, but it can also have convenient benefits, such as being easier to clean with less chance of the furniture or spills damaging the floor. Furthermore, you have greater freedom in decorating your office with rugs to give the office more personality while remaining professional. If you live in King County in Washington State, a good company to consider for vinyl floor is vinyl flooring Sammamish.
Install Ergonomic Furniture
Ergonomic furniture is an essential addition to your workplace. Comfortable chairs with lumbar and neck support will reduce aches and pains for employees who sit down for six hours per day. You can also look at adjustable desks, which provide versatile working opportunities, as they raise the desk and work while standing to improve posture.
It's also worth looking at your waiting areas or meeting rooms. You want clients to be comfortable whenever you present your plans for their next campaign or project. By replacing tattered sofas, you will make your office look the part.
Stabilize the Connection
Slow internet connections are the bane of many offices. A poor connection slows down the workday and hinders efficiency and productivity while also increasing frustration as yet another program crashes.
Clients do not want to wait around for you to fix the connection. They need to see you are prepared, so finding ways to speed up your internet will solve many problems. Quick internet speeds are beneficial even if you are meeting via Skype or Zoom. A stable connection prevents skipping video and audio, so you and your client can get the point across and discuss the next steps without disruption.
Impressive
An impressive office makes your business look more professional and will make a fantastic first impression on clients. By considering these tips, you benefit from maintaining and even improving your reputation and ensuring that your clients are comfortable, while common office problems are easily overcome.