Two key focuses of my blog are Financial Literacy/Money and Home and Property Discussions. Many people want to build their home, versus purchasing a previously lived in structure. If you're building your own home, there are some things you should scrimp on. The following contributed post is entitled, Building Your Own Home? Don't Cheap Out on These Things.
* * *
Designing and building your own home is an exciting journey. You get to build your dream home that has everything you could ever need. It can be exhausting, even if you're not doing the hard work of actually building it, but the results are worth it. Building a home from scratch is certainly not cheap, but there are ways to save if you want to. However, there are some things you should almost definitely not skimp on if you want to build a solid home. Before you start looking for ways to save money, be sure to take the following things into consideration.
Windows and Doors
The windows and doors of your home are two of the most important elements. They not only keep your home secure and protect it from the elements, but they also provide ventilation and sunlight when you need them too. Trying to buy and install doors and windows cheaply could lead to problems. It might mean you end up with leaks and drafts or it could mean you need to repair or replace your doors and windows sooner than you had expected. Choosing good quality products will protect your home and ensure both the interior and exterior look good too.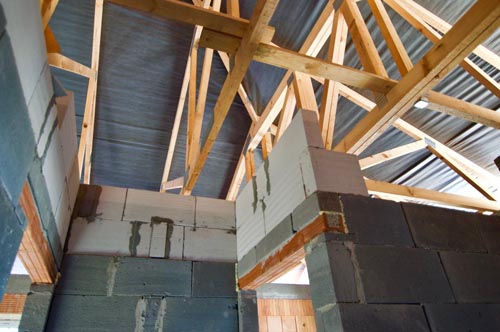 Image from Pexels – CC0 License
Insulation
Insulating your home properly keeps the heat in when you need it most. As well as keeping you warm, it's good for the property itself. A warmer home will prevent mold and mildew, plus it will help you to reduce the amount that you spend on your energy bills. You can find different insulation materials and methods at varying price points, so it's worth considering it carefully. Once you've insulated your new home, it will be difficult to change it after everything is finished. It's better to get it right the first time if you don't want to spend too much.
The Roof
Similarly to your home's insulation, the roof will protect the structure of your home. Without a roof over your head, it won't even be a property. The roof that you choose is also an aesthetic choice, and it forms a big part of what your home will look like. When you want to get the roof right, consult with a roofing company to find out what options you have. They can help you with different roof types, materials and other factors. Consider things like how long your roof will last and how easy it is to maintain.
Labor
Someone will have to carry out all of the work to build and finish your property. This is something that you definitely don't want to cheap out on if you want to build a quality home. Cheap labor is more likely to produce poor results, so it's worth paying for people who are going to get it right the first time. When you collect quotes from contractors, going for the cheapest option available isn't always the right choice.
There are some ways you can save when building your home, but investing more in some things is a must. You should know which is which before you start construction.