The first principle of my blog is Creating Ecosystems of Success, and a key focus is Career Discussions. In any job, it's critical to know when to leave. The reasons vary and it's different for everyone based upon: personal health, promotion potential, and whether or not it's still a good mutual fit. How do you know when to quit your job? The following contributed post is entitled, When Enough Is Enough: Knowing When It's Time To Quit Your Job.
* * *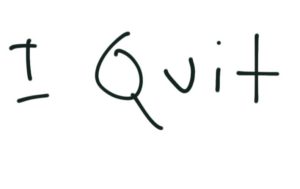 (flickr)
Knowing when to quit your job isn't always straightforward. You need the money, after all. But if your health is at risk, or if you know you aren't where you are supposed to be, then you do need to consider the option. Life is too short to stay in a job that isn't benefiting you.
If anything we say in this article relates to you, then start to plan a career move. It could be the best thing you do today, especially if you are reading this now, feeling utterly miserable because of the job you are currently in.
These are some of the reasons why you should say "enough is enough" and call it quits on your current position.
1. You wake up with a feeling of dread every morning
Most us resent the intrusion of the alarm clock at some point in our lives. The thought of going into work doesn't always provoke happy feelings. But if you feel dread at going into work every morning, then something is clearly wrong. It could be for one of any number of reasons – your boss is an idiot, your colleagues are bullies, the job role holds no meaning for you – and if you can't change the situation that is causing you to feel dread in the morning, then getting out of there could be the best thing you can do.
2. Your workplace is a health and safety nightmare
Your employer's legal duty is to care for your safety and well-being while at work. But if that safety is compromised in any way, perhaps because you haven't been given the correct training to handle a dangerous job role, or your employer is cutting costs and corners within safety measures, then you need to think about your health and safety. You may have legal protection should an accident befall you at work – check here to find out more – but do you really want to work in a place where safety measures are not placed as a priority? It shows lack of care in you, as the employee, for starters. Moving into a new career could be a literal life-saver!
3. Your job role isn't safe
If involuntary redundancies are common in your company, then it may be in your best interest to find another job before you find yourself on the unemployment line. This is especially true if the industry in which you work isn't considered safe anymore. We are heading into a world without employees, where robots and machines are literally taking over some job roles, so if you work within a particular career type, such as any of those listed here, then a career move could well be in order before an autonomous drone shuffles into your position. There are other job types that will survive the robot invasion, including anything that is primarily people-oriented, such as teaching, healthcare, and social work, so consider your options if a career move is the right thing for you.
So, is it time to call it quits on your job? If your physical and mental health is in danger because of the role you are in, or if you are feeling insecure because of the threat of being made redundant, then yes, you are probably right to move on. Figure out your next move, do what you need to do to secure a new job role, and then say "enough is enough" to the position you are currently in.