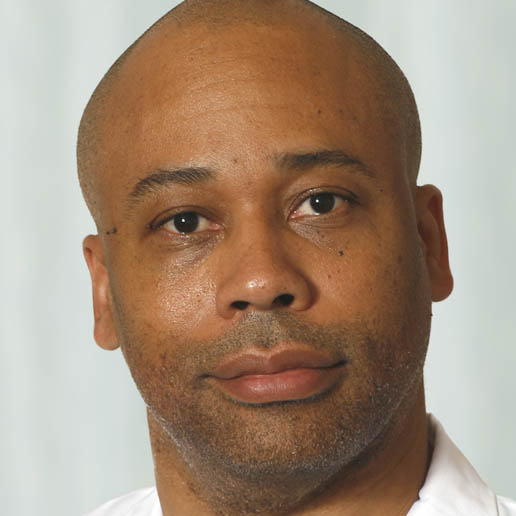 One of the focuses of my blog is STEM (Science, Technology, Engineering and Mathematics), and my most central principle is "Creating Ecosystems of Success". While we tend to think of clinical medicine as strictly a 'healthcare' profession, its foundations are actually rooted in the 'Basic Sciences'. In late 2017, I discovered Dr. Quinn Capers IV on Twitter one day by chance and started following him when he was tweeting about medical education at the Ohio State University. The hashtag he used in most of his tweets, #BlackMenInMedicine, further piqued my curiosity.
Representation in the healthcare sector is absolutely central to bridging the gap between doctors and their patients. Representation comes in different shapes. On the one hand, solutions such as EHR systems that enable healthcare to better practice what they preach and represent medical excellence for their patients, catch our interests. But, on the other hand, a varied team of healthcare specialists from different social, racial, and economical backgrounds is also crucial for a more inclusive representation in the medical sector. Here, we discuss inclusive representation in the current medical landscape.
Last year I had the honor of interviewing Dr. Capers about his path and #BlackMenInMedicine. To see our 2018 interview go to Dr. Quinn Capers, IV discusses his path, #BlackMenInMedicine, and the present landscape of medical education. Dr. Capers recently granted me the opportunity to interview him a second time. In this follow up interview we discuss the concept of 'Implicit Bias', why it's important, and the hashtag, '#DropAndGiveMe20'. The images in this interview were graciously shared by Dr. Capers himself. Click on any of the images to enlarge them.
Anwar Dunbar: Hello, Dr. Capers and happy New Year. I want to thank you for the opportunity to interview you again. As the Dean of Admissions at the Ohio State University's Medical School, your words are very, very valuable, especially for students aspiring to attend medical school. Before we get into 'Implicit Bias', the last time we spoke we spent quite a bit of time on the hashtag #BlackMenInMedicine. I now see you using a second hastag, #DropAndGiveMe20. Where did this hashtag and the whole push-ups piece come from? Did you start that?
Quinn Capers: The #DropAndGiveMe20 campaign is a great story. I'm a big fan of Ohio State University (OSU) Football. For years, while watching the games on television, I've had a fun routine of doing 10 push-ups every time they score a touchdown. I picked push-ups because they don't require equipment or much physical space. They're a good measure of overall upper body strength and they get your heart rate up. Mostly, I wanted to feel like I was exerting myself while the players were on the field exerting themselves. It's just fun.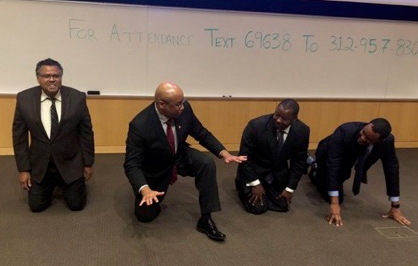 I've done it at sports bars and experienced both strange looks and strangers joining in! In November 2017, my wife recorded me doing this after an OSU touchdown and I thought it'd be cool to put it on Twitter to spark excitement among OSU football fans. I got a few responses, but the best one was from an interventional cardiologist at UCLA, Dr. William Suh (he is now a great Twitter friend or a "Tweep"), who said he could top that; and would do 20 for every UCLA Bruin touchdown. So he did 20, then when OSU scored another touchdown, I did 20.
AD: Ohio State Football. Yes, you all beat my Michigan Wolverines yet again (laughing).
QC: Well, we both had Twitter followers who are cardiologists and since heart doctors love promoting exercise, they joined the fun and challenged other cardiologists. I guess you could say that Dr. Suh and I are the "co-founders" if you must, but it has grown so fast and so many are responsible for spreading it that it really is a group effort now. It grew quickly to include other specialties, non-physicians, and even patients. In fact some of the most regular and awesome participants are patients; one a heart transplant survivor. They're simply incredible.
It grew fast under the hashtag "#DropAndGiveMe20" and it's now international with participants all over the world posting clips from places like the following: Sydney (Australia), London, and Lagos, Nigeria. We post daily and give each other positive feedback, hold each other accountable, and promote wellness and exercise. One of my main goals is to promote exercise as a way to improve heart health and to show that you don't have to wait to go to a gym, since it can be hard to work a full day and plan to go to a gym afterwards. I'll usually post clips of myself doing push-ups during my work day in the cardiac cath lab, in my office between meetings, or even in an auditorium after giving a lecture. Others have posted clips in unusual settings, like at dinner parties.
AD: Nice.
QC: I'll tell you about two of my favorite clips. There's a very famous female cardiologist who posted clips of herself doing push-ups at the airport terminal awaiting her flight. A prominent British cardiologist topped that by doing his on a moving walkway at London's Heathrow Airport (not recommended, by the way)! We have great fun adding humorous wrinkles to it, like adding more and more people in a clip. I suppose I took it to new heights recently when I concluded a live simulcast lecture to a group of medical residents in Cameroon by asking them to do push-ups with me! They complied and we completed what might be the first, simultaneous, international push-up session!
I also take the opportunity to share my love and knowledge of jazz, hip-hop, and R & B/Funk music. My clips are always accompanied by a musical selection from my collection. I always credit and tag the musicians (if they have a Twitter handle), hoping to spark curiosity about certain hidden gems and send my Twitter followers "digging in the crates" to support the music. I was beyond thrilled when two different artists supplying the soundtrack to my push-ups responded to my tweet, the hip hop group "Digable Planets" and saxophone legend Branford Marsalis!
It's great fun, and a very friendly Twitter community has grown around it. We now arrange to meet up at conventions (cardiology or otherwise) and do a "#DropAndGiveMe20!" Regarding the health benefits, doing push-ups can provide positive reinforcement in a relatively short period of time. Last November I could barely do 25 at one time, now I can max out at 43. Anyone is welcome to join the fun. If you can't do 20, start with 1 or 2 push-ups! By the way, Dr. Dunbar, you and your readers are welcome to join anytime. Just record yourself, post it on Twitter with the hashtag "#DropAndGiveMe20" and tag your colleagues to get them involved.
AD: Okay, Dr. Capers. I haven't done push-ups in a while, but now I may have to see if I can crank out 20 (laughing).
I noticed that after starting to follow you, 'Implicit Bias' became something you started addressing. How did this come about? What should the general public, and particularly those looking to get into medical school, understand about it?
QC: Implicit bias is a negative or positive attitude towards a person or group that occurs outside of our awareness, intention, or control. Although these biases occur outside of our awareness, they can influence behavior, possibly resulting in well-meaning people treating others differently based on race, gender, age, etc. I came across the concept as a cardiologist interested in racial healthcare disparities. Disparities have many causes, like social determinants of health, housing discrimination, unequal access to the best care, outright racism (explicit bias) of practitioners, structural bias in the healthcare system, etc.
I became intrigued with the notion of implicit or unconscious bias and its potential role in unequal treatment. Several studies have shown that a physician's unconscious association of negative thoughts or words with a particular race or gender can be associated with therapeutic decisions that are harmful to persons in that group. For instance, one widely quoted paper had physicians take the computer-based implicit association test (IAT) that's designed to uncover implicit associations or biases (free, available at implicit.harvard.edu) and then review case vignettes of a black or white male suffering from a heart attack.
Doctors were asked if they thought the symptoms of chest discomfort were indicative of a heart problem and if they'd treat the patient with a life-saving drug to terminate the heart attack. Physicians whose IAT showed "implicit white race preference" or an unconscious association of a white person's face with good words (love, joy, warmth) and a black person's face with bad words (danger, misery, trouble) were less likely to treat the black patient with the drug despite the black and white patients having identical presentations (1). It is important to note that this is not racism, which is a conscious, explicit bias. But implicit bias can potentially have life-and-death consequences in healthcare. While not all studies of implicit bias show an association with a doctor's decision-making, enough do to cause alarm.
AD: That's interesting.
QC: In addition to being a cardiologist I have the great privilege of serving as the Associate Dean for Admissions at the Ohio State University (OSU) College of Medicine, and I'm responsible for overseeing the recruitment, interview, and selection processes for our incoming medical students. When I reviewed a paper that showed that approximately 70% of a large group of physicians taking the IAT have implicit white race preference (2), I immediately pictured our medical school admissions committee and the fact that it is composed largely of physicians, and I had several questions: Do the physicians charged with the awesome responsibility of deciding who will become a doctor have implicit racial biases? If so, to what extent? If so, might it influence their decision-making and put black and Hispanic applicants at a disadvantage?
We set out to answer these questions and had our entire committee take the race IAT in 2012. Aggregate results revealed that a significant portion of the committee (between 50 and 70%) had an implicit white race preference. Next, Dr. Anthony Greenwald, implicit bias expert and one of the inventors of the IAT, led the committee in a discussion of implicit bias and how to reduce it. In the very next cycle we matriculated the most racially diverse class in the history of the college, suggesting that we are able to overcome implicit biases. This was the first paper to document the presence and extent of implicit racial bias in the medical school admissions process (3).
Our results indicated to us that we could have what we thought was a fair, objective process, on the surface, but that unconscious biases could put certain groups of candidates at a disadvantage. Since then we've had robust discussions about implicit bias and annual workshops on bias mitigation. I recently completed a training program leading to certification to moderate implicit bias workshops, and I do so twice a month. This goes beyond admissions and is open to the entire medical center. So far we have trained over 1,000 physicians, nurses, staff and students in bias mitigation strategies. It is a real passion and we are trying to make a difference.
AD: Thank you for that in depth explanation. Is there anything new at the Ohio State Medical School?
QC: We're always tweaking the curriculum to help produce physicians who are ready to advance healthcare. We're on the cusp of a new expansion with blueprints for a new hospital building and a health professions education building. And finally, we are continuing to leverage the fact that we have one of the most diverse medical student bodies in the country to enhance medical education and community outreach. In other words, we are continuing our forward progress.
Thank you for the opportunity to share some thoughts with you and your readers. Best wishes for a happy, healthy new year!
AD: Thank you, Dr. Capers. I look forward to talking again and trying the push-up challenge.
Thank you for taking the time to read this interview. If you've enjoyed this, you might also enjoy:
• Dr. Quinn Capers, IV discusses his path, #BlackMenInMedicine, and the present landscape of medical education
• The story of how I earned my STEM degree as a minority
• How my HBCU led me to my STEM career
• Researching your career revisited: Wisdom from a STEM professor at my HBCU
• A look at STEM: What is Pharmacology?
• A look at STEM: What is Toxicology?

The Big Words LLC Newsletter
For the next phase of my writing journey, I'm starting a monthly newsletter for my writing and video content creation company, the Big Words LLC. In it, I plan to share inspirational words, pieces from this blog and my first blog, and select videos from my four YouTube channels. Finally, I will share updates for my book project The Engineers: A Western New York Basketball Story. Your personal information and privacy will be protected. Click this link and register using the sign-up button at the bottom of the announcement. If there is some issue signing up using the link provided, you can also email me at bwllcnl@gmail.com . Best Regards.