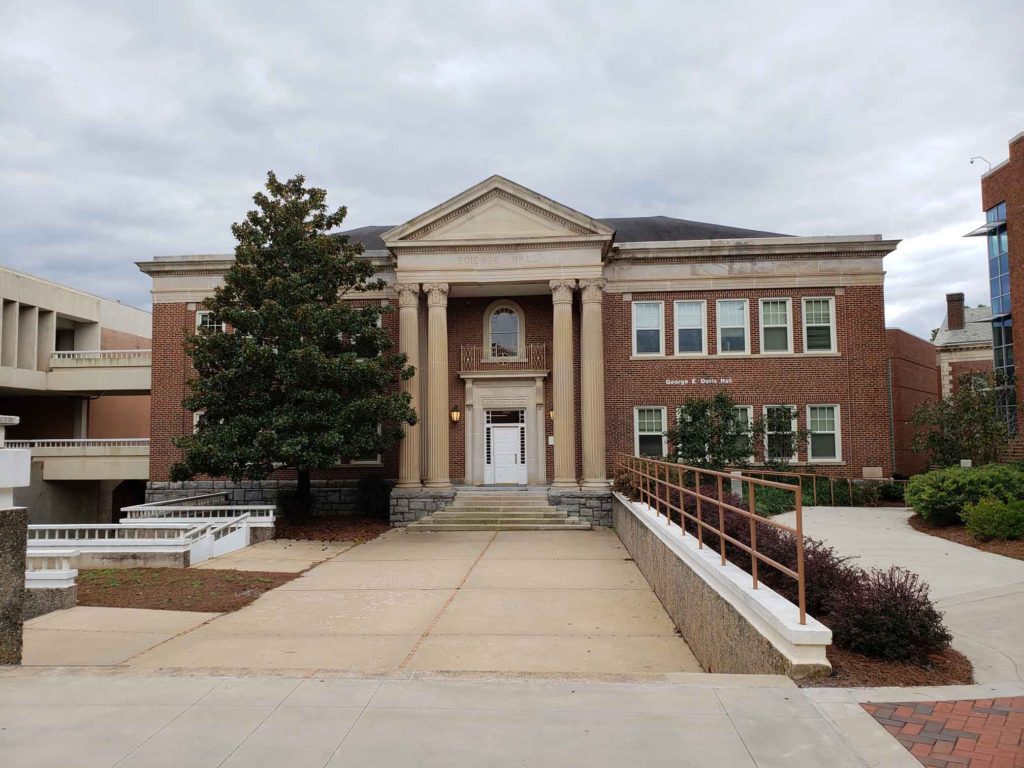 The first principle of my blog is Creating Ecosystems of Success, and a major focus is awareness of the STEM (Science, Technology, Engineering and Mathematics) fields. In my post entitled, Who will benefit from Apple's $350 billion investment?, I cited data stating that less than 10% of STEM degree holders are African American – a staggering number as these are some of the highest paying careers today. That same data was cited in an article by PBS entitled; African-Americans over-represented among low-paying college majors.
In my post entitled, The story of how I earned my STEM degree as a minority, I discussed the major learning points during my doctoral studies within the University of Michigan Department of Pharmacology. After completing that post, I realized that I also needed to discuss the role Johnson C. Smith University (JCSU) played in my journey. Despite debates over their continued relevance in modern times, many black STEM professionals received their initial training at their Historically Black Colleges/Universities (HBCU). Thus, in this post, I'm going to discuss how JCSU contributed to my journey towards my STEM career.
* * *
When I arrived at JCSU in the fall of 1995, I really wasn't sure what I wanted to do career-wise. I knew that I was inclined towards the biological sciences, but what career would I land in? Would I go to medical school? Would I end up teaching? Would it be something else? When I started my higher education at a Predominantly White Institution (PWI), the SUNY College at Brockport, a year earlier, I thought I wanted to be an athletic trainer; but I still wasn't sure.
During my year at the SUNY Brockport before transferring to JCSU, I figured out how to be a student and earned an 'A' grade in my Survey of Anatomy and Physiology class – a very intensive pre-medical course. After earning that A, I knew that I could excel in most other undergraduate Biology courses and that's the mindset I took with me down to Charlotte. Being 12 hours away from home also gave me a strong sense of focus and urgency.
The professors in the Department of Natural Sciences at JCSU were a dedicated and hardworking group. They were all very accomplished as most of them had a Ph.D. As described in my post entitled, Researching your career revisited: Wisdom from a STEM professor at my HBCU, some of them used a 'tough love' approach with us, letting us know that doing mediocre and low quality work would all but shut us out of careers like medicine, to which many of us, at least verbally aspired. Some of us rose to the challenge while others rejected their coaching.
Early on I churned out multiple A's in my core courses which made me stand out because there were few males there at the time who were doing that. There was a select group of females who were doing it and were on track to get into medical school; as described in my piece about researching your career goals. I was also very malleable and teachable, so I started spending time with the professors in their offices outside of classes to get advice and feedback on material covered in class and potential careers. One professor did something that changed the course of my life.
"What are you doing this summer?" I was in the office of the professor I discussed in the piece about the importance of researching your career of interest. She wanted to know how I was going to spend my summer months. We were midway through the spring 1997 semester.
"I think I'm just going to go back to Buffalo to work security and wait tables at the bar I worked at last year," I said to her shrugging my shoulders.
"No! You need to do something scientific," she forcefully replied. "Take this, fill it out and bring it back to me!"
She handed me an application for the Ronald E. McNair Program at UNC-Charlotte. I quickly filled it out just as she mandated. It was a pivotal moment. I was going to go back home to Buffalo that summer because it was comfortable. However, more importantly, I didn't know what I could do scientifically over the summer. This professor saw my potential, and then stepped in to help me realize it. I participated in the McNair program over the summers of 1997 and 1999 – something I'll write about that later. My professor's actions opened a whole new world for me and led me to my graduate studies at the University of Michigan.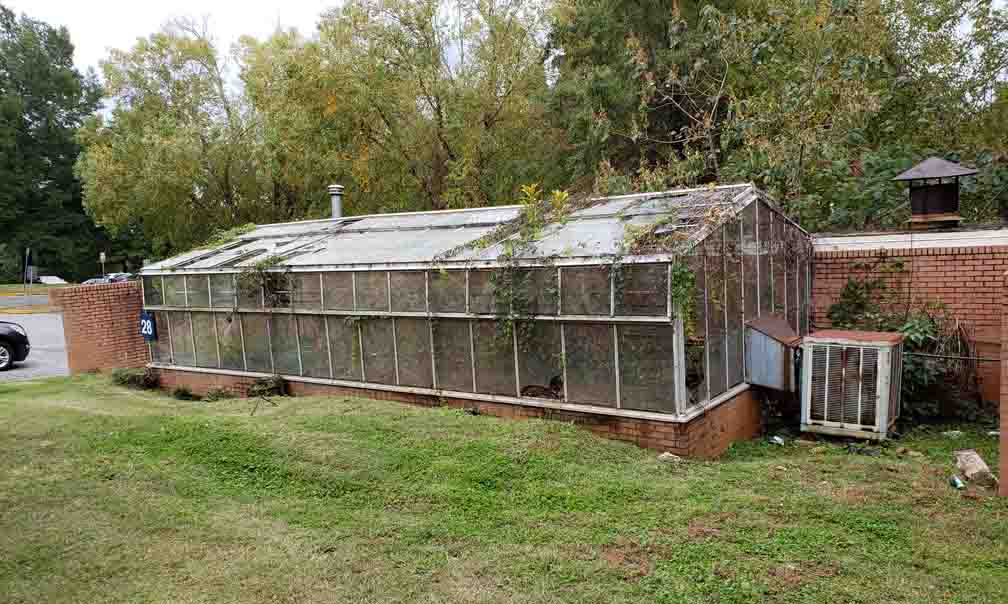 Another professor also impacted my future. He passed away several years ago, so I'll mention his name. It was Dr. Joseph Fail, Jr., whom I became close to when I was a student. I stayed friends with him after graduating. Like everyone else who met him initially, Dr. Fail came off as a bit eccentric to me. He had a 'hippie-like' appearance in terms of how he dressed, and he had a long graying beard. He was the one professor out of the group who had background in the plant sciences; Botany and Ecology for which he was very, very passionate. He was also passionate about the students, and always encouraged our learning how to write and think coherently. He was alarmed by how some students wrote – something he repeatedly shared that with me in my numerous visits in his office.
Dr. Fail helped me secure a two-year fellowship through the Environmental Protection Agency (EPA) where we proposed to teach Ecology to kids at a local Charlotte school in grades 4-6. I didn't understand the significance of teaching Ecology to these age groups, but I did understand that my tuition would be completely paid for my final two years, and that I'd receive a stipend. This meant that I'd no longer have to work an off-campus job. During my first two years at JCSU, I worked at the McDonalds at the downtown Overstreet Mall for spending money.
We submitted the grant the night it was due and stayed at Biddle Hall with members of the administration until 7 or 8 pm that night. The officials at Biddle Hall insisted on a certain level of quality, which caused a big 'dust up' as Dr. Fail just wanted to get the proposal submitted. It was my first experience applying for scientific grant funding. In getting those last two years of tuition paid, he impacted me and my family's future for years to come by significantly decreasing my debt burden. The project was the basis for my senior thesis paper. Whenever Dr. Fail didn't think that I was working hard enough on it, he was quick to remind me, "You're getting paid for this Anwar!"
Two other professors in the department both had the last name "Thomas", but they weren't related. Those who were there knew that their last names actually weren't 'Thomas'. It was something close, and I'm just trying to protect their identities. One of them taught our Zoology class – a 'gatekeeper' course. He gave us multiple choice questions and frequently tricked the students who'd gotten the previous year's exams from classmates. These students answered many of the questions wrong because they didn't understand the principles of what was being asked, though the answers sounded the same. He stayed on us about class participation and continuously prodded the students to participate in discussions – an important part of science.
In my last year, Dr. Thomas encouraged us to revive the Science Club and for me to become the President. Though I had no idea how to be one, nor did I have the desire. I'd gotten used to working on my own and didn't know how to be the head of any group. I begrudgingly accepted the position, and it was a good experience. I recall having my mentor from the McNair program come over from UNC-Charlotte to talk to us about his research in Hepatic Physiology. We also went to the Asheboro Zoo one day, I believe.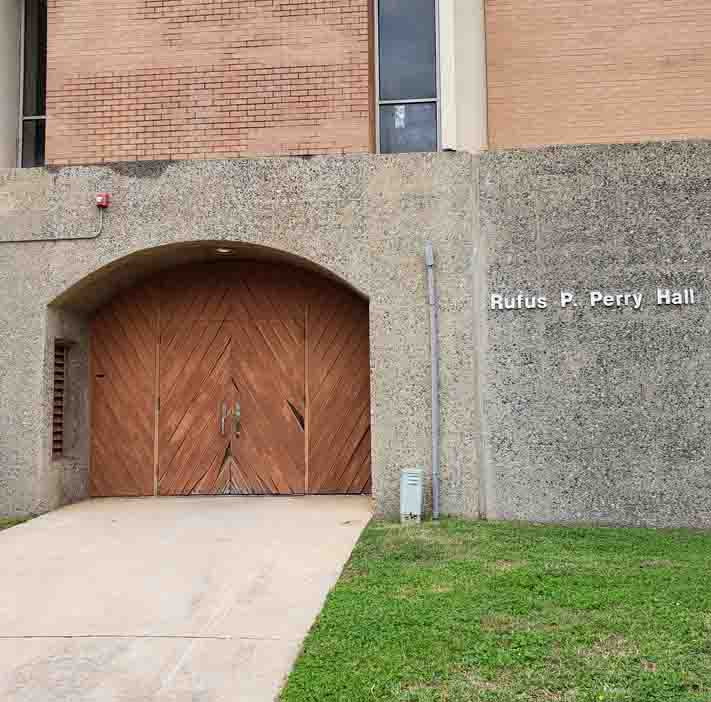 I became close with the other Dr. Thomas toward the end of my time at JCSU. I only scored a 'B' in his Biochemistry class, but I was juggling a lot at that time. I asked him to write a letter of recommendation for me for graduate school. He told me many stories about his graduate school days at the University of Cincinnati when things were much, much harder for black people. He encountered a lot of racism as he worked on his Ph.D. in Physiology. He came across as a little eccentric at times, as well, but he cared about the students and in some ways was very misunderstood. He always encouraged me saying, "Anwar, if you don't get into graduate school, I don't know what to say because you're one of the best that we have!"
The Chemistry, Math and Physics professors cared a lot about the students also. In my post entitled, The keys to learning college level general chemistry, I discussed how I 'turned the corner' in terms of understanding General Chemistry under the professor who taught it to me at JCSU. The chemistry courses were also gatekeeper courses which derailed many students' dreams of going to medical school.
As I described in my blog post regarding my experience during graduate school, I didn't learn the importance of asking questions and scientific curiosity until after I left JCSU. It wasn't because the professors didn't encourage it though. Instead, it was because some of my classmates fought it. Unfortunately, in some instances, if the majority of a group isn't committed to advancing, they can hold back those that are. It turns out that curiosity and asking questions is the lifeblood of any science – medicine included. Likewise if you don't ask questions, you won't go very far in any STEM.
"You're the only one from our group who went into science," a former classmate told me recently at homecoming weekend – something that both surprised me and was very telling. I think everyone in my cohort had the ability to go on to do something scientific, but we all arrived at JCSU with different tools and mindsets. Some also ran into some of life's other unforeseen difficulties.
* * *
I'm going to close by going back to the science club and the importance of mentoring. At the time I wasn't sure how to be the President of the Science Club. In hindsight, it was just setting and creating environments/spaces where we could all grow, ask questions, talk science and exchange ideas – things they were doing at Howard and Morehouse.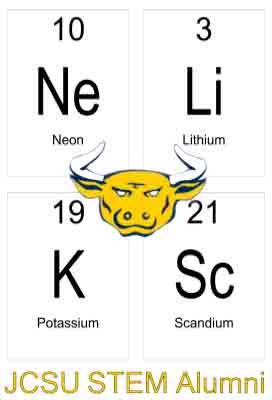 To help our alma mater, I'm seeking to do that now for the current students, alumni and the university. I've started a Facebook page and group both entitled, "JCSU STEM Alumni". I've also started an Instagram account with the same name. Please follow, join and contribute. That goes for Ph.Ds like myself, medical doctors, IT specialists or mathematicians. In terms of the logo, the elements used in the JCSU STEM Alumni logo; Neon, Lithium, Potassium and Scandium are elements 10, 3, 19 and 21 on the Periodic Table. In our alphabet, the numbers 10, 3, 19 and 21 correspond to the letters J-C-S-U.
If you're a student and have questions about a course or your career, please reach out via a public post or a direct message. If you're not a Smithite, but have a STEM background and want to participate, please join as well. Also, please help spread the word.
Thank you for taking the time to read this blog post. If you enjoyed this post you may also enjoy:
• The story of how I earned my STEM degree as a minority
• A look at STEM: What are the Basic Sciences and Basic Research?
• A look at STEM: What is Regulatory Science?
• The transferrable skills from a doctoral degree in the basic sciences
• A look at STEM: What is Inhalation Toxicology?
• A look at STEM: What is Pharmacology?
If you've found value here and think it would benefit others, please share it and/or leave a comment. Please visit my YouTube channel entitled, Big Discussions76. To receive all of the most up to date content from the Big Words Blog Site, subscribe using the subscription box in the right-hand column in this post and throughout the site, or add my RSS feed to your feedreader. You can follow me on the Big Words Blog Site Facebook page, and Twitter at @BWArePowerful. Lastly, you can follow me on Instagram at @anwaryusef76. While my main areas of focus are Education, STEM and Financial Literacy, there are other blogs/sites I endorse which can be found on that particular page of my site.