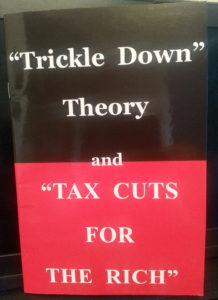 Two of the principles of my blog are "Creating Ecosystems of Success" and "Long-Term Thought". While my scientific background is in the biomedical sciences Pharmacology and Toxicology, it's imperative for me to keep my eyes on what's happening in the other Science, Technology, Engineering and Mathematics (STEM)-fields. This allows me to use my platform to help guide others career-wise, and also for investment purposes (see my Facebook and Bitcoin post). In this post I want to discuss both STEM and careers, and the impacts of the new tax bill on the 'Tech' sector, as well as others.
My goal is to keep this post short. I actually have another post in the works regarding the new controversial 'Tax Reform and Jobs Act', but a recent development involving the company Apple prompted me to craft of this piece. I'll start with a recent purchase involving one of the other 'Four Horseman of Technology Stocks', Amazon. Shortly after the holiday season, I ordered a copy of economist Dr. Thomas Sowell's "Trickle Down" Theory and "Tax Cuts For The Rich". I didn't buy the book strictly because the Tax Cuts and Jobs Act was recently signed into law, but because I had an Amazon gift card and thought it would be an educational read. I'm also admittedly one of Dr. Sowell's biggest fans as he embodies most of the principles of my blog. He empowers his readers with the economic laws and theories, and historical facts to interpret current events, government policies and political discussions with a more complete perspective, independent of your political affiliation or background.
The very short book discusses the famous 'Trickle Down Theory' which is a hotly debated topic among economists, media pundits, and politicians. Coincidentally, according to Dr. Sowell, it isn't a formal economic law and never has been. Instead it is a term used to demonize any cutting of taxes which have historically sparked economic growth in our country, as opposed being a means of making the rich richer and ignoring the needs of those on 'Main Street' – the way tax cuts are typically depicted by their opposition. As expected, leading up to its passing, the Tax Reform and Jobs Act was accused of solely being a tax break for the wealthy by its opposition. Recently however, numerous sources are now reporting that it's actually going to benefit people on Main Street as well. But what will the new law do for the national economy itself on a macro level? On January 17, 2018, Yahoo published an article titled Apple says it will invest $350 billion and hire 20,000 workers in the U.S. over the next five years.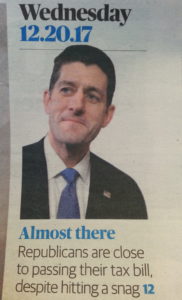 While this is an opportunity for some to boast to the opposition that they had the bill all wrong, my focus is on who will benefit from Apple's repatriation of its earnings, and its $350 billion investment in the United States. It seems to me that those who are trained in the technologies Apple is working on, and currently has in its pipeline, stand to benefit significantly in terms of career, earning potential, and upward mobility. Those skills may involve things like writing applications for 'Blockchain Technology', and/or 'Quantum' computers among others. Those who are not trained in those areas will only benefit from the products Apple produces, for the most part, solely as consumers.
As a STEM professional and advocate myself, this is a very appropriate time to discuss some data I recently found published by US News & World Report in 2016 titled Report: Black Students Underrepresented in High-Paying STEM Majors. The article cited data from a Georgetown University Study titled African Americans: Colleges Majors and Earnings, which discussed how black students tend to cluster in fields like social work leading to lower paying careers. The data in the Georgetown study showed that 20% of degree holders in human services and community organizing were black, and earned a median salary of about $40,000 per year. By contrast, only 7% of degree holders who received STEM-related bachelor's degrees, and earned a median annual salary of $84,000 or more, were black – a very low number considering that blacks are only 12% of the total population in the United States.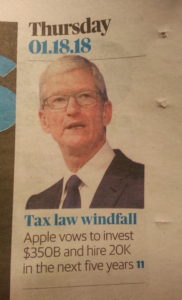 This low percentage of participation in STEM, in addition to Apple's repatriation of earnings, and its investment back into the United States, underscores the importance of having the necessary skill sets at critical times to take advantage of environmental changes imposed by laws like the Tax Reform and Jobs Act. Malcolm Gladwell covered this phenomenon extensively in Outliers. Right now in the United States there is considerable debate about discrepancies in wages based upon race and sex. The question has to be asked though, do those discrepancies exist due to discrimination, or is it majors chosen leading to the acquisition of skill sets for which there is high or low demand from the economy at that particular time? Are we essentially running up against the 'Law of Supply and Demand' as we often do? After all, the economy typically dictates what's needed at a given time, and how much individuals in the workforce should be compensated.
How many more companies will return to the U.S. to repatriate their earnings, invest in research and development here in the U.S., and subsequently hire U.S. workers? Right now it's unknown. But if other technology giants like Apple return, clearly some groups of people will benefit more than others. The question is will the beneficiaries strictly be based upon to race, sex and class, or will the skill sets possessed by certain well positioned individuals have something do with it? And who will possess those necessary skills once there is an increased demand for them?
Thank you for taking the time to read this post. If you enjoyed it, you might also enjoy:
• A look at STEM: What is Pharmacology?
• A look at STEM: What is Toxicology?
• A look at STEM: What is ADME/Drug Metabolism?
• A look at STEM: Blockchain Technology, a new way of conducting business and record keeping
• Challenging misconceptions and stereotypes in class, household income, wealth and privilege
• Your net worth, your gross salary and what they mean
If you've found value here and think it would benefit others, please share it and or leave a comment. To receive all of the most up to date content from the Big Words Blog Site, subscribe using the subscription box in the right hand column in this post and throughout the site. Lastly follow me on the Big Words Blog Site Facebook page, on  Twitter at @BWArePowerful, and on Instagram at @anwaryusef76. While my main areas of focus are Education, STEM and Financial Literacy, there are other blogs/sites I endorse which can be found on that particular page of my site.