Two focuses of my blog are STEM and Technology. An important sector in our country and our world is the agricultural sector. Generating the food is one thing but making sure that it is safe and secure are critical as well. The following guest post is entitled, Technologies That Enhance Food Safety and Security.
* * *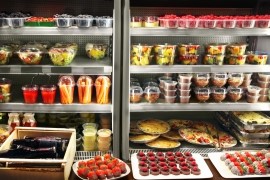 The food business is a tricky one. On the one hand, you have to worry about food spoilage, contamination, and waste. On the other hand, you have to worry about keeping up with the latest trends and technologies to stay competitive. It's a delicate balancing act, but luckily there are some tools out there that can help. Here are a few technologies that can help enhance food safety and security in your business:
Temperature-controlled shipping containers
You're probably familiar with the images of refrigerated 18-wheelers hauling perishable food items across the country. But did you know that those same trucks often rely on temperature-controlled shipping containers to keep their cargo safe and fresh?
Most perishable goods, including meat, dairy, and produce, must be kept at a certain temperature to prevent spoilage or contamination. That's where temperature-controlled shipping containers come in. Investing in a few temperature-controlled shipping containers ensures that your perishable items remain fresh and safe during transit. Plus, you'll be able to stack other non-perishable items in the same container, making your shipments more efficient and cost-effective.
Cargo tracking and monitoring solutions
Even though you already have temperature-controlled shipping containers, you might still be worried that something might happen to your products as they're being delivered to various markets. That's why you should get cargo tracking and monitoring solutions.
These trackers help you keep your perishables fresh by monitoring their temperature and location and giving you data about their condition. They also help you track your shipments, giving you peace of mind as your products make their way to your customers. In the event of a problem, cargo trackers give you notifications, so you can quickly resolve any issues before they turn into costly delays.
Robotic food processing technologies
As your business grows and your distribution channels expand, you may find that your food production is simply too labor-intensive to keep up with demand. But robotic food processing technologies can help.
With robotic food processors, you'll be able to streamline your production processes and make sure that every step of the process is done at optimal speed and accuracy. From packaging to slicing, these automated systems can help reduce labor costs while ensuring consistent quality and quantity in your final products.
Smart labels
Smart labels are a type of food labeling that uses RFID tags to provide information about a product. The tags can be read by special scanning devices, which can then provide information about the product's origins, manufacturing date, expiration date, and other important details. Smart labels have several advantages over traditional food labeling methods.
First, they allow businesses to track products more effectively, which can help to reduce waste and improve inventory management. Second, they provide consumers with more information about the products they purchase, which can help them to make better-informed choices. Finally, smart labels are more durable than traditional labels and are not affected by changes in temperature or humidity. As a result, they are an increasingly popular choice for food producers and retailers.
Blockchain technology
Blockchain is a distributed ledger system that allows businesses to securely track and store data. And while it was initially developed for use in the finance industry, more and more food businesses are now using blockchain to keep their data secure and easily accessible.
For example, many food producers now use blockchain to track their products from farm to fork. This ensures that every step of the process is transparent and tamper-proof, which can help reduce food waste and improve product quality. Additionally, food businesses use blockchain for supply chain management, inventory management, and more.
Automated food waste management systems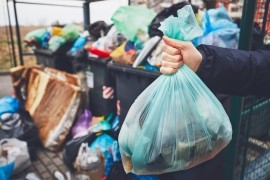 More and more businesses are looking into implementing automated food waste management systems. And for a good reason – these systems can help to reduce landfill waste, lower disposal costs, improve worker safety, and increase recycling rates. But how do they work?
Automated food waste management systems typically have three components: a waste segregation unit, a compactor, and a baler. The segregation unit allows workers to separate food waste from other types of refuse. The compactor then crushes the food waste, reducing its volume by up to 90%. Finally, the baler compresses the compacted food waste into tightly-wound bales that are easy to store and transport. With an automated food waste management system in place, businesses can efficiently manage their food waste while doing their part to reduce environmental waste. The key to any automated management system is keeping data accurate, up-to-date, and secure. Furthermore, the processing and interpretation of the available data are extremely important to ensure that automation efforts are applied in the right areas and that they are working effectively. By making use of IT specialists like Wete and Company, businesses can ensure that their automated systems are always performing at peak efficiency.
So, if you're looking for ways to better manage your food business and keep your customers safe and satisfied, then these technologies are definitely worth exploring. From temperature-controlled shipping containers to robotic processors to smart labels and beyond, they can help you streamline your operations, improve your bottom line, and enhance your products' overall quality and safety. And that's something every food business owner can get behind.