A major focus of my blog is Science, Technology, Engineering and Mathematics (STEM), and Agrosciences falls within this category. The following contributed post is entitled, How We Need To Be More Productive At Producing Food.
* * *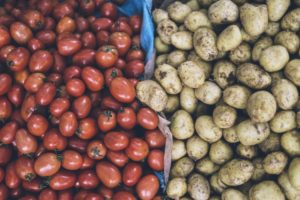 Image source
In a world of big topics – from Climate Change to Plastic Pollution to the #MeToo – it can be easy for some impossibly important conversations to get lost in the white noise, as imperative as it may be to our survival. But none is more important than food because, right now, today, there are 795 million hungry people; a number that's going to grow by another 2 billion before 2050. And if we're going to make that possible, then it's a question we need to talk about a whole lot more than we are right now.
It's a problem we shouldn't have, yet here we are, unable to improve the global food security as much as we need to. That's why it's so important we all help tighten up on this area and do all we can to make sure there are enough calories to properly nourish everyone on the planet, but without making the agricultural footprint any bigger.
So, without further ado, here's what we need to focus on:
1. Close The Food Gap
One of the biggest issues we have isn't a lack of agricultural land, it's the fact this land isn't reaching its full potential. In fact, some places are yielding 50% less than their capabilities. Closing this gap is so important. Not only would it reduce the need to clear land for agriculture, it would help us feed those hungry people using the land we have.
2. Produce More With Less
It doesn't matter whether you're talking about the use of fertilisers or nutritional supplements, we need to be more efficient – and effective – when it comes to the production of food. But let's start with nutritional supplements. A quick visit here and you'll quickly learn that naturally-raised weanling pigs and livestock whose diets contained Pro+ ate more feed and gained more weight, which makes them more efficient. That's what we need. The same principle applies to fertiliser, where it's estimated that the use of nitrogen and phosphorus-based fertilisers, which are used on wheat, rice and maize crops, could be slashed by 15-30% and still produce the same yields. And that's without factoring any adjustments in the timing, placement and type of fertilizer used.
3. Water Is A Worry
Water is possibly the biggest issue right now, and improving irrigation systems and planting crops that use less water needs to become the focus moving forward. Take rice and sugarcane as a prime example of crops that need the most water. The problem is, you can't simply swap crops you grow as all farmers base their decisions on current market values. As such, the only way to tackle this issue effectively and efficiently would be to encourage farmers through economic incentives, ones that can be tweaked and tailored to regional differences and cultural tastes.
4. Food Waste Needs Addressing
Across the globe, between 30-50% of all food produced goes to waste, whether that be thrown, due to the inefficient preparation or just inadequate storage facilities. Address this and we have addressed a huge issue moving forward.