Two of the focuses of my blog are Financial Literacy and Money, and Business and Enterepreneurship. If planned well and set up correctly, a home business can generate considerable profit. There are some important keys to keep in mind. The following contributed post is thus entitled; Cutting the Costs of Starting a Home Business.
* * *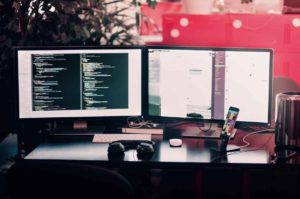 https://unsplash.com/photos/p-xSl33Wxyc
Most of us have at some point considered starting a business. Sometimes, this is simply because we're fed up with work. We see mistakes being made, we watch as businesses are poorly managed, and we know that if we had our chance, we could do a better job. On other occasions, our urge to start up on our own comes from necessity. We need more flexibility. We can't find a job that gives us what we need and starting up on our own would answer all of our problems.
Whatever your reason for wanting to start a business of your own, one thing that might put you off, or at least give you cause for second thoughts is money. Starting a business from home doesn't need to be as expensive as hiring premise, but there are still start-up costs to consider, especially if your business model is one that requires equipment, machinery and supplies. Here are some ways that you could slash some of the costs.
Buy Second Hand
Every business has needs. Whether it's just a few supplies, a computer and other office paraphernalia, or tools, machines and equipment, you'll need to spend money to get started. But, you can save a fortune by buying second hand and replacing things later, when your business is bringing in more money. Look for auction near me for tools, and consider refurbished laptops and other technology. Remember, we live in a world where businesses fail every day. These companies are keen to recoup some of their costs by selling what they can, so keep your eyes open for bargains.
Get Online
Marketing is often one of the most significant expenses for new companies. You need to get the word out and let people know what you do if you want to grow after all. But, in today's digital-dominated world, there's no need. Get online, spend time on digital marketing campaigns, work with influencers, and promote your business on social media. It's perfectly possible to present a professional marketing campaign and reach a large audience without spending a penny.
Call in Some Favors
If you are looking to save as much money as you can, call in some favors. Tell your friends and family you are starting up on your own and they'll be keen to help. Even if it's just sharing your posts on social media, it can make a difference.
Make the Most of Your Time
If you want to save money, you should also be thinking about saving time. The more time that you waste, the less you've got to be out there finding ways to make money and grow your business. Manage your time well, and make the most of every working hour.
Go Green
Going green isn't just good for the planet, it can also be good for your bank balance. Start saving money on utilities by printing less, turning lights off, shutting computers down and saving water, and your bills will be much cheaper.
Outsource Work
Staff are another big cost that you might need, but not be able to afford. Outsourcing work instead of taking on permanent employees means that you only pay for what you need, when you need it, instead of having to pay someone all of the time.