Two of the focuses of my blog are Financial Literacy and Money, and Business and Entrepreneurship. Starting any business venture is like setting off on a voyage across the ocean or the sea. As such it's critical to understand what provisions to load onto your ship, and what protocols to use in various circumstances. The following contributed post is thus titled; Save Your Business Ship From Sinking Into The Abyss.
* * *
Over ninety percent of startups will fail within their first year. This means that many business owners won't even get out the gates with their company. You have to be prepared for this possibility. You have to know how to right a sinking ship. Luckily, there are a few possible courses you can take here, and we're going to check a few out right now.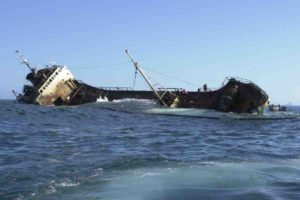 Manage What You Owe
If your business is starting to sink there's a good chance, it's being submerged in debt. When you start a business, you may have to borrow a lot of money, and you probably won't be able to pay it all back at once. That leaves debt to build up more and more in different areas. The fact it's in different areas can make it seem smaller and less significant when in reality, it's eating away at your company. How do you handle this?
Well, you can think about consolidating your debt. Debt consolidation lenders are brilliant because they will provide you with the tools to put all the your debt into one sum that's easier to pay off. You can start to treat it like another monthly bill. Be aware though, this is a loan, and you have to make sure that you understand the conditions before taking it on.
Alternatively, consider getting the help of an accountant. They'll be able to make sure that you find out where the money is leaking out and whether you have unpaid invoices from clients. This can help shift some of the weight.
Cut The Costs Right Back
You might find that your company is struggling because it's just too darn expensive. If that's the case, it's time to think about cutting the cost, bringing them in line with the level of demand you're getting rather than what you hoped to claim when you entered on the market.
There are many ways to cut costs, but if you're running your business from an office, that is definitely the place to start. Consider whether you can instead move towards a home business model with mobile workers who can come in and help when the needs arise. Or, just move to a smaller office and move most of your workers back to their own homes. This is possible with most company models thanks to the latest tech available on the market.
Go For Broke
Or, go in a completely different direction and push your costs right up, throwing most of the weight into new marketing campaigns. By doing this, you can give one last hit and try and get your audience to grow to the point you need it to be. Yes, this is definitely going to drive up the debt that you might already be facing. But if it's successful, this could be the risk you had to take to save your company from doom. Make no mistake though, this is a seriously risky move, and it's one that a lot of businesses won't survive.
We hope this helps provide you with some choices of how to stop your business from sinking completely.