Three of the focuses of my blog are Financial Literacy/Money and Business/Entrepreneurship and Technology. Today most business/enterprises have to establish and maintain an online presence. There a few things to consider when starting an online business. The following contributed post is thus entitled; Things To Consider When Starting Your Online Business.
* * *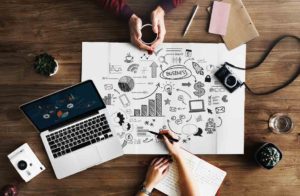 Photo by rawpixel.com from Pexels
Starting a business has become easier than ever before thanks to the internet. The accessibility afforded to you by being online is unique to this era and should encourage you to put your idea into action. So bearing that in mind, let's take a look at some of the important things that you must make sure that you don't overlook as well as the useful tools available to anyone at the beginnings of their company.
Website
One of the first things you will want to do is get your company up and running with a website. To do this you will have to make some decisions. For starters, do you want to host a web page on your own domain or use a third party hosting platform? This is a personal decision but the pros and cons of what you want to do must be carefully considered. Security, which we will discuss further later, is supposed to be improved by using a third party host as it separates your website from the rest of your company's IT infrastructure – this may be more important as you grow rather than first starting out. There are also different costs associated with hosting internally and externally. If you are going to host your website on personal servers, then you will have to purchase the hardware required, whereas a third party host will charge you a monthly fee.
That said, you might prefer to start off by buying a domain name and starting the basics of your website online using some of the many web building tools available to you.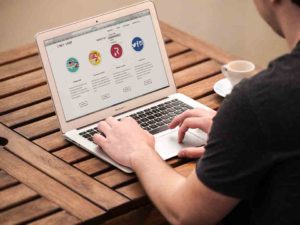 Source: pixabay.com
Security
Security plays a major role across every aspect of your business, especially when you are setting one up online. You will need to make sure that the computer you are using is secured via antivirus and firewalls and likewise your network is also protected. You should look into more about internet security as a matter of urgency when starting your business. Think of it like this; if you were running a shop you would have; security alarms for when you're not available, CCTV to watch over your store and a safe to keep all of your belongings secure. You should treat your computer and the internet as you would a shop, making sure that it is protected at all cost from cybercriminals.
Security is not just about others attempting to steal from you but also protecting yourself against loss. Making sure you are regularly backing up your hard drive and keeping important documents in more than one place. Consider using cloud storage as a way to secure data online rather than just on your hard drive. Problems do happen, and it is best that you have solutions before they occur.
These are just two example of things you must consider when starting your online business. Remember, there is a whole internet of things (IOC) out there for you to be using, so get learning and turn your plans into something big.