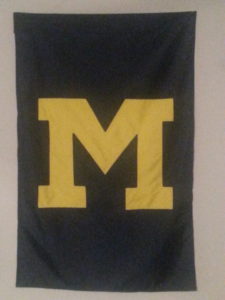 Okay I'm going to try to keep this short. As one of the many Michigan football fans still hungover from yesterday's 62-39 loss in Columbus, the idea to write a short take on yesterday's annual game literally came to me during the conclusion of a church service here in my hometown of Buffalo, NY. I'm not trying to be funny, but it's true. In any case here goes.
First, I want to sincerely congratulate Head Coach Urban Meyer and his staff, the Ohio State Football Team, and their fan base. They did a great job preparing for the game and they executed their game plan damn near perfectly. Despite the rankings and all the chatter leading up to the game, I had a feeling they were going to play at a high level and they did. I also want to note that the game seemed to be officiated fairly and there was little controversy surrounding this contest as was the case in 2016.
I watched the game with my usual crew at Buffalo Wild Wings on Niagara Falls Boulevard in Tonawanda, NY – our annual spot for watching the two school's annual meeting. What stood out to me as the game unfolded, was that our team didn't seem to be prepared for the contest in terms of intensity or scheme. Offensively, the game started off positively with a nice run by Karan Higdon. The second play was a pass play in which Shae Patterson got sacked which was a bit of a head scratcher for me, as I would've gone back to the running game.
In general, the offense did what it had done all year long which was to try to pound the ball with occasional shots down field. Throughout the year despite its talent level, our offense was never a consistent force, but instead methodically picked and chose its spots with varying amounts of success – sometimes due to a lack of execution, and at other times due to questionable play calling. This worked well as long as the defense stood its ground and repeatedly got the ball back which brings me to my next point.
Early on it was clear that Ohio State's approach to our physical and blitzing defense was to get the ball out of Dwayne Haskins, Jr.'s hands quickly using crossing and wheel routes out of the backfield. In instances where Ohio State spread its receivers out and were able to neutralize Coach Don Brown's pass rush, Haskins which is not known for his mobility was able to run the ball up the middle and slide when our coverage held. In other instances, Ohio State was able to draw pass interference calls on our defensive backs which were left on 'islands' by themselves in 'Man' coverage – No. 28 Brandon Watson particularly got targeted and torched by Haskins. Their running game by itself didn't hurt us so much.
Approaching halftime, our Wolverines were down 21-6, and with the Buckeyes getting the ball back after the half, it seemed as though it was going to be a maize and blue 'blood bath'. A special teams fumble by the Buckeyes helped put us in position for Chris Evan's touchdown late in the second quarter. If not for that gaffe, we would've been in serious trouble. That said there was a potential touchdown that we missed out on because Zach Gentry couldn't secure the ball after a Buckeye defender slapped it out of his hands.
On both sides of the ball as the game progressed it seemed that Jim Harbaugh and his coaching staff were being outcoached by Urban Meyer and his. Our offense started slow, interestingly didn't seem to be taking advantage of our three talented receivers: Donavan Peoples-Jones, Nico Collins and Tariq Black. I also wondered why our 6'8" tight end Zach Gentry wasn't getting targeted more. In a game of this magnitude, we needed to challenge the Buckeye defense more downfield especially when they were ripping our defense to shreds and scoring at will. This brings me to my next point.
My comments on many of the postgame YouTube press conference footage mostly involved my surprise that Don Brown seemingly didn't look at what Indiana and Northwestern had done his defense and planned for Ohio State to do the same thing or more. During the game, I wondered if he would adjust his blitzing style, and go with more defensive backs, like how Bill Belicheck and Bill Parcells did to my Buffalo Bills in Super Bowl XXV where they slowed down the Buffalo Bills' powerful offense. Instead he seemed to stick with the same game plan which he used all year which brings me to my last point.
It's very easy for us as fans and commentators to criticize what's happening on the field and I acknowledge that. I've also never coached a sport though it's something I'd like to try one day. That said, I know enough to know that in athletics, particularly in big games it's important to be able to adjust your plan of attack if necessary – or to anticipate having to do so. I discussed this in my interview with legendary Niagara Falls high school basketball Coach Pat Monti, who thoroughly scouted his opponents and figured out what he needed to do to give his teams the best chances to win even if meant making games ugly and unwatchable.
As we're closing in on the end of Jim Harbaugh's fourth year, this is something I'm wondering about, and something I wondered about during yesterday's game. As much fanfare as there was when he got hired, how well can he and his staff really coach when going head to head with opponents like Urban Meyer and his staff on the opposite sideline? I asked myself this for the first time as yesterday's game unfolded. One of my buddies I watched yesterday's game with came down hard on defensive end Rashan Gary who was the top high school player five years ago and with good reason. That said it's the coach's job to motivate the players and put them in position to succeed. While we support him, right now, me and others in the fan base are questioning the ability of our coaching staff to do this on the biggest stages.
What's going to happen from this point on? I honestly don't know. I'm going to close by saying that I feel bad for our players, some of whom may have been looking ahead to Indianapolis and beyond – some of whom who have never beaten Ohio State which is something they'll always have to live with. As we got closer to the Ohio State game, I became weary of talk of the "Revenge Tour" and Karan Higdon's guarantee of victory as the team, the program and the fan base might suffer a black eye like we have now. Anytime ever I've competed, I've never been a trash talker and am a firm believer in just letting your play do the talking.
Like Michael Jordan's Chicago Bulls teams who couldn't get over the hump, for the remaining players and staff, perhaps this humiliating loss may be a part of their growth process that will eventually push them over the hump. We'll have to wait and see. This year the Wolverines will once again be in Ann Arbor during the College Football Playoff. Hopefully Coach Harbaugh and his staff will ready first for their bowl game, and then when the Buckeyes come back to Ann Arbor in 2019. There's a whole year to think yesterday's game over.
Thank you for taking the time to right this blog post. If you enjoyed this one, you might also enjoy:
• Michigan loses to Ohio State 31-20: Reflections on the 2017 game and the season
• John U. Bacon presents his new book Endzone to Michigan's D.C. Alumni Club: A look back
• Michigan defeats Maryland 35-10: Two weeks until the 2017 Ohio State game
• Michigan beats Florida 33-17: A recap of the maize and blue's season opener
• The 2016 Michigan-Ohio State game, the Big Ten Officials, and the College Football Playoff
If you've found value here and think it would benefit others, please share it and/or leave a comment. To receive all of the most up to date content from the Big Words Blog Site, subscribe using the subscription box in the right-hand column in this post and throughout the site, or add my RSS feed to your feedreader. You can follow me on the Big Words Blog Site Facebook page, and Twitter at @BWArePowerful. Lastly, you can follow me on Instagram at @anwaryusef76. While my main areas of focus are Education, STEM and Financial Literacy, there are other blogs/sites I endorse which can be found on that particular page of my site.