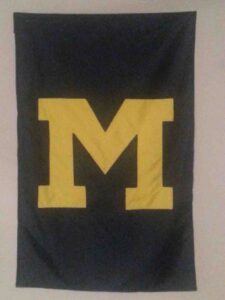 This post was originally going to strictly be my reaction to the 2016 Michigan-Ohio State game, but I missed the emotional wave in the aftermath of it in terms of the news cycle. I've thus decided to craft a piece just touching upon the results of that game and also giving some reaction to the four teams selected for the 2017 College Football Playoff (CFP).  Oh what a ride it's been.  By the way if you don't have loyalty to a school or aren't privy to the world of College Football as one of my buddies who watched the game with us wasn't, this may all may make little sense to you.  I am admittedly a proud University of Michigan alumnus, so if the tone of this piece sounds biased, it probably is.
I'll start with the 113th football game between the University of Michigan Wolverines and the Ohio State University Buckeyes on Nov. 26, 2016.  First off, the only good news about my Wolverines' 30-27 loss was that our program is officially back and was in position to win that game unlike the majority of the games in the last 10 years.  The bad news is that we of course lost the game.  It was a great game which went down to the wire.  The hard part for the Michigan faithful was how the game was lost.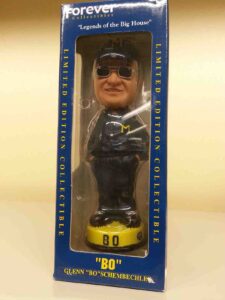 As a scientist, I'm a pragmatist first and foremost and I thus like to deal with the facts and try to minimize emotion which – very difficult to do in something like this. Though I was disappointed with the outcome game, most of my Tweets centered around what our team did that contributed to the loss.  The three turnovers involving our quarterback Wilton Speight definitely helped Ohio State and its paltry passing attack remain in striking distance.  That said without Speight in that game playing with a broken collarbone, our offense probably would've struggled as it did the previous week in our 20-10 victory over Indiana.
One of those turnovers, a pick 6 was due to a blown blocking assignment by our offensive line. Up 10-7 later in the first half, the second turnover was a miscommunication between Speight and our Center on Ohio State's goal line which probably would've given us another 7 points and a firmer grasp on the game.  The third turnover was clearly a throw Speight thought he could make and was picked off.  This is not all to pile on Wilton because I am a fan of his and I think he's going to have a great senior season for us assuming he stays healthy.
Now the other issue with our offense which has been there all season, was our inability to get first downs and kill the clock at the end of big games. From my vantage point, our running game this year was efficient, but not explosive, and we weren't able to move the chains with our ground game in many key situations.  I Tweeted about this after the game too.  This is what led up to the punt debacle in the 2015 Michigan State game, in addition to this year's 14-13 loss at Iowa.  It also reared its ugly head against the Buckeyes.  Championship teams have to be able to close out their opponents, and I'm hoping this is something Coach Jim Harbaugh will drive home with his future rosters.
As I watched the game at Buffalo Wild Wings in the suburbs of Buffalo, NY I pondered that when both Michigan and Ohio State are competitive, these roller coaster ride-type games tend to happen. In addition to our turnovers, Ohio State's kicker missed two field goals and the Buckeyes also went for a fake punt of which they didn't get the first down.  It was odd as Coach Urban Meyer didn't seem to know that it was going to be called.  At least he acted that way on the sidelines.
Despite our turnovers, our defense came to play and sacked Ohio State's elusive quarterback J.T. Barrett quite a few times much to my surprise (because of his mobility). For the most part the Buckeyes weren't hurting us through the air, but with occasional gashes via their ground game.  Early on with the way we were moving the ball, the way our defense was playing, and the way their offense was playing, it looked as though we would take and maintain a firm control of the game.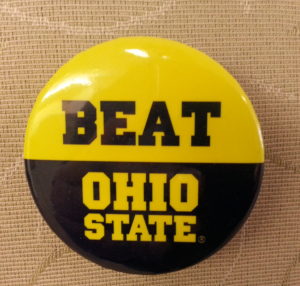 Enter the Big Ten officiating crew assigned to the game. This is where people who read this are going to diverge in terms of their opinions.  Legendary University of Miami and Dallas Cowboys head coach Jimmy Johnson said it best in ESPN's 30 for 30 documentary The U when reflecting on a Hurricanes' trip to play Notre Dame in South Bend.  That game ended with a call by the referees ruling a University of Miami wide receiver's touchdown a fumble though he was clearly down.  Jimmy Johnson stated, "I tried to tell the guys that you can't leave a game like that in the hands of the officials on the road against Notre Dame."  Unfortunately, that's exactly what Michigan did.
That being said, even when on the road should officials be expected to be as impartial and objective as possible? In my mind the answer is yes, but many of calls in that second half suggested otherwise.  The facemask penalty on one of our offensive lineman where we would have made the first down was tough, and I've rarely seen that call made on an offensive lineman.  Many of the pass interference calls on Michigan's defensive backs were very suspicious as well, especially since Ohio State's players were clearly doing the same thing.  Those calls clearly bailed out Ohio State's less than proficient passing game that day steadily advancing them up the field and building their momentum.  The penalty on Coach Harbaugh was odd too.  Did he get emotional?  Yes absolutely.  Is it something other Coaches have done before?  Yes absolutely.
Michigan was able to put a lot of pressure on J.T. Barrett that day who in some instances tried to stay in the pocket and find receivers down field. In some instances, he was able to run away, but many wondered after the game if several holding calls were missed by the officials.  And then finally there was J.T. Barrett's fourth down conversion which was clearly in the hands of the officials in terms of where to properly spot the ball – always a judgement call especially if their isn't conclusive video evidence to overturn it.
The fan base you were a part of dictated whether you thought J.T Barrett made it or not. By eye, and from the camera angle we were watching on TV, it looked as though his feet crossed the marker but the ball didn't.  When the play went under review by the officials, a part of me held out hope that Ohio State wouldn't get that first down, but I suspected that the call would stand which is exactly what happened.  My personal opinion was that those officials weren't going to reverse that call in that stadium whether it was the right or the wrong call if for no other reason than for fear for their lives.  That first down of course set up Curtis Samuel's game winning touchdown scamper into the end zone in the second OT period.
Aside from a Buckeye fan named Tom who was watching the game with a group of Ohio State fans and who was a gracious winner, the Buckeye fans were smug and obnoxious, and defended that fourth down call (and all of the officiating) with tremendous conviction and sarcasm. Shortly after the game it leaked out that the officials who worked the game had Ohio State roots and were basically biased.  One official was previously fired by the Big Ten.  The thought that something like this could happen was infuriating, and if it's true, the Big Ten conference and President Jim Delaney should draft some new rules to ensure that this type of thing never happens again.  The ultimate losers from this type of ineptitude were the student athletes.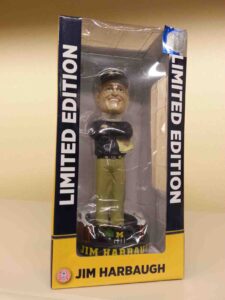 Based upon the imbalance and nature of the penalties called, it would've made sense that there was a bias inherent in the officiating crew. It was some of those calls which made Coach Harbaugh irate.  He was particularly fired up in the postgame press conference which I would've been too if I genuinely felt like my team got cheated, and if an official said that he, "Would've penalized the Coach if it were a basketball game."  Weeks later even after being fined, Coach Harbaugh was steadfast in his position which I applaud him for especially if his kids were legitimately cheated.  If the loss was crushing for us fans, it must've been exponentially worse for the players some of whom hadn't beaten Ohio State their entire time at Michigan.
* * *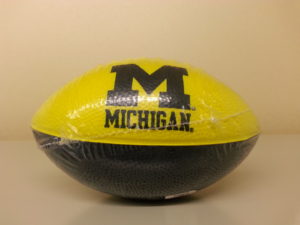 The loss left the Wolverines and the fan base in that nebulous space of needing other teams to lose to make it into the playoff – namely Clemson or Washington. It was the same position we were in at the end of the 2006 Michigan-Ohio State game – the 103rd meeting which featured players including: Chad Henne, Michael Hart, Troy Smith and Ted Ginn, Jr.  The teams were ranked numbers one and two in the nation in that game.  After the Buckeyes took an early two touchdown lead by going with a spread offense they hadn't used all year, we battled back, but the game was ultimately decided by a terrible helmet to helmet personal foul on our then linebacker Shawn Crable who hit Troy Smith as he went out of bounds late in the game giving Ohio State an automatic first down.  That was in Bowl Championship Series (BCS) era and ironically it was Coach Urban Meyer who aggressively lobbied for his Florida Gators get into that National Championship game against Jim Tressel's Ohio State Buckeyes, who they eventually blew out 41-14 – something that was fun to watch as a Michigan fan.
By the way in recent times Ohio State always seems to get a lucky bounce here and there. In the 2002 season where they went undefeated, several things fell their way.  They didn't have to play Iowa that year who also went undefeated until they themselves were defeated in the Orange Bowl by Pete Carroll's USC Trojans.  Michigan had to play both Iowa and Ohio State that year.  In our match up with the Buckeyes in Columbus that year, wide receiver Braylon Edwards's would be touchdown reception was nullified due to an offensive pass interference call against Chris Gamble.  That play was our best chance to score a touchdown in that game which the Buckeyes went on to win 14-9.  And then there was the National Championship game against Miami in the Fiesta Bowl which turned on a controversial pass interference call in overtime which gave Ohio State new life and helped them towards their victory 31-24 victory.  Does this all sound familiar?
The debating and haggling over who is deserving of postseason play is actually quite amusing to listen to when it's not your team. For the 2004 BCS Championship game for example, the BCS had to pick two teams for from three potential undefeated schools; USC, Oklahoma, and Auburn.  I specifically remember Auburn's then Coach Tommy Tuberville agonizing and pleading for his team to be selected, and then lamenting about it afterwards when his Tigers were left out of the Nokia Sugar Bowl.  That's just one example and it continued to happen year after year from disappointed coaches and fans almost like a ritual.  What's also funny is it took another 10 for a playoff to be created.  Again it's funny when it's someone else's school but when it's yours its quite nauseating and can be angering as well.
I thought that our best chance of getting in the playoff was Washington and not Clemson losing their championship game. The winner of the Big Ten Championship game between Wisconsin and Penn State seemed to be inconsequential to the whole thing, especially since Ohio State was said to be a lock.  Penn State had beaten them in conference play and they wouldn't be the conference champion under any circumstance and still make it into the playoff – something that felt very unsettling.  That said, that week leading up to Selection Sunday the committee actually divulged that the margin of separation between Michigan and Washington was very, very slim giving us all some hope.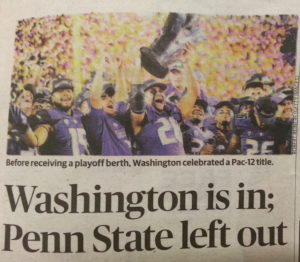 It wasn't meant to be though. Probably after hearing all of the talk about their weak non-conference schedule, Washington came out and played inspired in the Pac-12 Championship game against Colorado.  The Huskies got some luck too as Colorado's starting quarterback Sefo Liufau hurt his leg when getting sacked in the first quarter and missed the rest of the first half.  He was just getting hot when he was injured too as he gashed the Huskies for a long quarterback scramble.  When he re-entered the game he clearly wasn't the same player as he threw several costly interceptions.   Washington went on to win 41-10 making it difficult for the committee to not seed them in the playoff.
The next night everyone's eyes turned the Atlantic Coast Conference championship game between Clemson and Virginia Tech. Led by Deshaun Watson, Clemson controlled the game for the most part but was challenged late by Virginia Tech though they held on to win 42-35 locking up their spot in the playoff along with Alabama and Ohio State.  With both Clemson and Washington winning, the chances of Michigan getting in now looked even more slim.
Adding insult to injury, Penn State rallied as their offense exploded propelling them to a 38-31 victory over Wisconsin. In the aftermath of that game, the commentators on all of the networks, most notably ESPN's Kirk Herbstreit were now speculating that Penn State should get into the playoff over Washington and Michigan, which made me sick to my stomach.  That CFP committee clearly had a more difficult job now.  The camera took a panoramic shot of the committee that night who all seemed to look on with great focus and potentially dread about which teams to leave out.  I'd forgotten that former Secretary of State Condaleeza Rice was on the committee but she was there nonetheless looking on.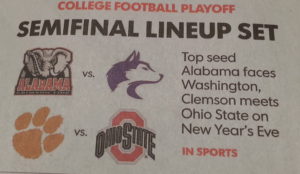 That next morning I woke up with no expectations and expecting my Wolverines not to be selected. When the announcement was made starting at noon, the teams were steadily announced on my Twitter feed.  Alabama was seeded number one followed by Clemson at number two.  Ohio State was seeded at number three while Washington was seeded at number four.  The two matchups would thus be Washington vs. Alabama and Ohio State vs. Clemson.  Michigan remained at number five in the CFP rankings and was selected to play number twelve Florida State in the Orange Bowl.
None of the commentators discussed the poor officiating in the Michigan-Ohio State game as though the Buckeyes won it cleanly and without controversy. Maybe that was a media thing to save face for everyone and present the appearance of fair play across the board.  Only Skip Bayless kept championing Michigan's cause.  Jason Whitlock also spoke up about what happened in Columbus.  Still feeling some residual contempt about what happened after the announcement of the teams, I tweeted about the officiating in Columbus and was confronted by another Tweeter named Ron.  He was probably an Ohio State fan because he rebuffed me and talked about how the officiating in the game was fair and how Michigan should've just, "Played through it."  He also got off a jab at our coach calling Jim Harbaugh, "Cry-baugh."  I wished him luck with his team and discontinued the back and forth as it wasn't going to lead anywhere.
* * *
In terms of the playoff itself, ESPN's Todd McShay said it best when he said, "This is more of an invitational than a true playoff." By that he meant that in a true playoff, participation is judged simply by record and not voting, and not a weight of evidence approach by a committee – one of the paradoxical hallmarks of big time college football.  For those unfamiliar with the history of Division I Football Bowl Subdivision (FBS) college football, the current playoff (only two years old) was preceded by the afore mentioned BCS where only the top two ranked teams could compete for the championship.  Before that it was strictly polls where the coaches and media voted on the national champion which was absurd.
Eventually an eight team playoff should be created. Everyone is already clamoring for it.  Under that format, the Power 5 Conference champions would theoretically get automatic bids, and three "At Large" teams would be seeded similar to the NCAA Men's and Women's Basketball Tournaments.  Under such a scenario my Wolverines would've made it in this year.  However, as ESPN's Mark May stated, "In an eight-team playoff, the number nine and ten teams would feel left out, so there's always someone who is going to be left out and unhappy."  If Michigan were not in the top eight, I think I could live with that though.
Until then we have a four team playoff and this year that consists of Alabama, Clemson, Ohio State and Washington. A lot of Big Ten fans root for the conference when getting into postseason play.  I'm torn between rooting for Ohio State this year because of the way that they got in and that they didn't win the Big Ten championship.  I am hoping that they carry that paltry passing game into their matchup with Clemson in the PlayStation Fiesta Bowl on Dec. 31 and get destroyed, though I predict it may be a shootout.
The last time however the Buckeyes made it into the playoff, they shocked everyone and defeated Alabama to win the 2015 the National Championship. In the Chik-fil-a Peach Bowl, I'm hoping that Alabama crushes Washington (similar Michigan State last year) to corroborate the Huskies' weak strength of schedule.  That's all wishful thinking though, and we'll have to see how it all plays out ultimately.
Mostly though I'm hoping the Wolverines end the season with a victory and make short work of the Florida State Seminoles in the Orange Bowl on Dec. 30. If that happens and some of the teams in the playoff lose, we'll leap over them in the final rankings.  In addition to playing in the Orange Bowl, it would also be a small consolation prize I guess.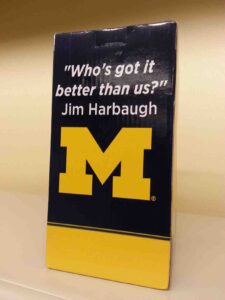 In the after math of our loss to that team from Ohio, and the seeding of the playoff, I pondered that this is only year two for the Jim Harbaugh regime in Ann Arbor. While it's disappointing that with the talent we had this this year that we didn't make the CFP, it's also important to keep in mind that neither Nick Saban or Urban Meyer won National Championships in their first two years at Alabama or that school in Ohio.  A solid College Football program takes time to build in terms of recruiting players, developing them, and getting them the game experience.  I predict that will happen for the Michigan Football program.  Fair and objective officiating ensuring a level playing field will help out as well.
While I wasn't happy about what happened in the Columbus last month, this post was meant to be partially humorous. When watching these games, I have to remind myself that it's entertainment and the student-athletes are 18 to 22-year-old young adults who are still developing, going classes and trying to figure out life.  I try to remind my friend Alim Gaines about his whenever Michigan loses.
These student-athletes are also unsalaried amateurs which is something we debated at Buffalo Wild Wings during the game with our friend Hestin Brown. Alim's brother Raheem was there watching the game as was my brother Amahl who was sporting his "Michigan Brother" t-shirt.  Alim was steadfastly rooting for Michigan while Raheem whom I sometimes refer to as "Urban" Gaines was rooting for Ohio State.  Hestin was new to the College Football world but decided to root for Ohio State who he perceived as the underdog.  He also tormented me and Alim as he continually speculated about Jim Harbaugh leaving Michigan to coach his former quarterback at Stanford Andrew Luck – now with the NFL's Indianapolis Colts.
Most importantly there are more serious events taking place in our world. The Monday after the game, there was actually a small Terrorist attack on Ohio State's campus which was probably partially overshadowed by the CFP happenings.  My condolences go out to the families who were affected in that incident, and while we get upset that our favorite college teams don't do this or do that, it's important for all of us to keep perspective.  Happy Holidays and GO BLUE!!!!
Thank you for taking the time out to read this blog post.  If you've found value here and think it would benefit others, please share it and or leave a comment.  To receive all of the most up to date content from the Big Words Blog Site, subscribe using the subscription box in the right hand column in this post and throughout the site.  Lastly follow me on Twitter at @BWArePowerful.  While my main areas of focus are Education, STEM and Financial Literacy, there are other blogs/sites I endorse which can be found on that particular page of my site.