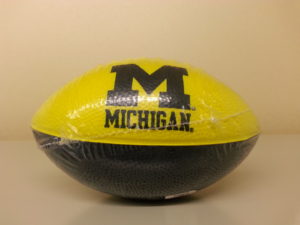 On September 2, my No. 11 Michigan Wolverines opened their 2017 campaign with a 33-17 victor over the No. 17 Florida Gators down at AT&T Stadium in Dallas, Tx. The win was a pleasant surprise following last season's stumble to the finish line where the maize and blue lost three of its last four games to Iowa, Ohio State, and finally Florida State in the Citrus Bowl. See my summary of our controversial and painful loss to the Ohio State Buckeyes (damn the B1G officiating crew that day), and then the circus which led to the selection of the 2017 College Football Playoff which Clemson ultimately won.
Many fans wondered how the Wolverines would look with so many players needing to step up and into the starting lineup for the first time. My personal feeling going into this season was to approach it with low expectations as our team was going to be young and would likewise have to figure some things out along the way. That's what I thought when Coach Jim Harbaugh wearing his signature kakis, trotted out his team wearing surprisingly all-maize uniforms.
After winning the coin toss, Coach Harbaugh elected to kick first giving us a look at Defensive Coordinator Don Brown's new young unit. I must say that they looked very good, aggressive and hungry. They were led on the defensive line by Rashan Gary, and Maurice Hurst. Our linebacker core which returned only Mike McCray looked particularly aggressive as well led by sophomore middle linebacker Devin Bush, Jr., who almost got himself taken out of the game on Florida's first offensive series. The secondary snatched a couple of interceptions as well from both Feleipe Franks and Malik Zaire – neither being able to get into a rhythm.
Our offense? That was a different story. I'm probably not alone in thinking that our offense is going to rely heavily on the play of fourth year junior Wilton Speight who stands at 6'6", and has a strong arm, but who struggled down the stretch last year after a fast start. After throwing a touchdown to Tarik Black on a play-action pass, Speight threw two interceptions – one bouncing off the hands of his target and the other an overthrow both of which were pick 6s leading to a 17-13 Florida lead at halftime. After being pulled out the next two series for John O' Korn, Speight returned and was under control the rest of the game. He finished completed 11 of 25 passes for 187 yards, one touchdown, and two interceptions.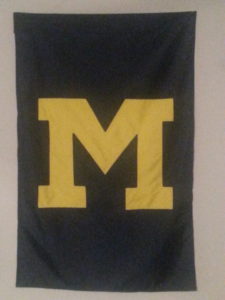 The bright spot of the offense was the running game. Our ground game yesterday with Chris Evans and Ty Isaacs carrying the ball behind the left side of the line, showed signs of explosiveness – something I think that hurt us last year and would have been the difference against Iowa and Ohio State. If the running game is solid this season and compliments Wilton Speight's arm, I think it's going to be a good year and the Michigan faithful will be singing "The Victors" regularly and often. Our kicking game looked good too with though our new kicker Quin Nordin who hitting two 50-yard field goals and accounting for 12 of the Wolverines' points.
Overall I was personally pleased with yesterday's performance, especially the defense which will keep us in every game if they continue to play like that. Offenses which involve rhythm and timing sometimes take a few games to gel, and I'm confident Coach Harbaugh and Coach Drevno will eventually have the unit clicking. I'll still watch cautiously though. It's a four month season and anything can happen – injuries in particular as we found out last year with Wilton Speight's collarbone, and the year before that with Ryan Glasgow's forearm – both changing the trajectory of their respective seasons. Also keep in mind that a number of Florida's players were suspended for yesterday's game so we might not have gotten their best punch though the way they looked, it may not have made much of a difference.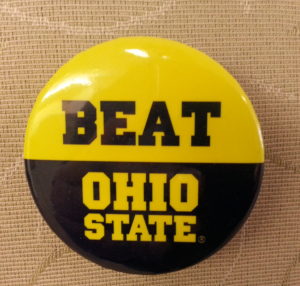 Oh and by the way, Ohio State won handily over Indiana 49-21 in a cupcake of a first game. I'm sure all of us will be keeping an eye on Urban Meyer's Buckeyes in anticipation of our matchup with them on November 25. We'll also be keeping an eye on the Michigan State Spartans. Both teams travel to the Big House this season. Both beat us on controversial plays in 2015 and 2016, so perhaps this year we can send them both home with losses. Look for another blog post from me after the Michigan State game. GO BLUE!!!!!
Thank you for taking the time out to read this blog post. If you've found value here and think it would benefit others, please share it and/or leave a comment. To receive all of the most up to date content from the Big Words Blog Site, subscribe using the subscription box in the right hand column in this post and throughout the site. Lastly, follow me on Twitter at @BWArePowerful. While my main areas of focus are Education, STEM and Financial Literacy, there are other blogs/sites I endorse which can be found on that particular page of my site.