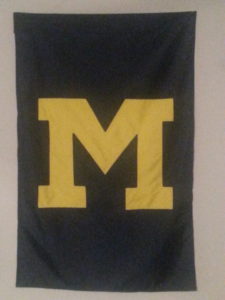 I'm going to try to keep this short as I'm still processing the Michigan Wolverines' 31-20 defeat at the hands of the Ohio State Buckeyes. Late into the night I could still see John O' Korn's fateful final interception in my mind. As opposed to going into a play by play discussion of what happened in the 2017 matchup, I'm just going to reflect on the game, and the season in addition to some of what I saw on Twitter from our following the game.
Regarding of the game, I was pleased with the maize and blue's effort despite the outcome. Honestly my hope going into the game was that we would keep it close and respectable, and not get blown out. I know that's not a high bar, but based upon how this season has gone, having a chance to win was what I wanted, and which is right where we were at the end. After the Wolverines went up 14-0, I was feeling good – even optimistic that we were witnessing a miracle though in the back of my mind, I knew that Urban Meyer's Buckeyes would eventually throw some haymakers of their own which is exactly what happened when J.T. Barrett gashed our defense and ran into the endzone for their first score.
I also knew that there would be some miscues and mistakes here and there such as when Rashan Gary had J.T. Barrett wrapped up but somehow let him get away for a first down. There was also Quinn Nordin's extra point that got blocked which I felt would come back and bite us eventually. Unlike the 2016 game, I thought the officiating was fair. Speaking of J.T. Barrett, when he went down, I thought for a brief instant that their offense would lose something, but that wasn't the case as Dwayne Haskins entered the game and continued marching the Buckeyes up and down the field with his arm and legs. It looks like the Buckeyes have Barrett's replacement for next season unfortunately.
After the game, as you might expect there was a little bit of everything on social media. Buckeye fans, and fans from other schools mocked the Michigan Football program,3 and called Head Coach Jim Harbaugh "overrated." The Michigan fan base was split as it always is – some crying about how unacceptable this game and the season were, and others saying that it was a tough season but the results were unexpected. Some inevitably compared Coach Harbaugh's record to Urban Meyer's and Nick Saban's – particularly that they had won championships in their third years. There was a little bit of everything.
Regarding the Michigan fan base, I proudly fall in the latter group. I started off this year with tempered expectations and anticipated some growing pains. Michigan fans must first consider that our football program lost a lot of seasoned and experienced veterans from last year's team as described in my summary of the Maryland game. Those players had suffered their fair share of heartbreaking losses like yesterday's and were eventually better for it. Also consider that our young team was riddled by injuries this year at key positions mainly on offense which is the one unit that struggled the most this year. Both Wilton Speight and Brandon Peters went down with injuries. Tarik Black who looked like he was going to be our deep threat, went down early changing the whole chemistry of our offense. In the middle of the season, our stable of running backs started to show signs of wear and tear as well.
In most sports but particularly in football, young players need time to grow, evolve and develop confidence and toughness, and I hypothesize that we're going to see a much, much stronger unit next year – one that will hopefully win its rivalry games and shut everyone up. We should particularly have Grant Newsome back who blew out his knee early last season, and who will give us a much stronger and deeper offensive line which is a major key to Coach Harbaugh's offense. What will probably have everyone's attention going into the 2018 season though will be the quarterback position. It's going to be to an intense competition the likes of which we haven't seen since Tom Brady and Drew Henson.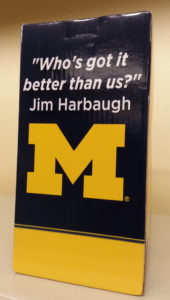 Earlier this evening, ESPN reported that Wilton Speight is going to transfer to another school likely leaving a quarterback 9competition between Brandon Peters and Dylan McCaffrey. Brandon Peters looked very poised and in control of our offense before getting knocked out against Wisconsin. Some fans such as one of my buddies want to give the job right to McCaffrey. Speight's departure makes it much easier on Coach Harbaugh and his staff though the decision will be a critical. With both Peters and McCaffrey being young guys, Michigan will likely have continuity and stability at the quarterback position in the years to come barring injuries – something we haven't had under the Coach Harbaugh's tenure thus far. Either way, there's no place to go but up for the Michigan Wolverines, and I think Jim Harbaugh is the guy to take our football program to the top, despite the clamoring by the critics.
GO BLUE!!!! Thank you for taking the time to reading this blog post. If you enjoyed this post, you might also enjoy:
• John U. Bacon presents his new book Endzone to Michigan's D.C. Alumni Club: A look back
• Michigan defeats Maryland 35-10: Two weeks until the 2017 Ohio State game
• Michigan beats Florida 33-17: a recap of the maize and blue's 2017 season opener
• The 2016 Michigan-Ohio State game, the Big Ten officials, and the College Football Playoff
• Chris Herren discusses his journey, drug addiction, substance abuse and wellness
If you liked this post, please do click the like button, leave comments, and share it. To receive all of the most up to date content from the Big Words Blog Site, subscribe using the subscription box in the right hand column in this post and throughout the site. You can follow me on Twitter at @BWArePowerful, and you can also follow me at the Big Words Blog Site Facebook page. While my main areas of focus are Education, STEM and Financial Literacy, there are other blogs/sites I endorse which can be found on that particular page of my site.