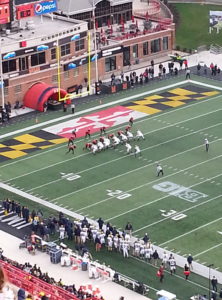 On Nov. 11, Coach Jim Harbaugh's No. 21 ranked Michigan Wolverines pushed their record to 8-2 overall, and 5-2 in the Big Ten East with a 35-10 victory over the Maryland Terrapins in College Park, MD. Michigan's dominating performance started early holding Maryland scoreless until the third quarter when the Terrapins scored their first three points. With redshirt freshman Brandon Peters under center, the Wolverines used a balanced attack where the running game gave Peters time to sit back and find targets like tight end Zach Gentry who rumbled into the end zone in the second quarter to put the maize and blue up 21-0 (see ESPN's box score for more stats). Other scores were by Chris Evans who actually leapt over a Maryland defender late in the game as Michigan wore down the clock, Henry Poggi and Sean McKeon.
"Go Blue!!!!!" we Michigan fans said to each other on Washington, DC's metro system as we commuted to the game to sit and watch our storied football program in 30 degree temperatures. It was pretty much a home game for the maize and blue, as we all sung "The Victors" in the stands after Michigan's scores. Many of the Maryland fans left the stadium at halftime with their team down 28-0.
It's been an interesting football season for the 2017 Michigan Wolverines. Michigan's victory over Maryland wasn't a surprise to the fan base. Having fallen out of the Top 25 following our loss to Penn State two weeks ago, I didn't realize that Wolverines had crept back into the AP Top 25 and the Coaches Poll at Nos. 21 and 22 respectively after blowouts of Rutgers and Minnesota. The question now is will the maize and blue still be ranked when the clock expires on November 25, in two weeks? The final two tests of the 2017 Michigan Football Wolverines may be their biggest of the season; a match up with the undefeated Wisconsin Badgers at Camp Randall Stadium who are ranked No. 3 in the Coaches Poll, and then our old friends the No. 11 ranked Ohio State Buckeyes at the Big House who just crushed Michigan State last night 48-3.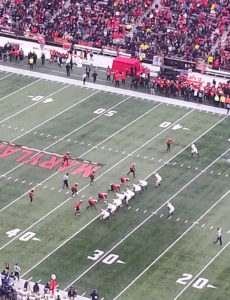 As described in my recap of the season opener against the Florida Gators, the results of this season haven't been completely unexpected, at least by some of us in the fan base. Going in, I saw this season as a rebuilding year where there might be some growing pains. While quarterback Wilton Speight returned, he did struggle down the stretch of the 2016 season albeit while healing from a broken collarbone. Even with his experience, and bringing us close to beating Ohio State in that controversial 2016 loss, we graduated three very experienced receivers in Jehu Chesson, Amara Darboh, and tight end Jake Butt, replacing them with a talented but young receiving corp. Tariq Black, probably our best deep threat was lost early this season to a foot injury, and the rest of the group has made its share of mistakes; dropped passes, fumbles, and an inability to get separation from defenders. While he wasn't the most explosive running back, we also graduated De'veon Smith who was a very effective pass blocker – a key component of the pro-style offense Coach Harbaugh runs.
Pass protection has been a major area of struggle for the Wolverines since the beginning of the season which arguably led to Wilton Speights three cracked vertebra. It's remained a problem as backup quarterback John O' Korn also struggled and had been on the run the majority of the time after taking over for Speight. Against Rutgers, Coach Harbaugh inserted Brandon Peters in relief of O' Korn who has looked good, although against weaker opponents. The positive is that the running game seems to be rolling now which may simplify the game for our young offense and will open the passing game for Peters, or Wilton Speight should he return. Recent reports are saying that he is on the mend and I wouldn't be surprised if Coach Harbaugh plays him against Ohio State in two weeks.
The one constant for the 2017 Wolverines has been the defense led by Rashan Gary, Maurice Hurst, and Devin Bush. Coach Harbaugh and Coach Don Brown have done an excellent job not only replacing last year's veterans like Chris Wormley, Ryan Glasgow, Jourdan Lewis and Jabrill Peppers, but they've also kept this unit motivated and hungry even when the other side of the ball hasn't delivered much help. Our kicking game has been pretty consistent as well.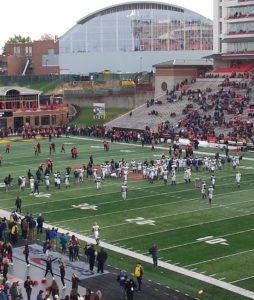 Many Michigan fans have grown restless as this season has gone by. Coach Harbaugh has been criticized for running too complicated an offense for the crop of players he has. One high school buddy with very little patience has been particularly frustrated that the maize and blue isn't in this year's College Football Playoff discussion this season often comparing Coach Harbaugh to Nick Saban and Urban Meyer. My buddy actually isn't alone though as part of the Michigan fan base has short patience and is sometimes unrealistic in its expectations causing us to squabble amongst ourselves.
If one is being realistic, the results from this season make sense. Once again the Wolverines graduated several experienced players at key positions from last year's team which was in the playoff discussion throughout the year. In pretty much any arena, it takes time, experience (some mistakes) to figure out how to excel. As a mentor often tells me, "Success and failure live side by side, and you can't have one without the other." My guess is that the experiences from this season will make the 2018 team and those going forward very solid units, perhaps even championship-caliber football teams.
This year's team has also been nipped by injuries. While Wilton Speight didn't charge out of the gate early on like many of us hoped he would, but he was our most experienced quarterback who played in some very big games last year. The loss of Tariq Black also took away our best deep threat. Lastly if you look at Coach Harbaugh's records at the University of San Diego and at Stanford, his successes were gradual until his teams became powers, both in his fourth years I believe. Since coming to Michigan he had a crop of players he didn't recruit, and coached them up well all while bringing in his own recruits who are getting on the job training right now.
I'm going to approach our two remaining games with a controlled optimism as I did this season in general. Both Wisconsin and Ohio State have no doubt been watching game film on Michigan and know that the big question mark for our team is our passing game. Our defense will likely buy time as it has all season, but our opponents will likely "load the box" to stop our running game and then try to make Peters or Speight if he comes back, try to beat them. My prediction is that our passing attack, will dictate the outcomes of the next two weeks. I have to think that Coach Harbaugh has thought about this as well, and may have a few tricks up his own sleeve.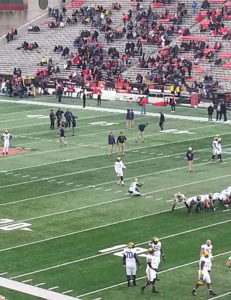 Speaking of Coach Harbaugh, similar to the 2015 Maryland game, I caught a glimpse of him and the team as they shuffled out the locker room under the night sky, and onto their busses dressed in their maize and blue sweat suits. That year it was 12 or 1 pm kickoff, and the graduate transfer Jack Ruddock was our starting quarterback beating out both Shane Morris and Wilton Speight for the job. That season Coach Harbaugh inherited a team consisting mostly of Brady Hoke's recruits – many of which were very talented players who themselves had taken their share of lumps and growing pains.
I recognized offensive and defensive coordinators Tim Drevno, Don Brown, and defensive line coach Greg Mattison immediately. As a Michigan alumnus, I also recognized longtime radio analyst Jim Brandstatter. Some of the players went straight to their busses with their postgame meals in hand which looked like Chik-Fila. Others stopped, signed autographs and took pictures with the fans. I also recognized wider receiver Grant Perry. Coach Harbaugh who is a rock star in his own right created a buzz when he came walking through. I recognized Maurice Hurst as well whom I follow on Twitter. He took a picture with me and godson, a freshman football player at Bowie High School. He was nice enough to wait while I turned my phone back on, which was almost dead at that point.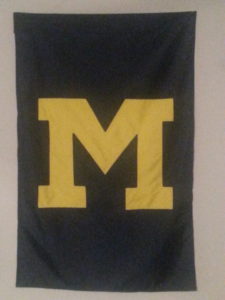 GO BLUE!!!! Thank you for taking the time to reading this blog post. If you enjoyed this post, you might also enjoy:
• Michigan beats Florida 33-17: a recap of the maize and blue's 2017 season opener
• The 2016 Michigan-Ohio State game, the Big Ten officials, and the College Football Playoff
• Chris Herren discusses his journey, drug addiction, substance abuse and wellness
If you've found value here and think it would benefit others, please share it and/or leave a comment. If you liked this review, please do click the like button, leave comments, and share it. To receive all of the most up to date content from the Big Words Blog Site, subscribe using the subs3cription box in the right hand column in this post and throughout the site. You can follow me on Twitter at @BWArePowerful, and you can also follow me at the Big Words Blog Site Facebook page. While my main areas of focus are Education, STEM and Financial Literacy, there are other blogs/sites I endorse which can be found on that particular page of my site.