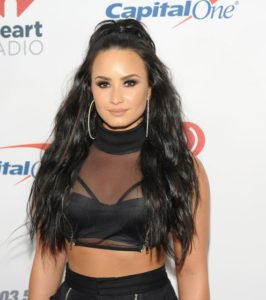 A major focus of my blog is Health and Wellness – see my interview with fitness expert James Tate, and my post regarding Chris Herren's visit to Northern Virginia to discuss his battles with substance abuse. In Pop Culture, we often see celebrities fall victim to the same addictions and vices as everyday non-celebrities. A recent case is recording artist Demi Lovato. The following guest post by Sam Cardigan discusses what led up to her overdose. The image of Demi Lovato used in this post is attributed to Timothy Hiatt of Getty Images.
* * *
In a sad development for fans of Demi Lovato, the singer suffered a setback in her battle with addiction when she was recently brought to the hospital for an apparent drug overdose.
The Los Angeles Police Department responded to an emergency at her home where she was reportedly found unconscious. She was reportedly treated with Narcan, a medication to immediately reverse opioid overdose, prior to being transported to the hospital.
Lovato has been open about her years of struggle with substance abuse. Just last June, she admitted relapsing after celebrating six years of being sober last March.
In the song "Sober", which dropped June 21, the former Disney star sang about her struggle. Some of the lyrics seem to refer to her cravings for substances that are manifested by shakes and cold sweats. Demi then talked about not wanting any of those feelings as she pled for someone to call her when they were over.
She further sang about the people who never left her and who had been with her during her years of struggle. She finally asked for forgiveness as she acknowledged she is no longer sober.
The "Tell Me You Love Me" singer openly spoke of her substance addiction, eating disorder, bipolar disorder, and depression. She has also publicly shared about going to rehab to address these problems. Here is a look back at her history leading up to this tragic overdose:
Trying Out Drugs in 2009
In Demi's 2017 documentary Simply Complicated, she shared that she first tried cocaine in 2009 when she was only 17 years old. Her friends were the ones who introduced her to the drug, which she was scared to try at first because her mom had cautioned her about it. Still, she did try it and claimed she "loved it."
The singer-songwriter also claimed she was curious about drugs and alcohol because her birth father struggled with those substances and chose them over his family.
Rehab for Anorexia, Bulimia, and Cutting in 2010
Also in the documentary, Lovato talked about an incident with one of her backup dancers—a physical altercation that led the then 18-year-old singer to seek treatment for physical and emotional issues.
Lovato said she just remembered going up to the dancer and everything else was a blur. However, she remembered how everyone was freaking out about what happened and that she texted her mom the words, "I'm sorry."
Shortly after that, her representative released a statement saying she was owning responsibility for her actions and that she was seeking help. During this treatment, Lovato learned she has a bipolar disorder.
Acknowledging Bipolar Disorder in 2011
In April 2011 or three months after leaving rehab, Lovato bravely revealed her bipolar disorder during an interview with People magazine. Around this time she also opened up about her bulimia and cutting issues.
Entered Sober Living Home in 2013
She spent most of the entire year of 2013 in a sober living home in Los Angeles. It was right about this period when she admitted to struggling to survive as little as half an hour without using cocaine. She also said that she would sneak some of the substance inside the airplanes.
In an interview, she said that she would wait for everyone to fall asleep and then sneak into the bathroom and do her thing there.
But Lovato claimed that she had her last drink in January 2012 and that she has been attending Alcoholics Anonymous meetings just like any other person struggling with addiction would do.
Struggle with Sobriety Between 2013 to 2018
The singer opened up about her struggles to remain sober in an interview with Glamour last December 2016. She acknowledged that she didn't stay sober even after coming out of rehab. She further said that she occasionally has issues, with some days being difficult while the other days are easy.
In March of 2017, she took to Instagram to share how long she has been sober. She posted about how proud she is of her journey and how, "my higher power (God), my family, friends, and everyone else," supported her.
Drug Overdose in 2018 and Her Road to Recovery
It was initially reported that Lovato had a heroin overdose but she has not been in rehab for heroin addiction in the past. She remained in the hospital longer than expected due to complications — a source told People that she had a fever and some signs of infection, and also was being treated for issues generally associated with a drug overdose—but was, "expected to make a full recovery." As of Aug. 7, the Skyscraper singer was reportedly out of the hospital and in rehab.