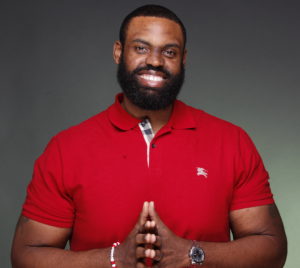 One of the goals for my blog is to help expose for other individuals with new and novel ideas/projects of their own which is in line with my principle of "Creating Ecosystems of Success" – a major part of which is health and wellness.  Occasionally my alma maters will show up in my writings, and in the spring I conducted an interview with Robert Ridley, President of Johnson C. Smith University's DC Alumni Chapter regarding our "150 and Beyond Campaign" to raise money for our scholarship endowment.
I recently heard about a children's book created by another fellow JCSU alumnus; James "Big Dogg" Tate, who has his hands in numerous projects relating to health and wellness.  I thought interviewing James would be make for a compelling interview for both of us, and would further be educational for any readers based on his passion and knowledge of health and fitness.  In the following interview, James talks a little bit about his background, and his new book Kool Kids & The Land Of The Giants.
Anwar Dunbar:  Hello James.  First, thank you for agreeing to do this interview and discussing your new book, Kool Kids & The Land Of The Giants on my blog.  It looks like you've created something really positive and helpful here.  I graduated from JCSU in 1999, so I vaguely remember seeing you on campus.  Where are you originally from?
James Tate:  I was born and raised in Washington, DC.
AD:  Where did the nickname "Big Dogg" come from?
JT:  I had many nicknames growing up, but that's the one that stuck.  Because I was an overweight child, teen, and adult, I had nicknames like "Fatz", "Biggie", "Big Daddy", "Pooh", etc. – but "Big Dogg" has stood the test of time, through different schools and states.
AD:  What did you major in at JCSU?
JT:  I'm a 2002 graduate of JCSU.  I majored in Computer Science/Engineering.  I am also a member of the Alpha Epsilon Chapter of Kappa Alpha Psi Fraternity, Inc.
AD:  A couple of years ago, you were the featured speaker at our JCSU DC Alumni Club's monthly meeting where you gave us a powerful talk about diet, health, and fitness.  With your training at JCSU being in Computer Science/Engineering, what got you into health and fitness?
JT:  I was actually forced into health and wellness.  I was an overweight child, an overweight teen, and an overweight adult.  I was involved in an accident that left me immobile for a year. After that year, my weight was over 400 pounds.  I then had three years of physical therapy.  My doctor told me that my injuries would never heal unless I lost weight.  With me being overweight my entire life, I didn't think it was possible.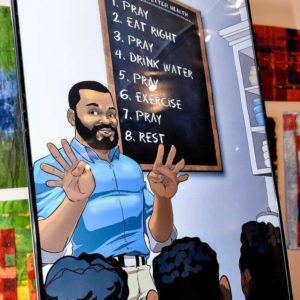 I rededicated my life to Christ at the New Year's Eve service going into the 2010 year.  I prayed for help, and I started studying scriptures about health and wellness.  I read Christian wellness books, and attended Christian wellness group meetings.  By the end of 2010, I had lost over 200 pounds naturally.  I then went to nutrition school and finished with my first certification. I currently hold six wellness certifications and own my own wellness practice.
AD:  Wow, that's amazing.  I too was overweight as a child for a little while until my mother stepped in and made me get more active and controlled my portion sizes; so we share some common ground there.  In middle school I had some nicknames that I wasn't too fond of myself.
Before we talk about the Kool Kids, I started reading SALT: Black America's SILENT KILLER.  I pretty much knew about kidney dialysis, but Dr. Surender Reddy Neravetla also went into graphic detail about cardiac bypass surgery – specifically, how high blood pressure can persist even after the operation, and how the surgeon can only prescribe more blood pressure lowering medication at that point.  There's a definite mental/quality of life cost to having conditions like diabetes, and heart disease.  There's a financial cost as well to the individual and to society.  With all of the debate here in Washington, DC about the Affordable Care Act, I think there is something to be said here about preventative care/lifestyle.  I mean who wants take 10 medications and go on dialysis if they don't have to?  Can you say anything about the financial costs of being unhealthy in terms lifestyle – maintaining a poor diet and not staying physically active.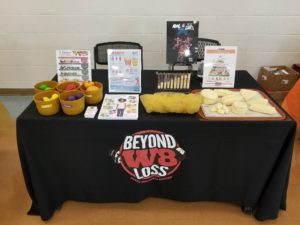 JT:  That's a great question.  Healthcare starts in your kitchen and obesity costs our country a lot of money annually – roughly 200 billion dollars depending on the source reporting the dollar amount.  Many of us don't consider the cost of obesity and obesity-related diseases.  We only consider the cost of the food we purchase today.  Because we think this way, we go for the cheapest, most convenient options, not thinking about the long-term effects of that food.  I like to say that people will put 93-Octane fuels into their $50k car, but will consistently put 87-Octane (regular) foods into their multi-million dollar bodies and expect them to run at an optimum level.  Ironically, they're shocked when their bodies eventually break down. For African Americans, 95% of the chronic illness that we suffer from today are caused by poor food choices.   That means that a lot of what we suffer from is preventable.
AD:  How did you come up with the idea for Kool Kids & The Land Of The Giants?  Just briefly, without giving too much away, what's it about?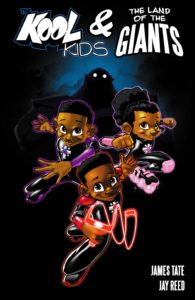 JT:  The Kool Kids are a group of Christian kids who will motivate, educate, and inspire you and your family to defeat the giants in your life/land – giants such as Obesity, Diabetes, Heart Disease, High Blood Pressure, Depression, Debt, etc.  We have become comfortable living with certain diseases and have even given them cute nicknames like calling diabetes, "A touch of sugar."  I wanted to remind people that diseases are monsters and we should treat them as such.  Also, it's been said that this is the first generation of children that will not outlive their parents due to obesity and diseases related to obesity.  So I want to teach them about health and wellness in a new and fun way with characters that they can relate to while including biblical principles.  I was unable to find any health and wellness books that were biblically based that starred super heroes of color, so I decided to create one.
AD:  Wow.  That's a great idea James.  Are you envisioning any sequels?
JT:  Yes. The Kool Kids is a series and in each book they will take on a new giant.
AD:  Where can people purchase the Kool Kids?
JT:  You can order a copy of The Kool Kids from my web store, http://store.beyondw8loss.com. You will also find Kool Kid merchandise there as well.
AD:  Do you have any parting words?
JT:  First, thank you for interviewing me, and I thank everyone who takes the time to read this interview.  It's my prayer that we learn to take our health seriously.  Again in terms of the chronic illnesses that we suffer from, especially as African Americans, 95% are caused by poor food choices.  We can change and reverse so much just by paying attention to what's on the end of our forks.
AD:  Well James, thank you again for agreeing to do this interview.  I'm going to get a couple of copies Kool Kids for some of the folks in my own network.
Thank you for taking the time out to read this interview.  If you've found value here and think it would benefit others, please share it and or leave a comment.  To receive all of the most up to date content from the Big Words Blog Site, subscribe using the subscription box in the right-hand column in this post and throughout the site or add the link to my RSS feed to your feedreader.  Please visit my YouTube channel entitled, Big Discusssions76.  Lastly follow me on Twitter at @BWArePowerful, on Instagram at @anwaryusef76 and the Big Words Blog Site Facebook page.  While my main areas of focus are Education, STEM and Financial Literacy, there are other blogs/sites I endorse which can be found on that particular page of my site.