The first principle of my blog is Creating Ecosystems of Success and a key focus is Career Discussions. No matter which career you're in, you want to get to a place where you exuding confidence at work. While each job title and career are different, there are some common areas you can focus on to increase your confidence. The following contributed post is thus entitled, Improving Your Confidence at Work.
* * *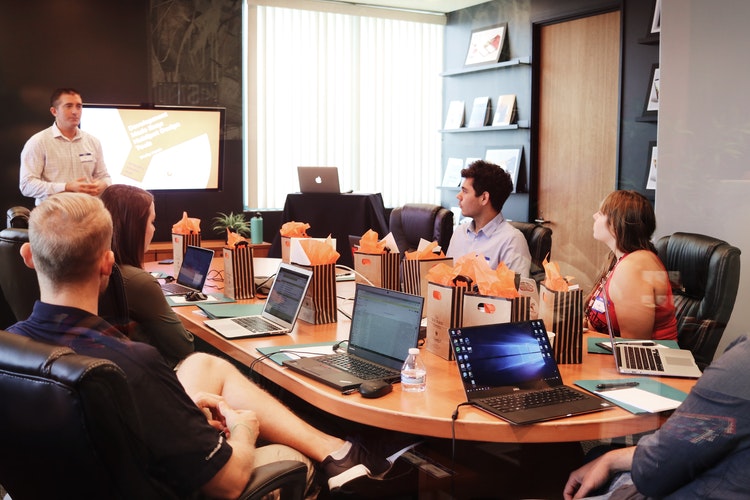 Image Credit: Unsplash
Confidence is a funny thing. You be fine in some situations and then totally lose it in others. Such is the human condition. We all have different fears and anxieties and they play into how confident we feel in different situations.
Our confidence can be fleeting in some cases and strong in others. But learning to face your flaws and feel confident in every area is still possible. You just need a strategy for each area.
Presentation Skills

One of the main fears people have is a big presentation. Often the fear stems from having everyone in the room look at you and judge you for what you are saying. Even if you feel proud of the presentation you have made, there is always that nagging doubt that you got everything wrong!
Luckily, you can improve your presentation skills with practice and a little refinement. Perfecting your presentation to make sure that it is readable and easy for you to follow is the first place to start. If a sentence isn't flowing or you are tripping over your words, a small rewrite will make a big difference. Similarly, finding a strategy to cool your nerves is a good idea. Practice your presentation a few times to get a feel for it and take a few deep breaths before you start. Speak a little slower than you might usually and you will soon find a rhythm.
Conversation in Meetings

There is a huge difference between feeling confident in making a presentation and being able to share an idea in a meeting. For one thing, in a presentation you just have to talk whereas in a meeting, you need to listen and progress the conversation.
One of the first steps is to persuade yourself that the jitters you feel are excitement rather than anxiety. This might sound weird but actually, the positive reinforcement does help.
The next thing to do is commit to talking early on in the meeting. The longer you stay silent, the harder it is to jump in. If you like, take in some notes so that you remember the points you want to make or discuss and do take notes as people talk to help you keep up.
Talking on the Phone

The phone is becoming something of a lost art between text and email but it is still a vital office skill everyone should have. There are lots of ways to learn how to talk on the phone and taking notes as someone speaks will help you concentrate. Again, speaking a little slower than usual makes things easier.
If you are making the phone call, it's a good idea to plan what you would like to say ahead of time. Before you even dial you can have a list of key points, words and phrases you want to say. However, do allow for some deviation from your script. Keep things relaxed and don't worry if you need to think about a response – just say you need to think!
Over time, your confidence at work will improve in all situations. Be patient and try not to let your anxiety spiral – you've got this!