Two of the focuses of my blog are Financial Literacy/Money and Business/Entrepreneurship. As an entrepreneur working from home having quality office space is critical as it can help maximize your output. The following contributed post discusses creating the perfect home office space and in entitled, How To Create The Perfect Home Office Space.
* * *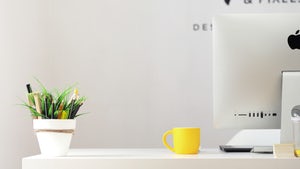 Photo by Georgie Cobbs on Unsplash
If you're an entrepreneur working from home then it is absolutely essential you have an office space that both inspires and motivates you to do your best work. Often people will work from whatever space they have available, but this can be damaging to your overall productivity and the level of work you produce.
With this in mind, here are 6 different ways to create the perfect home office space:                             
     1.  Use A Colour Scheme That You Like
If you're able to decorate the room that you're designating to be your office, decorating it in a colour scheme that you like will encourage you to spend more time there. There is nothing worse than sitting in a room that is poorly decorated, or that is designed in a way you absolutely hate. Not only does it have you worrying about if you'll ever get around to renovating, but it puts a dampener on your whole mood.
2. Have Wall Art And Decorations That Inspire You
Accessorising your office is not a necessity, but it can definitely help inspire you on a day to day basis. The little touches you make will truly make the office yours, making it space you're happy to be in for up to 8 hours a day. A popular way to decorate an office among entrepreneurs is to create a wall of different sized, motivational prints, something which looks incredible when done properly.
3. Ensure You Have A Large, Sturdy Desk
Having a desk is important in a home office, but ensuring its one that can take at least 8 hours of work each day is absolutely essential. There are lots of good desks available on the high street, but if you want to something that suits your working style, you could try creating your own our of various different materials including wood and steel.
For more information on using steel, you can visit Wasatch Steel online steel sales here.
4. Make Lots Of Space For Storage
Chances are that working from home will mean you'll have lots of bits and pieces you'll need to store. Whether they're notes for conference calls, old invoices or stock and merchandise – storage space is incredibly important to the look and feel of your office as it means you'll be able to keep everything neat and tidy. You know what they say, a tidy office makes for a tidy mind!
5. Have A White Board To Note Down Creative Ideas
You never know when inspiration may strike and although jotting down ideas in a notebook is perfect, having a whiteboard handy to plan out your ideas beforehand is a great way to encourage creativity. It can be used to put together lose plans that can in the future be turned into official notes in your notebooks, avoiding wasting paper and making your office an eco-friendly space!
Do you work from home? What key features do you have in your home office? Let me know in the comment section below?