The following guest post comes courtesy of Al Hill, Co-Founder of www.Tradingsim.com. It focuses on a case study for Cryptocurrency Apps – a topic related to my posts which discussed both Bitcoin and Blockchain Technology. While this post discusses Apps for financial transactions using Cryptocurrencies, it worth noting that the Big Words Blog Site is not involved in giving personal financial advice to readers and is not liable for any financial decisions made by readers. This post contains several infographics. Click on the images to enlarge them.
* * *
Why do a case study on cryptocurrency apps? Well, it wasn't up to me. There is just too much demand according to the number of searches from Google.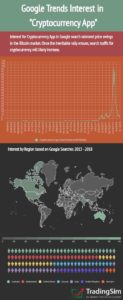 There are a lot of case studies on the web related to bitcoin and cryptocurrencies apps, so we wanted to do things slightly differently by defining a methodology to remove any inherit bias from the equation.
The study focused on 4 main factors on a normalized exponential scale of 1 to 100.
• Social Power- Social power is a custom ranking metric we created by weighting the numbers of followers across social networks: Facebook (45%), Twitter  (35%), and LinkedIn (20%)
• Total Number of Installs (provided only by the Google Play App Store)
• Total Number of Reviews
• Rating on the Google Play App Store (the IOS App Store only provides "4+")
So, after inputting these data points into our algorithm, what did we come up with? An awesome top 10 list for you to explore!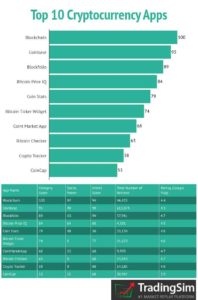 The top graph depicts the overall rating based on our methodology. Now, if you are a true data geek like me, please have a look at the supporting numbers in the table below.
As you can see, the methodology did create some separation between the best in breed.
Blockchain is the clear technology leader providing a framework solving many business challenges, one of which is the cryptocurrency market, so the 100 rating was not a shocker.
Some of the other apps are news outlets or provide the ability to track the value of currencies, which won't measure up in terms of value add against apps that allow you to buy cryptos or use them as a form of payment.
But what makes Coinbase so popular?
The real story with Coinbase is the large number of reviews for their app.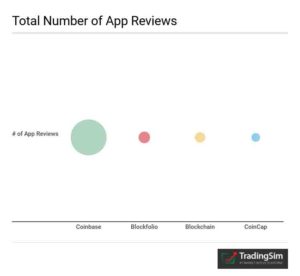 With the largest count of over 600k reviews, this was not by chance. Coinbase has a clear growth strategy focused on 4 pillars:
1. Create a simple retail exchange that allow consumers to invest in digital currency
2. Enable professional traders and institutions to trade digital currencies
3. Create an interface for people to make payments with digital currencies and developers to build applications that utilize this payment network
4. Simplify the development process and even invest in some partners that have awesome ideas
This approach creates evangelists that not only use Coinbase's products, but also scream about them from the rooftops.
You of course will need to determine which app works best for your needs, but how people are sharing and using the application is likely a great measure.
To access the full case study, please visit: https://tradingsim.com/blog/crypto-apps-study/
Al Hill
Co-Founder, Tradingsim.com