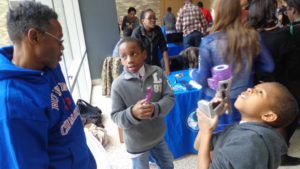 This is the continuation of my Black History Month interview with Dr. Vernon Morris of Howard University's Department of Chemistry and NOAA Center for Atmospheric Sciences (NCAS), originally published on the Examiner in February of 2016.  Not only is he a scientific peer, but he is also a hero of mine.  In addition to his duties at Howard University, he regularly takes his team out to the schools in the DC Public Schools system to conduct science demonstrations.  He is an example of regularly being visible, and working to fulfill the needs of students in the community.  In part one of the interview, we talked about his scientific path and his research.  In part two, we discussed his efforts to expose the students in the DC Public Schools to science.  Our discussion actually delves into some of the complexities and challenges of teaching science in the DC schools – only someone involved on the grassroots level would know and understand.
*  *  *
Anwar Dunbar:  At the 2015 Congressional Black Caucus Annual Legislative Conference there were numerous Science, Technology, Engineering and Mathematics (STEM) panels discussing what needs to be done to get African American kids involved in STEM.  You actually go out and do it on the grassroots level though.  You and Miles Holloman, you guys get the chemistry experiments and scientists together, and you go to the various schools in Washington, DC, which is very, very impressive and it's very necessary.  How did you all get started doing the Community Science festivals?  Also, what was your motivation for doing so?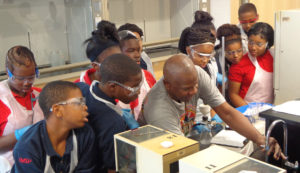 Vernon Morris:  We started in 2009 and part of our motivation is that we were seeing fewer and fewer students from Washington, DC who were coming to chemistry, or even coming to Howard and majoring in STEM at all.  Secondly, Miles is from DC. He grew up here and went to Dunbar High School and was thus familiar with the school systems close to campus.  I had become more and more familiar with the school systems and some of the deficiencies that needed addressing: retention in science, challenges to science education, and so it was really a response to the fact that our kids weren't getting science.  They weren't getting access to science mentors.  They weren't getting access to why science is fun and it's an exploratory kind of thing.  Even when I was young, while I didn't get encouragement from the school, I was always encouraged to get out and explore nature.  I had telescopes.  I had microscopes.  I had computing machines and equipment that my father would buy.  There was no resource for science that I didn't have access to in the house.  It's just that when I went to school, I had teachers shuttle me to things like woodshop.
But here in DC, Howard is sitting right in the middle of the community and there wasn't an effort that I could readily latch onto that was readily going into the community or to the schools and saying, "Here is a network of Ph.D.s and professionals in STEM, and now here is your resource for your teaching or for your classes."  I couldn't find anything, so I said let's just start going out a little bit.  We can put together some experiments, and it will help both the undergraduate and the graduate students communicate science, and build some of that giving back mindset towards the community.  It has been sustained, which is great, and I think the students have picked up on it and really enjoy it.
AD:  So the kids at the schools you're going to, they really enjoy it?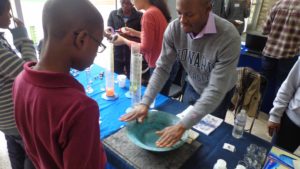 VM:  Yes, the kids really enjoy it in addition to the Howard undergraduate and graduate students.  I think we're getting better at it as well.  At the most recent American Association for the Advancement of Science (AAAS science) Day, the coordinator actually came over to our booth, thanked us and told us that we were one of the favorite tables there.  I think we find things that are engaging and bring the science to the kids' level.  And the community is important.  Its good to have those more polished events and venues to go to, but I think it's equally, if not more important, to get out into the community because it not only brings experience and exposure to the kids, but we can also talk to the parents about how to support them, and I think that's what is missed.
All of these diversity programs are great, but the parents and the schools are deficient, we know that.  One of the things I notice about our Caucasian and Asian counterparts is that their parents are heavily invested.  Even for me, without my parents encouragement, it was not going to happen.  And so one of the things we try to stress when we go out is that the parents come.  So before they drop off the kids, or when they're standing around watching, we always have a student or someone talking to them saying, "Your child really likes this.  Do you know about this or that resource?  We've got these camps that they can come and apply to, some of which are free."  We try to get information to their parents to support their kids, so that's what the difference is going to be.  We've had STEM programs for the last 30 to 40 years, but the percentage of African Americans going into STEM hasn't changed, and it's because we haven't engaged the parents.
AD:  So regarding the low participation in STEM in the DC schools, would that just be in Southeast DC?  And would you say that's due to budgeting?  Is it an economic or a cultural issue when the parents aren't really pushing their kids to be involved in or fostering that love for science?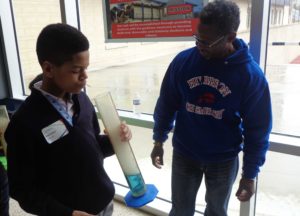 VM:  I don't think it's cultural.  I think it's socioeconomic.  I think you'd find a similar thing across all cultures if the economic stresses are great enough.  If the economic stresses are lower, parents have more time to go to the family science fairs or AAAS for two days.  There may be some cultural aspects, and I wouldn't say that its limited to southeast, but we know which Wards have the majority African American populations, and we target those Wards preferentially.  The schools we know in those Wards tend to have the least parental engagement and that tends to be the case wherever schools are disadvantaged or challenged.  You find that the parents aren't necessarily involved and making sure the standards are met.  I think cultural is too strong a way to say it.  I can't accept that as an African American culture, we don't expect the highest in educational standards.
AD:  Are the schools you go to receiving adequate resources from the school system?
VM:  I think it's changed over the last couple of years.  Some of the schools have significant investments, while at other schools, there's not enough.  There's a big differential in who gets what in DC.  If you look at the overall budget in DC, people argue that it gets more money per student than a lot of other school districts that are performing better.  I think some of that is the culture of the school system and the dichotomy between the governance of the school systems in Washington, DC.  That's always been vulcanized and it's tough to enforce standards when the body who generates the standards has no authority over what goes into the schools.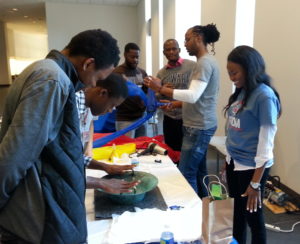 There is a separate body that governs what goes into the schools.  The politics of the DC schools, Michelle Rhee and all of these education gurus, its seen as a big experiment to a lot of people and the investment in the child has not been there, from what I've seen until recently, and I think they're trying to do some good things now.  The turf wars also create a lot of turnover of good people.  It's tough because the charter school system has degraded the amount of money that goes into the public schools and most of the schools. Now the private schools actually have access to government funding for education in DC.  So you have rich kids who get additional resources, the best teachers and the smallest classroom sizes, at the expense of schools who really need novel solutions to improve education in general, but STEM education in particular.
Dunbar High School did not have a lab.  There was no teaching lab in Dunbar High School until they built the new school a couple of years ago.  You've got one of the more famous high schools in Washington DC, and they couldn't possibly teach a lab in that school.  They couldn't teach any biology or chemistry.
AD:  So when you say a turf war, are you referring to competing for dollars between public and private schools?
VM:  Typically, you'll have a public school office and the state, but since DC is a district and not a state, you have two different offices; DC city public office and then you have another office to govern the schools, but it doesn't make any sense.  You have two offices that are in charge of the public school system.  So the way that it was drawn up I think is that when the schools were failing, the federal government created another office that would then take over.  The authority of that office, however, never quite usurped the powers that the city already had in existence.  The money goes to this other office, so they get to implement programs, but they don't have the authority to tell the teachers what they need to do.  That comes from the office that doesn't have the money.
So you have this schism in managing the school system.  And because you have that infighting there, you have the charter schools that have edged their way in, insisting they're a part of the school system and should get some of the money, and you have the private schools that have been able to make a similar argument, because charter schools are essentially private schools as well.  You have some very elite private schools in Washington DC (the International School for example), but I don't know that they need the resources from the DC government.  At the same time, you're shutting down historical schools in the District because there are so few kids left going to them.  The students get shuttled off to another school that gets over crowded as far as teaching goes.  It's very nuanced here in DC.  It's different than a state school system where you have counties and districts and where you have a well-defined hierarchy of management.  Here it's split.  It's bifurcated.
AD:  What advice would you give to young African American students who are interested in science, or those who have a curiosity about it, but are not sure that they can do it?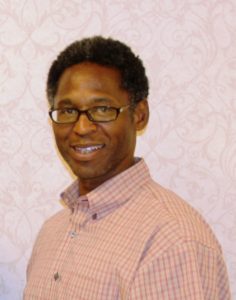 VM:  I would say this about a science career in general, it's a very rewarding career.  I really enjoy what I do and I love coming to work every day.  It's part exploration, mentoring and teaching, and writing and being creative.  It's being quantitative and using both sides of your brain.  And you can give back to the community and the nation in a very unique way.  And I think there are so many opportunities in science.  People think, "I don't want to do chemistry and I don't want to sit in a lab and mix chemicals", but there's a whole world of stuff outside of the lab that you can do.  It's the same thing for physics or mathematics, or biology.  It's an area that if you study it, the world is open to you.
If you study science for example, you can become a writer, but if you study writing only, you won't necessarily be able to become a scientist.  I think you have much greater opportunities if you study science and follow that pathway.  And I think the fulfillment is a wonderful thing for me.  I love what I do and couldn't imagine doing anything else.  My advice would thus be: do not fear it, really engage it, and see where it can lead you.
AD:  Well Vernon, thanks a lot.  There were a lot of valuable nuggets that you shared and a lot of people will benefit from this.  Keep up the good work and I will definitely see you soon at one of your community science festivals.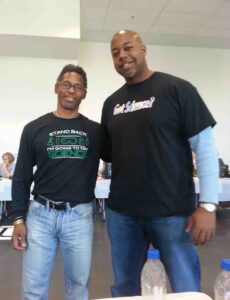 VM:  Okay, that would great.  We'd love to have you come out and help out Anwar.
Thank you for taking the time to read this interview.  A special thank you is extended to Dr. Morris and NCAS for providing the pictures in this post.  As described earlier part one of this black history month interview with Dr. Vernon Morris was published in a separate post.  If you've found value here and think it would benefit others, please share it and or leave a comment. To receive all of the most up to date content from the Big Words Blog Site, subscribe using the subscription box in the right hand column in this post and throughout the site. Lastly follow me at the Big Words Blog Site Facebook page, on Twitter at @BWArePowerful, and on Instagram at @anwaryusef76. While my main areas of focus are Education, STEM and Financial Literacy, there are other blogs/sites I endorse which can be found on that particular page of my site.