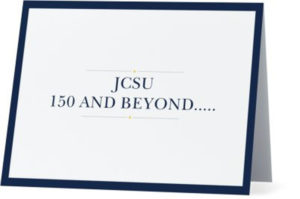 One of the focuses of the Big Words Blog Site is Education – all aspects.  Higher education is not just a means to a career and upward mobility, but it's also a business with both benefits and costs to the student, parents, the institution, and society.  Likewise, one of the major concerns of parents and students, in addition to getting into a school, is actually financing the college tuition, room and board.  The amount of money awarded students was, in fact, one of the major discussion points recently at the Richard T. Montgomery High School and the Alfred Street Baptist Church HBCU College Fairs.  Students received both onsite admissions and financial awards from prospective Historically Black Colleges and Universities (HBCUs).
Like many of my peers I have two alma maters – one a predominantly white institution (PWI), and a the other an HBCU institution.  When I think about the University of Michigan I tend not to think about financial challenges.  The opposite is true for my first alma mater, Johnson C. Smith University (JCSU) and other HBCU's.  I first heard about anemic alumni giving to HBCU's in one of Spike Lee's earliest films, School Daze.  These discussions continued throughout the years, and when writing for the Examiner I had an opportunity to interview Allstate's Cheryl Harris, a Florida A & M University.  She talked about low alumni giving and the Allstate campaigns with the Tom Joyner Foundation for raising money for HBCUs.
Four years ago, I became active in the JCSU DC Alumni Chapter which has been a very educational experience.  Alumni Chapters at smaller institutions are critical for steering new students to schools and helping to raise money so that they can remain open; again, something critical for HBCUs.  Since becoming the Treasurer for the local Alumni Chapter, I have had the privilege of working alongside my fellow Class of '99 alumnus and Chapter President, Robert "Big Philly" Ridley (Community Health Education).
Through his love for JCSU and the DC Alumni Chapter, Robert has worked tirelessly over the years to give back to our alma mater and future generations of Smithites.  Under his leadership, our chapter has recently embarked on the "150 and Beyond Campaign" to raise money for the JCSU DC Alumni Chapter's scholarship endowment.  To help get the word out about the campaign and encourage participation, Robert recently agreed to talk about the DC Alumni Chapter and the 150 and Beyond Campaign.
Anwar Dunbar:  First, Philly, thank you for allowing me help get the word out about the 150 and Beyond Campaign.  I've learned a lot about higher education, what Alumni Chapters do, and some of the inner workings of JCSU by working alongside you, Brenda Jones-Hammond and Marion Massey (and others) in the JCSU DC Alumni Chapter.  We're all volunteers and do what we do because we love Smith and as President, you've basically driven this whole movement.  In my opinion Smith is very fortunate to have someone like you advocating and being an ambassador on its behalf.
So first, let's get some background information.  How did you come to be the President of the JCSU DC Alumni Chapter?  What are your goals for the Alumni club?  What have been some of the challenges?
Robert Ridley:  I have been the President of the JCSU DC Alumni Chapter/Club for the past eight years.  When I became President, I was originally designated to be the Vice-President.  The designated President accepted a position overseas a month before the election.  Without any additional candidates, I was voted to become the youngest President in the history of the Chapter.
My primary goal as President is to increase membership and awareness about our Alumni Chapter.  During my tenure, I've increased membership from 24 members to more than 100 at its peak.  The biggest challenge in leading the Chapter is ensuring that our activities reach all alumni regardless of age.  Membership is trending down currently because it's a constant struggle to provide activities to such a broad range of alumni age-wise.  We struggle as a chapter to create narratives to encourage younger alumni participation.
AD:  Yes, we've scratched our heads quite a bit in terms of the "Young Alumni" (the Millennials) and their participation, or the lack there of, and we haven't figured it out yet (laughing).
You've actually talked to the younger alumni in the DC area about the kind of things they're looking for and their lives post JCSU.  You've also done some research on Millennials and their needs and tendencies, and the bulk of our chapter participants/members are interestingly over 30 years of age.  Do you want to say anything about this?
RR:  As it relates directly to the younger alumni, I encourage them to participate, share their voices and don't become frustrated with the more seasoned alumni.  I have found in my time as President, that the seasoned older alumni are open to any ideas you have as long as you can support them and they're well thought out.  The JCSU DC Alumni Chapter offers a perfect opportunity for you to be engaged with others from your alma mater, along with providing you an opportunity to shape the HBCU landscape for future generations.  I don't want to be the President for life and I am looking for young leaders to step forward and make the position their own. I encourage them to share their ideas and ways of communicating, and I ensure you it will be rewarding.
AD:  That's interesting Philly.  And yes, to any younger alumni reading this, questioning your ideas and trying to better understand them isn't necessarily rejecting them.  Sometimes it further helps in their development.  It's also true that, depending the generation, individuals can communicate and interact very, very differently.
What is the 150 and Beyond Campaign?  Where did the idea come from?
RR:  The 150 and Beyond Campaign was created to bring awareness to JCSU's 150th Anniversary.  We're looking for 150 alumni to give at least $150 to JCSU by June 30, 2017.  The idea came from myself and others within our chapter when we made a strategic commitment to have everything we do in 2017 speak to the University's 150th anniversary.
AD:  For the lay person, what exactly is an endowment and why are they important?  I remember frequently hearing talk about endowments when I was student at JCSU, and the DC Alumni Chapter recently started one.  As students enrolled at universities and alumni, it's often not clear what goes into the health and maintenance of an institution.  Why should alumni give to the endowments at their alma maters?
RR:  Approximately five years ago, the University reached out to the Alumni Chapter to switch our annual scholarship to an endowment.  The endowment for the Chapter was created to ensure that funds are there to support students from the DC, MD, and VA (the DMV) attending JCSU.  Students currently enrolled at JCSU who are sophomores, juniors, or seniors with a GPA of 2.7 or higher are eligible for scholarship awards from the Chapter's Endowment.  The award is given to students with the most need and who meet the above criteria.
Endowments are important because they allow universities to provide funding assistance for students.  They increase the financial health of the institution and it shows perspective funding corporations that your school can raise funds.
AD:  Who can donate to the 150 and Beyond Campaign and where can they donate?
RR:  We are asking for 150 of the 900 plus alumni in the Washington, DC area to give towards the 150 and Beyond Campaign.  Friends of the University are also welcome and encouraged to participate.  To date we have about 30 donations to the campaign which include longtime friends of the chapter like Ms. Glenda West and Mrs. Wade.
AD:  Okay, Philly, thank you for allowing me to help get the word out about this.  Smith (JCSU) did a lot for us, and it's very important to make sure that the Smithites who are coming after us get the same chances to succeed and advance.  Are there anymore announcements or upcoming events regarding our Chapter?
RR:  Yes, we're hosting our annual Bulls Brunch on June 1, 2017, which is also a fundraiser.  The details will be on our website.
AD:  Okay, thank you.
To make a donation to the 150 and Beyond Campaign, go to the JCSU DC Alumni Chapter website at: www.jcsualumnidc.org.  The Chapter can also be followed on Facebook, and on Twitter and Instagram at @JCSUAlumniDC.  Thank you for taking the time to read this interview.  Please share it and or leave comments.