Three focuses of my blog are Financial Literacy/Money, Business/Entrepreneurship and Organizational/Management Discussions. In order to run a successful business or organization, it really helps to have a highly motivated staff. The following contributed post is entitled, Tips To Increase Staff Motivation.
* * *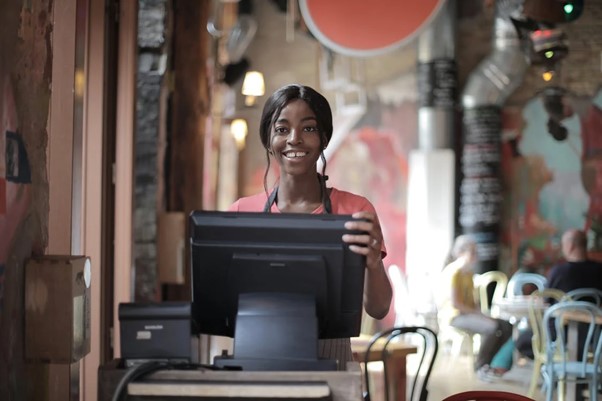 Photo by Andrea Piacquadio from Pexels: https://www.pexels.com/photo/cheerful-black-waitress-standing-at-counter-3801426/
The real cogs behind a business are its staff. If employees aren't happy, they won't perform their best and the whole business strategy can soon fall apart. This is why it's important to take care of their motivation as you go. Many businesses look at introducing perks such as pinball machines and sleep pods or other gimmicks, but this isn't what employees really want. Instead, many favor flexibility, healthcare, and progression. Here we have put together some top tips to increase staff motivation.
Offer healthcare and sick pay
For an employee, one of the most valued things you can offer them is access to healthcare and also sick pay when they are off. This shows that you value them, care for them, and are there to look out for them. With many private practices out there including those that are more specialized, with doctors such as Mukaram Gazi MD, it's important to find out which is best for your workers. See about the different insurance packages you can invest in and how you can really help those that work for you.
Offer flexible working
The pandemic forced the way businesses are run to change. Before this, many businesses felt they couldn't offer employees the chance to work from home – yet this turned out to be far from the truth. With more employees than ever showing just how effective they can be working from their own space, it was a struggle for a lot of people to get back to the office. This is why it's a good idea to offer flexible working. Many people prefer the work-life balance of being able to work wherever and whenever they please, getting more done, and completing more of their goals. Others also are less tired from not having to do lengthy commutes and will work harder. Many will also appreciate you trusting them enough to work from home and will feel more loyalty and want to work harder to prove you've made the right decision.
Help them know what they can do to progress in their career
Employees want to know they are valued and appreciated and that they will be able to progress within their careers. Ensure you have regular meetings or chats with them to find out what their career goals are and how they can progress and achieve them. By letting them know how to achieve this, they will work harder and they will also feel valued which can lead to them wanting to stay at the company for longer.
These are just a few top tips to help you increase staff motivation. There are many things you can do, so make sure you sit down and think about what is the most viable for your company and what you feel your employees will appreciate the most. Remember that certain things might sound good on paper, but in reality, aren't what your employees will really value and appreciate. Perhaps you could have a meeting or send out surveys to find out what would really resonate with your workers?