Two focuses of my blog are Financial Literacy/Money and Business/Entrepreneurship. Many people arrive at a place in their lives where they want and in some instances need to make a second income. There are many creative ways to do this in 2021. The following contributed post is entitled, Four Simple Ways To Build A Second Income.
* * *
One of the most beneficial aspects of technological advancements in recent years is that it now allows people to work from home and make use of their knowledge and experience. Many people have already made the decision to either start a side business to supplement their income or make the transition to working from home full-time. Even though more people are beginning to do so, there are still those who are unsure of how they will be able to accomplish this. Beginning to make money online is extremely simple, especially if you have a small amount of spare time on your hands. Some people even travel around the world while working and earning money online from the comfort of their own homes and laptops. Anyone can participate; the key is to find a method that works for you and stick with it.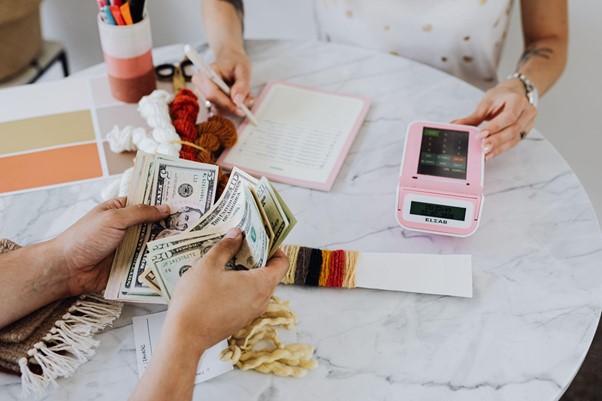 Photo by Karolina Grabowska from Pexels
Here are some of the options for working from home that you might consider:
Become An Amazon Store Seller
Making money as an Amazon seller is one way to generate a good secondary income for yourself. You aren't even required to keep the inventory or ship the inventory yourself. Investigate the Amazon business strategy to see if it could be applied to your situation.
Put Your Photography Skills To Use On The Internet
Do you enjoy taking photographs? If you are successful, you may be able to turn it into a source of passive income. You can sell your photos on photography websites such as Shutterstock and iStockphoto, which are designed to help you make money. They may offer a percentage of each photo that is sold to a site client or a flat fee for each photo that is sold.
An individual photo can be thought of as a cash flow generator because it can be sold over and over again in this manner. You only need to create your photo portfolio and upload it to one or more photo sharing websites, after which the activity becomes completely passive. The web platform is in charge of all of the technical aspects of the photo sales transactions.
Finding Easy Tasks
Even though this isn't the fastest way to make money online, and you're unlikely to make enough money to quit your day job, it is a fantastic way to supplement your income while working part-time from home. The internet is flooded with websites and apps that encourage you to engage in activities such as playing games and taking surveys in exchange for points that can be redeemed for cash or Amazon gift certificates. Maintaining sufficient points to qualify for a payout may take some time, but it is something you could do while watching television in the evenings or on your way to work.
Consider Stock Trading
Investing in stocks may appear to be a minefield at first glance, but with careful research and the use of online tools and apps, it can be a viable way to supplement your income at home or while travelling. Begin with a small investment and conduct extensive research into the trading markets. Keep in mind that you are investing your own money, and as a result, you stand to lose as much as you stand to gain from the investment. However, if you strike it rich with stock investing, you stand to make a substantial profit if your investment is successful.
Credit Cards With Cash Back
There are credit cards that offer cash-back benefits ranging from 1% to 5% of the purchase price. Isn't it true that you'll be out shopping and buying anyway?
Rewards will allow you to earn some passive "money" (in the form of lower outgoing) by doing what you'd be doing anyhow.
We've just begun to be more conscious about collecting reward points on our credit cards, especially because we enjoy travelling. We were able to use our reward points to pay for nine round-trip flights and a couple of hotel nights in the last year. That's exactly what I'm referring to!
Create A Blog
Another fantastic option to make money online is to start a blog. A growing number of people are turning to blogs to share their thoughts and views with others. The fact that it is possible to make a living from it, however, is not widely known. There are currently a large number of professional bloggers and freelancers that make a living solely from the content of their blogs. You'll need compelling content that appeals to a specific demographic in order to succeed. Whatever you want to talk about is fine, covering anything from lifestyle to health and fitness to motherhood to technology and everything in between. Even while it is not the most expedient method of earning money, once you get your blog up and running and have a reasonable following, you may begin earning money through sponsored content, free vacations and gifts, and affiliate relationships.
These are just four options for making money online; do you have any others that you can share in the comments section?