Three of the focuses of my blog are Financial Literacy/Money, Business/Entrepreneurship and Technology. In today's digital age, it's not enough simply to have a website for your business. You have to make sure that it's a smooth-running website and that compliments your overall strategy and is friendly for your customers. The following contributed post is entitled, Why Simply Having A Website No Longer Cuts It.
* * *
Years ago, the race was on for businesses to get online and creating a website was a big achievement for your brand or company. Flash forward to today and it's not only a given that your business would have a website, but that it should be able to offer an amazing experience to the visitor.
Elements like design, accessibility, and features are important, and you'll need to make sure that you stand out from your competition. Not only that, but being able to find your website easily needs to be a big consideration, given simply how much stuff there is out there online.
If you want to impress with your website, you need to get things right from the beginning. Take a look at some of the following tips for making sure your website makes the cut and impresses and visitors who come your way.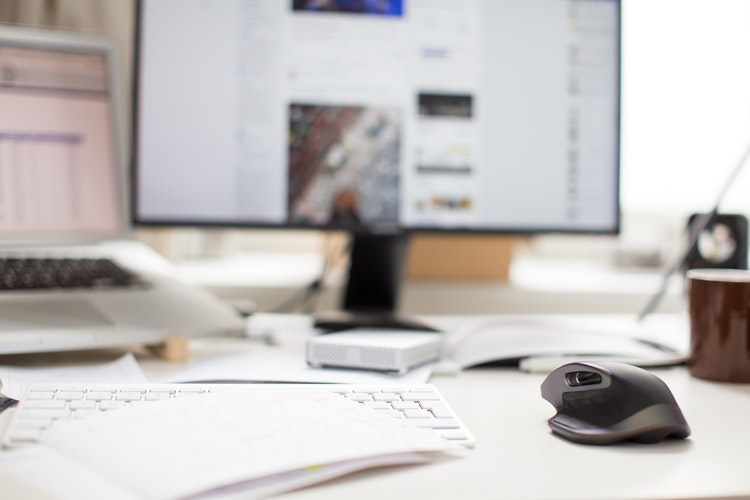 Image Credit: Unsplash under Creative Commons
Make an honest assessment
Sometimes it's difficult to see flaws in something until you take a step back and give things an honest review. When was the last time you analyzed your website? Believe it or not, not all businesses do this. It's easy to see why – small businesses don't always have the capacity for analysis, while others can take for granted that their website is performing well.
Analyzing your website traffic is important to tell you how many people are visiting and give you further insights into who they are, how long they're staying for, etc. This will help you to understand more about your website's performance, and help you identify some areas for improvement.
Give simplicity a try
Your website doesn't have to have bells and whistles to make an impression on visitors. Some of the world's most successful websites like Google and Apple thrive on a minimal design that helps give the visitor what they need. The benefit of having a simpler website layout is that it loads quickly, which is great for keeping people on your website. Check out some minimalist web designs to give you some inspiration for stripping back and enjoying making the most of the basics.
Focus on the UX
People have a short online attention span, that's something that many people have come to learn over the years. So in order to hold someone's attention on your website, you need to make it worth their while, and that's where the User Experience (UX) comes in. Using a UX testing platform can help you make more informed decisions about your content and how your website is used to help you offer the best experience for your visitors. It's worth checking out what similar businesses offer on their web pages to help give you an idea of what visitors want and to make some key changes.
Is your website mobile-friendly?
Using a computer is no longer the only option for browsing the internet. In fact, more than half of website visits last year came from mobile phones. People can now browse the internet on the move and carry out most of the functions that used to only be possible from a computer. Therefore, your business needs to be able to provide the same offering by phone that is does through a desktop or laptop.
The good news is that it can be easy to make your website more mobile-friendly. A responsive layout that uses a variety of image sizes, loads quickly and integrates with applications like Google Maps, etc. can all help make your business' website shine on a phone, tablet or other types of device.
Be clever with your use of media
Images are a powerful website tool. They help to draw the eye, which makes them good for holding a web user's attention, but they can also help break up your layout to make it appear cleaner and less wordy. Using a single hero image on your front page is a popular trend at the moment, as well as using 'real' imagery, shot of real people and places in natural situations (no stock footage!) to sell your business well. Video also does well on websites because it grabs people's attention. Audit your website's current media library and work out what types of media you can use to boost your website.
Stay up to date with your SEO strategy
If you want people to find your website, then you're going to need to work on your SEO. SEO helps to get your page to the top of the search engine rankings – it doesn't just happen on its own. Whether your business has a lot of competition or you've got a niche brand, it's still important that you use SEO to help people find you. SEO is largely about keywords, so if you can work out the keywords that people would associate with your business and use to search for you, you can start working them through your content. You should review your SEO strategy regularly to help make sure you're staying up to date with the latest search terms.
Protect your visitors
Security has become one of the most important elements of business websites. Data protection is not only important for protecting your users' data, but also your own. Keeping your website secure involves adding secure protocols and features, as well as making sure that you stay up to date on the latest online security issues. Many security and data breaches can happen as a result of human error, so it's also important that all of your employees receive training in protecting data online to prevent mistakes that could cost your business money.
With the right website, your company can attract new business and help you on the path to success. When used to your advantage, the internet can give your business a competitive edge and ensure your business' longevity. The sooner you get started with making website upgrades and changing your online strategy, the sooner you'll be able to experience the benefits. Think about your websites and how you can make those much-needed improvements in 2019.