Three of the focuses of my blog are Financial Literacy/Money, Business/Entrepreneurship and Technology. Most business enterprises today have Information Technology IT needs and its important to know what they are so you can make sure they're met. The following contributed post is thus entitled; What Should You Do When You Don't Know What Your IT Needs Are.
* * *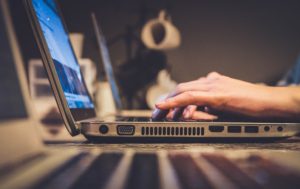 Image Credit: Unsplash
Every business is reliant on IT in some way. IT is what allows us to store, analyze and manipulate information to refine processes and improve results. In other words, IT is the system we use to track the number of sales a business makes and figure out a strategy for improving that number.
But the only problem is, most entrepreneurs aren't IT specialists. This means that while you probably already know that you need some form of IT system, you may not know which system is best for you, or even if you would be better off designing your own.
Fortunately, there are plenty of ways to work out what you need and make sure that you get it. And, once you have your IT sorted out, computer support and network maintenance will certainly follow naturally.
Define the Problem You Want to Solve
The first step is to define the problem you want your IT system to solve. In many cases, this is simply about figuring out which existing system is the best fit. For example, if you are running a shop, you will want to track your stock, know exactly what is selling and be able to monitor your profits. You won't need to get a specialist to design this for you as most shops work in pretty much the same way and have the same requirements.
However, if you are a more unique business operating system, your IT needs aren't likely to be covered by something off the shelf, you may need to design your own. In this case, you should try to write down exactly what you want the software to do. For example, you may require clients to fill out a form which takes them to different pages according to their answers.
The simplest way to approach this kind of design is to start by asking questions. What you do want the person using the system to be able to do and what is the best route for them to take? We all rely on our intuition to guide us through life and technology is no different. Don't try to be clever or over complicate things; create something that a child could navigate and you won't go far wrong!
Find the Right Solution For Your Needs
Any designer should be able to work out an intuitive solution based on the problems that you present. When everything is set up and running exactly as you envisioned, you will see a major benefit so it is important that you get the details right early on. However, don't be afraid to develop your idea as you go along. While Version One might be just fine, Version Two could perfect the system. And, it would be wise to know now that your business is likely to change over the coming years and build in that flexibility from the start!
Finding IT solutions doesn't require a degree in computer science, you just need to be able to articulate a problem and then get help working towards a good solution. You might feel daunted now, but once you are in the thick of it, you will see just how powerful IT can be.