Three focuses of my blog are Financial Literacy/Money, Business/Entrepreneurship, and Technology. Effectively managing your small business' Information Technology (IT) operations is a key aspect of its overall health and success. What are some keys to doing this? This contributed post is entitled; Managing Your Small Business' IT Effectively.
* * *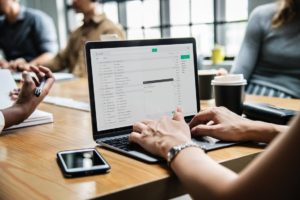 Nowadays, people will check their smartphone every twelve minutes, and the average person will spend more than one entire day of their whole week online. There are various reasons for this. A lot of checking will be for personal pleasure – people will be checking their social media feeds, looking up information that is useful for them, or reading up on the news. However, an increasing number of people are seeing their time spent on tech devices clock up, as they are needing to engage with them on a professional basis. Seeing as the public are turning to the web more, it's not all too surprising that businesses are as well! Many companies are creating social media accounts and using the web to carry out correspondence to clients, partners, and customers over email or instant messaging chat. So, you need to keep your IT up and running in order to run your business effectively. Here's a little more on the subject!
The Importance of Keeping IT Running
You don't really realise how central IT is to your business' functioning until it happens to go down. Without functioning IT, many of your staff will be unable to do their jobs and you will find yourself paying out days worth of wages to individuals who aren't actually doing anything for your company's progression. IT flaws can also breach security, which could pose major problems down the line. Dealing with IT effectively will ensure that all of your systems remain problem free.
Outsourcing
Perhaps the easiest and most convenient way to take care of Technology Support for business is to outsource the work to a reliable company. This means that you don't have to take on the responsibility of becoming a full time employer of an IT specialist, but you do gain the same benefits in the long run. You will always have someone or a team overseeing your company's IT needs, preventing problems that may arise, and tackling problems that do manage to arise quickly and effectively.
Building an In-House Team
Your alternative is to build an in-house team of IT specialists. Generally speaking, this is something to consider when your business begins to expand and you have the time to draw up contracts and fit an in-house IT team into your commercial property. One of the benefits on having an in-house team, should you need one, is that everyone working for you will eventually become extremely familiar with your unique system, being able to detect and resolve problems a little more quickly than people who may not have encountered your system before.
As you can see, maintaining fully functioning IT is absolutely essential for any small business owner who wants to keep their company up and running. Hopefully, the above advice will help you to achieve this!