Two of the main focuses of my blog are Financial Literacy and Money. The following contributed post was written by Emma Morgan. It discusses The Signs You're Carrying Far Too Much Debt.
* * *
We live in a time of consumerism and most of us have a mindset of 'I need it now', which makes us impulsive when it comes to credit. The problem with credit, though, is that we can have whatever we want, and the consequences come later. While credit seems like a great idea in the moment, when you've got too much month at the end of your money and you can't make your repayments, it becomes a big problem.
Debt is, for most people, a very unfortunate part of life. Buying a house, a car and even getting an education can put you into debt. While these are the debts you'd want to have, rather than because you couldn't put the Manolo's back at the store, it's still not nice to have to deal with debt in that way. Having a house is a good thing, until you can't make the mortgage repayments and you're getting help from DoveBankruptcyLaw.com/chapter-13-bankruptcy to get you back on track. There are some signs, though, that can tell you whether you are carrying too much debt. It's time to get your head out of the sand and start sorting out your finances, because they're not going to sort themselves.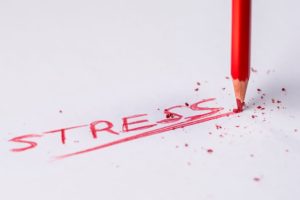 Image Source
1. The first sign you're carrying too much debt is that this is where your money goes. You should have enough money to cover your mortgage, your bills and your savings before having a portion for disposable income. If your disposable income is covering the minimums on your loans and cards, there's an issue. Working to pay debt is not living, and you need to start making some adjustments so that this is no longer the case for you.
2. The next sign is that you won't ever pay off your debts early, because the money that you have can only cover the minimum payments. Get onto the creditors that you have and ask them to lower the repayment amounts for you. Creditors are not easy to deal with – in your head. In reality, if you have a good history, they're usually more than happy to help you out. As long as they are getting paid, they will work with you and not against you.
3. Your health is important, but if the stress of debt is starting to manifest physically, you're going to suffer. Your sleep, your happiness, the jumpy feeling you get when the doorbell goes? All of these things are not healthy, and they can be affected by debt.
4. Trying to get a consolidation loan to cover your debts is the move that most people make so that they can pay things off quickly. However, if you're being turned down even for this, then you've got too much on your plate. The more debt you have, the harder it is to get credit.
It's important to recognize when you are carrying too much debt as much as it is to know where to ask for help. Don't suffer alone – get the debt help you need now to lessen the burden on your shoulders.