Two focuses of my blog are Organizational/Management Discussions and Workplace Discussions. In todays ever evolving times, we're seeing the emergence of coworking spaces. These will help change the work landscape for years to come. The following contributed post is entitled, The Future Of Work Looks Bright With Coworking Spaces.
* * *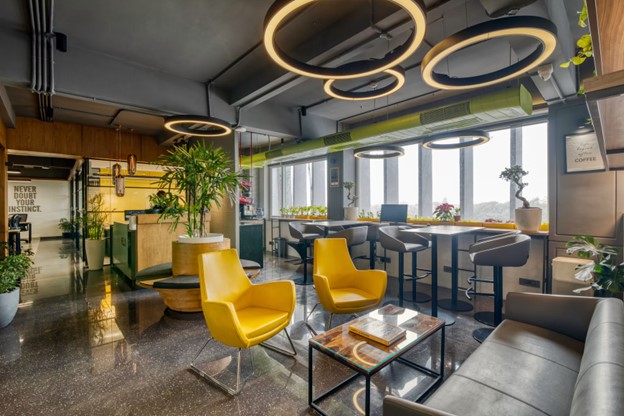 Photo courtesy of Unsplash
In today's digital world, people are no longer seeking out jobs so much as they are looking for opportunities to use their skills and passions. The changing workplace is forcing more and more workers to adapt and find new ways of maintaining employment. Working from home or telecommuting has become commonplace, but the digital age has also spurred on the growth of coworking spaces. These businesses provide professionals with a space to work, share ideas, network, and collaborate while getting to know fellow coworkers outside of an online forum. These spaces are perfect for people who want to remain independent but also want the benefits of working with others in person instead of online.
What is Coworking?
In a cowork space, people have the place to go to work and collaborate with others who are also independent workers. You'll meet other entrepreneurs, remote workers, and people who work on contract in these spaces. Many coworking spaces provide additional services like networking events, conference rooms, break rooms, and other resources. Coworking spaces aren't just for freelancers. Many businesses use coworking spaces to grow their companies. Coworking spaces provide companies with the benefits of a home office without the cost or commitment of having a physical location.
Why Coworking Is Growing
People are moving away from traditional work structures. Many people want to work independently and don't want to be confined to the brick and mortar of their company's offices. They want flexibility in their schedule, the ability to work from anywhere, and the opportunity to explore different types of work. Cowork spaces allow people to work independently and collaborate and meet with people in person.
Coworking is a great way to connect with people. It's natural to want to surround yourself with like-minded people, and coworking spaces are one of the easiest ways. In a coworking space, you can meet people who share your interests and goals and who may become valuable connections in the future.
Technology is also making it easier than ever to connect with others. For example, various communication tools, like video conferencing and project management software, make it easy to collaborate remotely with people around the world. And coworking spaces provide a physical place to meet and collaborate with people in your local area.
More and more companies are adopting a remote work structure these days, making coworking spaces even more popular This means employees can work from anywhere as long as their tasks are completed. As more companies adopt this type of work arrangement, workers need to find ways to meet and connect with colleagues in person.
Benefits of Coworking
Coworking allows you opportunities to get out of the house. Working from home can be an excellent option for some people, but it can also have drawbacks. For example, you may find yourself growing stir-crazy or feeling isolated and lonely if you don't interact with people regularly. A coworking space lets you escape the house and get out into the world while still being able to work remotely.
Similarly, by going out to work, you can collaborate with other professionals and keep company with individuals on your playing field rather than only having your kids for company. When you work in a coworking space, you have the opportunity to meet people who share your interests and can help you grow your business. You can also network with people in your industry, leading to new opportunities for collaboration and contracting work.
Coworking spaces are full of people who are passionate about their work. In addition, you'll find people who are eager to share their knowledge and can inspire you to take your career to new heights. You can also learn from people at different points in their careers.
How to Find the Right Coworking Space for You
To find the right coworking space for you, you might want to pick a few places to visit and try out. Like with any other place where you're going to spend time, it's essential to see the spaces you're considering in person to assess if they'd be a good fit. In addition, you want to find a coworking space that works for your schedule, as most places have varying hours and one that has the type of amenities and community you're looking for.
When testing out these coworking spaces, chat with individuals who use them to find out what they like about them. Hearing what other people like about the space can help you decide if it's the right fit for you. You'll also want to consider the price, amenities, and location. You can find coworking spaces in nearly every city, but it's wise to consider more than just the name and price when deciding where to work. In addition, you want to make sure the space has the amenities you want and that it's located in a convenient area for you.
The Future of Coworking
More people will be working remotely as time progresses, and technology is only going to continue to advance and make this easier. This will lead to even more people choosing to cowork. In the future, coworking spaces will likely become like today's coffee shops. People will be able to work from almost any place globally, and coworking spaces will offer the same benefits as they do today. The rise of automation and artificial intelligence may also bring changes to coworking. As these technologies become more advanced, they'll need people to manage and program them. As a result, people may not have as much time to commit to freelance work, leading to a demand for more full-time positions.
Final Words
The workplace is changing, and with the rise of automation, remote work, and artificial intelligence, people will need to learn new skills. The good news is that, with the rise of coworking, people are being forced to learn to work together and rely on one another. So, if all goes as planned, we'll see a more significant shift towards people collaborating, which will help us to create a better future.