Two focuses of my blog are Health/Wellness and Workplace Discussions. A level of wellness is at the workplace. In addition to being places to earn a living, there is an interpersonal component to them. The following contributed post is entitled, How To Stay Connected As Employees: Tips And Tricks.
* * *
It can be challenging to stay connected as employees when we're constantly on the go. Between work, travel, and family obligations, it seems like there's never enough time in the day. But staying connected is essential for both our professional and personal lives. This blog post will share some tips and tricks for staying connected while on the go.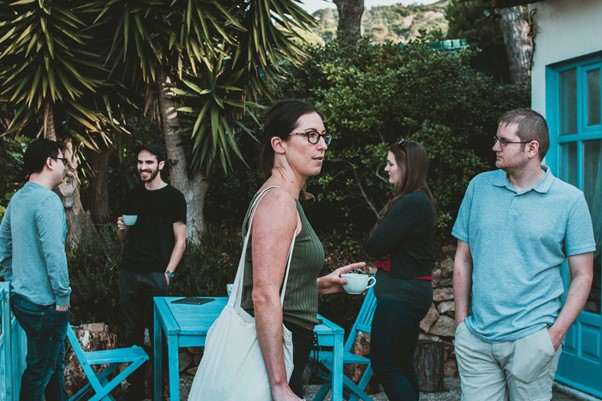 Photo by Lisa Fotios from Pexels
1) Use technology to your advantage
Several apps and websites can help you stay connected with your colleagues and clients. For example, slack is an excellent tool for keeping in touch with co-workers, and WhatsApp is perfect for staying in touch with friends and family members. Click here to see how to launch a social group using this app.
If you're traveling for work, make sure to download the airline's app so you can easily keep track of your flight times and gate changes. And if you're going to be working remotely, there are a number of tools like Google Hangouts and Skype that can help you stay connected with your team.
Technology can be a great asset when it comes to staying connected, but it's important to use it wisely. Be mindful of how often you check your email or messages and try to limit your use of technology when you're with family or friends.
2) Make time for face-to-face interactions
In today's digital world, it's easy to forget the importance of face-to-face interactions. But there's nothing like being in the same room with someone to connect genuinely.
If you can, make an effort to have face-to-face meetings with your colleagues and clients, even if it means traveling. And when you're home, take advantage of opportunities to interact with people in person. Attend a networking event, go for coffee with a friend, or have dinner with your family.
Making time for face-to-face interactions may require some extra effort, but it's worth it if it means staying connected with the people who matter most to you.
3) Be present in the moment
When we're constantly on the go, it can be easy to lose track of time and start living in the future. But if we want to stay connected with our loved ones, it's important to be present at the moment.
The next time you're with your family or friends, put away your phone and focus on being fully present. Listen to what they're saying, ask them questions about their lives, and really engage in the conversation. You'll be surprised how much more connected you feel when you're truly present in the moment.
4) Make time for yourself
It's just as important to make time for ourselves as it is for others. When we're constantly on the go, it can be easy to forget about our own needs. But if we want to stay connected, we need to take some time for ourselves.
Make sure you schedule some "me" time each week. Relax in a bathtub, read your favorite book, or take a walk outdoors. Take some time to recharge and rejuvenate so you can continue to give your best selves to those around you.
Staying connected can be challenging, but it's definitely doable with these tips and tricks. Use the tools that work best for you, and don't be afraid to experiment until you find what works best for you. And most importantly, be present at the moment and enjoy the company of those around you.