Two focuses of my blog are Financial Literacy/Money and Business/Entrepreneurship. If you have a business fleet, you have manage it in an optimal way. The following contributed post is entitled, How To Manage Your Business Fleet.
* * *
While there are some difficulties that come with managing a company's fleet of vehicles, doing it effectively can help save expenses and boost revenues. Time lost due to vehicle failures, accidents, and driver downtime can be reduced with effective fleet management.
Any time a vehicle is not actively generating revenue for the company, but nevertheless incurs expenses (often substantial ones), it is experiencing downtime. There can be serious effects on cash flow if a vehicle is out of commission for several days or weeks, whether due to an accident or poor fleet management. Furthermore, poor usage of a company's fleet of vehicles might incur unnecessary expenses. This is why good fleet management is so important. Read on to find out how to do it well.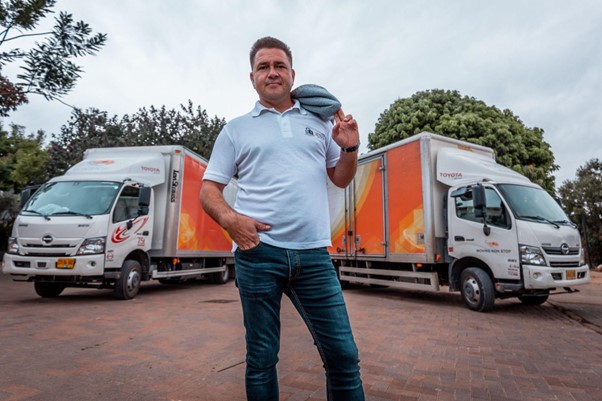 Choose The Right Vehicles
Each organisation is one of a kind and has its own specific requirements. Selecting a commercial fleet is no different. The size and characteristics of your business fleet will be determined by factors such as fuel costs, the availability of electric vehicle charging stations, available space and budget, weather, traffic, and the required driving distance for your personnel.
Street food vendors, mobile pet groomers, and maid services are just a few businesses that could benefit from purchasing just one vehicle or a small number. However, a taxi company, delivery service, or courier may need to buy dozens, if not hundreds, of vehicles. The first step in effective fleet management is making sure your organisation is spending money on the right cars. These are the ones that will truly improve the efficiency of your business and allow it to expand and generate more revenue.
After settling on a fleet of vehicles, the next step is to figure out how to pay for them. They are available for purchase, lease, financing, or full cash payment via a variety of means. You should work with the right person at the right dealership to get the reductions that are available for fleet vehicles.
If you're a young company looking to avoid cash burn, borrowing or leasing may seem like a reasonable choice, despite the fact that it may be more expensive in the long term. You'll need to look at your budget and be realistic about what will work now and in the future.
Automate What You Can
Maintaining reliable transportation while keeping costs low is crucial to the success of your company. This can be difficult for small business fleets that rely on antiquated methods of fleet management, such as paper and spreadsheets.
Fleet managers often spend too much time on manual data entry to provide enough control of their vehicles. When you're trying to keep track of every detail of your fleet, spending time entering data and poring over spreadsheets is a waste of your time. Many smaller fleets are turning to fleet management systems to help them deal with these issues.
The easiest way to streamline data and automate fleet activities is by using fleet management software. You can increase your fleet management efficiency by automating tedious operations using the information gathered from your fleet's inspections, maintenance, costs, and usage.
The efficiency, longevity, and effectiveness of your fleet's assets can all be enhanced by automating processes such that all relevant data is uploaded to a single program,
Vehicle Maintenance And Safety
Upkeep and maintenance is also an important factor. It's obvious that a car that's in the shop isn't earning money, thus it's crucial to practice regular and preventative maintenance to keep it on the road as much as possible and to ensure it's safe when it is being driven.
Having a well-maintained fleet benefits both the drivers and the general public. However, accidents do happen, and it is part of fleet management to deal with accident reports and repairs. Some methods of handling accidents involve providing training on how to avoid collisions and imposing penalties on careless drivers.
Maintenance and risk management encompasses tire management as well. A fleet can save up to 11 cents per gallon and get an extra 4,700 miles out of their tires if they are properly inflated.
The key is to know which vehicles need to be serviced and when, and to ensure that they are booked into the mechanic's shop in plenty of time. Not only will this keep the fleet running smoothly, but it will mean you can organize additional vehicles or other means of ensuring your drivers can still do their work.
Provide Good Training
The way your staff operates and maintains the vehicles (or fails to) can have a significant impact on the frequency and expense of necessary repairs and maintenance. It also might aid in decreasing the frequency of accidents and the amount of unnecessary wear and tear on vehicles.
Before letting an employee drive a company fleet car, your company should give them extensive training. This should include your expectations for driver conduct (how they are to drive), health and safety, and vehicle upkeep. Get them started on the car, van, or truck that will see the most use for your company. Maintaining high standards requires having a company policy for vehicle use and providing at least annual refresher training.
As an additional benefit, this training – and other types of training – will help your employee feel valued by you and the company and show them that you are taking their health and safety (and potentially career progression) seriously. This will ensure they remain as loyal as possible for as long as possible, saving you money on recruitment fees and keeping your business running smoothly and professionally.
Know Your Operating Costs
The success of your company can be gauged by looking at the bottom line. When you have a firm grasp of your fleet's real total cost of ownership (TCO), you can rein in costs and make well-informed choices about its future.
The total cost of ownership (TCO) of your fleet is the most comprehensive measure you can monitor, but estimating operational expenses by hand can lead to a large error margin, which is something your fleet cannot afford.
Both predictable and unpredictable costs can be factored into TCO. In order to keep your finances in order, you should always remember your annual fixed costs, such as insurance and registration fees. Fleet size, fleet type, and fleet efficiency all play a role in how much you may expect to spend on variables.
Fuel and maintenance are the two largest ongoing expenses for fleets. The latter can be handled best by knowing when things need to be done and ensuring not all your vehicles have to be serviced at the same time. When it comes to fuel, these fuel management tips can be very beneficial in helping you save money and make the most of your fleet.
Much like anything else in business, when you know what you're spending, you can determine whether this is the best use of your money and how you can make things better and more cost-effective.
Disposal And Resale
When your vehicle stops being reliable, it's time to put it up for sale. Someone has to manage and handle the sales process, regardless of whether they occur through a private party, a dealership, an auction, or amongst employees.
The last thing you want to do at this point is to lose more money than you need to. It's crucial to understand that you're not going to get your money back, and that's true whether you bought the vehicle used or brand-new. However, you can try to minimize the loss as much as possible by ensuring you do all you can to make the vehicle presentable, well-maintained, and that any problems are fixed.