Three focuses of my blog are Business/Entrepreneurship, Organizational/Management Discussions and Workplace Discussions. No matter which type of business or organization you're running, you must figure out how to retain employees, especially the quality ones. The following guest post is entitled, How to Retain the Best Employees for Your Business.
* * *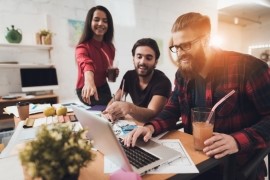 September 2022 saw 10.7 million job openings in the United States. The figure is slightly higher than when 10.1 million jobs were available in the previous month. This situation shows that employees have many options if they want to look for another job.
Businesses must focus on retaining top talent. If you have highly valued and skilled employees, keep them with your company. This will help your business' bottom line and ensure that you have a strong team of professionals who know the ins and outs of the business. Here are some tips on retaining the best employees for your business.
Creating an Engaging Work Environment
One of the most important things when it comes to retaining the best employees is creating an engaging work environment. This means providing a workplace where people feel comfortable and respected in their positions. This could include offering flexible working hours, encouraging collaboration between different teams, and allowing employees to participate in decision-making processes. Allowing employees to have some say in how they do their job can make them feel more engaged and motivated to stay at your company longer.
Additionally, providing activities and events outside of work, like team-building days or fun activities, can create a positive working atmosphere. This will make employees feel their contributions to the company are valued and appreciated, which encourages them to stay on board.
Creating an open culture where employees feel comfortable discussing their ideas and opinions can also be beneficial. Providing a platform for feedback can create an environment of trust where employees feel comfortable expressing themselves. This will make them more likely to stay with your business, as they know their ideas are heard and respected.
Offer Benefits
You have a bigger chance of retaining top talent when you offer a competitive benefits package. You can offer vacation time, flex hours, or other perks to make employees feel more valued. These benefits also make them more likely to stay at your company long-term. This kind of investment in your staff can pay off in spades when it comes time for renewal contracts or promotions within the company.
You can also offer reliable life insurance plans to your employees. This benefit can give employees peace of mind knowing their family will be taken care of if something happens to them. With a comprehensive plan, your employees' families can rest assured that their loved ones will be taken care of in the event of a tragedy.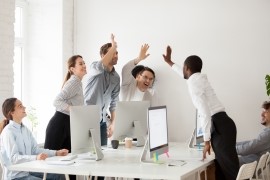 Reward Performance
It is also important to reward performance with tangible rewards like bonuses or raises so that employees can see that their hard work is being recognized. Rewarding performance encourages loyalty and commitment from your staff, which will help them stay with your company longer. You can also set up recognition programs like employee of the month awards or other incentives so that people know their hard work is appreciated. Additionally, you can recognize employee accomplishments with public announcements or internal awards ceremonies.
By rewarding performance, you are helping to create an environment of success and growth in your organization. When creating a recognition and rewards program, businesses should also consider offering non-cash rewards. This could include gift cards, vouchers for restaurant meals, or tickets to a show. These kinds of incentives can be meaningful in the long run and demonstrate your appreciation of hard work and dedication.
Provide Training and Development Opportunities
Employees are the lifeblood of any organization, and it is crucial to ensure they have the resources they need to grow and improve their skills. Training and development opportunities are essential in helping employees reach their full potential. They allow employees to learn new skills and strengthen existing ones, which can help them be more productive and efficient workers. Additionally, training and development can help employees stay up-to-date on changes in their industry or field, making them more valuable.
Organizations that provide training and development opportunities are typically seen as more committed to their employees' success and growth. This can help attract and retain talented employees, which can be a competitive advantage in today's workplace. In addition, providing training and development opportunities can help an organization improve its overall performance and competitiveness.
So if you're looking for a way to invest in your employees and help them reach their full potential, consider providing training and development opportunities. It's a great way to show your team you care about their success and future.
Retaining high-performing employees should be one of the primary goals of any business owner or entrepreneur. This helps keep costs down while ensuring quality service levels remain consistent over time. By following the tips in the article, you can ensure that you attract and retain top talent in your organization. Doing these things will give you a competitive edge over other businesses while helping ensure long-term success for your organization.