Two focuses of my blog are Financial Literacy/Money and Business/Entrepreneurship. Starting a small business is one thing, but another key is making it profitable. Part of that profitability involves make your business profitable. The following contributed post is entitled, How To Start A Small Business And Make It Visible.
* * *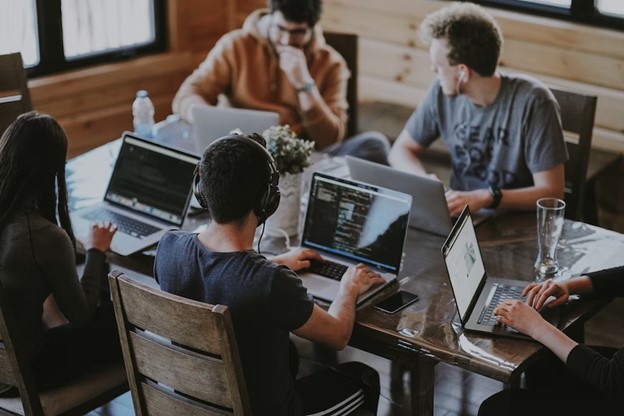 Are you an entrepreneur with an idea that will take the world by storm? This kind of determination and passion is admirable, but without some moderation and planning, you risk burning out before you get started. This article offers you some pillars for your success.
In this article, you can find a brief step-by-step guide to starting and running and new business. Take your time with planning, particularly financial planning and your business plan, then build a website and start content marketing. Once established, it's time to start growing the business.
How to start a Small Business
Starting a small business is an excellent idea, especially if you have the personality and motivation for entrepreneurship. If you don't have any experience in starting and growing a business, you are in the right place; follow the step-by-step guide below to establish your business and start to grow it. Remember, a successful business starts with a good idea.
A Step-by-Step Guide
Idea Stage
There are two types of entrepreneurs, the ones that have a great idea to start with and the ones that want to start a business but don't have an idea. If you're in the second camp, you need to go through an idea stage where you generate lots of ideas for a business and choose the best.
Again, there are different ways to come up with business ideas; you can focus on your interests and passions, or you can focus on business ideas that are profitable within a niche. There are advantages and disadvantages to both strategies; it all depends on your overall career goals.
Business Plan
Business planning is one thing that puts new entrepreneurs off starting their own businesses, but whether you like it or not, business planning is crucial to securing investment and meeting your business goal. The good news is business planning can be outsourced if that's necessary.
A suitable business plan should include the purpose of the business, who you are marketing the business to, your end goals, and how you intend to fund the business. Not only is a business plan needed for investment, but it's also an excellent way to focus your business and ideas.
Financial Management
Financing is important at any level of your business, but it's especially important at the start. Think about whether you are going to stay in your current job and fund the business yourself or borrow the money from a bank or an investor. Again, the business plan is very important here.
If you don't have a strong understanding of your business finances and projections for the next few years, you don't stand a chance of securing the investment you need. There are good reasons for this, so take another look at your finances and make sure you have strong numbers.
Website Creation
Another fundamental element of your business is the website; this is your business hub and storefront online, one of the main places where you will interact with your customers and clients. There are various ways to create your website, depending on your goals and finances.
If you are a new entrepreneur without much experience in the digital space, it's time to learn. One of the best ways to learn is through immersion, diving into the process of creating your own website, and managing digital media, and you can grow your skillset and build your business.
Business Growth
Getting the first sales for your business is important, but it's the start of the story, not the end. There's a reason why so many businesses are focused on growth; it's necessary to stay afloat and relevant in the long term; growth is also a way of creating security for your business.
Growing your business is easier when you are more established, but you still need to get there in the first place. In the beginning, you need to create excellent SEO, reach out to other businesses in your niche, collaborate, and bargain with other businesses for some exposure.
How to Promote a Small Business
Google My Business
Most people search for what they need on Google's search engine, which uses the searcher intent to find relevant businesses in the area. There are around 1.5 billion business locations searched on Google every month, and you need a Google business account to be in the mix.
One of the first things you should do after setting up your business website is to signup for a Google My Business account. This account lists your business on the search engine's directory and improves your SEO. When a customer searches for your keywords, you can get matched.
Content Marketing
Now that you have your business website and listing on Google My Business you can; you can turn your attention to promoting it with content marketing. Content marketing is the process of creating quality articles, videos, and social media posts that generate interest in the business.
Content marketing is excellent in the digital space because of the way search engines match users' searches with content. The secret to content marketing is to serve customers and search engines with well-optimized content. Continue learning about content marketing as you grow.
Promotional Material
Digital marketing is an excellent way to promote a business online, but the traditional methods work well too. Don't forget about conventional advertising such as billboards, offline advertising, print magazines, lanyards, and USB drives; you can find A supplier easily online for your drives.
Promotional materials, especially items such as USB drives, are ideal for networking events and handing out to customers for free. These free promotional materials are perfect for promotions because they are practical and useful. More people are likely to encounter your brand this way.
Sharable Content
Sharable content is what you are aiming for when creating your content; not only is a share good for promotion, in general, but it's a vote of confidence from another user as well. When another user promotes your company, it's a powerful form of word-of-mouth advertising.
So, how can you create this sought-after content for your business? There are many ways to try, but often it depends on the quality of the content and the timing of the launch. Content that's interesting in some way or that offer practical advice gives you a good chance of more shares.
Google Ads
Google ads cost money, but they are also very effective if you need new clients to grow your business. Even if you have the budget to spend, it's still worth paying close attention to SEO and organic growth; this process is completely free and gives you ongoing visibility and growth.
Most businesses that want to grow in the short term use Google Ads because organic growth can take months to see results; on the other hand, Google Ads can offer you overnight traffic. Another excellent feature of Google Ads is that you can set your own budget and stay in control.
Final Thoughts
In this article, you have what you need for the foundations of a small business. Begin with the ideas stage and pay close attention to planning before you take action or spend money. After you have a solid business plan with goals, think about creating a website and promoting online.
There are plenty of ways to promote a business and help it to grow; growth is an important feature of any business for security and success. Naturally, promotion is central to growing a business and making it a long-term success. The ideas in this article are a great place to start.